Have you seen some of the irresistible offers by Orangewood? These budget-friendly instruments from California are getting bigger and bigger each year while maintaining their reasonable price and super-convenient e-commerce 'modus operandi'. Our Orangewood guitars review will answer all your curious questions and help you decide whether you should get one of these guitars too.
When you think of acoustic guitars, the first brands that come up to your mind are probably the likes of Yamaha, Martin, or Taylor. Nevertheless, these exclusive names are definitely not your only options. In fact, some of the newly emerging brands can provide you with comparable quality and functionality at a much better price.
Orangewood brand was established several years ago by a pair of brothers, Eddie and Sooj Park, originating from Korea. All of their instruments are, however, proudly designed and set up exclusively in the U.S. with the support and expertise of local professionals.
Orangewood launched their first line of acoustic guitars in 2018. Now their portfolio already contains most of the popular types and designs of acoustic guitars and also some other string instruments such as ukuleles. See an informative list of their instruments below.
Top 6 Orangewood Guitars in 2022
Most Popular Instruments by Orangewood Guitars
Orangewood guitars might be relatively new on the market, but the brand definitely does not waste any time. Its offer is now complete with various types, sizes, and designs of instruments that should satisfy all the different kinds of players.
Here are some of the most popular guitars Orangewood currently offers:
Most Versatile
Orangewood Austen Acoustic Guitar
Austen features dreadnought Body style, providing a bold and full sound. Quality solid Spruce top wood gives resonating tone and sound.
Check Price at Orangewood
We may receive compensation from the companies whose products we review. We only recommend products that we believe in and test.
A traditional dreadnought style acoustic guitar made of a combination of spruce (top) and mahogany (back and sides). This guitar has chrome die-cast tuners, a regular C-shaped neck, and natural satin finish. Its bold and smooth sound is highly versatile and sophisticated.
Most Affordable
Orangewood Dana Acoustic Guitar
A mini concert shape acoustic guitar perfect for travelers and smaller hands. Quality layered spruce or mahogany top with mahogany back & sides.
Check Price at Orangewood
Buy at Amazon
We may receive compensation from the companies whose products we review. We only recommend products that we believe in and test.
This is a Baby Concert (also known as Mini Grand Concert) style acoustic guitar with a characteristic layered mahogany top, back, and sides. It has a nice open-pore finish, full and articulate sound, and a hardtail bridge. One of the brand's all-time bestsellers.
Here's our complete Orangewood Dana review.
Great Value
This model comes in several variations. There is an electric acoustic version called Oliver Live, mahogany versus spruce top variations, large (Grand) and smaller (Junior) versions, etc. What's important is that all of them look and sound really good.
Premium Choice
Orangewood Manhattan Guitar
Grand Concert style acoustic guitar featuring solid mahogany top and layered mahogany back & sides in natural satin finish.
Check Price at Orangewood
We may receive compensation from the companies whose products we review. We only recommend products that we believe in and test.
One of the brand's most popular bestsellers. Orangewood Manhattan is a great entry-level dreadnought body 6-string acoustic with surprisingly nice sound and a friendly price tag.
Want to know more about the Orangewood Manhattan? Continue reading our complete Manhattan Review.
Best Bang for the Buck
Orangewood Victoria Acoustic Guitar
Grand concert body shape acoustic guitar, providing a vibrant and balanced sound. Accessory pack includes a strap, tuner, capo, picks, polishing cloth, string winder, and chord chart.
Check Price at Orangewood
Buy at Amazon
We may receive compensation from the companies whose products we review. We only recommend products that we believe in and test.
Victoria is a grand concert-type acoustic guitar made of mahogany (back and sides) and spruce (top). It's a great choice for those who are looking for a clear and bright concert-style sound yet need to stay on a budget.
Orangewood West Ukulele | Reverb
With mahogany top, Aquila strings, premium padded Gig Bag, and Accessory Kit featuring a Strap, Tuner, and Chord Chart Included.
Check Price
We may receive compensation from the companies whose products we review. We only recommend products that we believe in and test.
Besides acoustic and electric acoustic guitars, Orangewood also specializes in other string instruments. West is their popular ukulele with a soprano body type made of mahogany. Its sound is bright and pleasant, and it's a great choice for anyone who's just getting used to string instruments in general.
Characteristic Features of Orangewood Guitars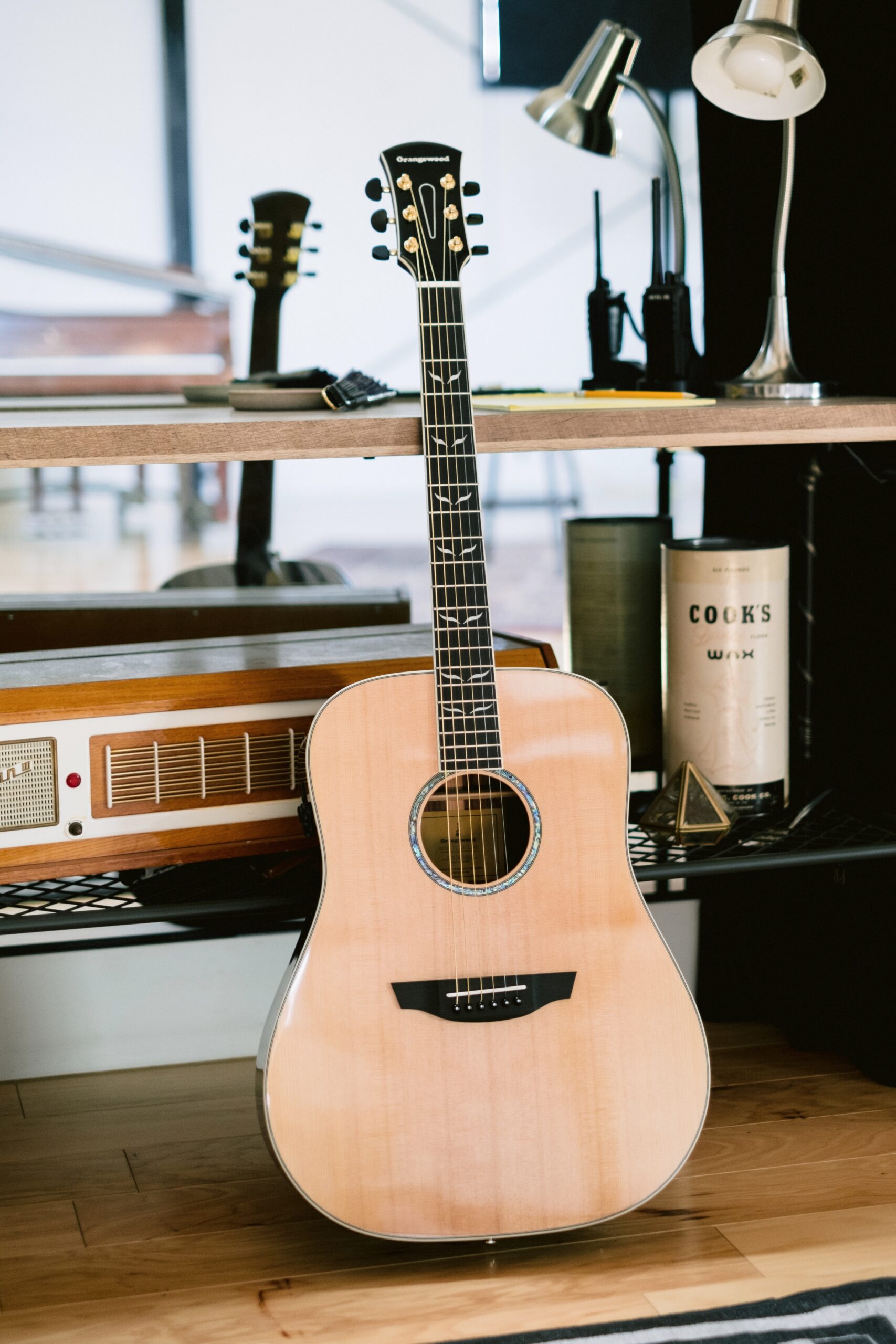 Orangewood Guitars are in many regards inspired by some of the most reputable brands on the market. After all, a good acoustic guitar doesn't really need tons of innovations and original features, if it sounds great and lasts long.
Nevertheless, this brand definitely has some specifics that you might want to know before you seriously consider your purchase.
Here's a shortlist of the most distinctive Orangewood guitars' features I have noticed:
They are Sold Exclusively Online
Most of the acoustic guitars you come across can be bought both online and in traditional brick-and-mortar stores. Orangewood Guitars, however, can be bought exclusively online through their own official e-shop or the Orangewood Store on Amazon.
This e-commerce business model is becoming popular in all segments of the market, so it's definitely not surprising or unheard of in the field of music equipment. Nevertheless, it has both advantages and downsides, as we will discuss in detail later.
They are Designed and Constructed in California
When you come across a highly affordable music instrument, you usually expect it to be so cheap because of its foreign origin. Yes, cheaper components and cheaper manpower do stand behind most of the cheap equipment, but this is only partially true for Orangewood.
The brand boasts to be designing and constructing all of their guitars exclusively in California, with the help and expertise of local musicians and professional technicians.
Nevertheless, the components are reportedly still shipped from China, where they are manufactured. So, what you get is basically a smart compromise that, according to many happy reviewers, works out very well.
Their Sound Can Really Surprise You
Entry-level guitars are usually underestimated as simple hobby/campfire instruments that are not really able to produce impressive and sophisticated sound.
But Orangewood guitars are apparently made with a clear focus on great tonal qualities and pristine sound, which often surprises those who hear them for the very first time.
Of course, you are probably not going to take a $150-worth guitar on a big stage or to the recording studio. But if you're just beginning to perform, a small gig or jamming session with some of these guitars is surely not the worst idea.
Your Purchase Helps Give Back to the Community
Orangewood proudly supports various educational and therapeutic programs by donating musical instruments to teachers, therapists, and students in need.
That means that besides enjoying your new affordable instrument, you can also feel good about supporting someone else who might not have the resources to buy a musical instrument without the support.
Wide Range of Models for Every Taste and Style of Play
For such a young brand, Orangewood currently offers an impressive variety of models and body types. From Grand Auditorium and Grand Concert to Dreadnought, Jumbo, and Mini acoustic guitars, it is almost certain you're going to find exactly what you're looking for in their vast portfolio.
Orangewood currently even offers some of the less common types of instruments such as the 12-string guitar, and left-handed guitars (both acoustic and acoustic-electric models), not to mention the ukuleles.
Pros of Orangewood Guitars
If you're unsure whether any of the Orangewood guitars might really be good for you, here is a shortlist of qualities and advantages this brand offers:
Great Value for Money
Yes, Orangewood guitars are really surprisingly cheap, and their price tag is usually the first thing that attracts new customers to this relatively unknown brand. Nevertheless, what really makes these guitars attractive is the great value and quality they offer for such a decent price.
These instruments might not be perfect (as we'll discuss below in our Cons section), but when it comes to the most important aspects such as sound, quality of materials, and durability, this really is a reasonable choice for any player on a budget.
Great for Students and Beginners
Orangewood guitars boast very good playability, so they are wonderful for any student, beginner, or junior player. They can be tuned easily and conveniently, and – most importantly – they are able to stay in tune for long hours of play, so you can fully focus on mastering your technique and exploring your creativity.
Comes With a Bundle of Accessories
If you want to start playing, getting a new guitar is often not enough. Many high-end and most of low-end acoustic guitars are sold and delivered in a simple box with little-to-none accessories and equipment.
Orangewood guitars are different. Even the most affordable of their models are always accompanied by a bundle of basic accessories such as a richly padded gig bag with a shoulder strap, a neck adjustment tool, a set of high-quality strings, and an optional pickguard.
Conveniently Ordered Online Without Middlemen
Whether you're too busy to shop around for the guitar of your dreams, or you've decided to get a new instrument in the middle of the lockdown, ordering a guitar online surely has its advantages. It's simply the most convenient and safest way to shop.
Moreover, with Orangewood's exclusive e-commerce approach, you can be sure that you are always dealing directly with the manufacturer. Not only does it make the guitars cheaper (no middlemen adding their commissions), but it also makes things much easier in case you eventually need to return or exchange your product.
Equipped With Premium Strings Right Out of the Box
Besides being delivered with a gig bag and some other accessories, Orangewood guitars also come equipped with super-popular Ernie Ball strings.
If you're new to guitars, strings might look like a rather unimportant detail, but experienced players rightfully believe that choosing the right strings can make a great difference in the guitar's sound and playability. Luckily, Orangewood solves this for you.
Cons of Orangewood Guitars
Orangewood Guitars have their weaker points too. Here are a few of the downsides I had the chance to notice myself or through the reviews of other users:
Quality Control Could be Better
Do you know what makes the difference between a product made in Asia and a similar product made in the U.S.? Although they might have the same designs, materials, and components, the most important factor is often quality control. If it's good, faulty products and components should be sorted out before landing on the market. But if it's weak…
Although the vast majority of Orangewood guitars seem to be in perfect condition (at least hundreds of satisfied customers state it in their reviews), from time to time apparently some faulty piece appears on the market. The reported faults include cracks in the body or braces resulting in super-high action or resonance, buzzing strings, and other damage and imperfections.
Online Ordering Has its Downsides
So far, we have mentioned only the good aspects of ordering your musical instruments online. But it is time to admit that this has its downsides too.
First of all, you can't really put your hands on any Orangewood guitar before you actually buy it.
Even though the price is great and positive reviews sound reassuring, many guitar players I know would simply never buy an instrument they never held and tried on their own. The quality might be really great and the looks stunning, but you're still risking that you won't enjoy its action, tone, or playability.
Needs Some Tuning Before You're Ready to Play
Whether it's caused by the shipment or the Orangewood technicians simply don't waste too much time setting up each of their instruments perfectly, slightly detuned guitars seem to be quite characteristic for Orangewood.
While this certainly doesn't pose a huge problem for an experienced player, beginners might feel a bit lost when they need to learn tuning a guitar right after taking it out of the box for the first time.
Are There Any Alternatives?
Yamaha produces some of the most popular acoustic guitars on the market, and their affordable Yamaha F325 model is a real bestseller.
This beautiful dreadnought body instrument is perfect for all ambitious beginners, while its lovely mellow sound, classy design, and superb playability will surely satisfy most of the experienced players too.
For more details, read our full Yamaha F325 review.
Fender is mostly known for its groundbreaking series of electric guitars such as Telecaster or Stratocaster. Nevertheless, they are also producing very good acoustic guitars including some affordable instruments for students and beginners.
Fender FA-115 is a tasteful and reliable dreadnought acoustic guitar sold in value bundles with online lessons, instructional DVDs, replacement strings, gig bag, and other useful extras.
FAQs
Question: How long do Orangewood guitars take to ship?
Answer: Orangewood tries to ship all their orders within a single week after receiving them. This means that you should get your guitar in about 3 to 7 days after placing your order.
Question: Can I find Orangewood guitars in retail stores?
Answer: No, Orangewood currently sells its instruments exclusively online. This helps the company keep the prices down and maintain a direct relationship with their customers. On the other hand, it also means that you cannot hold and play your new guitar until you buy and receive it.
Question: Do Orangewood guitars come with a warranty?
Answer: Yes, the producer offers a one-year limited warranty on all its instruments. It reportedly covers the repair or replacement of instruments or their components in case the faults are related to the defective materials or workmanship of the guitar.
Question: Are Orangewood guitars shipped internationally?
Answer: No, Orangewood currently ships its instruments only within the United States. If you still want to buy a guitar from Orangewood abroad, your only option is to use some of the shipment forwarding services. Do not forget to specify the fragile nature of your order, because instruments tend to get damaged during the transport quite often.
Question: Who makes Orangewood guitars?
Answer: Orangewood is a relatively new brand that was established by Eddie and Sooj Park, two Korean brothers who moved to California in 2004. They consider themselves avid musicians, and they like to surround themselves with professional players and technicians who help them design, construct, and set up their instruments directly in the U.S.
Final Thoughts – Are Orangewood Guitars Worth Your Money?
If you're looking for your very first acoustic guitar, you might be a bit confused by all the comparisons and reviews that often contradict each other.
But the truth is that every player has his or her own preferences, so even the best guitar on the market will surely spark some criticism.
Therefore, the most important thing you should probably know about the Orangewood guitars is that they are really good, reliable, and recommendable – especially in the light of their affordability.
These acoustic instruments might not be super-premium and strikingly unique, but they are definitely made with love and care – and it shows. The Orangewood guitar I had the chance to try (it was Orangewood Oliver) really surprised me with its bright and clean sound. It also looked very nice, classy, and professional.
Great Value
Who would I recommend this guitar to? If you're able to get your Orangewood guitar tuned and adjusted by someone who knows what they are doing, it's certainly a perfect first guitar for any enthusiastic beginner.
But I can also see it as a great backup instrument for a professional – a good yet cheap guitar you would take to the beach or campfire without a second thought.
But I can also see it as a great backup instrument for a professional – a good yet cheap guitar you would take to the beach or campfire without a second thought.
Continue reading related Orangewood guitar reviews and guides:
Latest posts by Jodie Chiffey
(see all)