Do you see the price of this great guitar? (link to website) As guitars go, that's practically nothing!
I find it a little bit odd that Fender even has an acoustic guitar at this price. As a general rule of thumb, their intermediate to professional level instruments carries the Fender name, whereas their cheaper guitars, aimed at beginner's guitar have the Squier brand slapped on the headstock. On this occasion, check the full acoustic guitar Fender FA100 Review and find out if this beginner's guitar is worth the buy!
I did little checking, and found that I some places the Squier beginner pack is being sold for more than this!
Fender has never seemed as precious about their acoustic offerings, so I guess it's easier to lump this in with the Fender brand name. I'd love to see the research and boardroom reasoning behind it! In saying that, there have been a few electric models coming from China in the past few years. They must have performed well!
Anyway, let's take a look at the actual guitar!
Core Features and Specs
As you can probably guess, at this price, the FA-100 beginner acoustic guitar doesn't have much in terms of specs that makes it a fancy acoustic guitar at all.
In fact, even on Fender's own marketing materials, the things they highlight are so ordinary. IT seems the biggest selling point for the great guitar FA-100 is just how ordinary it is.
| | |
| --- | --- |
| Style | Dreadnought body |
| Body material | Sitka laminated spruce top and basswood back and sides |
| Neck | Maple |
| Fingerboard | Rosewood |
| Frets | 20 |
| Pickup | None |
Yeah, definitely nothing too exciting there. Probably the most interesting part is the basswood back and sides and rosewood bridge. Basswood is best known for its use in electric guitars, typically Superstrat-style ones.
Probably the stand out thing with this guitar is that you're not just buying the guitar. It's sold as a pack which also includes a gig bag, a few picks, a strap, and a tuner.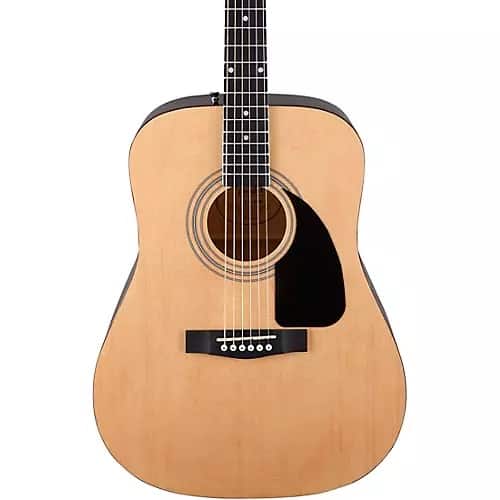 Fender FA-100 | Guitar Center
No matter what kind of music you want to play, from rock to alternative to country and more, the acoustic guitar is the centerpiece of songwriting for contemporary music. From playing along with your favorite songs to getting good enough to write your own, the FA-100 acoustic guitar is a solid choice to start on
Check price
We may receive compensation from the companies whose products we review. We only recommend products that we believe in and test.
This will work well for…
I can think of two markets for whom this would appeal to.
Firstly, and probably most obviously, is beginners. Fender is a well-known brand that even beginners who have never held a guitar in their life will be familiar with, after all it's Fender sound! It's the sort of things where if you say "Jimi Hendrix used to play Fender," you invoke images of rock stardom. That's half the sell right there.
Add in the pack status of this product, and it is pointing squarely at beginners.
The other candidate for owning the FA-100 entry level guitar is standard or professional guitarists. Players who have a few acoustic guitars in their collection, but just need something for knocking around, either for the living room or bringing to the beach or on road trips. Essentially they'll be looking for something that's not expensive, but that won't be completely awful to play either.
Does it do what it should?
As with a lot of Eastern-made guitars at the cheaper end of the market, the parts of the FA-100 Fender acoustic guitar are all unbranded.
What does this mean? Well, as with most guitar companies, production practices in relation to location are kept pretty vague, so I can't tell you for definite. But, there a good chance this is mass produced, with Fender, or any other company who wants, able to buy the guitars, and put whatever logo they want on the headstock.
Eek, that sounds a little negative. But, if that keeps costs down when you're looking for a cheap guitar, well, you're not really in a position to complain, but it may be worth thinking about how much of the FA-100's price tag you might be spending just on having Fender printed on
the headstock.
It's also worth remembering that, as one of the leading instrument manufacturing brands in the world, Fender will likely pay a little bit more attention to quality control, more so than a lot of brands. Even if these are being churned out of a factory, I'd wager 50 American dollars on them keeping an eye on what they're putting their name on.
Construction
Despite some misgivings about the parts used in constructing this guitar, it's actually a
fine instrument.
I mean, not "fine" as in "a work of art that'll replace the Mona Lisa at the Louvre," but fine as "it'll do fine."
I'll go over key points that should be looked at on any guitar.
Firstly, looking at the neck joint, and it really is a very tidy piece of work. I'm very impressed by it. It's better than neck joints of seen on premium Fenders from its dark days in the seventies, that's for sure! There are no scratches or globs of excess glue, and nothing looks forced. Good job!
The rest of the parts share this level of build quality. The machineheads seem good and tight, with no concerning rattles. Looking down the neck, the fingerboard looks as even as you'd like. Taking a closer look at the frets, and it's as good as can be. In line with the rest of the instrument, it's fine. No alarm bells anywhere.
The body has been finished with a black binding. It's fine, but I'm not sure it adds anything to the guitar, visually. But in saying that, I do have a personal bias towards favoring a nice white or cream binding.
Tones
I'm reviewing this guitar in what I would describe as an average sized living room area. It's got carpeted floor and curtains, and the usual soft furnishings, as well as harder furniture.
Why do you care what my living room is like? I honestly hope you don't, but I wanted to give you an idea of the room I'm reviewing from, because that will influence the sound, especially on acoustic guitars, which don't have distorted amps to hide behind.
The room I've just described should give you an indication that it's really a dull sounding room from the carpet and soft furnishings, but not completely dead. There's no danger of any kind of reverb affecting the sound.
I went straight into this playing a few chords: mid-tempo, and a relatively relaxed strum. No more than my comments on the build of the guitar, it was fine. It's far from the brightest or most resonant sound I've ever heard. While the higher strings rang out fine, the overall tone is definitely geared towards a mid-to-low sound.
If you're after an instrument with sustain that'll ring out for four days, it probably won't come as a surprise that this $150 guitar isn't it.
It's not a bad sound if you just need drunken strums around a campfire where nobody knows what a Martin D-28 sounds like, this will make relevant noise to keep people happy.
Playability
I find that in terms of playability, cheaper guitars are more of a fight if that makes sense. The action is rarely particularly low. The FA-100 is no exception.
For an inexperienced guitar player, this is actually a good thing. Having to press that bit harder will strengthen your fingers, and get you used to play with a bit of effort and precision. If you learn to on a guitar with a bit of fight, any guitar after that will seem easy.
The other thing I noticed playing through the FA-100 is that it doesn't seem as finished as other instruments. It come with a gloss polyurethane finish, which is fairly standard, but I don't know if it's that it hasn't been given many coats or whether it's a thinner coat than more expensive instruments.
I'll chalk that up to being one of the cost cutting measures that keeps the cost of this guitar nice and low. It's not that it creates any discomfort when you're playing or anything, but
it is noticeable.
If you're an intermediate or professional guitarist, who has been used to playing better finished guitars with lower action, this might be a bit uncomfortable, but it'll remind you of the importance of getting back to basics in your playing.
Pros
Cons

So cheap!
Everything you need to get started in the pack
A decent instrument for beginners to learn on

It's not an exciting guitar
Seasoned players might find the feel and action to be a challenge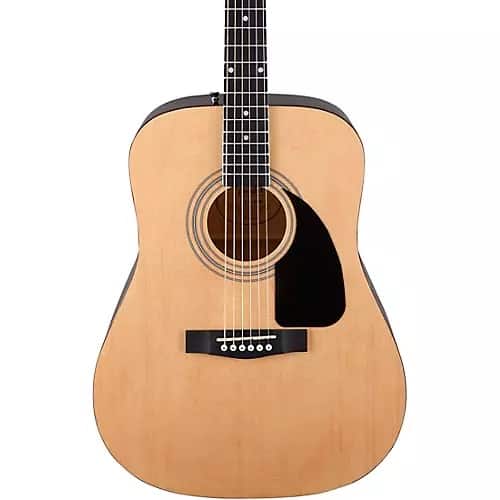 Fender FA-100 | Guitar Center
No matter what kind of music you want to play, from rock to alternative to country and more, the acoustic guitar is the centerpiece of songwriting for contemporary music. From playing along with your favorite songs to getting good enough to write your own, the FA-100 acoustic guitar is a solid choice to start on
Check price
We may receive compensation from the companies whose products we review. We only recommend products that we believe in and test.
Alternatives to try
Epiphone PR-150
Never in a million years will Gibson produce a new guitar as cheap as this. Their Eastern-made Epiphone's brand is renowned for exceptional quality at affordable prices. They are a common choice for beginners and intermediate players on a budget.
The PR-150 is a straight up brand equivalent of the FA-100. On surface-level, the only noticeable difference is the name on the headstock. The Epi comes with mahogany back and sides, and a mahogany neck. Ordinarily, mahogany is a more expensive tonewood to use, but at this price, you can guess that it's not going to be any kind of exceptionally high-end stuff.
If you're looking for something a little bit different but in a similar budget, the Yamaha F335 might be an option. Rather than the classic natural finish, you can get one of these in a high gloss black finish, with gold hardware.
The Yamaha F335 has a regular old spruce, but its back and sides are made from a wood called Meranti. It's called Philippine mahogany but isn't actually mahogany at all, but it does look like it.
Conclusion
If you're a beginner but want to take comfort in the familiarity of a well-known brand, the FA-100 from Fender is an excellent option. As it's a pack, it comes with the few extra bits you need to get you up and running.
It would probably be an OK choice for intermediate guitarists as a backup guitar for messing around with, but personally, I'd spend a few dollars getting the action lowered.
FAQs About the Fender FA-100 Guitar
Is the Fender FA-100 left handed or right handed guitar?
The Fender FA-100 is a right handed guitar so it's not suitable for all players. There are other models that are convenient for left hand players but they might be more expensive than this model.
What kind of strings does the Fender FA-100 has?
The FA-100 Fender acoustic guitar comes with steel strings, and depending of the place of purchase, the guitar might even come with an extra pair.
Where is the Fender FA-100 manufactured in?
The Fender FA-100 is manufactured in China, unlike other models Fender produces that are made in Korea, Indonesia, Mexico and the USA.
Danny grew up playing anything that looked like a guitar. Since some kids just don't know how to grow up, he continues to write about guitars because you can do that these days.