If you've clicked on this article then without a doubt you're a guitar enthusiast who wants to learn about this one, not-so-common type that initially may seem like it is just an acoustic guitar with a fancier name. As an experiment when writing this guide, I've reached out to a bunch of my guitarist friends and I was surprised to find out that even those who know the topic well, weren't entirely sure what makes an acoustic guitar a concert guitar. Hopefully, not for long – I hope you guys are reading this!
In this guide, we'll dive deep into all things concert guitar – from what are its characteristics and strengths to what you should consider when choosing the best concert guitar for you. Let's not waste any more time and take a look at what we're dealing with here!
Bottom Line Up Front
The concert guitar is a great choice for players looking for a more compact and comfortable alternative to a classic acoustic guitar, with a softer feel and brighter sound. Solid and quality concert guitars can cost as little as $200 but we encourage you to give a tad more expensive models a shot if you can afford it – our pick that's both affordable and sounds great is a reliable Guild OM-240E concert guitar. If you're willing to splurge on additional features or an unparalleled quality of sound, check out our picks from Yamaha and Martin as well!
A Concert Guitar – What Makes it Unique?
So coming back to the experiment I mentioned earlier – when asked about what makes a guitar a concert guitar, answers tend to vary due to its unassuming looks. The most common answer that I received was that it's just a variation of an acoustic guitar.
That's a step forward as we at least know that a concert guitar is a variation of a steel-string acoustic guitar and not a nylon-string guitar, commonly called a classical guitar. But that of course is not all that there is to it – keep on reading as we'll be unpacking all the unique characteristics of concert guitars.
Concert guitars and Dreadnoughts
What everyone thinks about when they hear "acoustic guitar" is a so-called dreadnought – a style of guitar that is now an absolute must-have in a catalog of every major guitar manufacturer.
A history of a dreadnought guitar dates back to the first decades of the last century – produced on a larger scale by Martin company they've become a staple amongst folk and bluegrass musicians halfway through the nineties. Other big names in the industry like Gibson quickly followed suit and put their own spin on it with now also very popular guitar styles like a round-shouldered Jumbo or a square-shaped Hummingbird. Dreadnoughts, however, kept on reigning supreme in the acoustic guitar world thanks to their unrivaled characteristics both in terms of sound as well as the build of the guitar itself.
It becomes clear that to talk about concert guitars is merely impossible without drawing a comparison to a classic dreadnought that it so closely resembles. If you were to start browsing online looking for a concert guitar in the acoustic guitars section, you might not be able to pick them out from the listings immediately.
Well, at least not until you start looking at another characteristic that was almost always brought up when describing a concert guitar – its smaller size. But exactly how much smaller is it than a dreadnought? And smaller where? Let's discuss this further.
Interesting Read: Concert vs Dreadnought Guitars: What's the Difference.
The body
A difference in size between the body of an average acoustic, dreadnought guitar, and a concert guitar is around 0.2 inches in length and ½ inch in depth. Not much, hence it's easier to recognize one by its slimmer shape – here, a difference will vary around ½ inch in the lower bout and 1,5 inches in the upper bout depending on the model.
That's not where it ends – the neck of a concert guitar is ¾ inch shorter than a regular. While it might not seem like much, it directly affects how comfortable it is to play. Not only is there less distance for fingers to travel between the frets, but it also gives the strings a slightly softer feel due to less tension applied. Unless it's a cutaway model, it's attached to the body at the 14th fret, as usual.
However, what about the sound? With what we know so far, it's possible to guess what a concert guitar might sound like – let's see if it's true.
The sound
The sound of a concert guitar is just as (if not more) important as its build. Unless you're in circumstances that we'll discuss in the next section, it's the sound of a concert guitar that you should consider the most when deciding whether or not to get one.
Due to its smaller body, a concert guitar produces a sound that is noticeably brighter and richer in upper-mid harmonics than a classic dreadnought with its full-bodied, almost "thuddy" character. A shorter neck gives a more delicate, plucky sound that's more relaxed than cut-through when hitting individual strings. These traits make a concert guitar especially great for all fingerstyle arrangements and soloing – it sounds precise, articulate, and smooth without any harshness even in the highest frequencies.
If the above sounds enticing to you, we're on the right track! Keep in mind that concert guitars on their own can't produce as much volume as dreadnoughts and may lack that rounded, boomy character. If you end up needing more of that, you can always fix it with some amplification – we'll discuss this option later on.
Now that we've covered all grounds regarding the specific traits of a concert guitar, let's think about who will benefit from them the most.
Who are Concert Guitars Best Suited For?
To begin answering this question, let's look at the practical aspect of it first. With its more compact size and lighter weight, a concert guitar is a great choice for smaller-bodied players that may find a regular-sized acoustic guitar too uncomfortable to hold.
If you fall in this category and on top of that you attend band rehearsals or practice sessions regularly, consider that transporting your concert guitar will be much less of a physical task if you choose it over a dreadnought.
Sound-wise, a concert guitar is most applicable for fingerpicking and slick soloing. It shines bright paired with other classical instruments without stealing too much spotlight when playing an accompanying role.
It's also perfect for providing musical arrangement to a vocalist in a duet setting – having less presence in lower-mid frequencies, it doesn't overpower the human voice that primarily resides in that area.
Therefore, a concert guitar will primarily accommodate players that don't strive to be an all-in-one, musical powerhouse but prefer playing with a company or tend to navigate towards a repertoire that's softer in nature.
So you've made it all the way here – if you're still reading, let me safely assume that you're ready to get a concert guitar for yourself. "Which one" is the last question that remains. What should you look at and consider when deciding on the specific model? Worry no more – we've got you covered no matter the budget or skill level.
Top 5 Recommendations For Best Concert Guitars
Yamaha FS800 Folk
Starting with a classic for any musician on a budget, this model of a concert guitar from Yamaha has won over thousands of beginner players all around the world. For a modest price of around $200, you get much more than you would assume!
Yamaha FS800 Folk has a classic dreadnought shape with a body made out of solid spruce on top and Nato/Okoume wood on the sides and in the back. Nothing fancy, but in this price range it shouldn't be a concern anyway.
What matters is the sound and here Yamaha FS800 Folk has the vast majority of low-price guitars beat. From the round and warm lows to well-defined and sharp mid frequencies ending with crisp and clear highs, it delivers on all fronts and proves to be a very versatile guitar that could even compete with listings costing up to $100-$150 more! A cherry on top is its well-done X scalloped bracing that gives it extra volume and presence.
All the praise aside, let's keep one thing clear – this is still a budget guitar dedicated to beginner-level players so while perfectly capable of sounding great, it will not blow away more seasoned guitar aficionados. If you're looking for something with a more specific tone or feel, you might want to keep looking.
Pros
Amazing price-quality ratio
Great sound in all frequency ranges
Solid build
Cons
Might sound "generic" to some
Fender CC-60SCE

Next up, is a second competitor in the "budget" category – a beautiful, sturdy-looking Fender CC-60SCE. For usually just $50-$100 more, this concert guitar has a couple of tricks up its sleeve that might sway a buyer in its direction.
The first thing that immediately catches an eye is its slick-looking body with cutaway access that allows a player to venture all the way down the fretboard with ease. This type of body is a must for any player that likes to solo through the octaves and hit the high notes with just as much precision as anywhere else on the scale.
In terms of wood, we're talking solid spruce on top again with mahogany all around it, including the neck. The fretboard is made out of walnut and has the signature, Fender 'Easy-to-Play' shape with rolled edges that improve the comfort of play. Add the Quartersawn Scalloped "X" bracing and Dual-Action truss rod and we have a really solid build in our hands for a still very affordable price.
Fender CC-60SCE is an electro-acoustic concert guitar – equipped with a basic but decent Fishman preamp and equalizer for when extra volume and tone adjustment is needed. Based on my experience with this guitar, the sound quality remains fairly intact when plugged in, with maybe just a bit of additional spikiness in higher-mid frequencies. Compared to the aforementioned Yamaha it sounds a bit more sharp and bright, with well-balanced lows.
This concert guitar is a perfect choice for those performing a lot – with its cutaway body, comfortable neck, and electro-acoustic abilities, it has everything a solo busker or a band member needs for a stellar price.
Pros
Very comfortable to play
Good quality wood for the price
Sturdy and durable
Cons
A few plastic elements
Sound quality might vary when amplified
Guild OM-240E
Moving on, we're slowly getting out of the low-price zone to take a look at a classic-looking, electro-acoustic concert guitar from Guild, model OM-240E. For a cost of around $400, you get a marvelous sounding instrument built to last a lifetime.
Guild's OM-240 has a curvy body shape similar to a smaller-sized Jumbo, often called an "orchestra" body type. It's built with a solid Sitka spruce on top and laminated mahogany all around it. However, where this concert guitar's design excels is the neck – rosewood board and fretwork are of amazing quality, the neck shape feels super comfortable and the open back tuners hold the tune with impressive accuracy even after long hours of playtime. Strings action is low and comfortable at a whole length of the fretboard making this concert guitar so enjoyable to play, I had a hard time letting it off of my hands once I sat down with it.
Volume and tone of the guitar are maintained through soundhole controls – what we've found is that even though they're not most comfortable to use, once you set them up correctly for the environment you're in, no need to worry about anything else. The guitar sounds fantastic when amplified with crystal-clear sound and presence. What's missing is a built-in tuner – we don't mind, but those who value convenience above the clean look might find it disappointing.
To sum up, Guild OM-240E is an excellent concert guitar built with precision and attention to detail. Perfect for those who look for a reliable instrument with fully-fledged, rich sound throughout an entire frequency spectrum.
Pros
Neat, polished look
Comfortable, sturdy neck
High-quality electronics
Cons
No built-in tuner
Some players don't like the soundhole controls
Yamaha TransAcoustic LS-TA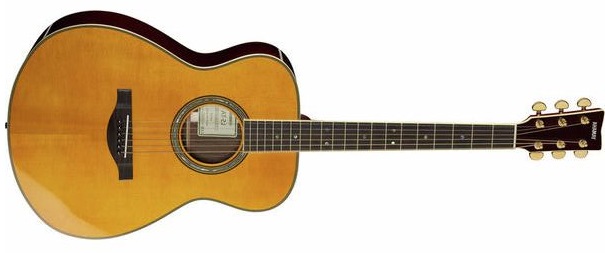 It's about time we take a look at some concert guitars in a high price range and to kick it off we have a real wild card, a unique, electro-acoustic offering from Yamaha – TransAcoustic LS-TA.
Let's cut to the chase – what does "TransAcoustic" mean? It's a feature that provides built-in guitar effects even when unplugged. If you're a type of musician more interested in evoking a wide range of emotions with all tools available at your disposal rather than just executing the composition correctly, this is a real game-changer.
Imagine you can easily build the atmosphere by changing the reverberation from a small room to hall-like, or instantly adding a chorus effect to distinguish one part of the song from the next. With TransAcoustic technology, it's as easy as twisting a knob!
The actuator inside of the guitar vibrates in response to the strings and its vibrations are amplified by the instrument's body, creating reverb and chorus effects that sound authentic and don't obstruct the guitar's natural tone.
With all the above you can't help but wonder if these novelties are just tricks to justify a significantly higher price. Our answer is plain and simple – absolutely not! Yamaha TransAcoustic LS-TA still sounds phenomenal without any enhancements. It's harmonically rich in all registers and very transparent with a solid presence and loudness for a guitar of a smaller size. It's worth mentioning that the top, made out of solid Engelmann spruce, is treated with Yamaha's ARE (Acoustic Resonance Enhancement) to give the sound that vintage richness found in well-used instruments.
It's really hard to find a flaw with this excellent model – its versatility and overall quality of sound and construction make it a front-runner in the higher price range.
Pros
Effective and easy-to-use TransAcoustic features
Phenomenal, raw sound
Cons
Additional features drive up the price
Martin 00-15M
For a change, our last pick is a guitar that doesn't need any extra tricks to justify the price tag – its truly unparalleled sound and craftsmanship speak for themselves. Knowing Martin's significance in the history of acoustic guitars, we'd be remiss not to include one of its offerings – a real showstopper, the gorgeous Martin 00-15M.
First look you give this concert guitar and it's immediately impossible not to get ideas about how it sounds. The warm, dark mahogany wood all around the body with satin finish and minimalistic design gives it a calm, welcoming look and a highly refined feel. Before you know it, you'll sit in an armchair with it singing an old ballad or improvising a song on the spot simply inspired by its aura.
As expected, the sound is to die for but make no mistakes – this is not an electro-acoustic guitar and the lack of a pickup isn't compensated by any solutions to amplify the low-mid frequencies. The sound is meant to be very evenly balanced with incredible harmonic richness in all ranges and plenty of volume. Martin pulls this off flawlessly as 00-15M sounds heavenly, fully justifying the cost of at least $1500.
If it's the sound of the highest quality that you came here for and your pockets are heavy enough, this concert guitar is a no-brainer and an almost guaranteed satisfaction for long years to come.
Pros
Sound quality is as good as it gets
Pristine, refined look
Solid wood is used throughout the design
Cons
FAQs
Just in case we still haven't answered all of your questions, we've put together this short FAQ addressing concerns that might arise when buying a concert guitar.
Question: I Have Big Hands – Will That Be a Problem?
Answer: While the shorter neck length shouldn't be an issue, its narrower width causes strings to be a bit closer to one another. If you're a big-handed player, it might be hard to avoid accidentally muting strings on the fretboard. If you're set on getting a concert guitar, make sure to play a couple of them before purchase.
Question: My Concert Guitar Has No Pickup – What are my Options for Amplification?
Answer: In a nutshell, there are a couple of pickup variations that can make your guitar sound louder – piezo, sound hole, contact, and magnetic pickups are the most common ones. Each has its own characteristics but all sound best when paired with a good microphone.
Question: Should I Try a Concert Guitar out Before Buying it?
Answer: If you have an opportunity to do so – most definitely! Just like with any other type of guitar, nothing will inform you more than actually playing it. With concert guitars especially, make sure that the smaller size is not getting in the way of your comfort of playing.
Question: It's my First Guitar – Do I Need Anything Else?
Answer: Depending on what your concert guitar has on deck already, you might need a couple of items to go with it. The most common ones are a tuner, a capo, a variety of guitar picks, and a strap. None of these cost a lot so no worries about the final bill going high with these few extra purchases.
Conclusion
Summing up, there's a lot to choose from for anyone interested in getting a concert guitar – these small dreadnoughts' cousins sure differ from one another. Hopefully, you feel well equipped to make an educated choice on the one that will be perfect for your wallet size as well as personal needs and artistic expression.
Our favorite on the list has to be the Guild OM-240E – it has everything you need in a concert guitar for a banging price. The sound is more than satisfactory and the quality of the design, as well as the comfort of playing, are both impeccable for still quite an affordable price. It's hard not to fall in love with it after playing just a few chords.
But of course, trust your own gut and preference when deciding on which concert guitar to get and you'll for sure leave the store satisfied.
Latest posts by Calum Vaughan
(see all)