If you are thinking about learning how to play the acoustic guitar, or you are simply looking for a beginner's guitar you should totally go for it.
As a beginning guitar player, the learning process can be equally frustrating and confusing.
However, sticking to the learning process isn't going to be something that you regret! Years from now, you're going to be grateful that you stuck with it and learned how to play.
Before you even begin to start learning how to play acoustic guitar, you need to first have an instrument which playability adapts to your abilities. I personally always recommend a Yamaha acoustic guitar to my beginning students or any parents who ask me what beginner's guitar they should purchase for their child.
Yamaha's FG series is one of the most consistently affordable instruments, while still being quality guitars.
I'm constantly recommending the Yamaha FG acoustic guitar series because the musical instruments in these series are built to grow with you; as a professional guitar player, I often find myself telling my co-workers and peers about how much I enjoy using the FG series. You'll will definitely find a solid top acoustic guitar there.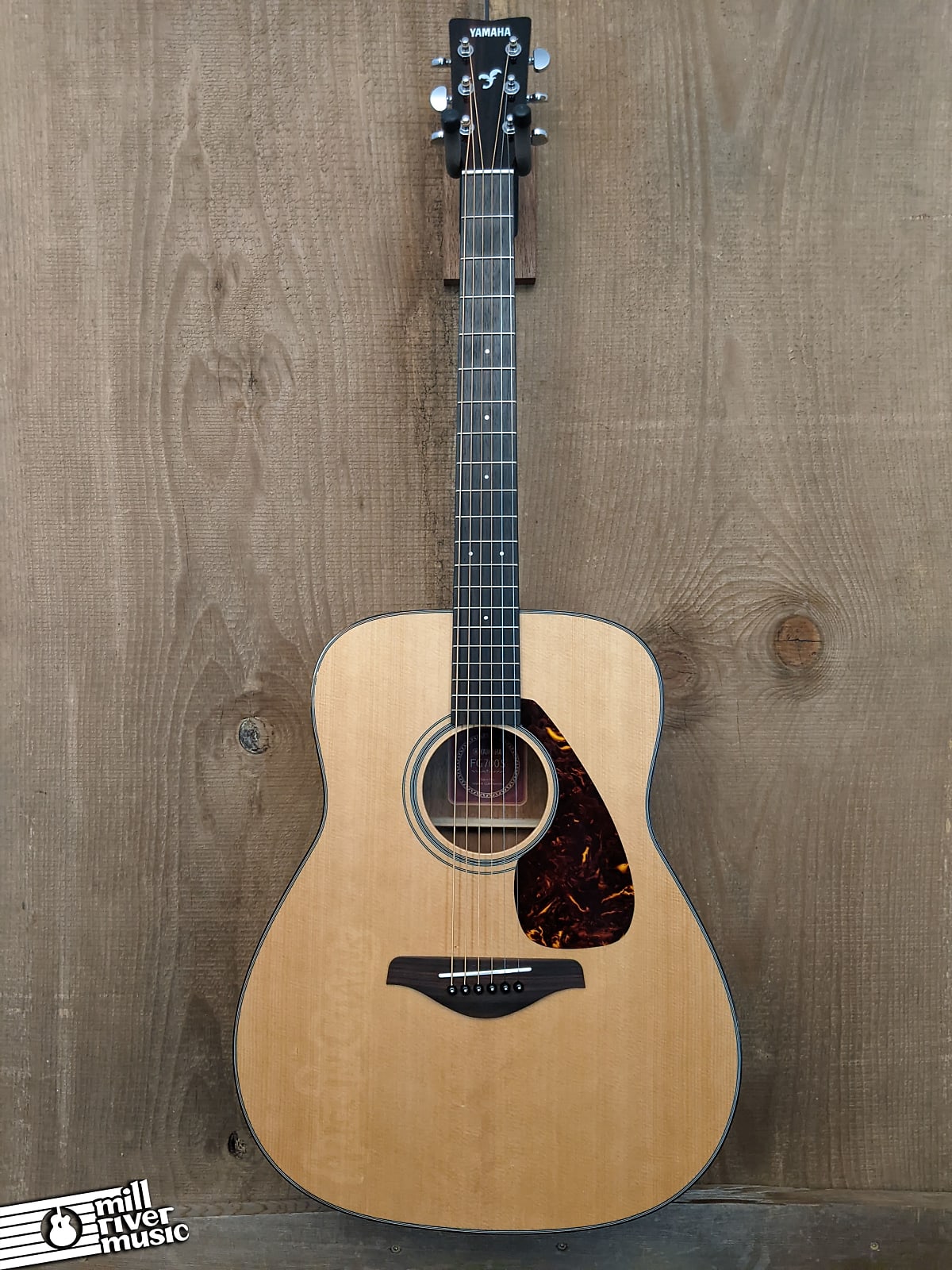 There are a lot of different acoustic guitar brands that are available on the market, and it can be overwhelming to find the right musical instrument, but in my professional opinion, Yamaha offers a top quality guitar, with a great sound for beginning guitar players, all at an affordable price.
In a Rush? Just Need a Good Recommendation? To cut right to the chase, my top recommended Yamaha acoustic is the Yamaha Gigmaker Deluxe start package.
Here's the full list at a Glance:
Of course, you can keep reading for all of my recommendations and find your Best Yamaha acoustic guitar in no time!
Yamaha Acoustic Guitar Starter Pack
If you want to purchase a great guitar that comes with all of the bells and whistles, an acoustic guitar starter kit from Yamaha is available.
For around $200, you can purchase a Yamaha guitar kit that comes with:
A Yamaha guitar
Neck strap
Guitar picks
Gig bag
Extra guitar string sets
Guitar tuner
An instructional DVD that also comes with lessons
This Yamaha Acoustic Guitar starter kit is actually a money saver; instead of having to purchase every single item separately, you can get all of the items that you need to get started all for a lump sum. Not to mention it totally saves you time and hassle!
There are two starter packs that Yamaha offers that you should consider if you are looking for a musical instrument- both of these options are budget conscious. There two starter packs are: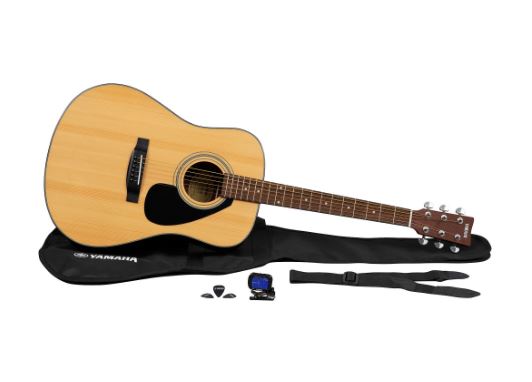 This is the basic package out of the two, which means that it is also a more affordable Yamaha gigmaker. This starter pack comes with Yamaha's F325 acoustic guitar; the F325 is one of the least expensive acoustic guitars that Yamaha has in their lineup. The F325 sports a laminate top, which is part of the reason why the guitar is less expensive than the Deluxe Starter Pack.
In the Gigmaker Deluxe starter pack upgrades your guitar selection from the F325 to the FD01S. Instead of featuring a laminate top like the F325, the FD01S has a solid Engelmann spruce top (solid top acoustic guitar), Rosewood fretboard, Rosewood bridge, and Nato sides and back.
For just a small change in price, you'll receive an instrument that's better quality. Both of the starter packs come with other accessories such as picks, a gig bag, extra strings, etc., but the main difference in the starter packs is the guitar build and quality.
However, if you aren't looking for a starter pack and you just want to get yourself a guitar, there are still affordable options out there that are perfect for you!
Yamaha FG800 Folk Acoustic Guitar | Musician's Friend
Yamaha's FG800 Folk Acoustic Guitar is a reasonably priced entry-level acoustic guitar featuring one of the most popular tonewoods - solid Sitka spruce - for the top. Other features of the FG800 include a rosewood fingerboard and bridge, black and white body binding, die-cast tuners, and a tortoise pickguard.
Check price
Buy at Guitar Center
We may receive compensation from the companies whose products we review. We only recommend products that we believe in and test.
The FG800 is a guitar that's popular all around the world, because of the full sized features that are more commonly found in expensive guitars. While the Yamaha FG800 is intended for beginning guitarists, it definitely is a guitar that's a fit perfect for both beginning and intermediate guitarists.
For under $350, you can purchase yourself a solid sitka spruce top that has a Rosewood fingerboard, a Rosewood bridge, and Nato neck, sides, and back.
Nato is a wood that shares several similarities to Mahogany, which helps to ensure that the FG800 has not only solid construction, shape, and sound quality, but it also produces similar resonance and depth.
The Spruce top on the FG800 finishes the sound that the guitar produces off with crispness and definite articulation. Having a solid top on a guitar at this price is a rarity, but it certainly does the FG800 justice.
The most loved part of the FG800 is how easy it is to play. As a beginning guitarist, you're going to want to find yourself a guitar that's easy to play. The student guitars that Yamaha produces truly are worth the small investment; while they are budget friendly, they are easy to play, have amazing craftsmanship, and produce a balanced tone.
The only complaint that I have about the Yamaha FG800, is that it tends to have a very high action. However, this does tend to be a problem for guitars that are on the lower end of the
price range.
I am a guitarist who enjoys playing the guitar that has a lower action, but there are people out there who enjoy playing the guitar that has a higher action. Don't let the high action make you second guess this guitar; if you love this guitar and the price tag on this guitar, you can always spend a little bit of extra money and get your guitar adjusted to fix the action.
The FG800 can be purchased individually or in a bundle pack; the bundle pack comes with a hard case (which can cost several hundred dollars by itself), a tuner, string winder, a capo, stand, tuner, and an instructional DVD.
Whether you want to learn how to play guitar in order to perform covers, want to play in a band, or you truly want to learn how to read and play guitar music, you're going to need a small collection of accessories to progress with you as you continue playing.
If you're looking to start out with everything you need and not have to make continual purchases as you continue playing, a bundle pack truly is the way you should go.
Summary:
Dreadnought guitar body shape
Solid Spruce top
Laminate Nato Sides and Back
Scalloped X Bracing
Laminate Nato Neck
Rosewood Fingerboard
25 9/16 inch scale length
1 11/16 inch nut width
Urea Plastic Nut
Rosewood Bridge
Urea plastic saddle
No cutaway
No electronics
Four color options: natural, brown sunburst, sand burst, black
Further Read: Yamaha FG800 vs 830 Compared.
The Yamaha FG series is truly a great series for beginners to choose from. If you are someone who is truly serious about learning how to play guitar and have some extra money you are willing to spend on your guitar, I would suggest that you take some time to check out the FG820 and the FG830.
Both of these guitars are an improved version of the FG800; while they do cost a bit more than the FG800, they are still in an affordable price range.
For under $300, you can purchase yourself a high-quality guitar that will last with you for years to come; the only reason you'll ever need to change out from this guitar is if you want to upgrade to a pro-quality guitar.
Both the FG820 and the FG830 sport a solid Sitka Spruce top.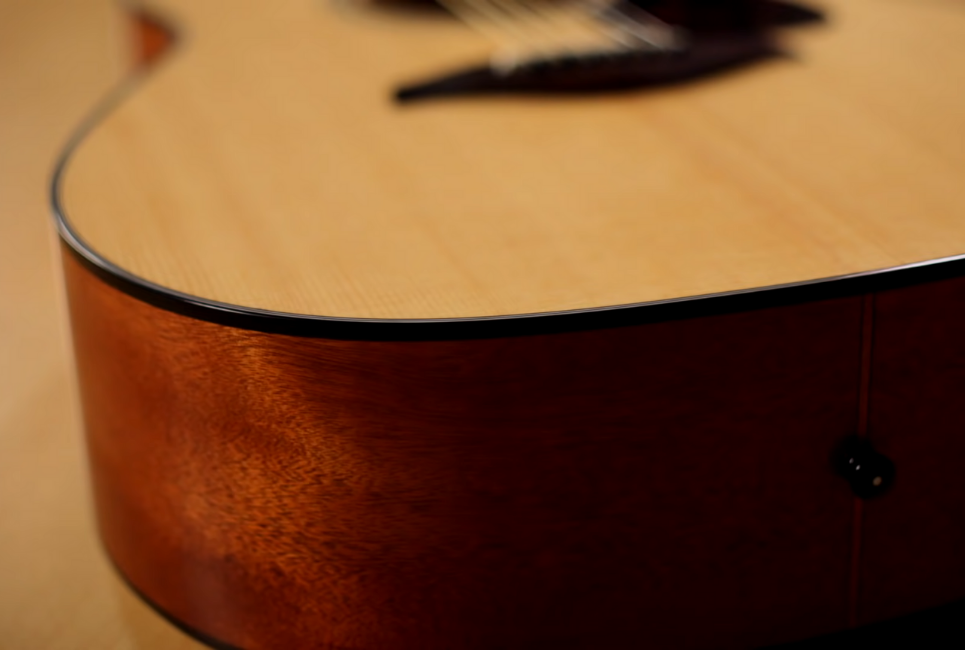 The FG820 has Eastern Solid Mahogany sides and back. However, the FG830 has Rosewood installed on the sides and back. Rosewood is often favored more prominently among acoustic guitar players because it is amazing tone.
You have the option to purchase either guitar in a Vintage Cherry Sunburst finish or a Tobacco Brown Sunburst finish. As a beginner, which one should you choose? Since you are a beginning guitar player, you probably don't know all that much (or even care) about tone woods. Both make a great choice and you can't go wrong with either.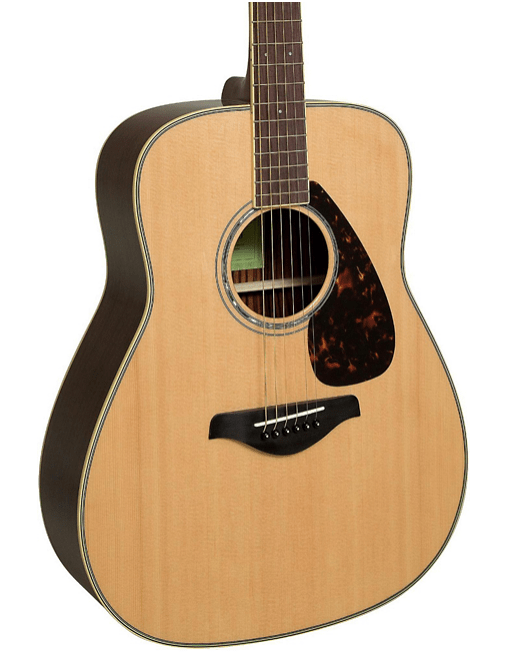 As a personal preference, I prefer the FG830, only because I prefer the sound of the Rosewood over the sound of the Eastern Mahogany; Eastern Mahogany is often referred to as Nato. For the same price, the FG830 has a slightly better quality and sound quality, because of the use of the tone wood.
Summary for FG820:
The FG800 and FG820 are similar but have only two main differences. Difference number one is that the FG820 has a laminate Mahogany sides and back. Difference number two is that the FG820 has a cream plastic binding, which is really just a cosmetic difference.
Has a warmer tone than the FG800
Comes in five finishes: natural, black, autumn burst, sunset blue, brown sunburst
Summary for the FG830:
Comes in three finishes: natural, autumn burst, tobacco brown sunburst
The Rosewood on the FG830 helps to ensure that this guitar produces more sustain compared to the FG820
Rosewood also helps to produce more clarity when the guitar produces high and low pitches, especially when compared against Mahogany neck guitars
Brighter sound compared to the FG820
Abalone inlay around the sound hole, which is different compared to the FG820L, but this is merely a cosmetic difference
Yamaha FG700S Acoustic Folk Guitar | Reverb
Used Yamaha FG700S Acoustic Folk Guitar from Reverb. This is a feature-packed entry into the world of playing guitar. It is a great option for anyone looking for a nice auxiliary model to have on the porch or strum by the fire.
Check price
We may receive compensation from the companies whose products we review. We only recommend products that we believe in and test.
This is the first acoustic guitar that I recommend to beginning left handed players. Matter of fact, the FG700S has been a favorite among left-handed players for more than fifty years.
The FG700S is a unique combination of both a classical guitar design and a modern guitar build. Yamaha made sure to focus on creating a guitar that produces excellent tone, in order to provide their left-handed players with an exciting experience.
While this guitar has not been specifically made with left-handed players in mind, this guitar does come with a left handed option.
You can purchase a bundle for the FG700S that comes with the guitar, picks, capo, string winder, hard case, strap, built-in tuner, steel string bundle, a hard case, and an instructional DVD. The physical build of the FG700S consists of a solid Sitka Spruce top, diecast tuners, and
Rosewood fingerboard.
If you are shopping around for your child, you're not going to want to purchase a full sized guitar. In fact, you're going to want to purchase a ¾ size guitar. A ¾ size guitar is a guitar that's body and neck is scaled down from a full sized guitar; this is in order to make the guitar playability better for small bodied children.
The JR1 and JR2 are ¾ sized mini folk acoustic guitars that are based on the Yamaha FG series.
The JR1 and JR2 are the best acoustic guitars for kids that I've ever used; these guitars aren't made specifically for children either. If you are someone who has a small stature or small hands, you can also use this guitar! Another cool feature on the JR1 and JR2 is that you can choose the visual design of the guitar; for example, we have a JR2 Sunburst pictured above!
Don't be alarmed by the small size of these guitars- they aren't toys! These guitars have been created with the same standards that all other Yamaha guitars are made with.
Specifically, the JR1 and the JR2 guitars are popular among professional guitarists, because they make great travel companions. While their bodies may be smaller, the sound quality and the size of sound that they produce is the same as a full sized guitar.
The Yamaha JR2 sports a solid Spruce top, Nato neck, Rosewood fingerboard, Meranti side and back, and Rosewood bridge. Meranti and Nato are woods used in budget guitars as a replacement for Mahogany; while the richness that these woods produce aren't the exact same as Mahogany, they are still really close.
As for the Yamaha JR2, it's a guitar that has a little bit of improvement over the JR1. The JR2 has a Mahogany Finish UTF sides and back, instead of the Meranti that's used on the JR1. The JR2 also offers the sunburst finish, which doesn't make a difference in the sound produced, but it does make the guitar look great.
Whether you are shopping for your student, you're shopping for yourself as somebody with a small body, or a veteran guitarist looking for a small guitar along with you or to stash away in your office, the JR1 guitar and the JR2 guitar both make amazing choices. These guitars also come with a bundle option, so don't forget to look at that!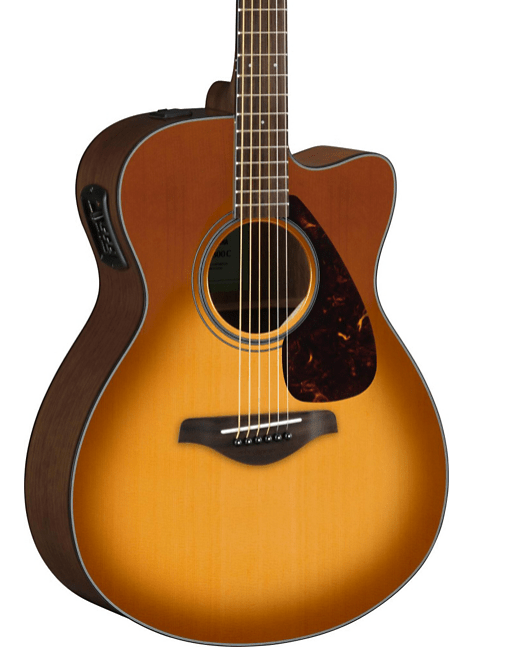 The Yamaha acoustic-electric FSX800C guitar is an upgrade to the current FS800 guitar that Yamaha currently offers. You'll find there are several new characteristics that are featured on this instrument, such as a cutaway body. Also, you'll discover that there's an under-saddle piezo pickup, as well as an analog preamp. These added features make sure that all of your live performance is to produce the highest quality sound possible from this guitar.
In addition, you'll find that there's a 3-band EQ, as well as frequency control. Paired with a chromatic tuner, you can completely customize the sound and precision of your guitar. The only thing that you'll have to worry about bringing with you is Double AA batteries to make sure that this acoustic-electric guitar has a continuous supply of power to it.
Keep in mind that you'll be able to choose between a Dreadnought body style or a concert body style. But both south of these instruments features a solid Spruce body. You'll find that that the sides and the back or made with NATO, while the fingerboard is made with Rosewood, all topped off with a glossy finish.
The biggest downside that to this guitar is it it's only made for a right-handed musician. However, with a nut width of 1.69 in and a scale length of 25.6 in, you'll find that there are 20 Frets on this finger board.
Also, if you're not totally in love with the acoustic-electric possibility of his guitar, you can also get it and then the acoustic-only version. Plus you even have the option to choose between a ruby red color or a natural color that's less flashy.
Best Yamaha Travel Guitar
Yamaha CSF3M VN All-Solid Parlor Size Acoustic Guitar
Looking for a great Yamaha guitar you can take on the road with you? The CSF3M is the ideal parlor size guitar, perfect for planes, trains, and basically any situation where you travel frequently or are limited on space. Best of all, this is a HIGH QUALITY instrument that doesn't "sacrifice" size for sound.
Check Amazon Price
Check GuitarCenter Price
We earn a commission if you make a purchase, at no additional cost to you.
09/24/2023 08:21 pm GMT
The Yamaha CSF3M guitar is compact in size but still manages to be portable. It features solid mahogany back and sides and a rich tone.
This guitar's comfort and playability are two of its most impressive attributes. This guitar is ideal for beginners. The guitar's small body is appealing to students. It also weighs in at around four pounds. I love the neck because of its smooth action and comfortable feel when playing up and down the neck. Smooth frets.
Yamaha has made the CSF series a compact, go-anywhere acoustic. This guitar is all that and more. This guitar is great for students, professionals, as well as for traveling.
Why Choose Yamaha?
I recommend beginners to purchase a Yamaha guitar because Yamaha guitars are easy to play. As a beginning guitar player, I know it's tempting to purchase a cheap guitar kit off of a website and call in the day.
However, if you want to grow with your guitar, I would advise against that. It's a common trait over lower priced, no-name guitars to have design issues that ensure that the guitar produces a poor sound and that it doesn't withstand much abuse.
With Yamaha, it all comes down to the build quality that they produce. Guitars that mass produced at a low price range make the learning process difficult and frustrating for beginning guitar players.
For those who are planning on sticking with your guitar for several years and have the desire to become professional musicians, a quality guitar is going to send you a long way on the road to your success. That's what make Yamaha guitars stand out from the rest!
Another amazing quality of the guitars that Yamaha produces is the overall sound quality of their guitars. One of the most popular guitars out of the FG series is the FG800, which is a guitar that's well suited for both beginning guitarists and veteran players.
The most important part of finding a guitar that's suitable for a new player is finding a guitar that sounds good; if your guitar sounds good, you're going to be inspired to play more often and enjoy the learning process.
Yamaha is a brand that knows that their target demographic is beginning guitar players. When you start doing your research on Yamaha guitars, you're going to find that they have a lot of different options for beginning guitarists. Here is a list of some of Yamaha's best acoustic guitars for beginners!
My 7 Best Yamaha Acoustic Guitars [2019 UPDATE]
Model
Neck, sides,
and back material
Main Feature
Cons
Measurements
Yamaha FG800 Acoustic Guitar

Nato
Easy to play, great for beginners .
It tends to have a very high action.
42.5 x 20.7 x 6.1 inches
Yamaha FG820

Mahogany
Has a cream plastic binding, which is really just a cosmetic difference.
The strings that come with the guitar can be of poor quality.

42.5 x 20.7 x 6.1 inches
Yamaha FG830

Rosewood
Brighter sound compared to the FG820.
It can be a little large for begginers.
42.5 x 20.7 x 6.1 inches
Yamaha FGX800

Mahogany
It´s an acoustic electric guitar. The single cutaway design allows the guitar player to reach higher registers.
It can have an overly bright (metallic) tonal quality
45 x 7 x 18 inches
Yamaha FG700S Folk Acoustic Guitar

Nato
The favorite among left-handed players
The sound can give a string buzz.
43 x 6 x 21 inches
Yamaha JR1

Nato
They make great travel companions.
The measure can be slighly different.
35.5 x 16.25 x 4.75 inches
Yamaha JR2

Nato
They make great travel companions.
The measure can be slighly different.
36.34 x 16.69 x 6.14 inches
Summary of the Top Yamaha Acoustic Guitar Options
In this article, we talked about several different Yamaha acoustic guitars that stand out from the rest of the competition. Which one should you go about choosing? Below, I have listed some general advice to use when shopping for your new guitar, in case you're unsure about which to pick from!
Just Trying Guitar Out? If you or your child or student is not certain that they are going to stick with their instrument for years to come, the FG800 is one of the top acoustic guitars that are student level on the market today. If you/ your child/ your student is big enough to play a full sized guitar comfortably, this is the best option for them.
Serious About Playing Guitar? However, if you/ your child/ your student is truly serious about playing guitar and wants to stick with it for years to come, the FG820, FGX800C, and FG830 will all make great guitars for the new guitarist to stick with. These guitars all have solid tonality and sound projection, even though they are at an affordable price. Any one of these three guitars will be an instrument that they won't outgrow to years to come.
Best Value? If you are looking to purchase a full sized guitar but are worried about the pricing of additional accessories, the starter packs that Yamaha offers are amazing choices.
Sizing for Kids? The JR1 and JR2 Yamaha acoustic guitars are guitars that have been built with smaller bodied people in mind; these guitars make great instruments for children. Once they outgrow this guitar, your guitarist can keep this guitar and use it as a travel instrument.
If for some reason you aren't finding yourself to be super impressed with the starter packs that Yamaha offers, there are other acoustic guitar brands out there that do offer starting packs for beginning guitar players. However, Yamaha is always the brand that I recommend to people who are looking for purchase an affordable guitar for their new guitar player.
Good luck finding your dream guitar and I hope you have fun learning how to play!
FAQs
Question: Does the Yamaha APXT 2 guitar come with nylon strings or steel strings?
Answer: The Yamaha Apxt 2 guitar comes with steel strings, and until now Yamaha has not made this series with nylon strings because that would require a total change of the design due to the string spacing.
Question: Is the Yamaha fs transacoustic guitar constructed of solid wood?
Answer: The Yamaha fs transacoustic concert guitar is constructed of solid spruce top, laminate sides and back and it comes with metal strings.
Question: As a beginner should I buy dreadnaught or concert size guitar?
Answer: This depends of how tall you are and of your comfort level in general. Concert size guitars have smaller body and are easier to hold and produce a clear defined sound, whereas dreadnaught guitars have a larger body which can be a bit uncomfortable if you are playing for the first time and they produce bass sound.
Further Reading:
Latest posts by Guitar Space Team
(see all)