For some, it may jangle too much, but we have to be realistic about how iconic the sound of a 12-string guitar has been throughout music history.
Hotel California? Wish You Were Here? Ticket To Ride? Yes, all of those, subtly supported by the unmistakable brightness of a 12-string.
Looking at the top ones on the market is as subjective as any other kind of gear. As every guitarist has a different budget, I have used that as a starting point to help you find the best 12 string guitar for you.
TL;DR: To skip the entire read, here's my bottom line up front on the best 12-strings:
Takamine G30 Series (Sweetwater / Reverb): Best Budget 12 String Guitar
Taylor 254ce Deluxe Grand Auditorium (Guitar Center / Sweetwater): Best Mid Range 12 String Guitar
Martin D12-28 (Guitar Center / Reverb): Best High End 12 String Guitar
Danelectro 12SDC (Amazon / Sweetwater): Best Budget Electric 12 String Guitar
Gretsch G6122-6212: Best High End Electric 12 String Guitar
Gibson EDS-1275 (Sweetwater / Guitar Center): Best Double Neck Electric 12 String Guitar
There's a reason Takamine acoustic guitar is so popular at acoustic nights the world over: the right balance of quality and price. That is one of the key aims of their G30 series.
It's staking a claim as being a good all-rounder, which makes it ideal if you're new to 12-strings, and want a reference point before honing down to your own style and preference.
The GD30-12NAT is a straight-up acoustic guitar, with that classic dreadnought shape and natural look. With a Sitka spruce top (solid wood) and mahogany body, this will give you a full, clear sound. Used with a good quality microphone that will reflect the nuances of its tone, this is ideal for home recording enthusiasts.
The GD30 has quite a mellow tone, but the brightness of those six extra strings carries it to another plain. It manages to project a decent volume, without ever sounding boomy.
This makes it great for songwriters: easy to sing over without being mic'd up, or if you want to quickly get an idea down before it goes away, a well-placed phone will pick up the vocals and guitar sufficiently, so both are evident.
It also makes it ideal for being "that person at the house party with a guitar."
For the gigging musicians, keen to bring the sound of a 12 string model all over town, the G30 acoustic guitar series also boasts the GD30CE-12. Again, this is dreadnought-style, with a solid spruce top, and mahogany back and sides, in a natural finish, but this has the addition of a Venetian cutaway and a preamp system for you to plugin.
The tricky thing about tonally evaluating electro-acoustics is that so much happens after it gets plugged in: the settings on the onboard EQ; the mixer and settings being used; the engineer looking after the sound, and his idea of what sounds good in the room.
The TP-4TD preamp is Takemine's own design. Think of it this way: would a brand synonymous with electro-acoustic guitars, risk said synonymy by having a substandard preamp? High unlikely.
Unfortunately, neither of these seem to come left-handed.
Also See: Takamine GD20-NS Dreadnought Review.
Best Budget 12-String Alternatives to Try: CD-160SE
If you would prefer a more recognizable guitar brand, Fender has a couple of electro-acoustic options, both at a budget level. For a traditional look and feel, you won't go wrong with the CD-160SE.
For the guitarists who are looking to stand out a little, the Villager has that sixties hockey stick headstock to fit all twelve machine heads.
Best known for creating beauties of a pointy nature, it may be a surprise that Dean actually has a sizeable acoustic and less-pointy catalog, which features a few options that are very much worth a look.
Interesting Read: How to Find the Best Dean Acoustic Guitars.
Best 12-String Guitar Under $2000 – Mid Budget: Taylor 254ce Deluxe Grand Auditorium
Taylor does not make budget12-strings. You can get some used for less than $1,000, but if you're looking for the satisfaction of walking out of a guitar store with something shiny, and you can deeply inhale that new guitar aroma, you are going to be looking at the other side of $1k.
This is a fine example: The 254ce-DLX. But what do you actually get for your extra dollars? Firstly, the 200 acoustic guitar series is American-made. This always boosts the bucks as a selling point. US–made guitars generally start with better materials, put together by skilled craftspeople, with a more rigid quality control process. You have to pay for these things.
The Grand Auditorium body shape lies between a dreadnought and a Grand Concert, with claims that this is a more comfortable shape than either. Obviously, this entirely depends on personal preference. Tonally, this gives a fuller sound and slightly more volume than a dreadnought shape.
The guitar boasts a solid sitka spruce and layered rosewood fretboard. The fact that such specifics are given, as opposed to just "spruce" or "mahogany" is generally a good indication of quality – they can't brag about something that isn't of value.
Aesthetically, the fingerboard houses cleanly inserted diamond inlays on an ebony fingerboard. The tortoise pickguard may not be to everybody's taste.
See Also: Our Guide to the Best Taylor Guitars.
How does it feel?
Enough looking: how does it feel? When you play guitars in this price range, there is an expected standard, and the 254ce meets that. Out of the box, a quick tune-up, and it's ready to go. The machine heads are solid and hold the tuning – what more do you want? The relatively low action on the Elixir strings it ships with makes it an enjoyable and fun guitar to play.
It's one you're going to keep going back to for its playability.
In terms of sound quality, the Grand Auditorium shape lends itself to a very balanced tone. The low end isn't too low; the high end not too high; middle… well, you get the picture. This essentially is aiming to be a better quality of the acoustic guitar all-rounder Takamines. Feeling and hearing what you pay extra for is not going to be a struggle.
Mid Budget Alternatives to Try: Ovations
Love them or hate them, Ovations' slim, bowl-back design lends itself perfectly to the musician on the go. As long as they're standing. Bowl-back guitars are not sitting down guitars. Oddly enough for a guitar in this price range, it doesn't include a case.
Not the most famous guitar brand, but still credible at what they do, the Solo electro-acoustic has the unusual feature of a second soundhole on the top side of the body, facing the player, with the idea that the guitar projects the sound directly to the player's ears. This could be too left-field for some guitar players.
Best 12-String Guitar Under $4,000 – High End: Martin D12-28
Martin D-28 Standard Dreadnought Acoustic Guitar | Guitar Center
The 2017 D-28 blends the rich history of the guitar with Martin's newest and most heralded innovations. The 184-year-old guitar maker has combined vintage appointments, including open-gear tuners, an aged toner top, antique white accents, and a faux tortoise pickguard with a special neck profile to give D-28 enthusiasts a modern feel and comfortable playing experience.
Check Price
Check availability on Reverb
We earn a commission if you make a purchase, at no additional cost to you.
This whole piece would have failed entirely if a Martin wasn't at the top end of things. If you aren't familiar with Martin's legendary D-28, it would be a surprise if you have read this far. Martin offers a 12-string version of this iconic guitar, with largely the same specs as the original, called the D12-28.
Like the Taylor, the D12-28 boasts of a Sitka spruce top, with Indian rosewood sides, crafted into a dreadnought body. A black ebony fingerboard, inlaid with standard dot inlays, sits on a mahogany neck.
It's also available left-handed.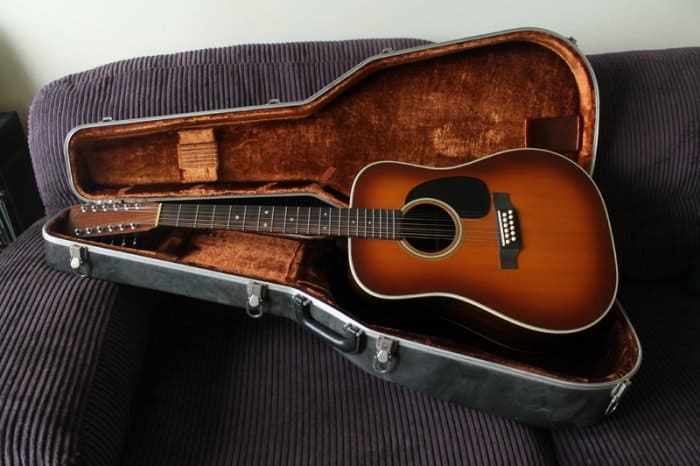 There are absolutely no frills with this guitar – just a solid instrument, loving craftsmanship, and the best quality materials. Martin makes it very clear that they are relying on their reputation and name for this one. However, that does beg the question: how much of its $3,599 RRP is based solely on the "Martin" adorning the headstock?
For Best Prices: Check Guitar Center (NEW) here. Otherwise, see what you can find USED on Reverb here.
As you'd expect, straight off, the playability of this guitar is flawless. The action is low and light. The sweet tone has a richness and depth that could only inspire. The overall sound is a little more focused on the high end, but some strumming demonstrates the supreme clarity of the chords played.
Unlike most other 12 string acoustic guitar options, this doesn't come with a preamp, but the option is available. If you are going down that route, it would be important to ask yourself: "Will this guitar's sound get the justice it deserves in a live setting?"
If you're going to have one of the best 12-string guitars on the market, how much do you trust the engineer at your local club or dive bar to bring that out? Should an instrument of this quality be reserved for hedonistic, personal pleasure at home, or recording only through a high-end Neumann or Telefunken microphone? That's entirely for you to decide.
If you happen to like the Martin DXAE Guitar, you should also read:
High End Alternatives to Try: Taylor 456ce
Taylor 456ce with ES1 Electronics | Reverb
The Taylor 456ce is the 12-string grand symphony body offering in the company's 400 series, which features solid Ovangkol back and sides paired with a traditional Sitka Spruce top.
Check Price
We earn a commission if you make a purchase, at no additional cost to you.
There isn't a lot of competition in 12-strings at this price level. It's mostly higher end acoustic guitar models from Taylor, such as their Taylor 456ce 12-String Acoustic Electric, Cutaway – Natural Gloss, and Takamine, such as the P6JC-12. That's not altogether surprising, as they are the two other biggest names when it comes to acoustic-electric guitars.
Best 12-String Electric Guitars
You've probably noticed quite a focus on acoustics and electro-acoustics, and some of you may be wondering where the electric 12-strings are. It's not that they don't exist, it's just there are so few of them to be able to make a reasonable comparison.
For example, putting "12 string" as a search term on Guitar Center's website shows 273 results for acoustic guitars, and 21 for electric.
Danelectro 12SDC 12-String Electric Guitar Black
The 12-String Danelectro 12SDC Electric Guitar captures the jangly sounds of the '60s with a double-cutaway body made of laminated wood and 2 lipstick pickups. Modeled after the classic 59DC used by Jimmy Page, the guitar's "bottle" headstock is elongated to accommodate 12 sealed Gotoh tuners.
Buy at Amazon
Check price at Sweetwater
We earn a commission if you make a purchase, at no additional cost to you.
Probably the most prominent budget electric 12-string is the Danelectro 12SDC.

In the middle, you have the Reverend Airwave…
Rickenbackers such as the 360/12.
Also See: Rickenbacker 330 vs 360 Compared.
Gretsch G6122-6212 Vintage Select Edition '62 Chet Atkins Country Gentleman
At the higher end, there are a couple of limited editions: a Gretsch G6122-6212 Vintage Select Edition '62 Chet Atkins Country Gentleman, Gibson 12-string SG, and a Gibson 12-string SG.
Weird and Wonderful 12 String Electric Guitars
It seems only fair to give honorable mentions to a couple of the more unusual 12-stringed instruments I found.
A bass? On a thing about 12-strings? Yup. It isn't getting any more words. You need to look at it for yourself.
Yes, the Gibson EDS 1275 with double neck is best known for its use by that guy from Led Zeppelin. With a six-string and a 12-string on one instrument, perhaps this would be a transitional instrument if you're afraid of fully committing to a 12-string?
What About Vintage? Best Vintage 12 String Guitars
If you are on the prowl for some vintage gems that aren't typically available new, watch for these iconic 12 strings:
1963 Harmony H1270 Sovereign: A classic 12 string acoustic guitar that was still common enough back in the day to be able to find for less than $900 used.
Martin 1964 D12-20: Love it for similar reasons as the new D12-28 (discussed earlier), but if you want something vintage these are great finds.
The Final Note on the Ultimate 12-String Guitars
If you have been thinking about trying a 12-string, you should now have some idea about what's available at various budget levels. Obviously, there are even more expensive models available, but I didn't see the point in listing guitars that aren't accessible.
Final Summary: Again, these are my top selections based on specific budgets & types…
Takamine G30 Series (Sweetwater / Reverb): Best Budget 12 String Guitar
Taylor 254ce Deluxe Grand Auditorium (Guitar Center / Sweetwater): Best Mid Range 12 String Guitar
Martin D12-28 (Guitar Center / Reverb): Best High End 12 String Guitar
Danelectro 12SDC (Amazon / Sweetwater): Best Budget Electric 12 String Guitar
Gretsch G6122-6212: Best High End Electric 12 String Guitar
Gibson EDS-1275 (Sweetwater / Guitar Center): Best Double Neck Electric 12 String Guitar
Hopefully, this will help you get the most for your dollars, but as with any guitar, it has to feel right to your hand, and sound right to your ears. Play everything within your budget until you know you have the right one!
Best 12-String Guitars FAQs
Question: Are 12-string guitars more difficult to play than 6-string guitars?
Answer: To someone who is not experienced enough with a 6-string guitar, a 12-string guitar would definitely be almost impossible to play. If you are good with 6 strings, then a 12-string guitar would be a great challenge for you.
Question: What is so special about 12-string guitars?
Answer: 12-string guitars are definitely creating a more special sound than 6-string guitars. 12 string guitars have an extra dimension and add more depth to the sound, all due to the octaves that are built in the lower four strings. Also, the extra strings add a more special effect to the sound, which is unique for this type of guitars.
Question: Should you tune down a 12-string acoustic electric guitar?
Answer: This depends on the songs you want to play. There are lots of 12-string songs that can only be played right when your guitar is tuned down, so this can be an option for you, whereas you can also play without tuning it down.
Latest posts by Guitar Space Team
(see all)