Buying a new guitar is one of the most exciting things a guitarist can do – it feels like a new musical chapter is about to begin, fuelled by the inspiring sounds of a brand new instrument. Some people prefer to buy electric guitars, and some prefer acoustics– I like both equally. While there's no denying that the complexities of electric guitars can make the process a bit more complicated than buying an acoustic, that's not to say there are no challenges with buying acoustic guitars.
A prime example of this is navigating the many different styles – there are concert acoustics, parlor acoustics, and jumbo acoustics… the variety is never-ending! However, perhaps my favorite style of acoustic guitar is the dreadnought, one of the most famous and classic formats. If you've never heard of this, you must either be living under a rock or had your fingers stuck on an electric guitar for years because dreadnought acoustics are easily the most sought-after acoustic guitar styles.
Whether you've never heard of it or you're reading this guide to buy a dreadnought guitar, I'm here to help you figure things out. I'll be discussing exactly what a dreadnought guitar is and what you should consider when purchasing one, in addition to a few of my best dreadnought guitar recommendations. Read on to find out more!
Bottom Line Up Front: Dreadnought acoustic guitars are larger than typical concert and parlor acoustic guitars, providing them with excellent amplification and low-end resonance focus. This makes the guitars ideal for live performances in bands, something that the excellent value for money Taylor 210ce Acoustic-Electric will have no problem providing you with.
What Is a Dreadnought Guitar?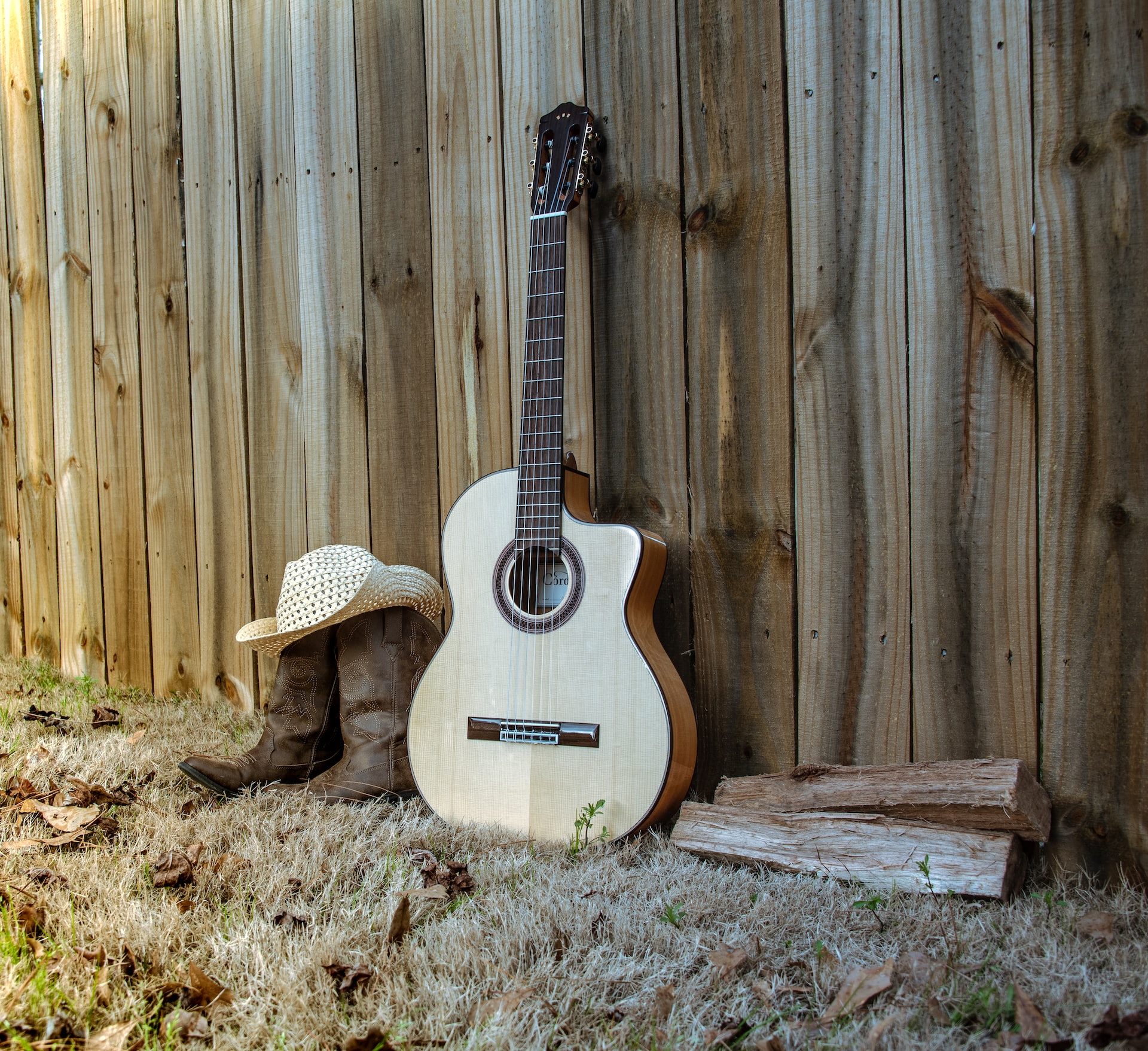 Before we start getting into the criteria of a solid dreadnought guitar, I think it's important to ensure that anyone reading knows exactly what a dreadnought guitar is, so that's exactly what I'd like to discuss. Dreadnought guitars are a form of acoustic guitar that is significantly larger than a typical acoustic.
It's got a far larger and broader body compared to smaller models such as concert or parlor guitars, which massively affects how the instrument plays. While jumbo acoustic guitars are slightly larger, dreadnought guitars are still one of the largest acoustic guitars and are also one of the most popular.
So, what does all this mean for someone using a dreadnought acoustic guitar? Well, first of all, the size is going to be a unique experience. If you've never played any other form of acoustic guitar, playing a dreadnought should feel quite natural. My personal experience with acoustic guitars began by learning on my father's jumbo acoustic, something that really pushed the limits of my young fingers and arms.
As a result, when I tried my first dreadnought guitar, it felt much easier and more comfortable to navigate with my fingers. However, if I had begun learning the instrument on a parlor guitar, this would be a very different story.
The large size isn't just for show, though – the core purpose of it is to produce a specific amplification and tone that works for the guitarist. Due to their size dreadnought guitars are significantly louder than smaller varieties, making them ideal for acoustic guitarists who perform in a band. The large size also gives them a lot more low-end frequencies (otherwise known as bass), making it ideal for strong chord progressions and performances.
Other than the size, there's not too much different going on here – dreadnought guitars are simply a form of acoustic guitar with a particular shape and size, explicitly designed to produce as loud, bold, and strong frequencies as possible. It's as simple as that!
Why Would You Choose a Dreadnought Acoustic?
So, we've briefly outlined what differentiates a dreadnought acoustic guitar from a regular acoustic – – why exactly would you want to go for this instrument? Surely the size does not matter when it comes to guitars? Well, you're wrong there – there are tons of reasons why you might choose a dreadnought guitar over smaller options, and one of the most important is one that I already mentioned – performing in a band!
Anyone who has performed live with an acoustic guitar will know that they often are not loud enough. Sure, you could mic it up or use an electroacoustic guitar to boost the volume, but it's not ideal. The larger size of dreadnoughts makes them much better at amplification, and as a result, this makes them better for dynamic live performances.
Volume isn't the only reason people choose dreadnought acoustic guitars, though – another reason is simply that it fits their body size well. A common misconception is that smaller guitars are only for children, with adults exclusively using standard 4/4 guitars.
Once again, this is just not true – while some smaller adults prefer parlor and concert guitars, the larger size of dreadnought guitars can be much more comfortable for larger people. Having too much arm space and too little weight on your lap can be pretty uncomfortable, so sometimes, purchasing a larger guitar is exactly what you need.
Last but not least, it's the tone. Some people will claim that you can get just as rich tones out of a travel-sized guitar as you could from a jumbo acoustic, but this is just straight lying. Everybody knows that performing in a small room with dead reverberation does not hit the same as in a large concert hall with natural reverb; this can be applied to guitars. The larger the guitar, the lower the frequencies are going to be, and this converts to a truly rich and powerful sound.
However, this is not going to be beneficial to every guitarist – sure, rich bass-heavy tones can work great for performances in a band and chord-heavy arrangements, but it's not so good for solo work. Most solo acoustic performers tend toward concert or even parlor guitars due to their brighter tones and more accessible high-end.
Furthermore, concert acoustic guitar users can generally compensate for the lack of volume through a microphone or electric pickup, and the higher frequency response will result in a more noticeable sound.
All in all, dreadnought acoustic guitars are ideal for guitarists performing in a band or, for whatever reason, they need an instrument with more bass, volume, and size. If you're a smaller person or you are happy with the bright tones of your concert or parlor guitar, there's probably no need for the upgrade. There's only one way to truly find out, though – head to a music store such as Guitar Centre and try them both out because you never know when you might prefer a different model!
What to Look For in a High-Quality Dreadnought Guitar
Now that we've investigated exactly what a dreadnought guitar is, you might have confirmed in your mind that this is what you are looking for, heading straight online to find your options. However, within a few minutes, you probably became overwhelmed – there are simply far too many options out there!
Don't worry, though, because I've put together a list of criteria that you should look out for, helping you to weed out the bad ones and focus on high-quality products. Let's investigate!
Size
The first criterion that I would like to point out is the size – now, this might sound a little confusing as I have already mentioned several times that dreadnought acoustic guitars are larger than most guitars. Therefore, why do you need to worry about the size? Surely it's universal? Well, that's not entirely true – there are still varying sizes of dreadnought guitars, and it's going to be vital for you to consider them to avoid being disappointed by an incorrectly sized guitar.
Firstly, some guitar brands simply don't know what they're talking about – I actually bought a dreadnought guitar from a cheap brand as a child, and couldn't believe it when it arrived, and it was the same size as my concert acoustic!
Sure, it was the right shape, but that didn't help the fact that the benefits of amplification and low-end were not present. It felt like a waste of money, and thankfully I was able to return the product and get my money back. I wish that I had double-checked the dimensions before purchasing it, as this would have prevented all of this hassle.
That's not the only thing you need to consider when it comes to size though. As I mentioned earlier, dreadnought guitars can sometimes feel too large for smaller people, and this can put them off playing them altogether. This is a bit unfair as it theoretically means that smaller people cannot benefit from the amplification and tonal qualities of a dreadnought guitar.
Luckily, this is not the case – many guitar brands produce dreadnought acoustic guitars in a variety of sizes, most popularly being 7/8 and ¾. Both of these sizes are still large enough to boast the qualities of a dreadnought, except they are smaller than typical dreadnoughts and, therefore, can be used comfortably by people who otherwise couldn't. Make sure you consider all this when considering your purchase – you don't want to end up disappointed!
Tonewoods and Features
The next thing that you should consider when purchasing a dreadnought acoustic guitar is the tone that you are looking for. Now, I have already mentioned several times that dreadnought acoustic guitars boast a significantly stronger low-end than smaller alternatives, and this is going to remain true no matter what brand you purchase from. However, there are still several contributing factors that will contribute further to the tone of your dreadnought acoustic, including tonewoods and additional guitar features.
Tonewoods are the most obvious here – if you've never heard of tonewoods, they're types of wood specifically treated and produced for guitar luthiers to facilitate optimum resonance. There are many different types of tonewoods used for acoustic guitars, with some of the best including Sitka Spruce, Mahogany, and Ebony.
While it's not expected that every guitarist can afford to purchase an expensive Sitka spruce guitar, there's no denying that spending more money on higher-quality tonewoods is going to bring out more tone. In the case of a dreadnought acoustic, a high-quality tonewood can help balance out the prominent low-ends of the instrument without taking them away, making the timbre even deeper and more well-rounded.
In addition to tonewoods, you'll have to consider whether you want your guitar to be electro-acoustic. The guitar would feature pickups that allow you to amplify it through a ¼" cable. While the amplification of a dreadnought is pretty darn good, it's never going to be loud enough to please large crowds, so amplification could still be necessary.
If you do decide that this is what you need, make sure you grab one that includes a spectral EQ. This is a set of controls that usually comes in threes, allowing you to adjust the bass, mid, and treble frequencies. Ultimately, this gives you maximum control over the tone of your guitar, allowing you to fine-tune the already beautiful timbre to fit your style. It's well worth considering!
Reviews and Testing
So, you've got the size sorted, and you have figured out a budget in terms of the tonewoods and features that you'll be aiming for. There's just one last thing that you should always consider before making that purchase, and that is to read the reviews of the instrument and try to get an opportunity to test it before you buy it!
Reviews are super easy to access – almost every guitar retailer online will provide review functionality, and if it doesn't, it might be worth avoiding. Reviews are a fantastic way for you to tap into other guitarists' experience with a dreadnought, and if they are overwhelmingly positive, you're on to a bargain! If the reviews are sketchy and inconsistent though, I'd start searching elsewhere!
Testing is even more beneficial, but it can be challenging to achieve. The way I have always gone about it is by doing my research first, finding a guitar that I like, and then beginning to make some calls. I call up Guitar Center and local guitar retailers and even post on social media to see if anyone has the specific guitar I am looking to purchase.
Then, I'll organize a time and date to test it out, so I can get hands-on with the instrument and see how it feels. This is a prime example of how experience can be worth a thousand words, and while it can certainly be a bit of a hassle to organize product testing, the disappointment and cash that it could save you are immensely worth it.
My Best Dreadnought Guitars Recommendations
Well, that's just about all the details I have to share regarding the intricacies of dreadnought acoustic guitars. However, I don't want you to walk away without any recommendations, as these could dramatically increase the efficiency of your research. I'll be providing three different recommendations, each within a different price range, so I am sure there is going to be something that will suit your needs. Let's take a look!
The first dreadnought acoustic guitar on my recommendation list is for anyone reading this who is on a budget. Now, when you hear the word "Fender" you probably don't think about budget guitars – they are one of the most famous guitar brands known for their high-quality products, so it might not add up initially.
However, one of the reasons Fender has such a great reputation is because they recognize that not every guitarist has the cash to splash for a premium guitar, producing a variety of guitars for different price ranges. This CD-60S dreadnought can be picked up for around $250, which is a bargain considering the quality.
It features a solid spruce top (not Sitka, mind…), mahogany back and sides, an easy-to-play neck with a roller fingerboard, and the classic Fender playability and tone. These features make this instrument perfect for beginners, especially considering the price. There's nothing too fancy going on here so you won't find electronic amplification or EQs, but don't worry, because this will all be taken care of by the classic dreadnought build.
CD-60S Dreadnought Acoustic Guitar | Fender
The CD-60S is one of our most popular models and is ideal for players looking for a high-quality affordable dreadnought with great tone and excellent playability.
Check Price
We earn a commission if you make a purchase, at no additional cost to you.
Read also: Comprehensive Fender CD-60 Review.
Pros
An excellent price point, especially considering it's made by Fender!
Solid spruce top and mahogany back and sides
Easy-to-play rolled neck
Available in natural or black finishes
Cons
At such a cheap price, you shouldn't expect incredible quality
No electroacoustic option is available
Ideal for beginners, but perhaps not suitable for intermediates or professionals
Unless you've been playing the acoustic guitar for a while, you might not have heard about Taylor, but trust me when I say that they are a great guitar brand. They are well known for their focus on producing high-quality electro-acoustics, usually aimed toward a mid-range audience.
However, if the last Fender guitar price seemed pretty good to you, you might want to shut your eyes, as this Taylor costs significantly more at around $1,000. However, it includes a ton of great features that make that price incredible value for money!
Firstly, this dreadnought guitar is augmented with a Sitka Spruce top with layered Indian rosewood back and sides, in addition to a mahogany neck, an ebony fingerboard, and even a Venetian cutaway. Those are all some of the most important features when looking for an acoustic guitar in general, so to find them all in one place within a Taylor-produced dreadnought acoustic is quite the opportunity.
As the name suggests, this guitar includes pickups for amplification in addition to a three-band stereo EQ, helping you hit those louder volumes while facilitating experimentation with those sweet dreadnought tones. It might be a bit too expensive for beginners, but if you're an intermediate looking for an upgrade, it might just be exactly what you need.
Pros
Taylor specializes in making excellent acoustic guitars
Sitka Spruce top, Indian Rosewood back and sides, mahogany neck, and an ebony fingerboard (now THAT is a winning combo)
Includes pickups for amplification and a minimalistic three-band EQ setup
Excellent value for money
Cons
A bit too expensive for beginners or guitarists on a budget
This final recommendation on my list is the Martin D-15M, and while it is the highest quality product, it's also the most expensive! Clocking in at around $1,500, there's no denying that it's probably unaffordable to most people reading this, but if you're a highly experienced guitarist who is looking for a serious upgrade to last you a lifetime, it could be exactly what you're looking for!
Something I love about this guitar is it is simplistic, typical of Martin's famous style – it doesn't feature any bells and whistles such as pickups; it's just a finely crafted masterpiece of an acoustic dreadnought.
It features a unified top, back, and sides of mahogany which is unusual yet provides an unbelievably organic and rich tone, and it complements the dreadnaught qualities perfectly. It's also highly customizable, allowing you to add a variety of electronics if you so wish, and I think this is a fantastic idea. Not everyone likes electro-acoustic guitars, and Martin has recognized this and found its gap in the market.
Martin D-15M Mahogany Dreadnought Acoustic Guitar | Sweetwater
The Martin D-15M acoustic guitar is a throwback to Martin's Style 15 models, which had their heyday back in the 1940s. A departure from Martin's more common spruce-topped models, the D-15M features an A-frame-X-braced mahogany top on an all-mahogany dreadnought body.
Check Price
We earn a commission if you make a purchase, at no additional cost to you.
Pros
Martin produces some of the greatest acoustic guitars in the world, hands down
A highly unique yet powerful and organic combination of mahogany top, back, and sides
Stunning satin finish
Optional add-on of electronic amplification
Cons
Electronic amplification costs extra
$1,500 is a lot of money for an acoustic!
FAQ
So, that's my two cents on the best dreadnought acoustic guitars – there are tons of fantastic options out there and a load of things that you should look out for, and hopefully, you'll be walking away from this article with comprehensive knowledge. Before you leave, let's quickly go over some of the most frequently asked questions, because who knows, you may be seeking the same answers!
Question: What Is a Dreadnought Acoustic Guitar?
Answer: A dreadnought acoustic guitar is a large form of acoustic guitar, one that is larger than typical parlor or concert acoustics to produce louder amplification and deeper low-frequency tones.
Question: Are Dreadnought the Largest Acoustic Guitars?
Answer: No – while dreadnought acoustic guitars are certainly some of the largest, jumbo acoustics are significantly larger.
Question: Are All Dreadnought Acoustic Guitars the Same Size?
Answer: Nope – contrary to common belief, dreadnought acoustic guitars come in various sizes, namely full-sized (4/4) in addition to smaller versions for smaller adults and children, such as 7/8 and ¾.
Final Thoughts
I hope that this guide has helped you understand exactly what dreadnought acoustic guitars are, what to look for in the best ones, and why you might want to consider buying one! I also hope that my recommendations provide you with some inspiration.
I covered three truly fantastic guitars, and while the Martin D-15M is perfect for people with a large cash flow, my core recommendation would have to be the Taylor 210ce elector-acoustic. The value for money is just too good to miss, especially if you're looking for an intermediate upgrade.
I wish you the best on your journey, and whether you buy a guitar from this recommendation list or find your own, I'm sure you will be highly satisfied with the dreadnought style. Remember this article when you're weeping at the beauty of those sweet bass tones and that powerful amplification. Good luck!
Latest posts by Calum Vaughan
(see all)