While Yamaha might not be the first name that springs to mind when it comes to acoustic guitars, they've actually been making them since the mid-60s, when they introduced their FG180 model.
Made in Japan, this affordable guitar quickly became a firm favorite amongst those first learning to play or on a tight budget because, despite its low price, it offered a good sound and excellent playability.
Fifty years on, Yamaha has maintained its reputation for good quality, affordable, guitars. Reviews repeatedly rate them highly for value for money, playability, tone, and sound.
In part, this is thanks to Yamaha's engineers, who use cutting edge technology to make sure their guitars are continuously redesigned so musicians can get the most out of them, as well as the company's commitment to quality.
Most recently, this has resulted in the release of the FG 800 Series.
We're going to look in detail at two of the models in that series here – the FG800 vs FG830, comparing their design, playability and sound quality to help those in the market for a new guitar decide if either of these are the right fit for them.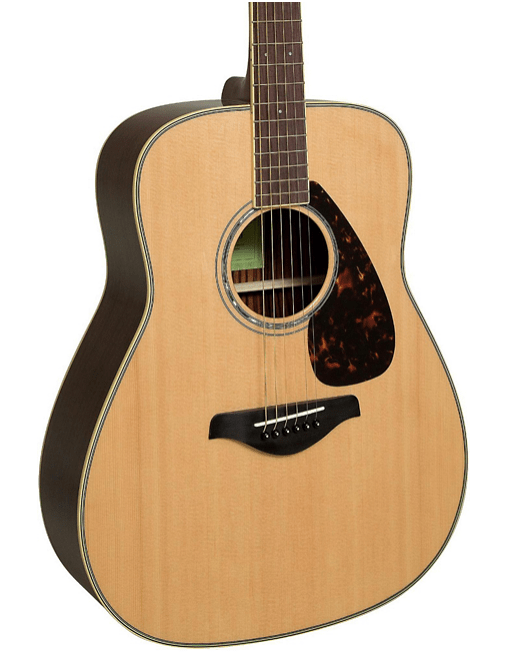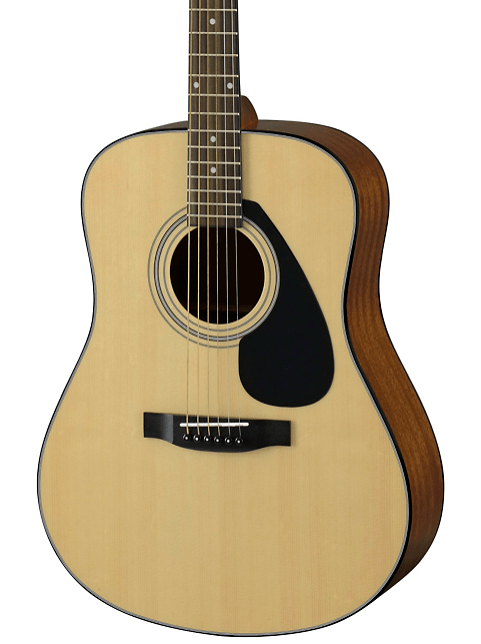 The Yamaha FG800 vs FG830 – All you need to know
Depending on the make and manufacturer, the size, shape, and sound of an acoustic guitar varies considerably.
The two we're looking at here are both part of the same guitar series so you probably won't be surprised to hear there are lots of similarities between the two (they're both Dreadnaught designs, for example). However, there are differences too, with the FG830 building on the FG800 base model to offer more in the way of sound, features, and overall appearance.
The Yamaha FG800 and FG830 – An overview
An entry-level acoustic guitar, the FG800 is well designed and comfortable to play. The top's made from solid spruce, and it has a Nato neck, back, and sides, meaning you get warm middle tones at an affordable price. With a rounded neck, the FG800 fits well in the hand of even the newest guitar player, who can easily work their way around the 20 frets by using the dot inlays Yamaha have added, and make sure their instrument is tuned correctly thanks to die-cast chrome machine heads.
Like the FG800, the FG830's top is also made of solid spruce, giving it a far richer sound than other entry-level guitars, which tend to be made of laminated wood. The sides, back and bridge, however, are made of Rosewood, which helps with mid-range tonality as it's a better quality of wood than Nato. Plus, you get a richer lower end because of the scalloped bracing system Yamaha has added onto this model.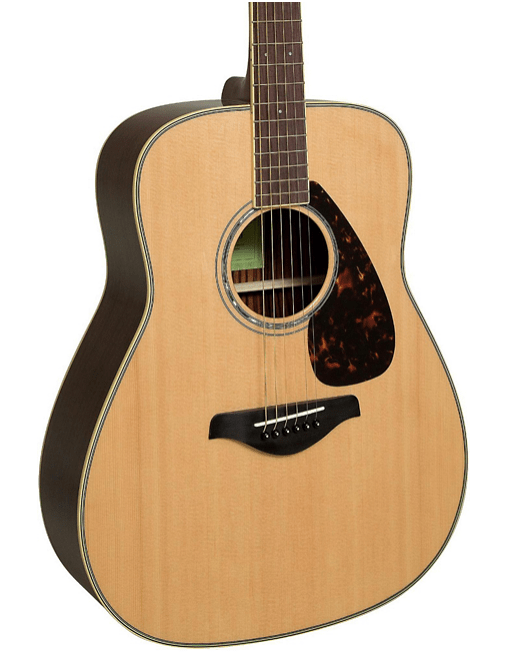 Body style
Here's a quick overview of the basic dimensions of Yamaha's FG800 and FG830 – as you'll see, there is very little difference in the size of the two:
| | | |
| --- | --- | --- |
| | | |
| Body length (approx.) | 19.9 inches | 19.6 inches |
| Width of lower bout (approx.) | 16.25 inches | 14.9 inches |
| Width of upper bout (approx.) | 11.5 inches | 10 inches |
| Body depth (approx.) | 4.6 inches | 4.3 inches |
Both guitars use the Dreadnaught design, which is known for being wider in the middle and having a deep body while having a thinner upper bought. This means, if you've been playing other types of guitar (electric or classical, for example), they may initially feel a little bigger and more unwieldy when you first pick them up. They might also not be the best for those of smaller stature or younger players.
The size does, however, bring some benefits. Dreadnaughts tend to have a stronger, richer, sound than other acoustic guitars. Plus, they have the ability to hold their own against electric guitars (if needed), making them popular for artists who play rock, blues and country music.
Sticking to the same body style for each of the models in the FG range no doubt helps Yamaha keep their costs down (the guitars are mass produced in a factory after all). However, for those looking for a little individuality and able to afford the additional cost that comes with the FG830, you can choose from a range of colors including tobacco sunburst, autumn burst, and dusk sun red.
Tone
Along with a stronger, richer, sound, the Dreadnaught design also tends to have a deeper tone than other acoustic guitars, something you definitely find with both the Yamaha FG800 and FG830.
Each has a great sound and a great tone, which is well-balanced (especially given the price), making it perfect for those on a low budget or just starting out; as we mentioned before, the FG830 offers the richer sound, something you'd no doubt expect given it's higher price and higher spec.
Usage
The FG800 and FG830 are ideally suited to novice players or those who don't have a lot of cash to spend on higher-end models but still want (and deserve) a good sound. They especially come into their own for those wanting to play rock, blues or country, popular choices amongst those who like the Dreadnaught design because of its power.
Pros and cons
Pros

Cons

FG800

A good, strong, sound across the board but especially in the mid to low-range.
Strong, stable and durable, meaning it will withstand the wear and tear that comes with traveling (for those that plan on taking their guitar on the road).
Easy for beginners to pick up and learn to play; the narrow neck makes it easier to hold than the Dreadnaught body style might suggest.
Fret inlays make it a good option for beginners as it helps you find the right notes.

The Dreadnaught design can be too big for smaller or younger players.
Nice, but not spectacular, to look at so it won't blow you away with its design.

FG830

A really nice tone at both the mid and lower levels
Good projection (in part thanks to the Dreadnaught design)
A comfortable feel that makes it an excellent option for those learning to play guitar
Good for advanced players who don't have the budget for higher-end guitars (they'll still be happy with the sound they get).
Hard wearing and long-lasting (as long as you take care of it – check out our guide to doing just that here).

Probably too large a guitar for younger players or those of a small stature to hold comfortably
Playing can be a little more difficult due to how close the strings are to each other, meaning you might need to watch your fingering
Inexperienced players may need help tuning the guitar.
Other Yamaha Models
As well as the FG800 and the FG830, Yamaha offers a range of other models that are a great price and offer a great sound. We've listed some of these below, to give you an idea of what else is on the market if neither the FG800 or FG830 appeal. You can find out more by reading our article on Yamaha's seven best guitars.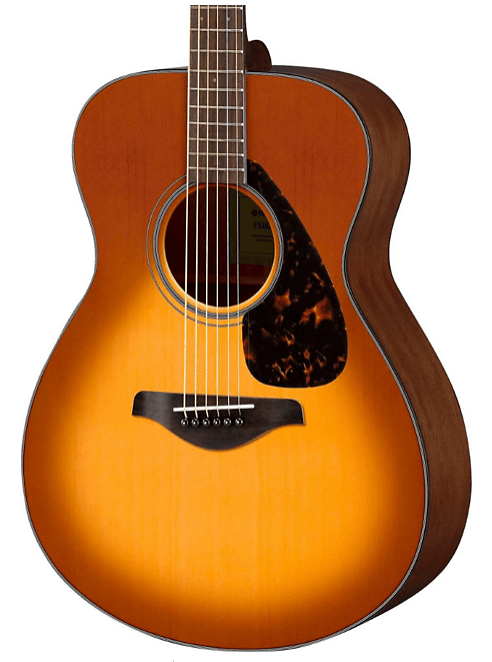 General specifications:
| | |
| --- | --- |
| Product dimensions | 41.6 x 19.1 x 6 inches |
| Body material | Spruce |
| Back material | Nato |
| Fretboard material | Nato |
| Number of strings | 6 |
| Top material | Spruce |
| Model no. | FS800 |
| Rating | 4.6 out of 5 stars |
| Price | $199.99 |
Product overview:
For those who like the sound of the FG800 but are worried about the size, the FS800 might be the one for them because it's the same guitar but using a Concert guitar design as opposed to a Dreadnaught design.
Beyond the smaller size, the FS800 has the same, clean and simple, look as the FG800 and is made from the same materials (Spruce and Nato woods). It does, however, have a slightly lighter sound – understandable giving the smaller size – though it still has a nice tone and is a great choice for new players.
Pros and cons:
Pros

Cons

Ideal for younger players or people of smaller stature
Hard wearing
Good sound and tone in both the mid and lower ranges

Sound projection isn't as strong as in the Dreadnaught FG800 model, though it does stand up well against other guitars
Yamaha FS800 Small Body Solid Top Acoustic Guitar
General specifications:
| | |
| --- | --- |
| Product dimensions | 9.1 x 9.1 x 9.1 inches |
| Body material | Spruce |
| Back material | Mahogany |
| Fretboard material | Rosewood |
| Number of strings | 6 |
| Top material | Spruce |
| Model no. | FG820 |
| Rating | Not yet rated |
| Price | $259.99 |
Product overview:
This guitar sits between the FG800 and FG830. It offers an upgrade to the FG800 in looks and the quality of materials as well as being available in a range of colors. Plus, it has a slightly better sound, including a great bass and clear mid-range, which is warm in tone. It's a great step up for those who have mastered the basics of playing and are now looking for something with a little more power.
Pros and cons:
Pros

Cons

Has some nice features such as cream plastic binding that result in a nice-looking guitar (though admittedly these are purely cosmetic).
A nice, strong, robust sound.

Strings seem to dull quickly, meaning there might be an added cost from having to make frequent replacements; it's worth noting, however, that this isn't an issue reviewers have brought up on other FG models.

General specifications:
| | |
| --- | --- |
| Product dimensions | 42.5 x 20.7 x 6.1 inches |
| Body material | Spruce |
| Back material | Nato |
| Fretboard material | Rosewood |
| Number of strings | 6 |
| Top material | Spruce |
| Model no. | FSX800C |
| Rating | 4.6 out of 5 stars |
| Price | $254 |
Product review:
For those looking for an acoustic-electric guitar, perhaps not surprisingly, Yamaha has a great option here too. Size-wise, it's based on the FG800 Dreadnaught design but is available in a smaller, Concert, design as well (which comes in at $299). It comes with X bracing which, along with the reverse L block neck attachment, means you get a great sound quality and a lovely tone that those who use the guitar says gets better the more you play it.
Pros and cons:
Pros

Cons

Great electrics including a system 66 feature, 3-band EQ under saddle piezo and adjustable frequency controls for the low to mid-range.
Excellent sound quality.
Players can improve the sound with the built-in precision tuner.
An excellent option for beginners as well as experienced players.

Unlike other Yamaha models, this one has fewer options to customize it to your tastes.
Non-Yamaha Models
If a Yamaha model isn't for you, there are affordable alternatives available.
General specifications:
| | |
| --- | --- |
| Product dimensions | 43 x 7 x 17 in |
| Body material | laminated-wood |
| Back material | Agathis |
| Fretboard material | Rosewood |
| Number of strings | 6 |
| Top material | Spruce |
| Model no. | 0971110532 |
| Rating | 4.4 out of 5 stars |
| Price | $159.99 |
Product review:
This entry-level guitar from one of the best-known names in the business is a great option for those new to playing. Like the Yamaha FG series, it's based on the Dreadnaught model, meaning it can be on the larger size for smaller or younger players. However, unlike the FG series, it doesn't have the quality of sound, a result of Fender using laminated rather than solid wood. Saying that, for those new to playing, this probably isn't that noticeable, meaning it's a good value for money guitar.
Pros and cons:
Pros

Cons

Excellent value for money from a well-known guitar maker.
Comes with a full kit with most things a novice player would need including a gig bag, strings, picks, and an electric tuner.

Slightly rough when it comes to playing.
Not as strong a sound as you may get from other, slightly more expensive, Dreadnaught guitars.
General specifications:
| | |
| --- | --- |
| Product dimensions | 4 x 15 x 41 inches |
| Body material | Mahogany |
| Back material | Mahogany |
| Fretboard material | Rosewood |
| Number of strings | 6 |
| Top material | Mahogany |
| Model no. | AW54CEOPN |
| Rating | 4.7 out of 5 stars |
| Price | $269.99 |
Product review:
Another Dreadnaught design, the AW54 is a steel-stringed acoustic guitar with warm tones that makes it ideal for playing the blues. With its natural matte finish and chrome hardware, it certainly looks the part. Reviewers comment on the guitar's clear, crisp, sound which is surprisingly good given the price, as well as the ease of playing thanks to a slim neck.
Pros and cons:
Pros

Cons

A bright, crisp, sound.
Easy to play, making it a good choice for beginners.
Great projection, especially when compared to guitars with a similar design but higher price tag.
Comfortable to play.

There seems to be some difference in the quality of accessories, such as the guitar strap, which reviewers say are nowhere near as good as the guitar itself.
Yamaha FG800 vs FG830 – Which is Right for You?
When it comes to choosing between the FG800 and FG830, in many ways you can't go wrong regardless of which you buy. Both are made from high-quality materials and offer excellent value for money, with reviews repeatedly stating that, for the price, you can't get a better sound.
How new to playing you are is probably a factor – if you're starting out, the FG800 is perhaps the best choice because it is less expensive, and you're unlikely to hear the difference in sound you would get with the FG830.
If you have been playing for a while, this difference may be more noticeable, making the FG830 a better choice. Plus, you do get the chance to personalize your guitar (at least the color) as well as additional design features that give you a more vibrant, deeper, sound all around.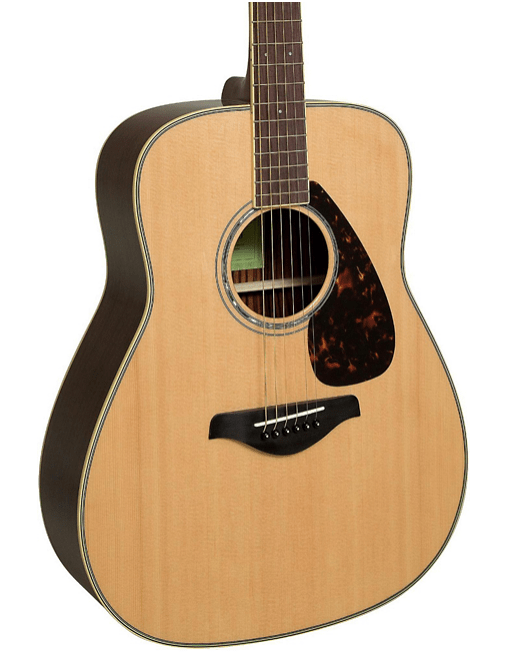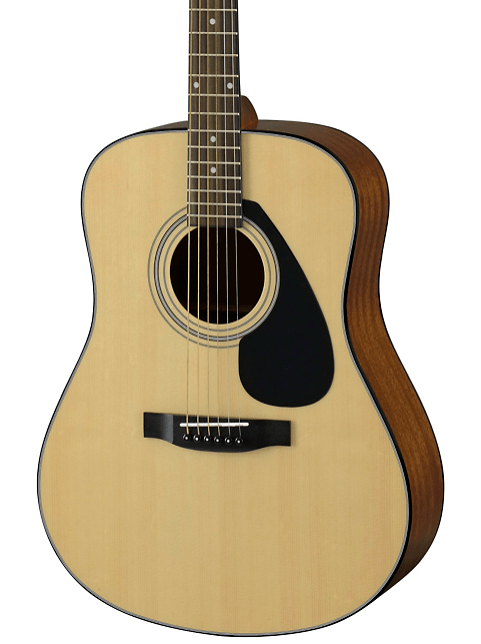 Recommended Reads:
Jodie is a trained classical guitarist. She is also a full-time blogger and loves to write about different types of guitars. Just give her 60 seconds of your time, and she'll tell you all that you need to know about any guitar of your choice.