If you're looking at taking the plunge and buying a new guitar then you're in the right place. Today we'll be looking at the range of guitars Martin has to offer. We'll take you through everything you need to know like which are the best Martin Guitar options, what makes them so good, what you will need to be wary of, which price point each model sits at, and which model suits different playing styles the best.
We'll also be covering a range of frequently asked questions in a bid to help you make a more informed choice.
Whether you're totally new to the wonderful world of guitars or a seasoned vet looking to add another to their collection, our guide is here to help.
Once you're done here you can see what kind of accessories you'll need, which amps (if any) you should buy, and how best to look after your new guitar.
Let's dive straight in with an overview of the products we'll be looking at today.
5 of the Best Martin Guitars
What are Martin Guitars and Why Do Musicians Love Them?
Martin Guitars has a reputation amongst musicians for being one of the very best guitar brands out there. Their instruments are used by famous singers around the world and due to their build quality, their instruments last a lifetime.
The C.F. Martin & Co company was founded in the United States back in 1833 as a producer of classical guitars. To this day the brand is managed by the Martin family and has therefore retained a lot of its history and original character.
The traditional master craftsmanship associated with the brand is still very much intact today and had helped Martin become ingrained in guitar folklore.
Their original design has been credited with being one of the very first examples of the dreadnought body style. This style has since been adopted the world over as the standard design for all acoustic and acoustic-electric guitars. Therefore, if you want an original guitar from the company that first designed them, you'll need a Martin.
Known predominantly for their acoustic guitar range, Martin has in the past produced electric models. However, these did not prove to be as popular as their acoustic range and the company has since dropped these product lines, choosing to focus solely on acoustic guitars, ukuleles, and mandolins.
Martins have featured heavily in popular culture during the 20th and into the 21st century. Everyone from Elvis Presley to Ed Sheran has been known to use Martin guitars both when performing and when recording albums.
It's this pedigree and prestige that has led to Martin becoming the most sought-after acoustic guitar brand on the planet.
What Makes Martin Guitars so Good?
Martin may have the brand pedigree established but why exactly is that? Well, it first and foremost comes down to build quality and innovative design.
There are a lot of variations in guitar specifications, meaning there are many elements that can go wrong or cause the overall design to fail. Marti has built a reputation for quality, longevity, and reliability.
Martin has produced many different models and many different model variations over the years. The key to their success has been creating different guitars for different styles of play and designing each and everyone to a high standard.
Elements such as playing style, player height, and intended use all play an integral role in deciding on a new instrument. If, for example, you intend to use your guitar for playing live gigs then you may need a lighter, more portable guitar.
What Martin has done well has been to design specific product lines to cater to these needs. For the on-the-go musician, the 000 series and orchestra-shaped guitars offer a compact and portable option, without sacrificing any overall quality.
Likewise, for shorter guitar players the Little Martin series offers a top-quality instrument with a slightly more petite body, allowing players to easily hold and maneuver their fingers whilst playing.
Of course, Martin is best known for their Dreadnought style guitars. The iconic design helps create those beautifully deep and rich tones that have become synonymous with the brand. If you're on the lookout for your next instrument we're pretty sure there will be a Martin for you. Let's have a closer look at some of our favorites.
5 of the Best Martin Guitars Available Today
Martin Road Series DRS1 Dreadnought Acoustic-Electric Guitar
The DRS1 is one of the more popular guitars currently available from Martin. It is aimed at the traveling guitarist who values portability without compromising on sound quality.
As an acoustic-electric model, it's important that the sound is right both when playing with and without an amplifier. Naturally, the DRS1 wouldn't make our list if either was an issue as the premium electrics housed within the solid wood body ensure the instrument is adept at both practicing and performing either with power or without.
The portability is a result of Martin reducing the size of the fretboard and reducing the size of the body, don't worry though as this has no impact on the overall sound, just the way it feels when playing.
Features
Body
D-14 Fret
Non-cutaway
Sapele Top Wood
Sapele Back & Sides
Satin Finish
Neck
Modified Low Oval Shape
1.69″ (43 mm) Nut Width
Black Richlite Fingerboard
Select Hardwood
25.4″ Scale Length
20 Frets
Satin Finish
Electronics
Fishman Pickup & Preamp
Soundhole Mounted
Pros
Lightweight
Ideal for touring and gigging
Good overall sound
Good value
Cons
Its compact size may not suit all guitar players
The D-28 is the classic Martin guitar. Revered by musicians the world over, it is one of the go-to instruments for the world's most talented guitarists.
The guitar has the classic dreadnought good looks and it is quite apparent that the quality of build is very high. However, this guitar really sets itself out from the crowd when you pick it up and begin to play.
The D-28 produces some of the most unique tones on the market. Martin has produced an instrument that despite looking like a regular acoustic guitar, sounds unlike any other that is available. It was this unique sound that led to Bob Dylan and Johnny Cash becoming some of the D-28's most famous fans.
Due to its ultra-high build quality and the use of premium materials, the D-28 has a reputation for lasting a lifetime. Should you purchase one, there is a good chance your grandchildren will be able to play it.
Features
Body
Dreadnought Style
No Cutaway
Sitka spruce Top Wood
East Indian rosewood used for Back and Sides
Forward shifted pattern Non-scalloped X-type Bracing Pattern
Gloss Nitrocellulose Finish
Neck
Modified low oval with High-Performance Taper Neck Shape
1.75" (44.45 mm) Nut Width
Ebony Fingerboard
Mahogany
25.4" Scale Length
20 Frets
Satin Finish
Misc
East Indian Rosewood Headstock Overlay
Nickel Open Gear Tuning Machine
Ebony Bridge
Bone Saddle & Nut
6 Strings
Pros
Suitable for all playing styles and genres
Brilliant ebony fretboard
A joy to play
Cons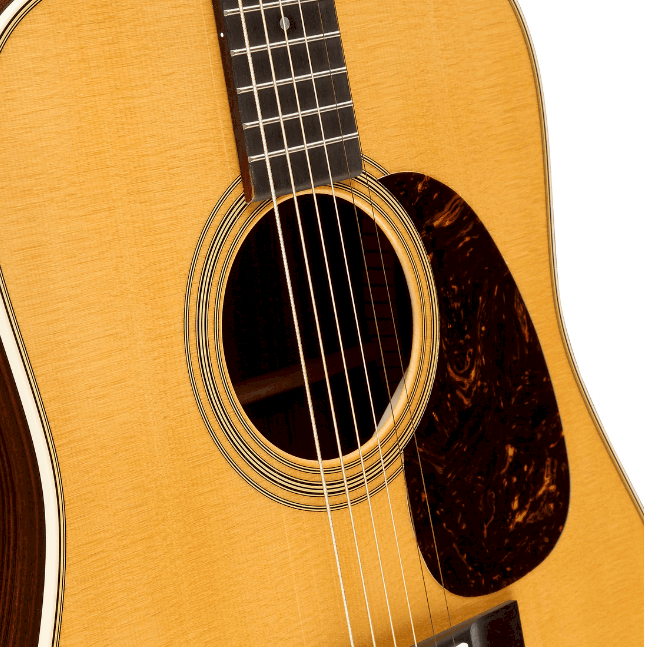 Another triumph of Martin's engineering comes in the form of their D-18E model. The classic good looks of the dreadnought and the rich tones associated with the brand combine here with added electronic capabilities.
The retro style and vintage appointments make the D-18E a brilliant choice for anyone who wants the full acoustic Martin experience with the ability to play through an amplifier.
This guitar is a real standout on our list and sits right at the top of scale both in terms of build quality and in terms of price. This may put some people off, however, if an authentic Martin is what you're after and you need electrical functionality then the D-18E is definitely for you.
Features
European Flamed Maple Binding
Dovetail Shaped Neck Joint
Sitka Spruce Vintage Tone System
Fishman Aura VT Blend Electronics plus Adjustable Aura Imaging
Gold Frets & Gold Open-gear Tuners
Hardshell Case
Pros
Manufacturer's Warranty
Top of the range sound quality
Classic dreadnought looks
Excellent build quality
Cons
Here we have one of Martin's 'Little Martin' series. This line of guitars is perfect for a variety of people, from children and smaller adults wanting to play to regular travelers who will value this guitar's compact nature.
What Martin has done with this line of guitars is to remove much of the overall size that you would expect from a classic dreadnought. This reduction in size to the hollow body has a noticeable knock-on effect on the overall sound that the guitar produces.
This is something to note when looking for a new guitar as you cannot expect to generate the same tones with a much smaller body.
Whilst we love the LX1E for its portability and its suitability for some, for us the tradeoff in sound quality means we don't love this Martin quite as much as the others. The solid Sitka Spruce top does mean that it retains some of that Martin charm, but overall the quality between this model and say the D-28 is very noticeable.
Features
Solid Sitka Spruce top
TUSQ Saddle & Nut
The back & sides are High-Pressure Laminate (HPL)
Compact overall size
Pros
Great for smaller hands and traveling
Good quality electronics
Ok sound quality for its size
Manufacturer's warranty
Good overall build quality
Cons
Lacks sound quality when compared with larger models
Retains the Martin price tag
Martin LX1E 2017 Natural | Reverb
This may be small but it sure is very big on tone, quality, and versatility. At just 34 inches in length, the Martin LX1E is hands down one of the best compact guitars in the market today.
Check Price
Buy at Amazon
We earn a commission if you make a purchase, at no additional cost to you.
Another of Matin's 'Little Martin' guitars makes our list here, but this time in the form of a purely acoustic model. Unlike the LX1E, the LX1 does not feature any electronic capabilities and serves purely as an acoustic guitar.
Unlike its acoustic-electric counterpart, the LX1 is an impressive travel-sized instrument. When this particular model first came out it caused controversy amongst die-hard Martin fans due to the materials used for the body.
This was one of the first times that Spruce and Mahogany was used in a Martin guitar and despite the initial uproar, proved to be popular amongst musicians.
Trading body size for portability is always a risky move by guitar manufacturers as sound quality often sufferers. Thankfully here Martin has managed to just about get the best out of both worlds with a model that is not only suitable for smaller players who like to travel light, but also those who value sound quality above all else.
Features
Body
Concert/O
Non-cutaway
Spruce Sitka Top Wood
Mahogany pattern HPL textured finish on the Back and Sides
Finish: Hand-rubbed on top/unfinished back and sides
Neck
Modern low-oval
1.687″ (42.8mm) Nut width
Richlite Fingerboard
Birch laminate
23″ Scale Length
20 Frets
Unfinished Neck
Misc
Rosewood Headstock Overlay
Richlite Bridge
Corian Saddle and Nut
6 strings
Pros
Perfect for traveling light
Ideal for smaller players or children
Good quality parts
Easy to play
Good value for money
Manufacturer's warranty
Cons
Whilst this is a good guitar, it doesn't quite live up to the excellence of Martin's slightly larger models
Frequently Asked Questions About Martin Guitars
As I'm sure you can imagine, at Guitar Space we get asked an awful lot of questions about Martin products, mainly due to them being the go-to brand for many musicians and the amount of support they get from famous faces around the world.
In this section, we'll take a closer look at some of the most common queries we receive and answer them in some detail.
Question: Are Martin Guitars Good for Beginners?
Answer: If you're after a short answer here then yes, yes they are.
This is because Martin has produced such a wide range of models and model variants over the years that there is bound to be one that suits your size and style. Every single one is high quality meaning they will last a long time and be more than durable enough to learn to play with.
The only thing to bear in mind is the price. Generally speaking, Martin Guitars are NOT cheap. So if you're unsure how committed you are to learning, or just want to try it out, learning using a Martin is a very expensive option.
Question: Are Martin Guitars Harder to Play Than Other Brands?
Answer: This is a common myth associated with the brand. Due to their premium price tag and reputation as one of the best acoustic guitar manufacturers around, it is often assumed that they are overly complicated to play. This is not the case as they are no more difficult to play than any other brand.
Question: How Long Will a Martin Guitar Last?
Answer: This is a real plus side of investing in and owning a Martin. Naturally, the answer to this question will vary dramatically depending on how well you look after your instrument, but generally speaking, if you properly maintain a Martin then it has the potential to survive for well over 30 years.
This longevity is mainly down to the superior materials used and the tried and trusted designs that have been refined over many years. It also comes some way to explaining why Martins carry such a hefty price tag.
Question: Are Martin Guitars Handmade?
Answer: All Martin Guitars are handmade in their facility in Nazareth, PA, USA. Of course, the Martin family does use machines where needed but are very careful to ensure no machine ever replaces a human job within their factory. Therefore you can guarantee that when buying a Martin you are getting a handmade product.
Question: Can You Get Custom Martin Guitars?
Answer: Martin is big on allowing customers to design their own bespoke instruments. All you need to do is get in touch with them via an authorized dealer to build your perfect acoustic guitar.
The Bottom Line – Which is the Best Martin Guitar?
Usually, when we come to the final part of our reviews there is a clear favorite to talk about. However, with the Martin lineup, we have been looking at today, this is proving incredibly difficult.
The thing with a brand as iconic as Martin is that you're never going to really be disappointed with any of their instruments. If you do decide to take the plunge we highly doubt you'll be disappointed no matter which model you opt for.
That being said, we do have a few thoughts and ideas that could give you some guidance when making your choice. First, if you're after something that is a little more portable than the traditional dreadnought style, or if you're looking for a Martin suitable for a child to play, then look no further than the Little Martin LX1.
Considering this is a smaller model there is hardly any sacrifice when it comes to performance and really holds its own against the larger models. A great lightweight option.
For those guitarists who are after a full-sized model but perhaps don't want to splash the cash required for some of the more premium instruments then the DRS-1 Dreadnought is perfect. Great looking and even better sounding, this model represents great value for money if you're dead set on buying a Martin.
But overall, there can only ever really be one winner. When you think of Martin Guitars you think of the D-28. The height of retro-cool, the D-28 is perhaps the epitome of the acoustic guitar world. Chances are, if you were thinking of getting a Martin then you'll have already done plenty of window shopping for this model.
It comes at a cost, yes, but for that price, you really are buying one of the very best acoustic guitars that money can buy.
Latest posts by Jodie Chiffey
(see all)