If you are a mandolin player and you're in the market for a quality mandolin that's going to be worth every penny, you've come to the right article! Mandolins are instruments that aren't very common to find in today's music scene, but they are a great way to incorporate a unique sound to your music.
Up Front Best Mandolins
Bottom Line Up Front Verdict: If you have a budget that you're prepared to spend on your new mandolin, you could most likely afford an instrument that's of slightly better quality and durability than the Rogue RM-100, which is the Kentucky KM-150. The Kentucky KM-150 is one of the best mandolins for beginners at a relatively affordable price tag.
What Should You Look for When Buying a Mandolin?
Before you go and make your mandolin purchase, make sure that you have a general idea of what you're looking for in your new instrument and that you have made a comparison between mandolin brands so you know what to expect.
Some of you may be looking for the highest quality mandolin on the market, that's completely hand carved and resonates like a dream, while some of you may be looking for a mandolin for beginners that's cheap and will get you through learning the instrument.
Whatever the case may be for you, make sure you have a basic understanding of what you're looking for in your mandolin.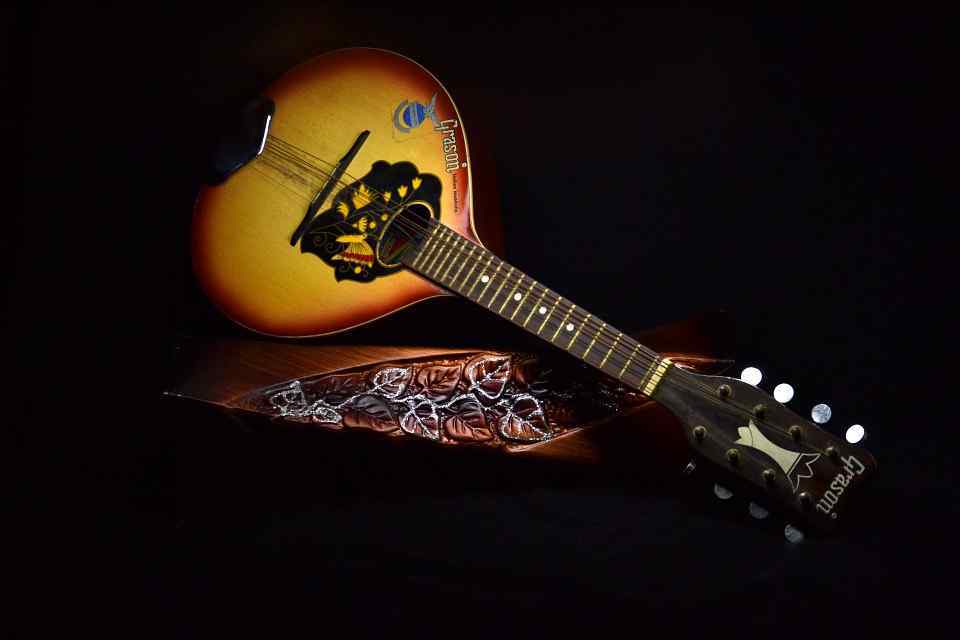 Types of Mandolins – Body style
Mandolins that were produced more recently typically have one of three different body shapes:
Bowl backed
A-style
F-style
The shape of the body of the mandolin that you choose will depend on the style of music you're looking to play, the build that's more cosmetically appealing to you, and what your budget is.
Bowl Backed Mandolins
Bowl backed mandolins are the oldest builds of the three body types. Bowl backed mandolins can be spotted by its unique round back and the dark tone that the instrument produces that is commonly found in mandolin orchestras, traditional folk music, and classical music.
However, many modern-day bowl backed mandolins are not of very high-quality but do tend to lean on the more inexpensive side. If you are a beginning musician, this means that you should be warier when looking around for bowl backed mandolins, as it can be more difficult to find decent quality mandolins that produce high-quality sounds.
A-style Mandolins
A-style mandolins have a pear-shaped body and are often referred to as flat backed mandolins, just too distinct them from bowl backed mandolins. However, A-style mandolins do happen to have a slight rounding to their backs.
These mandolins either have two 'F' holes on each side of the soundboard or one 'O' hole in the middle of the soundboard. A-style mandolins are a lot easier to build that F-style mandolins, which means that they typically happen to cost less than F-style mandolins. Can be typically found in Celtic, classical, and Folk music.
F-style Mandolins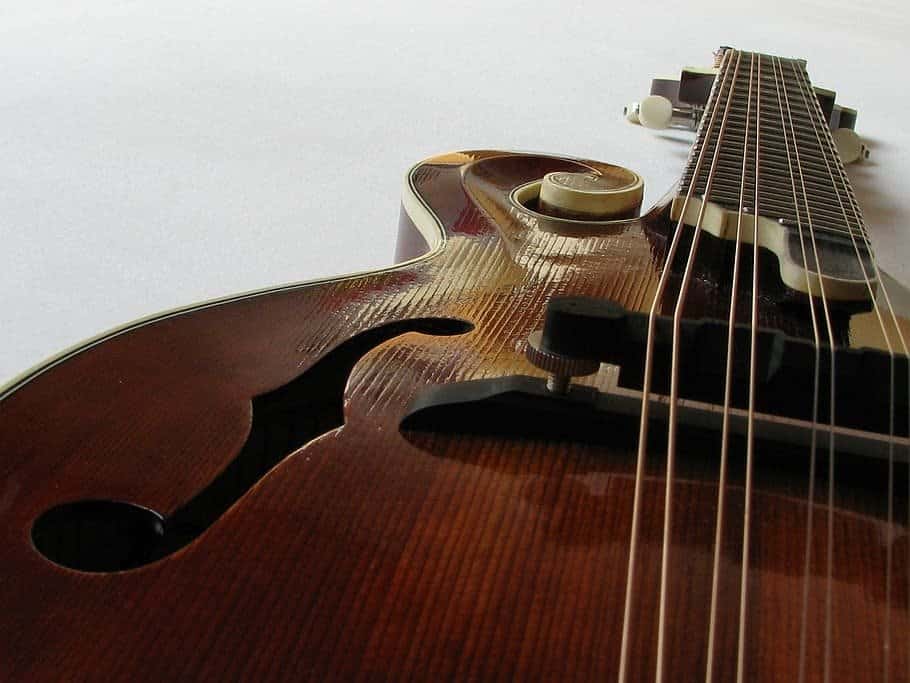 There aren't really a whole bunch of differences between A-style mandolins and F-style mandolins. The main difference between the two instruments is that F-style mandolins tend to have a carved body that's had high levels of attention paid to.
F-style mandolins also typically have two 'F' holes instead of the one 'O' hole, as well as points on the mandolin that stick out from the body, in order to make the lower part of the body more comfortable to rest on your lap when you're playing your instrument sitting down. F-style mandolins are a top-choice from country and bluegrass musicians in today's music.
Mandolin Wood Types
While the differences in the body shape of a mandolin do have an effect on the tone of the instrument, the materials that are used to create the instrument have a much more intense impact on the sound of your mandolin.
Due to the shape of the mandolin, there are different parts of the guitar that are put under different levels of stress. This means that guitar manufacturers produce different parts of the guitar from a variety of woods.
The top (also referred to as soundboard) of most quality mandolins is comprised of spruce which is solid wood, that is durable and lightweight. The top of the mandolin is the piece that changes the tone of the instrument, so it's very important that the top is comprised of a quality tonewood.
Most beginner level and intermediate level mandolins use cedar or mahogany for their tops, which provides the guitar with a deeper overall tone. However, it's not uncommon to find inexpensive mandolins to have a top that's comprised of laminate, which does increase the durability of the instrument but takes away from the overall sound quality of the mandolin.
What type of mandolin should I choose?
Electric mandolins tend to be more expensive than acoustic mandolins, but you should not make the choice between electric or acoustic based on price point. Make sure that you choose the instrument that fits your personal music style.
Here are a few questions to answer that will help guide you on your decision between an electric or an acoustic mandolin:
Will you be using your mandolin just to practice?
Will you play mandolin in a band or with a group?
Will you be playing in a mandolin orchestra?
Will you be playing in a band, maybe where you're going to want to have your instrument be one of the most prevent sounds during certain parts of your music?
Do you have room to afford accessories, such as amps, a gig bag, tuners, mandolin pick, etc..?
While you may not be 100% ready to answer these questions yet, they're going to get you to start thinking about what your ideas are when it comes to playing and performing with your mandolin.
If you're going to need to amplify your mandolin, there are two different options for you to choose from; one option is to place a microphone in front of your mandolin and have the sound of your instrument projected through an amplifier or a loudspeaker. However, this can cause more problems than it's worth, because the body of your instrument may happen to make background noise happening around you to feed into the mic.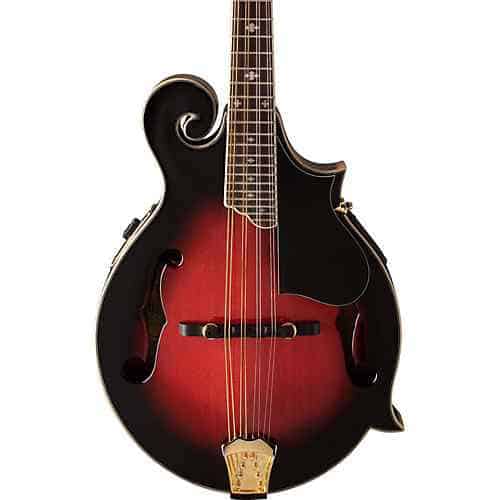 Acoustic or Electric Mandolin
There are acoustic-electric mandolins on the market and these hybrids usually have the same basic setup as an acoustic mandolin. What makes the acoustic-electric hybrid function as an electric mandolin is what is called the 'piezoelectric' pickup that's located at the bridge of the mandolin. The pickup takes the vibrations that the mandolin strings produce and converts the vibrations into electronic impulses, which are then transmitted to an amplifier.
Playing on an electric mandolin does have its drawbacks; you're going to be plugging your instrument into some type of amplifier all the time, especially if you're looking to perform for an audience.
If you are interested in an electric mandolin, you may want to take a look at a semi-hollow electric mandolin. The concept behind the semi-hollow mandolins is the same concept behind semi-hollow body guitars; there is a wood center block that's located inside of the instrument, which minimizes the amount of feedback that the instrument produces, but does decrease the overall tone quality and sound production of the instrument.
But, don't let all of this convince you that you would be worse off with an acoustic mandolin. If you do happen to get your hands on an acoustic mandolin and decide at a later time that you're looking to amplify your instrument, there are still a few choices for you.
The cheapest option to amplify an acoustic mandolin is to simply get the compensated bridge replaced; your new bridge will be a bridge that contains a piezoelectric pickup. The other option is to use a magnetic pickup, which is commonly found in violins, cellos, and other stringed instruments.
How much should I pay for my mandolin?
Just like with the majority of other stringed instruments, you can find a whole bunch of options on the market that allow you to pay as little or as much as you choose. If you're looking to go with some of the cheapest options on the market, you're going to be able to get your hands on a new mandolin for around $50 to $100. The price point will begin to grow if you choose to invest in higher-quality woods, higher-quality materials, better construction, and hardware that is more cosmetically appealing.
Expensive mandolin models can easily run you upwards of $5,000 and more. However, if you are a beginning mandolin player, do not feel pressured to purchase instruments that come with a hefty price tag.
Please keep in mind that no matter how much you plan on spending on a mandolin or where you plan on purchasing your instrument from, you should take a visit to a guitar store or an instrument store and try out a variety of mandolins. This will allow you to see what the differences in the sound quality, tonal quality, sound projection, feel, and appearance of the mandolins are when discussed in online reviews.
This is a great mandolin that was produced to focus more on tone and sound quality, rather than focusing on creating a mandolin with a whole bunch of fancy accessories. For around $400, you are going to be putting in more of an investment with this mandolin from Kentucky, but it's an investment that's very easily justifiable.
The Kentucky KM-150 is a great entry point mandolin for those of you who have previous music experience but aren't exactly too certain about mandolin just yet. While the overall appearance of this mandolin isn't anything too exciting, the construction quality that was put into this guitar can certainly be heard.
Kentucky KM-150 is comprised of a solid spruce top, solid maple sides, and solid maple back, with an adjustable truss rod. While mandolins are well known for their deeper tones, this instrument has a great tone even in its higher register.
As for the drawbacks that come along with this instrument, the lower register can have a duller sound quality when in comparison to other models in the same price range. Some of the hardware on this guitar is comprised of plastic, such as the strap button/hook, and can easily fall off and get lost.
This A-style mandolin will run you under $100, but you do happen to get a certain quality from this guitar that's a bit higher than the price tag that you paid for your mandolin. While the tone of this instrument is going to make your jaw drop, it does prove to be a decent instrument overall.
The Rogue RM-100A has a sturdy construction and allows musicians to try out playing the mandolin without having to pay too large of an out of pocket cost. Due to the sturdy build and super affordable price tag, the 100A does serve as the perfect learning instrument for mandolin. However, that doesn't mean that this mandolin doesn't come with some drawbacks.
If you're an experienced musician or experienced mandolin player, you're more than likely going to notice that the mandolin doesn't take tuning very well. It's very difficult to accurately tune this instrument and the tuning doesn't stay for very long. This mandolin also has a laminated top, which means that the quality of tone produced from this instrument does sound a bit poor and isn't very comparable to more expensive mandolins.
Now, if you're looking to really be picky about this instrument, there are a few more drawbacks to the 100A, but these are things that only experienced musicians would really care about or even notice; the finish on the mandolin is very thick, which also takes away from the tone quality of this instrument. There is also no truss rod, which means that if the neck happens to warp over time, this instrument will eventually become unplayable.
Rogue RM-100A A-Style Mandolin | Guitar Center
With an easy-to-play neck and adjustable bridge, the RM-100A is perfect for beginners who wish to play bluegrass or any other style of music.
Check price
We may receive compensation from the companies whose products we review. We only recommend products that we believe in and test.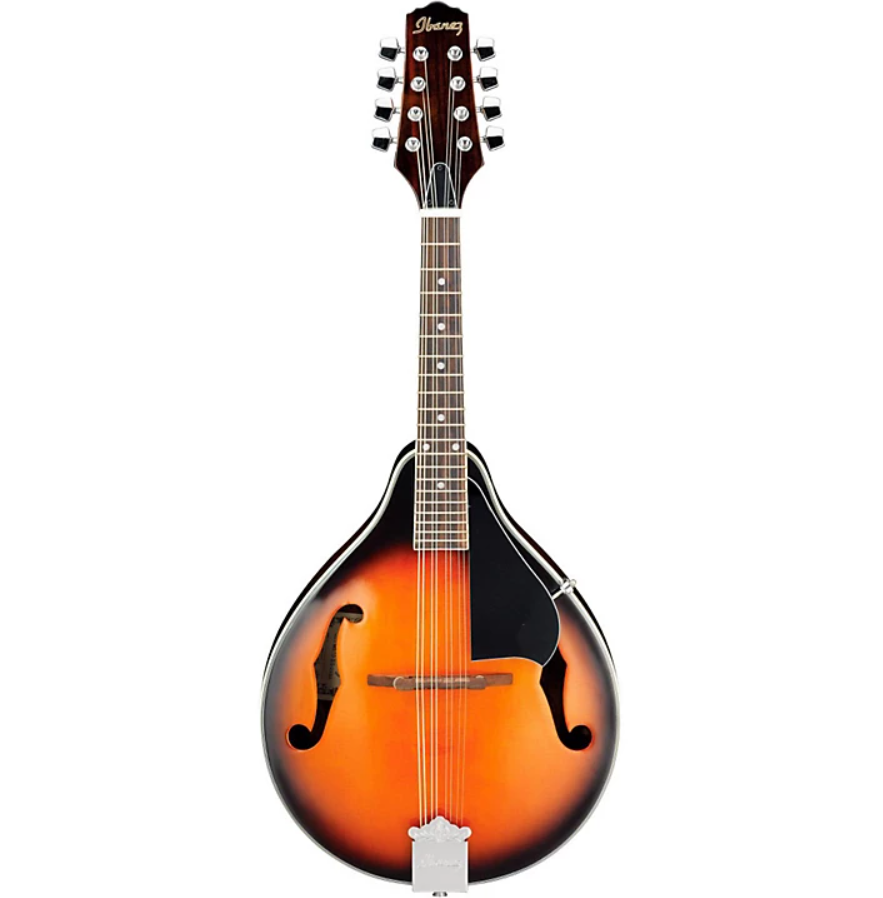 Maybe you're a musician who is interested in learning how to play mandolin, but you're also interested in finding an instrument that you can show off. Ibanez created a classic A-style mandolin (classic mandolin) with a dark violin sunburst color paired with an incredibly attractive finish, which can be a huge positive for a lot of beginning musicians.
The M510 provides musicians with an incredible balance between affordability and quality, which makes it one of the best mandolins on this list for both beginner mandolin players and intermediate players.
The M510 has a truss rod, which means that the neck of the guitar is adjustable and won't get bent out a shape easily. With a solid spruce top on the top of the mandolin, the M510 projects sound incredibly well. For around a $50 price difference, the M510 has a much better construction quality in comparison to the Rogue RM-100A that we just discussed.
However, some of the materials on this mandolin aren't of the highest quality, which can be especially found in the tuning pegs and the pickguard. Also, the dimensions of this instrument aren't very typical, so you may have difficulty finding a hard-shell case for this mandolin.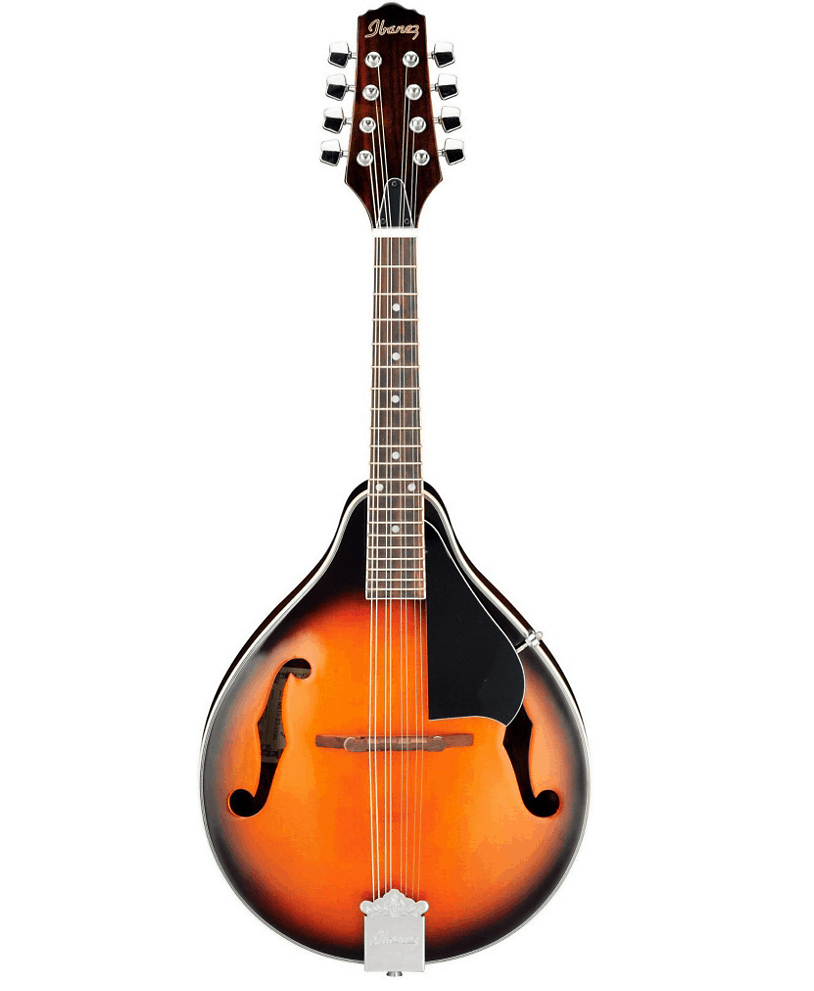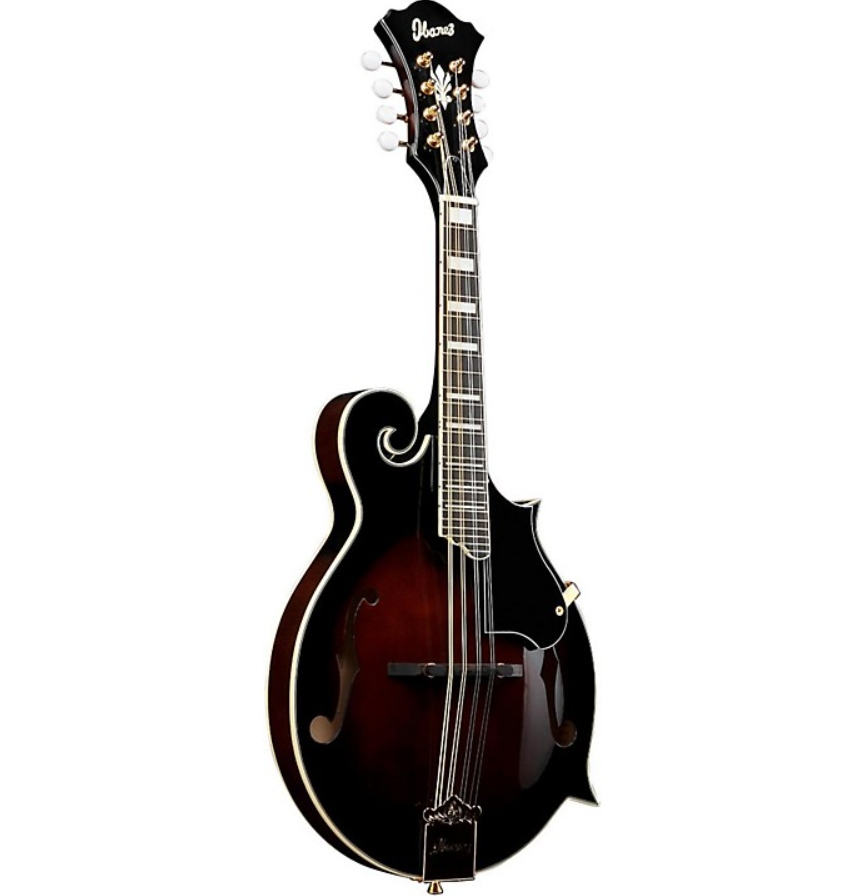 The M522 F-style instrument provides musicians with a great amount of volume and tone, while also serving an elegant cosmetic appearance. While the construction that's on this mandolin isn't of the best quality, it does provide musicians with the ability to purchase a decent quality F-style mandolin without having to drop a whole lot of extra cash.
The M522 is comprised of a solid spruce top, flamed maple back, and maple sides, paired with a mahogany neck. The neck on this mandolin is wide, which makes it easy to play, especially if you are someone who has larger hands or fingers (fingerboard). Also, the build of this mandolin projects sound incredibly well.
There is some inconsistency in the quality of construction, but you really can't be too mad at that, especially if you're paying less than $300 for an F-style mandolin. However, for a guitar that's going to cost around $300, I would expect to find better quality tuning pegs on the instrument.
In comparison to the RM-100A A-style mandolin, the RM-100F F-style is around $80 more expensive. The RM-100F F-style mandolin is an incredibly attractive instrument and does a decent job when played, making it a great option for someone who is prepared to spend a bit more on an instrument in comparison to the RM-100A A-style mandolin.
While the $80 price difference between the A-style and the F-style is pretty hefty, spending less than $200 for an F-style mandolin is actually a really great price. The neck on the F-style is extended and the instrument produces an even better sound projection than the RM-100A mandolin. If you're not exactly certain if an F-style would be better for your needs, you can purchase the RM-100F to see if this style of mandolin would work best for you.
However, there are a few drawbacks that come with this instrument; the action is difficult to adjust, which means that you're going to have to spend money on paying a professional to adjust the action for you. The tuners on RM-100F are also of poor quality and make it incredibly difficult to achieve a good tuning on the instrument. The overall tone of this instrument is actually worse than the tone that the RM-100A produces and doesn't project enough sound for loud ensembles, such as bands that play bluegrass mandolin.
Rogue RM100F F-style Mandolin | Guitar Center
This affordable mandolin is a dream for guitarists or other string musicians who want to get into the mandolin without breaking the bank.
Check price
We may receive compensation from the companies whose products we review. We only recommend products that we believe in and test.
Are you someone that's looking for an electric spin to add to your mandolin? The Stagg M50E acoustic-electric bluegrass mandolin comes with a nato body. You'll also find that it comes with a black maple bridge, combined with a rose fingerboard, and pearl dot inlays. This physical combo is what makes the entire look for this acoustic-electric mandolin very classy.
Moving on, you'll find that the bridge on the Stagg M50E acoustic-electric bluegrass mandolin is adjustable. The adjustable means that you'll be able to adjust the intonation of your mandolin. Plus, you'll have eight nickel tuners that are open gear, which means that you'll be able to alter the frequency of your guitar. And you'll end up with outstanding articulation out of your mandolin!
As far as the electronics on the Stagg M50E acoustic-electric bluegrass mandolin, you'll find that there's a single pickup that comes with a tone control knob and a volume control knob. This means that you'll get a high-quality tone that's bright and crispy.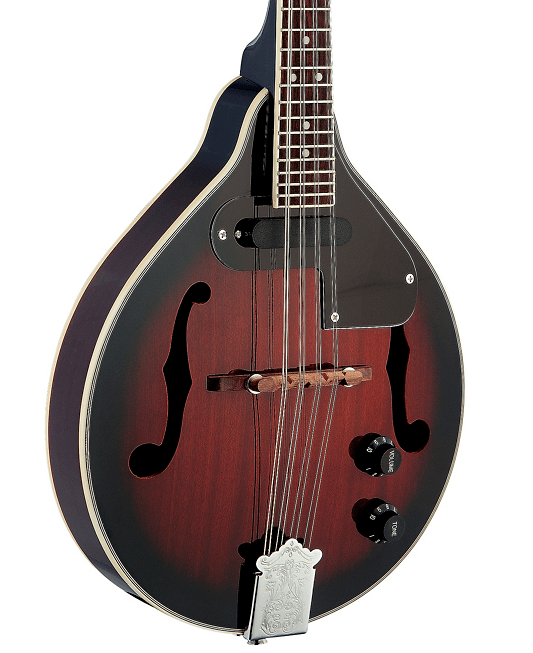 The Savannah SA-100 A-Model mandolin is a very affordable type of mandolin. If you're looking for a model that's right under $100, you should definitely take a look into this instrument.
When taking a look at the construction of this instrument, you'll definitely notice that it has high-quality craftsmanship. However, don't be surprised if you need to keep up with the maintenance of this mandolin every once in a while.
The tuners for these mandolins are some of the best you'll find on an instrument that's this affordable. Taking a look at the body of the mandolin, you'll see that the top part is comprised is made up of spruce. But, you'll also find that there's a maple neck topped with a rosewood fingerboard. There are also dot installed on the fingerboard.
In terms of the cosmetic appearance, you'll see that this mandolin has a sunburst pattern with a black finish. The worst quality of this guitar is that it isn't very durable. So, if you aren't careful, you can destroy this mandolin if you drop it.
On the other hand, it does come with a 3-ply pickguard that'll keep the body of your instrument protected from scratches from when you're strumming. I also love the bright sound that the Savannah SA-100 A-Model mandolin produces.
What is the best mandolin for a beginner?
If you're looking to start to play the mandolin and are concerned about the price point of your new musical instrument, the Rogue RM-100A will be one of the best options for you. The Rogue RM-100A, which you can pick up for around $50, is the cheapest mandolin available on the market that's still of decent quality.
However, if you have a budget that you're prepared to spend on your new mandolin, you could most likely afford an instrument that's of slightly better quality and durability than the Rogue RM-100, which is the Kentucky KM-150. The Kentucky KM-150 is one of the best mandolins on the market for beginners at a relatively affordable price tag.
Final Note
Don't take this review as the final say for all of these instruments. Even if you don't know anything about playing an instrument, listening to the instruments being played and feeling them in your hands can help to make your decision easier.
Make sure to keep in mind that just because you're paying more for an instrument doesn't mean that it's necessarily going to be a better fit for your personal needs or style. I hope you've enjoyed reading about the best mandolins on the market for your money!
Further read:
FAQs About Mandolins
Is mandolin harder than guitar?
Mandolins are not so hard to lear because they have less strings than guitars do. If you already know how to play guitar, then this instrument would be easy and fun to learn.
What is a mandolin guitar?
A mandolin guitar is a term used for mandolins that has four courses of double metal strings that are united, and a flat back which is similarly constructed to an acoustic guitar.
What are the mandolin strings made of?
Mandolin strings are made of high quality materials such as bronze, stainless steel, allouy and other mixtures, and they are doubled in order to prolong their lasting and over time this has become a signature of this musical instrument.
Latest posts by Guitar Space Team
(see all)