Latest posts by Guitar Space Team
(see all)
The Yamaha F325 is an acoustic folk guitar that's an affordable option for a beginning guitarist to learn on.
Out of all of the series that Yamaha has, the Yamaha F325 is one of their most popular series of their musical instruments, partially because the F series is comprised of mostly beginning level guitars.
For the price range, I really enjoyed several things about this guitar. For the physical appearance of the guitar, the dreadnought shape was appealing and wasn't too heavy while holding the instrument. The sound is more on the mellow side, but sound production is neither too loud nor too quiet; perfect if you are someone who enjoys performing in front of small audiences.
Small budget guitars are easy to find too, but finding a quality guitar on a budget isn't always the easiest thing to do. If you are a beginning guitar player looking to find a guitar that's going to last you a few years while you grow, the Yamaha F325 is a guitar you should really take some time to look at.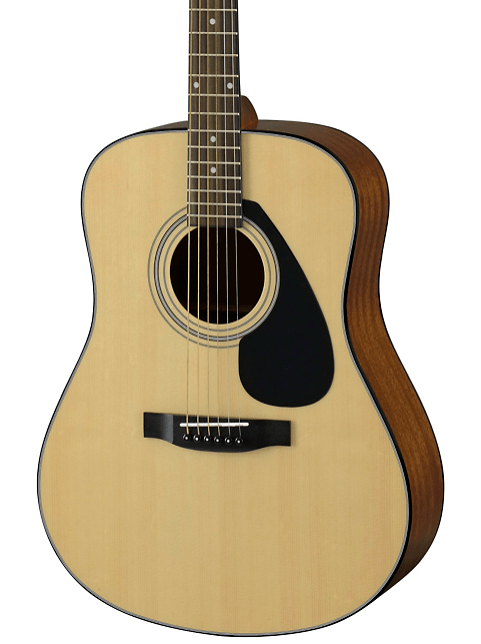 The feel of the F325 acoustic guitar is very rich and luxurious, especially when compared to other guitars in this price range; other guitars that share the same price tag as the F325 and come with an average finish, don't stay in tune for a long period of time and have very flimsy plastic pick guards.
However, this Yamaha F325 stays in tune for long period of time, a sturdy pickguard, and an elegant finish; this guitar has a classic dreadnought shaped body that comes with a non-cutaway with a laminate spruce top that is topped with a glossy finish.
As for the construction of this guitar, the top of the guitar is crafted from the solid spruce top and the neck of this instrument is of Nato wood; sides and back are made from Meranti wood. There is a dovetail joint that is found on the standard 14th fret.
The biggest complaint that I have about this instrument is the size of the neck. I am someone who has smaller sized hands and I found that playing on this guitar became very strenuous on my hands. After playing for a little while, my hands became tired and achy and I had to
stop playing.
The F325 width is 11/16 inches wide, there are fourteen free frets, twenty frets in total, and the dot position inlays with a 25 ½ inch scale.
While this guitar is inexpensive, it doesn't look it! The bridge and fretboard are made from rosewood; the fretboard has an adjustable truss rod. On the end of the neck, Yamaha placed chrome plated die cast tuners, which really makes the guitar look classy.
One of the reasons that the Yamaha F325 stays in tune for long periods of time is due to the truss rod that can be found at the neck of the guitar. As for the tone of the guitar, the rosewood finger board is to name for that; the rosewood finger board really adds to the overall warmth of the sound the Yamaha F325.
If you are someone who is an experienced musician and are looking for a guitar that is an affordable instrument to practice on, the Yamaha F325 will get the job done. While I do suggest this guitar to my beginning guitarists, I also recommend it to my experienced musicians. This is the ideal guitar to practice all of your finger techniques on.
Personally, I would highly recommend this guitar as it's very versatile. While this guitar has been created with beginners in mind, those who have been playing guitar for years will also enjoy playing this instrument. As an experienced guitar player, you will notice that the action is pretty high on this guitar.
However, if you spend an extra $40, you can go get this fixed at any local guitar store. Also, while this instrument doesn't come with an electric amplifier, this guitar still does produce an incredible amount of volume.
Core Features/Specs of the Product
Weighs 6 pounds and 4 ounces
41.9 X 20.8 X 5.5 inch dimensions
Meranti sides
Meranti back
Nato neck
Rosewood bridge
Rosewood fingerboard
Die-cast chrome tuners
Dreadnought body
Gloss finish
Available in three different color options: tobacco, natural, and sunburst
Tortoiseshell pickguard
Comes with a limited lifetime warranty
With your purchase of your guitar, you also will receive extra strings, extra picks, a digital tuner, DVD guitar lessons, and a gig bag
Amazing sound production
Stays in tune for a long period of time
Very stable and consistent
A lot of fun to play with
Feels very sturdy
Doesn't need a lot of tuning when first pulled out of the box
Doesn't come with an electric output option
Doesn't come with a strap on the side of the guitar
Doesn't come with a case
Best Music Genres For
The Yamaha F325 Folk Acoustic guitar works the best for folk music, as listed in its description. However, this is a very versatile guitar, so it's really great for any genre that you choose to play on acoustic guitar.
Does it Work as Advertised?
Yes, it does! This is a very useful guitar that has a beautiful appearance that has a body that has been well built and is certain to withstand some abuse. The glossy sitka spruce top really makes the guitar stand out from the crowd. The wood that Yamaha used on this guitar also makes it very durable but also ensures that it has incredible sound quality and tonal qualities.
Pros of the Yamaha F325:
Amazing sound production
Stays in tune for a long period of time
Very stable and consistent
A lot of fun to play with
Feels very sturdy
Doesn't need a lot of tuning when first pulled out of the box
Cons of the Yamaha F325:
Doesn't come with an electric output option
Doesn't come with a strap on the side of the guitar
Doesn't come with a case
Yamaha F325 Alternatives
Yamaha FG800 Folk Acoustic Guitar | Musician's Friend
Yamaha's FG800 Folk Acoustic Guitar is a reasonably priced entry-level acoustic guitar featuring one of the most popular tonewoods - solid Sitka spruce - for the top. Other features of the FG800 include a rosewood fingerboard and bridge, black and white body binding, die-cast tuners, and a tortoise pickguard.
Check price
Check availability on Reverb
We may receive compensation from the companies whose products we review. We only recommend products that we believe in and test.
This guitar is also really popular among beginners, mainly because of the color choices that is offered. This guitar does pronounce the bass more than the Yamaha F325, but it still plays easily and is very affordable.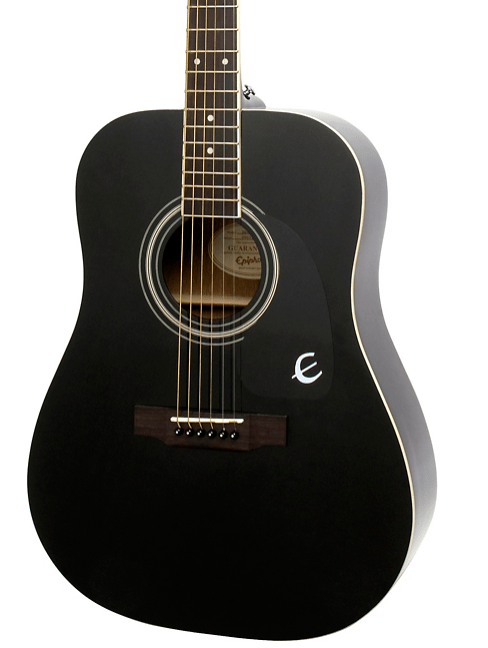 This guitar is one of Epiphone's best-selling beginner's guitar, as it's very affordable and has incredible tonewoods that make this instrument sound balanced and warm. At an affordable price range, ($118 compared to the Yamaha's F325 $150 price tag) this guitar has a
classy appearance.
Conclusion: Yamaha F325 Review
The Yamaha F325 Folk Acoustic guitar is a well-rounded instrument that is great to use as a good guitar to learn off of.
Bottom Line: Due to the shape of the neck, this guitar really helps beginners learn how to place their finger on the neck of a guitar (fingerboard), how to properly move their fingers on the neck, how to hold a guitar, how to show emotion through the music, how to stand while playing, and how to play while standing.
In short, it's a WONDERFUL consideration as one of the best acoustic guitars for beginners.
The price tag on this instrument is also unbeatable, considering the quality of sound and feel of the F325.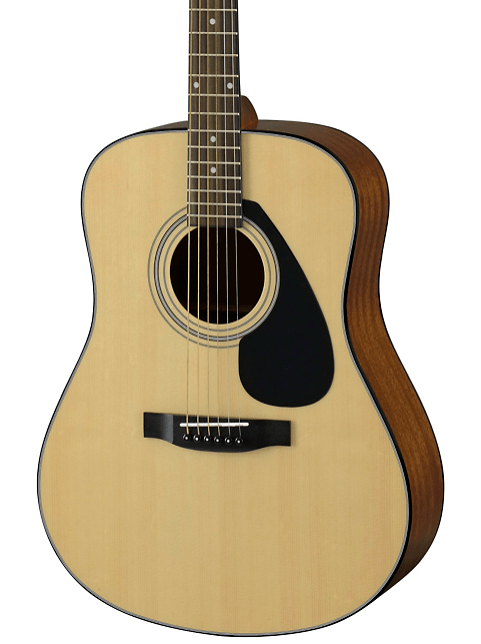 Further Reading on Acoustic Guitars