Once a guitarist has learned all the guitar tricks a beginner guitar has, they get a hankering for upgrading their guitar from the beginner instrument that they've been learning on to another, to even learn guitar better!
Intermediate level guitars are generally a few hundred dollars more expensive than beginner ones. The added expense can be attributed to higher quality parts or construction. It will usually be one or the other. Compromises will be made somewhere to keep it affordable, so it won't add up to a professional level guitar.
Here, we'll take a look at a cross-section of best intermediate guitar choices between different guitar brands. Note: There are no classical guitar or acoustic guitar brands in the list!
Best Intermediate Guitars
Fender American Standard Stratocaster | Reverb
Used Fender Standard Strat in good condition. This just a great guitar that has that Fender look we all love!
Check price
We may receive compensation from the companies whose products we review. We only recommend products that we believe in and test.
The Fender Standard Stratocaster is made in Mexico. The parts of this intermediate electric guitar is similar to other Strats the company produces, but is more affordable due to lower labour costs. The most notable difference in terms of parts is the pickups.
Currently, the Strat comes with a rosewood or maple fingerboard. It sports an alder body and maple neck. All hardware and electronics are stock standard Fender.
Mexican-made guitars can be frowned upon by professional players for their construction quality, but honestly, if it was that much of a concern, would it really be a top-selling model? You can be sure that Fender won't risk their brand reputation on shoddy manufacture doing cheap electric guitars.
A major factor in the lasting popularity of the Strat is the range of tones that can be teased out of it. On a clean amp setting, as well as being OK for casual strumming, you'll find you funk style sounds right here. On the middle, and combining middle and neck pickups, there are some quite bluesy sounds to be had.
On the overdrive channel, with a gentle amount of gain on the neck pickup, you're in pure blues territory. Cranking the gain, and you can lash out some power chords to a grungey effect. Between the middle and bridge pickup, you're into classic rock tones, that are perfect for lead playing.
Read more about the Fender Standard Stratocaster and why it made the top of my list for best intermediate guitars!
Despite being described by Noel Gallagher as a "poor man's Gibson," Gibson's Eastern-made subsidiary has maintained popularity forever – this reviewer owns three! The quality of Epiphones is so high, there's a debate on whether a few dollars extra on the price tag for an actual Gibson is even worth it for this great guitar.
The key feature of any Les Paul Standard is a slab of solid mahogany with a maple top, and a couple of humbuckers. In the case of more price-conscious models, the maple top is actually more likely a veneer. It comes with Epiphone's own humbuckers and Grover machineheads – the rest of the hardware unbranded.
The construction is top notch. The set neck is perfectly fitted – there are no gaps, signs of force, or any nicks or glue residue. The binding on the neck keeps the frets tidy, and the parallelogram inlays look carefully embedded.
The tones of this Epi are as close as you're going to get to that legendary Les Paul sound without breaking the bank. The clean tones are fine, especially selecting both pickups, where you get quite a nice bluesy tone.
Switching to an overdriven sound is where this guitar wins. Whether it's solos on the bridge pickup or full-sounding rhythms on the neck or bridge pickups, there's a lot to satisfy the blues-inspired rock player.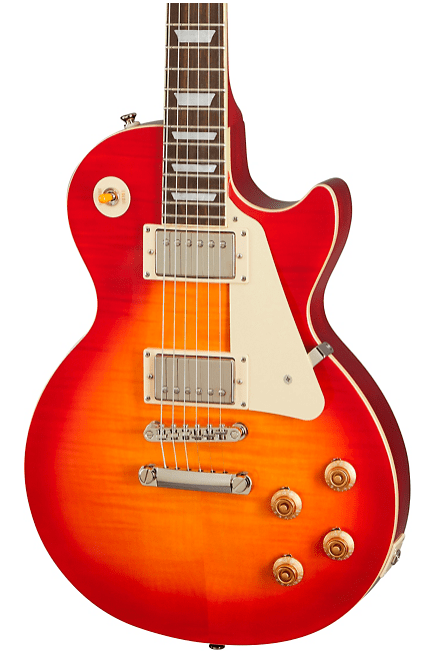 If you want to know more about this amazing guitar, check out my full review on the Epiphone Les Paul Standard!
Dean have earned a long-standing reputation as purveyors of pointy guitars, epitomized by the likes of their V, one of the original design when they launched in 1977.
The Stealth model is a no-frills affair, aimed at providing players with the best components at construction at the best price. A considerable amount of Dean's output comes from the east, and the V Stealth is part of that.
The key features are a mahogany body and neck, with a luxurious ebony fingerboard. Dean's standard V-shaped plate on the top side of the body to prevent the strings from cutting into it is present and correct and looking particularly smart in a black finish.
The construction is of a set neck design. Dean cut the angle of their Vs a little sharper as the approach the neck, to allow better access to the higher jumbo frets – it's a very nice touch. The Stealth has a very tidy binding around the body and headstock, but interestingly, not along the fingerboard.
As with the Warlock earlier on, this isn't really designed for clean tones. Kicking the test amp into overdrive with the gain dialed to six, and you're in for a lot of fun, with the EMGs providing great clarity, whatever you play.
Dean V 79 Electric Guitar | Reverb
The Dean V Stealth Electric Guitar offers the player iconic looks and professional sound. Designed by professional musicians for professional musicians without breaking the bank.
Check availability on Reverb
We may receive compensation from the companies whose products we review. We only recommend products that we believe in and test.
Before I give you my alternatives, why not read my full review on the Dean V Stealth?
Another design originated by Gibson, this guitar is based on their Explorer shape. As I'm sure you appreciate, with ESP being one of the more metal brands around, they've brought that to the table.
As a general rule of thumb, the first sign of a guitar aimed at metal players is a set of EMG pickups. Check. Put them in a mahogany body, and you're well on your way. A good sign that a company is focused on quality is when parts have been outsourced to dedicated makers of those parts, in this case, EMG pickup, Grover machineheads, and a Floyd Rose tremolo.
The EX-401 comes with the aforementioned set-through construction. The black hardware seems pretty solidly attached.
On a clean setting, the combination of 81 and 60 EMGs, produce a thick sound but with a presence and clarity that would make it fine for quieter section of intermediate guitar songs.
On an overdriven setting though, is where guitars like this really shine. Palm muting through some power chords on the neck pickup, and you're living in Riffsville. Going to the other extreme, the bridge pickup is ideal for lead playing licks and solos.
The EX-401FR has a slim neck, so it's good for intermediate guitar players who are building up their shredding speed.
Need more info? Check out the full review here!
No more than the Stratocaster discussed at the start of this piece, it's difficult to say things about the Telecaster, a model that has changed so little in 65 years, and especially one where its entire premise is based on simplicity. But hey, I guess if it ain't broke, it shouldn't be fixed.
The Standard Tele currently comes with an alder body, with a maple neck, and a maple fingerboard. It comes with standard Telecaster single coil pickups, controlled with a three-way selector switch, and two knobs, one each for volume and control.
The construction is as straightforward as the parts used: a simple bolt-on neck held in place with four screws. The necks sits flush with the body. The electronics and hardware look sturdy.
An attribute of the Tele that correlates to its construction and parts, is the amount of playing styles its sound can work with. On a clean channel, putting both pickups through their paces, you can hear the country and blues tones. The blues tones in particular with both pickups selected, and the volume pushed a little.
Moving to an overdriven sound, and it doesn't take too much gain to get rocking, whether it's blues rock, indie rock or country rock that you're looking for.
My Pick for Most Players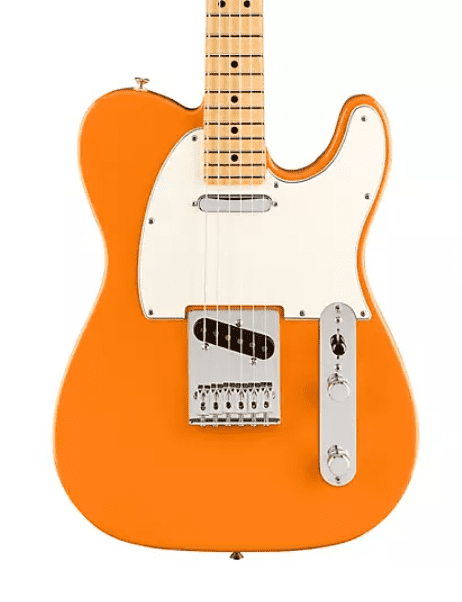 Want more info on the Fender Standard Telecaster. I've written a full review on this fave of mine.
The brand whose guitars inspire this model don't really have one aimed at intermediate players, between their US models or Eastern-made counterparts. Luckily, D'Angelico have picked up the slack with the DC Premier.
The Premier is pretty standard in terms of the functionality of its parts, but has more going on aesthetically with them. For example, take a look at that tailpiece, with a design the call the Stairstep, emulated on the machineheads. The truss rod cover has a skyscraper motif, likely a nod to D'Angelico's New York roots.
The Premier has set neck construction, and it looks great. The heel looks comfortable and nicely finished. The hardware all seems sturdily attached. I can't find anything to fault at all really in terms of how this guitar has been put together.
The great thing about these guitars is the versatility and application of the tones that can be derived from it. On a clean channel, the neck pickup oozes the blues, especially if you crank the volume a little. I can also hear some application to country music here. Keeping it refined, you could do some good early rock 'n' roll or rockabilly.
On an overdriven channel, you'll find all the right spots for lead and rhythm playing, for everything from blues rock to Britpop. I think there's scope for some country rock too.
Be sure to check out my full review on the D'Angelico DC Premier as well!
Ibanez's RG series have always been for shredders. The Iron Label range gets more specific, dedicated to metal guitarists. The range is priced for intermediate guitar players.
There are a few particularly cool points of interest in this RG. The first relates to the parts, in that it comes equipped with an ebony fingerboard. The tonewood for the body is ash, which is unusual. Additionally, it's loaded with EMG pickups and Gotoh machineheads.
The second cool point is that it comes with a through neck construction, which looks mega with the trans finish. Other than that, simplicity has been the key in making this guitar. The humbuckers are connected to a three-way selector, and one knob each for volume and tone.
In talking about the tones from the RGIT20FE, with a metal-oriented guitar, we can go straight to overdriven sounds, and dial in maybe a little more gain than you normally would.
The bridge and neck pickups are fine for your rhythm playing, but this was designed for shredding. This is all about the bridge pickup, which will cut through the rest of the noise.
Considering the playability of this RG, it has a slim and comfortable feel, ideal for the intermediate player who is developing their speed playing.
Ibanez RGIT20FE TGF Iron Label | Reverb
Ibanez RGIT20FE TGF Iron Label - Transparent Grey Flat - b-stock from Reverb.
Quick tip: If an item is currently not available on Reverb, you can select 'Follow this product' to be notified of any new listings.
Check price
Buy at Amazon
We may receive compensation from the companies whose products we review. We only recommend products that we believe in and test.
Want to know more about the Ibanez Iron Label RGIT20FE? Read my full review here!
Epiphone have a solid reputation for archtop guitars, and the Swingster is at the higher end of the range, making it ideal for an intermediate player.
Apart from the color, it's hard to miss the Bigsby vibrato unit on this instrument – there's always lots of fun to be had with one of those. It comes equipped with Epiphone's own SwingBucker pickups, specially designed for this instrument. Another thing you can't miss is the incredibly ornate headstock, which is adorned with Grover machineheads.
Looking at its construction, it comes with a set neck, that looks very carefully put together. It certainly won't cause any cause for concern. Although the guitar is very light due to its construction, and it generally has an air of delicacy about it, going over the quality of the build will put those assumptions to rest.
Unlike most guitars on this list, the Swingster is more at home on the clean channel of the test amp. Selecting both pickups will give you a nicely balanced tone to do pretty much anything where you'd be playing a clean electric guitar – country ballads, early rock 'n' roll, rockabilly… all of it!
The silver sparkle binding ensure no sharpness along the edges of the fingerboard. Between that, and the slim taper neck, you've got a highly playable beauty.
Need to know more? Read my full review on the Epiphone Emperor Swingster here!
Some years ago, owning a new Gibson guitar for less than $1,000 was complete nonsense. For a few year now though, they've been trying to make the brand more accessible, with the SG model leading the way.
There's not a lot to say about this SG Special. In terms of parts, it's pretty much identical to the SG Standard: mahogany body, two humbuckers, mahogany neck, rosewood fingerboard. It's fair to say there's not a lot of difference, the main ones being better pickups and binding on the Standard.
Construction-wise, one of the reasons that it's easiest to make affordable SGs is the simplicity of the build. It really is the neck glued into the body, and standard Gibson electronics layout: a volume and a tone knob for each pickup.
Plugging in and turning up on an overdriven channel, and you'll find yourself standing right in the middle of rock. The neck pickup sounds like it was exclusively designed for hard rocking riffs. Selecting both pickups is a good all-around tone – probably good for those who sing as well and don't have time for fiddling. The neck pickup is all of the lead tone.
If you don't have the extra dollars for a Standard, don't worry about it. This Special is great.
If you still want to know more about the Gibson SG Special 2017 T read my full review here!
Alternatives
Gibson SG Standard– equipped with higher spec pickups, and comes with binding along the neck
ESP LTD Viper-401– a more metal take, with an offset body shape and couple of EMG pickups
Schecter S-1– less "SG" than some, but still obviously influenced by it, this comes with coil tapped pickups
Fender American Standard Stratocaster– the more expensive American version, with improved pickups
Squier Classic Vibe Stratocaster – the cheaper, Eastern-made brand from Fender, available in a 50s or 60s model with their own variation
G&L Tribute S-500 – essentially Leo Fender's final developments on Strat-type parts
Ibanez Artcore Expressionist Vintage – loaded with Ibanez's vintage-voiced Super 58s, with classy looking block inlays
Gretsch G100CE Synchromatic – just one single coil pickup in the neck position, a fancy tailpiece and rosewood bridge
D'Angelico Premier EXL-1 – just one mini-humbucker pickup in the neck position, maintains D'Angelico's elaborate parts designs
Jackson Pro Series Dinky DK2– also has an ebony fingerboard, it comes with Seymour Duncan humbuckers and a Floyd Rose tremolo
Schecter Blackjack SLS C-1 – mahogany body, set neck construction, and Seymour Duncan active pickups
ESP LTD M-1001 – an alder body with a stunning maple top, and EMG 81s at both neck and bridge positions
Ibanez Artstar AS153 – stunning flame, with Ibanez's Super 58 pickups, and a fancy ebony fingerboard
Epiphone Casino– a proper hollow body guitar loaded with P90 pickups. Here's a complete history of the Epiphone Casino inspired by John Lennon.
Gretsch G5622T-CB Electromatic – comes fitted with a Bigsby vibrato unit, and three humbucker pickups
Squier Classic Vibes Telecaster Custom – a cheaper but well-regarded alternative from Fender's branch in the east
Fender American Standard Telecaster – if you have a few dollars to spare, you can get some higher quality hardware and electronics
G&L Tribute ASAT Deluxe II – Leo Fender's final take on his original design, with a mahogany body and humbuckers
Epiphone 1984 Explorer EX– set neck construction, with the more stand 81/85 EMG configuration
Schecter E-1 Standard – similar wood to the ESP, but with their own coil tapped pickups for a wider range of tones
Jackson X Series Kelly KEXMG – a somewhat extreme take on the Explorer shape, with a basswood body
Gibson Les Paul Custom Special Studio – the cheapest option for those determined to own a Gibson Les Paul
PRS SE 245 – similar parts, but with contouring around the horn, and fancy birds inlays on the fingerboard
ESP LTD EC-401– essentially a metal Les Paul, with EMGs and black hardware
BC Rich Mk9 Mockingbird – comes with incredibly ornate maple top and some hardware differences
Dean Razorback Cemetery Gates – based on a design by Dimebag Darrell, loaded with his signature model pickups
Jackson X-series Warrior XRXMG– a basswood body collecting all of the points and angles, with EMG pickups and a black Floyd Rose
Gibson Government Series II Flying V – a limited edition from the original V designers, with Gibson's own Dirty Fingers+ hot humbuckers
Schecter V-1 Platinum – with 57 and 66 EMGs, intended to emulate the voicing of vintage pickups
ESP LTD Arrow-401– has a curve cut into the split of the V, and a Floyd Rose tremolo
Comparison Table
| | | | | | |
| --- | --- | --- | --- | --- | --- |
| Model | Fender Standard Stratocaster | Epiphone Les Paul Standard | BC Rich Mk9 Warlock | Dean V Stealth | LTD EX-401 FR |
| MSRP | $599.99 | $699 | $800 | $1,135.88 | $1,141 |
| Construction | Bolt-on | Set neck | Set-through | Set neck | Set-through |
| Body | Alder | Mahogany/ maple top | Mahogany | Mahogany | Mahogany |
| Neck | Maple | Mahogany | Maple | Mahogany | Maple ply |
| Fingerboard | Rosewood or maple | Rosewood | Rosewood | Ebony | Rosewood |
| Pickups | Standard Stratocaster pickups | Alnico Classic Humbuckers | Coil tapped, BC Rich high output humbuckers | EMG humbuckers | EMG humbuckers |
FAQs About Intermediate Guitars
What should an intermediate guitar player know?
First of all, an intermediate guitar player should know how to change strings. He/she should know how to make left-hand muting, demonstrate competence with basic slurs, build a scale using correct formula steps, tune the guitar by ear, execute forward and backward rolls etc.
How do I become an intermediate guitar player?
Becoming intermediate player is not possible if you don't practice at least 6 hours a day with proper training. First of all, you will need a to learn the basics, and once you're done, you need to start playing simple songs with a few cords, and proceed to more complicated songs and techniques. It's best if you learn with a teacher or with apps like Yousician.
What is the most popular guitar in the world?
The most popular guitar in the world is the Fender Stratocaster. This guitar is the most played, used by professional musicians like Jimi Hendrix, Bob Dylan, Eric Clapton, Steve Vai etc. The guitar has a mahogany body, maple neck, and is available for left handed and right handed players.
Conclusion
If you're an intermediate guitarist who has a feeling that it's time for upgrading, this list of models and guitar brands should point you in the direction. However, I can't emphasize enough the value of going to try them all out in your local guitar store.
Recommended Reads:
Latest posts by Guitar Space Team
(see all)