Even if you hardly know anything about music, you know that Yamaha is a company that produces guitars- they're just that famous.
Yamaha Guitars are pretty well known for producing acoustic guitars, but what a lot of people don't seem to know is that Yamaha provides beginners with an excellent option for classical guitars. The Yamaha C40 Classical Guitar is a full-sized classical guitar that has been built with beginning guitarists in mind.
If you're an advanced guitarist, I would suggest that you find a different traditional classic guitar to look at. On the other hand, if you're a beginning musician, the Yamaha C40 is perfect for you. If you are an experienced musician looking for a quality guitar with a low price tag, look somewhere else.
The Yamaha C40 isn't professional level quality, but I'm completing this review at the point of view as someone who has never owned a guitar before. The Yamaha C40 is the perfect guitar for anyone who is on an incredibly tight budget and doesn't want to invest big bucks into an instrument they're not sure they're going to continue playing.
The Yamaha C40 is one of the least expensive full-sized classical guitars on the market today; if you're especially keen to learn how to play classical, this guitar will give you everything you need as a beginner.
Best Overall Acoustic Guitar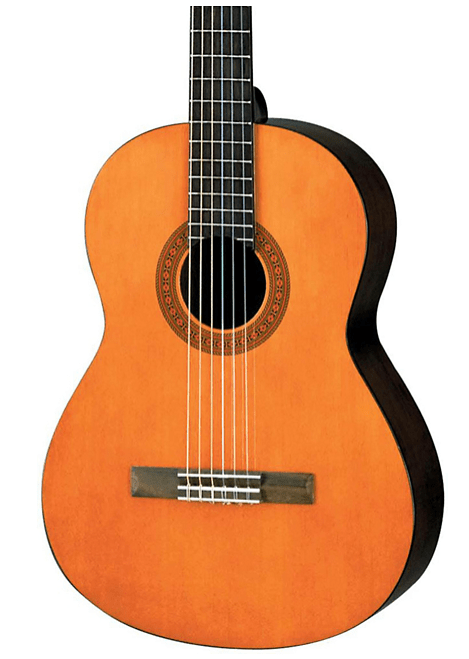 Core Features of the Yamaha C40 Classical Guitar
The Yamaha C40 is comprised of a wooden spruce top, which is common to find on guitars at this price range. The sides and back of this guitar are made from Meranti; all the wood on this guitar is laminate, which does not have the same quality of projection as a solid wood guitar.
However, this is a beginner guitar, so there are some cuts that companies have to make in order to make this instrument affordable.
Like most classical guitars, the neck on this instrument is wide and is sporting a Nato wood with a rosewood fretboard. This guitar comes with nineteen frets and a scale length of
25.9 inches.
If you are someone who has smaller sized hands or are purchasing this instrument for a child, the neck is going to be a bit difficult to play, because it is so wide, since it's a
classical guitar.
The headstock is round, which is what you should expect to see on a typical classical guitar. The head stock has six chrome YTM-01 tuning pegs on it.
As for the sound this Yamaha guitar produces, it comes with a high action that is adjustable, in case you don't like a high action guitar. The original strings aren't great quality, but the tuners are in great shape, which helps to provide incredible stability and intonation.
Best Overall Acoustic Guitar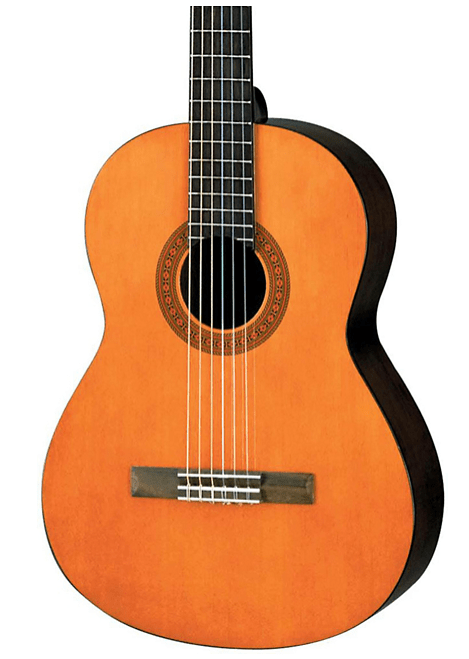 Best Genres to Play the C40 With
Since this is a classical guitar, the only genre that this guitar would be best to play with is flamenco and over-finger style genres.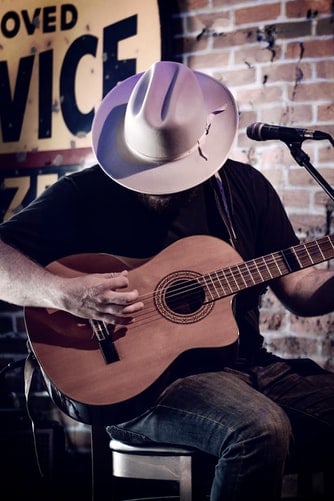 Does the Yamaha C40 Work as Advertised?
Yes, the C40 guitar does work as advertised; this is a beginner's guitar and the C40 works exactly as any other beginner guitar does. The sound that the C40 produces lays a great foundation for future playing, as it serves as an instrument that's sufficient enough to
practice on.
If you have been playing guitar for a long time and have more of a professional ear on you, you will notice that this guitar sounds more muted and doesn't project as well as some guitars.
Pros
Cons
– High action
– Muted sound
Alternative Guitars to Consider:
Did you know that Ibanez offers more than just bass guitars and electric guitars? Yes, they do! The Ibanez AEG10NII is a classical guitar with nylon strings that's meant to really perform.
The body of the nylon string guitar AEG10NII shares the same exact body as the AEG10II, which is a steel-stringed acoustic guitar. The AEG10NII has a slender feel and a very traditional look with a 2.75-inch body depth and a single cutaway.
Ibanez chose to use spruce as the top for this guitar and mahogany for the sides and back as their choice of tone woods. There are two color options that customers can choose from and both of these colors come with a high gloss finish.
The neck is comprised of Indonesian mahogany and has a satin finish, with Javanese Rosewood fretboard, and twenty-one fret. The neck itself is lightweight but feels very solid and comfortable to play when in your hand.
This is an electric acoustic guitar that comes with the Ibanez's AEQ-SP1 preamp and a Fishman Sonicore pickup. The combo of these two electric devices really allows musicians versatility when it comes to live stage performances.
All of the controls on this guitar are very simple; treble, middle, and bass have their own knobs, as well as a phase reserve switch and a volume control knob. The phase reserve switch is for players to use to reduce feed back when their guitar is plugged in.
The AEG10NII has a very balance sound that's nice and crisp, without being too deep. The EQ and other controls on the guitar allow you to adjust the sound to how you would want it to be in order to achieve in effect or superb tone that you are looking for, which makes this guitar
extremely versatile.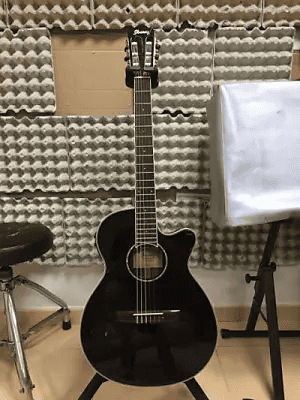 Ibanez AEG10NII-BK | Reverb
Ibanez AEG10NII-BK Rosewood Classical Guitar from Reverb.
Check price
We may receive compensation from the companies whose products we review. We only recommend products that we believe in and test.
The Ibanez AW54CE is a guitar that is from the Art wood series; Ibanez made sure that this instrument not only was affordable to players of all financial backgrounds but that it also had a performance that even famous professionals would be impressed with.
The body and neck of this beauty, the AW54CE has a classical dreadnought-shaped body that has a 25.6-inch scale length, as well as a single cut away.
When this beauty is unplugged, it has a rich tone that's absolutely stunning. Due to the shape of this guitar's body as well as the combo of the solid mahogany top, the AW54CE has a lot of natural projection and resonance to provide in a performance.
While that may scare some people, there is also X bracing in this guitar, which allows players who are looking for a more articulate sound to receive that. Not much changes when this guitar is plugged in; everything sounds the same, but there is a slight limitation on your controls.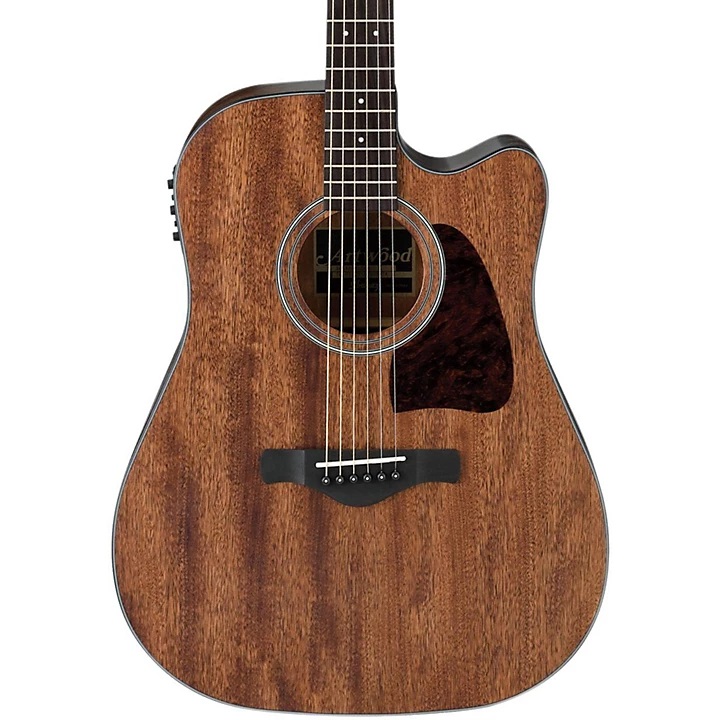 FAQs About the Yamaha C40
Question: Is the Yamaha C40 great guitar for beginners?
Answer: Yes. The C40 Yamaha classical guitar is an excellent instrument to play as it has the stings close together, provides remarkable playability and is made of durable wood,
Question: What is the difference between Yamaha C40 and C70?
Answer: The main difference between the Yamaha C40 and Yamaha C70 is mainly the price and their tuning machine. The Yamaha C40 is a much cheaper classical guitar and it comes with a chrome tuning machine, whereas the C70 comes with a gold tuning machine.
Question: Is the Yamaha C40 worth purchasing?
Answer: Yes, the Yamaha C40 classical guitar is an excellent choice for beginners and those who are looking for superb sound, easy playing (which is due to the nylon strings) in opposition to steel strings and due to the shorter neck.
Conclusion
The Yamaha C40 is one of the best choices any beginning classical guitarist can buy into. There are a lot of amazing qualities to this guitar that make it a truly incredible guitar, especially considering the low price tag on the instrument.
I highly recommend this guitar to any first-time beginner who is looking to learn classical guitar. Even though this is a name-brand guitar, it's very affordable and is a lot better quality than any guitar you can find online that doesn't have a brand name attached.
Personally, I believe that the strings need to be replaced because the original strings sound very muted. Once you have had time to learn your guitar, you'll probably want to replace your strings, but you shouldn't feel the need to right away. This will be a great guitar to use just as a practice guitar, even after you've learned to play.
Best Overall Acoustic Guitar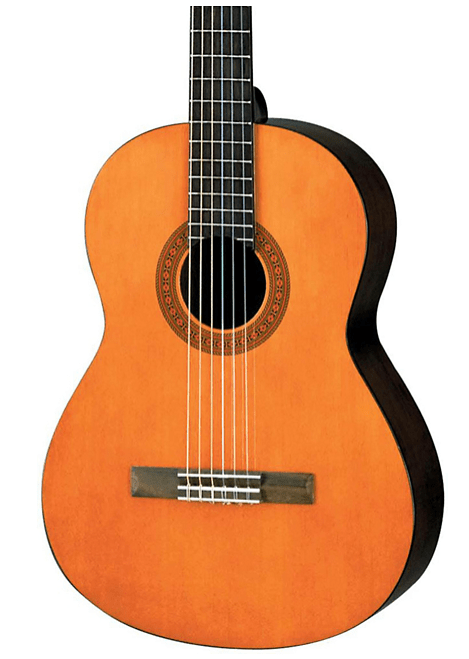 Latest posts by Guitar Space Team
(see all)