Archtop guitars are somewhat of a trademark for Epiphone, especially in catering for beginner and intermediate players. I can't think of any other brand more synonymous with affordable hollow body and semi-hollow guitars.
The Emperor Swingster is at the higher end of Epi's archtops, making them suitable for intermediate players.
The Swingster is a single cutaway model. It's a fine looking instrument, and of course, Epiphone themselves are falling over themselves trying to tell us how great it is, but we'll be the judge of that.
To get the best understanding of the instrument and what exactly it can do, we'll take a look at it in terms of parts, construction, tones, and playability.
Core Features and Specs
As with pretty much any hollow body guitar, the Emperor Swingster comes with a maple body. Presumably, this is because it's easiest to shape. There are plenty of interesting things going on with this guitar, that you just wouldn't see on a regular, solid body electric.
| | |
| --- | --- |
| Construction | Set neck |
| Body | Maple |
| Neck | Maple |
| Fingerboard | Rosewood |
| Frets | 20 |
| Pickups | Epiphone SwingBuckers |
With first impressions of its overall appearance and a run down of the full list of specs, it seems like we might be looking at something a little bit special, but we'll take a closer look, just to make sure.
This will work well for…
This will likely be a winner for more refined playing – anything along the lines of country, rockabilly, early rock 'n' roll, jazz, maybe some blues.
With this number of applications, it would be well-suited to an intermediate guitarist exploring any of these styles.
Guitars like this aren't designed for hard rocking. It's actually very rarely you'll see one being used with heavily overdriven sounds, mostly because the design of these guitars would turn them into absolute feedback monsters.
I'm excited to look at this in more detail – it's always nice to have a reminder that not everybody playing an electric guitar is aiming to be as loud as possible, and it's lovely to have the chance to review something for them.
Does it do what it should?
It's actually hard to know where to start in looking at the parts of the Swingster!
The arched maple top looks great. There isn't a single blemish on the finish. It would be nice to see some of the beautiful flames that are normally associated with maple tops.
However, a guitar like this takes a little more craftsmanship to complete, so costs need to be refined somewhere, and taking the time for aesthetically pleasing wood is unlikely to be a priority.
The most obvious piece of excitement is the presence of a Bigsby vibrato unit, from where the strings go on to pass over a Tune-O-Matic bridge, perched on a piece of rosewood.
The SwingBucker pickups are controlled by a standard four knobs: one each for volume and for one, for each pickup. The rosewood fingerboard features block inlays, which always look classy.
The machineheads are courtesy of Grover, and the headstock upon which they live has the vine inlay, more popularly associated with Epiphone's Sheraton guitars.
Construction
The Swingster is one of those guitars that looks so fancy, it might be considered delicate or frail.
This is probably due to its hollow construction, and ornate embellishments – it could be a prop more than an actual working guitar, but I'm sure that's not the case!
Going straight for the neck joint to see how that looks, and it looks like a clean and tidy set neck job. The heel is flush with the body, and there's not even a hint of residue from the glue. You can't really expect much more than that.
All of the hardware and electronics seems to have been carefully and solidly attached.
The neck, in particular, is something I find myself drawn to. It has a silver sparkle binding that continues over the body. I don't recall ever seeing it on a guitar before, but it looks cool and fits well with the chrome hardware.
The Grover machineheads are securely and evenly attached. They look sturdy, and I can't make out any rattling that would cause concern.
Tones
This is the best bit about reviewing guitars!
It's important to try and keep the amp used for reviewing electric guitars as close to that which might be used by the intended player.
With the Swingster – an intermediate level guitar – players will most likely have outgrown the solid state amp they started with, but perhaps aren't yet ready to commit to an expensive valve amp.
So, with all this in mind, a likely candidate is a hybrid amp, so I'll be reviewing through a 50 watt one, in the form of a 2×12 combo.
Some strums and licks before plugging in, just to identify any issues that the amplifier might, well… amplify, doesn't reveal any concerns. I can hear the natural balanced sound of the guitar: the brightness and warmth of the maple, and the resonance of the body.
With the amp's EQ set to my own personal preferences, of bass at four, and middle and treble each at six, I switch on the amp to the clean channel. The bridge pickup is OK. It;s not bad, but a bit bright for my liking – it's a trebly tone that needs reeling in.
Moving the pickup selector switch to the middle position is just right. For me, this is the perfect balance of tones from a guitar like this. I played a range of styles, from gentle strumming and arpeggios, that might be used in a country ballad, through to some quite percussive rock 'n' roll playing, and it managed them all ith ease.
Heading up the fingerboard, and the Swingster retained its warmth.
Now, normally when I switch to the overdrive channel, gain is at six. It's my default gain setting. But for a guitar like this, it was overkill. I rolled it back to about three and a half, and it was a bit better. Sticking with both pickups selected, you could pull off some blues, but it sounded uncomfortable.
Playability
An intermediate guitarist with a good idea of where they're looking to go in term of their developing tone will not be disappointed with this. They won't be able to put it down. As the Swingster can be applied to so many different genres of music, there's a lot of exploring that can be done.
The slim taper, D profile neck should be a comfortable fit for most players. That sparkly binding all along the neck ensures no sharpness while you go up and down the fingerboard. All the controls are within easy reach of the strumming hand.
Would professional guitarists feel the same way? Unlikely, but they'd still be able to respect the Swingster for what it is.
At the end of the day, the Swingster offers the intermediate guitarist the range of tones they need for any style of music that doesn't require heavily driven sounds – that's a pretty great hallmark of playability to me.
Pros
Cons
● It is incredibly pretty

● Good quality parts

● No faults on construction

● Ideal for intermediate players looking to refine their sounds for cleaner playing

● The ornate stylings may not be to everybody's tastes

● It feels so delicate to hold and play due to its light weight
Alternatives
Due to the complex construction method required for this and other hollow body and semi-hollow body guitars, compared to mass produced solid bodies, there aren't as many competitors.
Let's take a look at a few that are out there.
Despite being best known for their shred-oriented Superstrats, Ibanez actually have quite a few archtops in their range. The one most equivalent to the Swingster is the Artcore Expressionist Vintage. This looks slightly aged to give it that vintage feel, aided by generally less ornate aesthetics.
This Ibanez comes with a basic tailpiece and Tune-O-Matic bridge. Electronics are focused around Ibanez's own Super 58 pickups, which are specifically designed to replicate vintage tones. Block inlays and binding maintain a touch of class throughout the instrument.
Another archtop steeped in that vintage vibe is the Gretsch G100CE Syncromatic. This has a few differences. It has just one pickup: a single coil one in the neck position. It has an ornate-looking triangular tailpiece. I've never seen anything like this bride before though – it's made out of rosewood.
The G100CE has a maple neck, topped with a rosewood fingerboard. The fingerboard has 20 frets. The fret markers are unusually large block inlays that take up most of the width of the fingerboard.
Somewhat of a hybrid between the other guitars mentioned, the D'Angelico Premier EXL-1 (link to website), is stated by the company to be explicitly aimed at jazz musicians. It has a single pickup in the neck position, in the shape of a mini humbucker of D'Angelico's own creation.
Personally, I'm not keen on the matt finishes. As with other guitars in the Premier range, the EXL-1 features D'Angelico's Stairstep tailpiece, Skyscraper truss rod cover, and the brand's trademark distinctive headstock. The single pickup is controlled by two knobs: one for volume and one for tone.
The Final Note
I'd definitely recommend the Epiphone Emperor Swingster for intermediate guitarists looking for a nice mellow but warm, clean sound for jazz, country, early rock 'n' roll, or rockabilly. That's quite a few boxes getting ticked with just one guitar!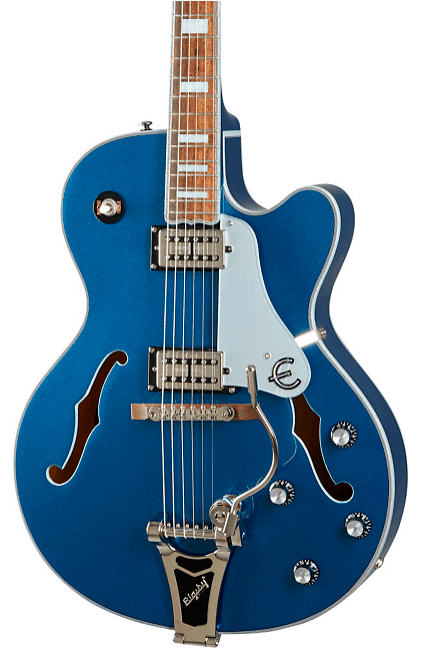 For a guitarist who has had their beginner instrument for a while, they know how to play, but they're still refining their own space and sounds as a musician, but they know the direction they're heading in, the Swingster is perfect.