Epiphone has a long-established brand in their own right, but are best known as the affordable, Eastern-made offshoot of the mighty Gibson, with a substantial quantity of their models directly taken from their parent company's range.
A popular guitar amongst players making the transition from a beginner instrument, well-known Epi Les Paul players include Noel Gallagher in early Oasis, and Frank Iero from My Chemical Romance
No more than Gibson, Epiphone has a large – probably larger than necessary – range of variants of the Les Paul. Here, in the interest of simplicity, we'll take a look at the Standard model, to provide you with a baseline for the range.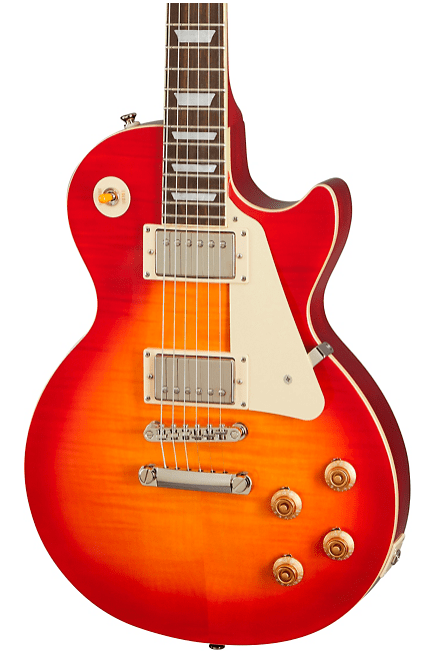 Core Features and Specs of the Epic Epiphone Les Paul Standard
The most core of core features of any Epiphone Les Paul, is the combination of a solid mahogany body with a maple top, and a couple of humbuckers. That is the heart and soul of its parts and construction.
At the expense of explaining a little bit of semantics, pricier guitars with the mahogany body/maple top combination will have a carved maple top, maybe around an inch thick. On lower-priced instruments -such as this – the "maple top" is more likely to be closer to a veneer.
| | |
| --- | --- |
| Construction | Set |
| Body | Mahogany/maple |
| Neck | Mahogany |
| Fretboard | Rosewood fretboard |
| Frets | 22 |
| Pickups | Alnico Classic humbuckers |
So far, so Les Paul!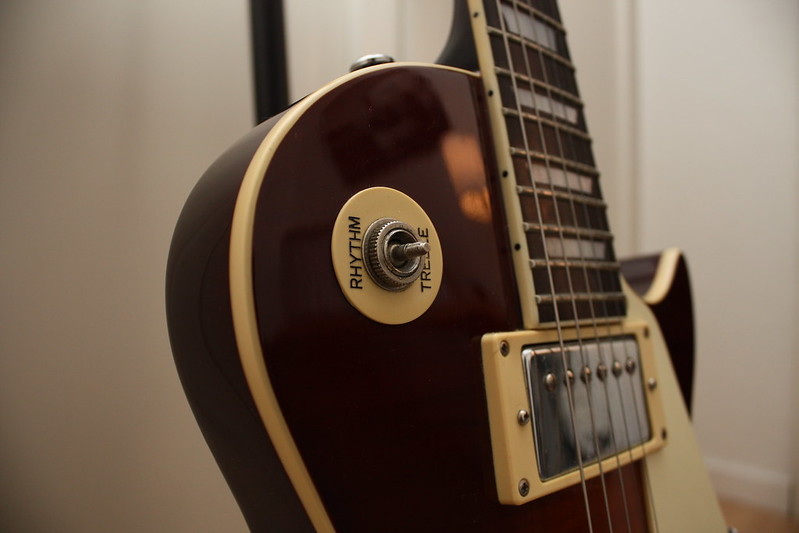 This will work well for…
If you're looking at this guitar, you're looking pretty much at rock, particularly blues-derived rock. Just think of the list of players associated with Les Paul! Clapton to Slash; Gorham and Robertson to Moore… I could use up the entire word count reeling off Les Paul players!
So yes, if that's the ballpark you're looking to be in, you've got it. Coupled with the right amp, with the right setting dialled in, you'll get your crunchy rock and blues riffs, with enough room to widdle out licks and solos.
Does it do what it should?
Let's be realistic: at this price, Gibson aren't going to be letting Epiphone have the best quality, highest density mahogany. Still, the Epi weighs in at a tidy 8.5lbs. Not too shabby – you won't forget it's there or anything.
Out of the box, everything smells and shines like it should. On this Standard, everything is.. well… pretty much standard!
It's got its humbuckers and three-way pickup selection, controlled with a volume knob and a tone knob for each of said humbuckers. The machineheads come courtesy of Grover – a well-respected name for the job.. Apart from that, the rest of the hardware is unbranded.
One thing that pushes the price of this Les Paul compared to other guitars aimed at intermediate players, is the use of parallelograms for the fingerboard inlays, rather than plain old dots. This is something that requires a little extra craftsmanship, and, to be fair, they look the business.
Let's see how it all comes together.
Construction
It's very rarely that an Epiphone is criticized for the quality of its construction.
The heel of the neck sits flush and clean with body. It's pretty much flawless.
There are no blemishes or dings in the finish, or along the binding, anywhere in the review model. The frets are even and perfectly embedded in the rosewood fingerboard, as are the parallelogram inlays. The fingerboard doesn't seem "as finished" as higher end models, if that makes sense?
The hardware and electronics all seem very solidly attached – all sitting flush with the body, and some firm poking doesn't make anything move that shouldn't. The Grover machineheads are sitting even and sturdy, looking confidently ready to do their job.
This model features tune o matic bridge, which Epiphone proudly declare allows adjustment without the need for tools, but honestly, I don't know many guitarists who spend much time tinkering with such things.
For the price of this electric guitar, there's actually very little to fault. Sure, the parts used won't be of the same quality as more expensive models, but, if they were, well, it would be a more expensive model!
Les Paul Sound and Tones
The price tag of this instrument is a bit more than a beginners' guitar, so it's aimed at buyers who are prepared to go a little more for an amp to do it justice. In that respect, it's likely that they'd also go a few dollars more for something a little better than a solid state amp, although probably not enough to go for a full valve amp.
With the likely player of this guitar in mind, the Standard was tested through a 50 watt, hybrid, 2×12 combo amp.
Even before plugging into the amp, a few test strums gave an indication of the thick tones that might be coming – if you don't believe that you can hear guitars' varying tones without plugging in, I absolutely invite you to give it a go.
For this review, the bass was set to four, with the middle and treble each set to six.
Running the Standard through a clean channel, that bridge humbucker gives a nice bright, but not piercing tone. If you nudge the pickup selector to the middle or neck position, and crank out a few blues licks, you'll find yourself in a very comfortable place.
Depending on your amp, if you want to push it a little bit, cranking the volume on the amp, until it breaks just slightly, you should start to hear the beginnings of a nice, Clapton-esque blues crunch. Sweet. You might need to roll the volume off your guitar to balance it out.
Staying on that theme, moving over to the overdrive channel, with a gain of about four dialed in, and getting the volume of the guitar back up, you won't be quite out of blues territory, but some good rock tones will definitely be in the mail.
Getting that gain up to six, and your squarely in classic, blues-based rock, and this is where the functionality of the Les Paul peaks. As a general guide: neck pickup for ballsy riffs, both pickups for a steady middle ground rhythm, and down to the bridge pickup should a solo be required.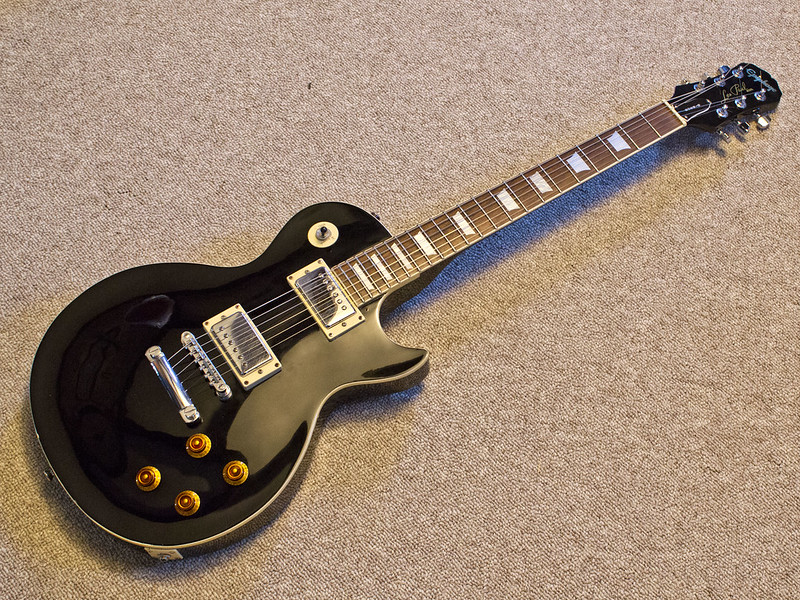 Playability
The aesthetics and construction of this guitar are enough to inspire any beginner to start looking at upgrading.
The fingerboard is comfortable, the tones are a perfect introduction to humbuckers, and you'll look as cool as Slash. Any compromise on the quality of parts, hasn't compromised the construction, and in turn the playability.
Seasoned players can be picky about parts, and how it's just not a good old American-made Gibson, but honestly, if you want to look and feel like a rock star, Epiphone's Les Paul Standard will do the job.
With such sturdy construction, an intermediate player won't be afraid to get stuck in, and play this guitar to within an inch of its life. It's ideal for providing a basis in understanding guitars equipped with humbuckers, and getting a feel for them.
Pros
Cons
● Great overall instrument for the price

● High-quality parts

● Nothing to fault on construction

● Ideal first guitar for those inspired to play by blues-based rock guitarists

● There are cheaper alternatives that may do the job just as well
Alternatives
The Les Paul shape is probably one of the most inspirational (read: copied) guitar body shapes in history, so alternatives are not difficult to round up.
At NAMM 2017, Epiphone's parent company, Gibson, unveiled its S Series, intended to give musicians an affordable route to the revered Gibson family of guitars. It's something they do every now and then.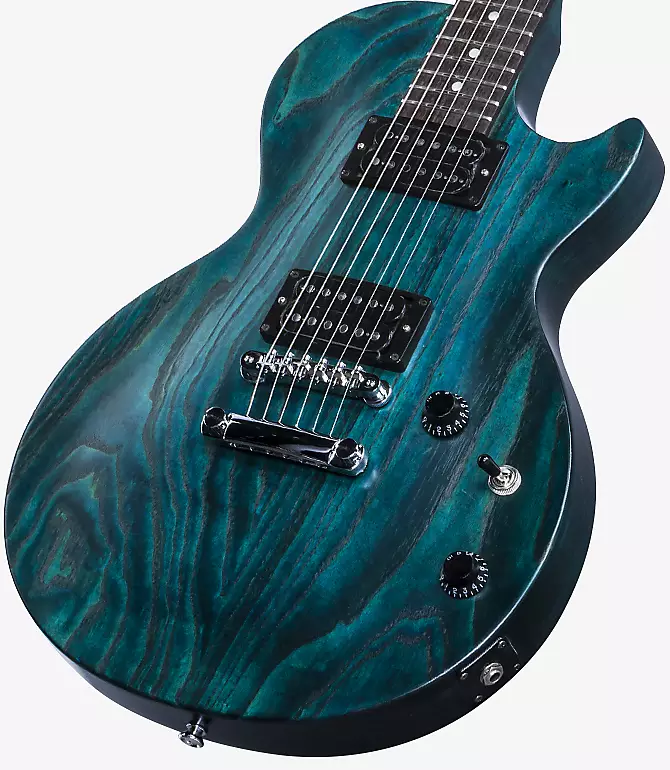 Gibson S Series Les Paul Custom Studio | Reverb
This was designed around Gibson's standards of quality and innovation for Gibson USA's new S Series. The Gibson S Series is a whole new range of guitars all made in the US, but at a considerably lower price point than ever before.
Check prices
We may receive compensation from the companies whose products we review. We only recommend products that we believe in and test.
From the S Series, comes the Les Paul Custom Special Studio, with the same MSRP as the Epiphone Les Paul Standard. Ultimately, it comes down to whether you want a cheap Gibson, or an expensive Epiphone. In terms of build quality, they really are neck and neck, if you'll pardon the pun.
This is a no-frills affair, with the embellishment really just the range and brightness of the finishes. It's very much the quintessential "slab of mahogany with a couple of humbuckers wedged in." Check out our full custom vs standard Les Paul comparison.
You can't really write about alternatives to Les Paul models without including a singlecut PRS model, because of that time Gibson sued them over the similarities. The SE range is their affordable option, and the 245 borrows the Epiphone's slab of mahogany with a maple veneer, albeit with a gorgeous flame.
The 245 also comes with PRS's inimitable birds inlays. The lower horn includes some contouring to allow for more comfortable access to the higher frets. Apart from the stylistic differences mentioned, the electronics has an identical approach to the Gibson and Epiphone Les Paul models.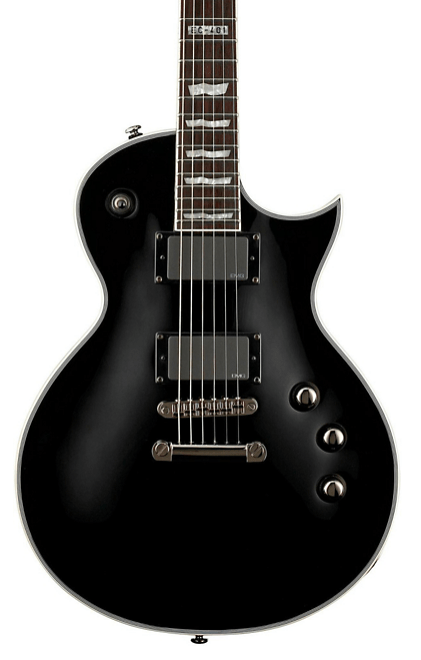 ESP LTD EC-401 Electric Guitar | Guitar Center
Look no further with this as it features versatile, powerful tones, reliable hardware, and tidy, attractive looks. Plus consistent high rating from the people who've purchased this.
Check price
Buy at Amazon.com
We may receive compensation from the companies whose products we review. We only recommend products that we believe in and test.
For something a little different, but in the same vein – perhaps leaning a bit more towards metal – the longstanding and very respectable ESP have the EC-401 Eclipse model from their LTD range.
This one is probably closer to the Gibson, in that the body is a slab of mahogany. What might lean it towards metal brothers and sisters are the inclusion of EMG active pickups. It has binding around the body and mahogany neck, its hardware is black, and the inlays on the fingerboard are reminiscent of a waving flag.
The Final Note
The Epiphone Les Paul Standard is such a go-to guitar for those looking to make the transition from "learner" to "player," at least just to look at and consider.
If a guitarist is experienced enough to be considering it, they'll be experienced enough to that you get what you pay for. No, this won't have the finery of a Gibson Les Paul but that's not why these guitars are made.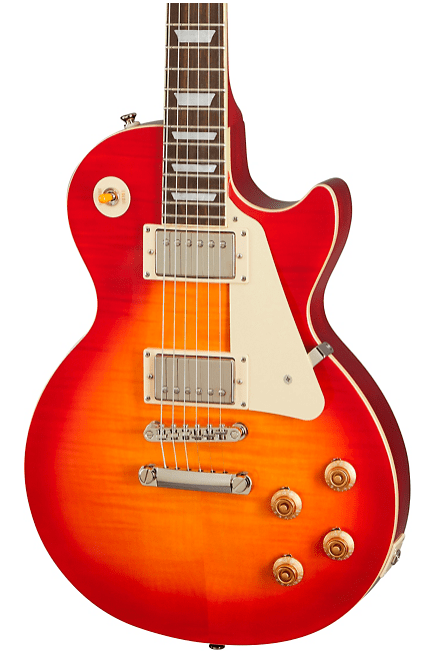 FAQs About the
Question: Is the Epiphone Les Paul Standard Plustop Pro different than the Gibson Les Paul?
Answer: Yes, of course. The Epiphone is owned by Gibson, so the guitars are virtually the same (same mahogany body, solid maple top, mahogany neck, and rosewood frets), however, they are manufactured in a different place. The Epiphone is manufactured mostly in China and Indonesia, whereas the Gibson is manufactured in Korea and the USA.
Question: Does the Epiphone Les Paul come with a professional setup?
Answer: This depends on the place of purchase. Some stores including online ratailers sell already setup guitars, but it doesn't necessarily mean that you will get one ready to play.
Question: Does the Epiphone Les Paul Standard Plustop Pro come with any additional details?
Answer: No. If you buy it from a music store you might be able to make a deal with the seller to get an extra accessory for the guitar, otherwise, it does not come with a case or picks.
Epiphone: Top Picks
Epiphone 1960 Tribute Black Cherry | Reverb
You'll never regret buying this used Epiphone 1960 Tribute Plus in its original cherry sunburst finish, in excellent condition from Reverb. An owner of this guitar rated this as "the best sounding and playing guitar Epiphone has made."
Check price
We may receive compensation from the companies whose products we review. We only recommend products that we believe in and test.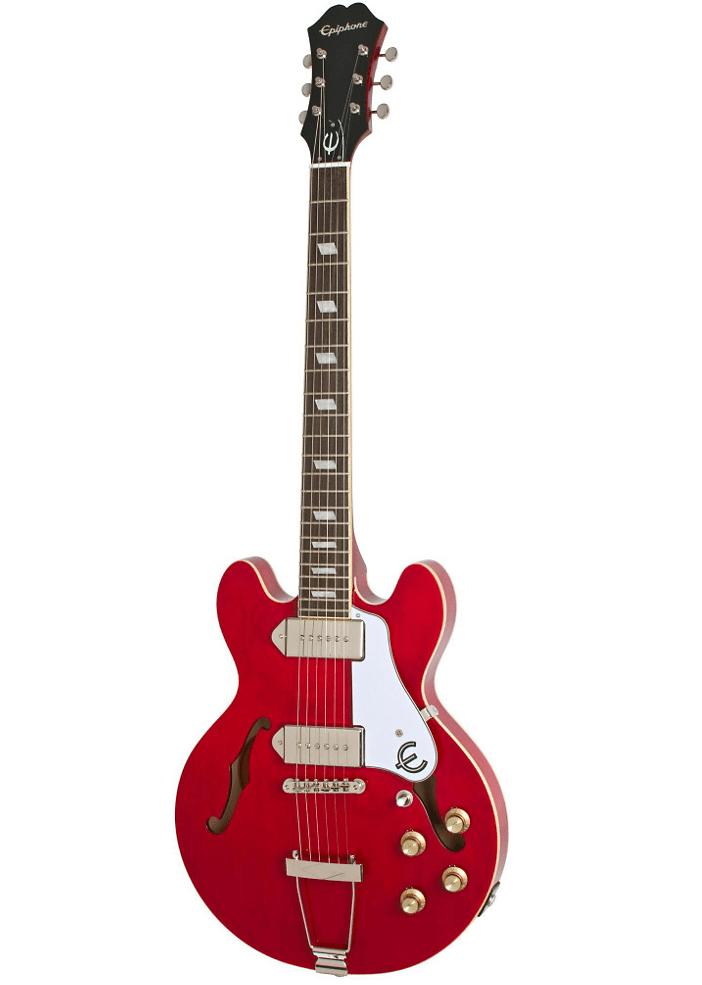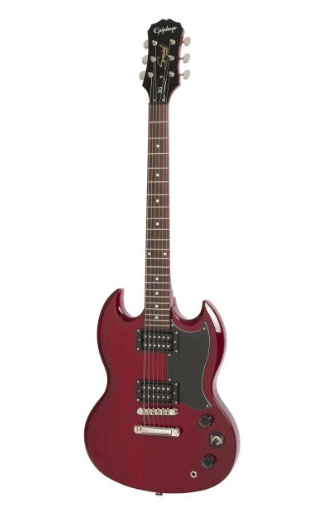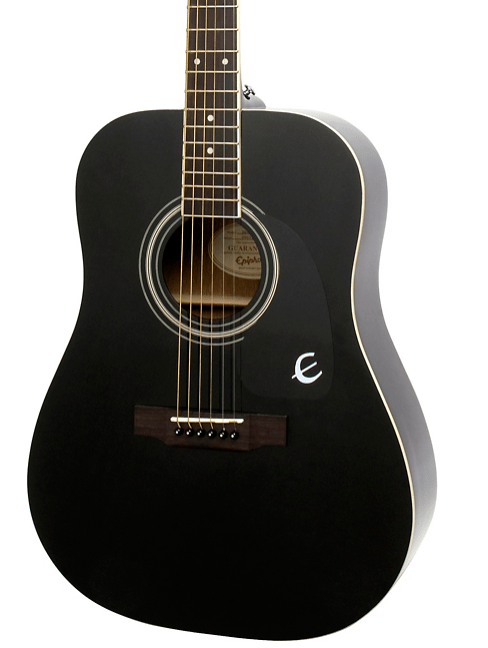 Epiphone G-310 SG Ebony | Reverb
The Epiphone G-310 solid-body electric guitar gives you all the style and sound of the venerable SG at a down-to-earth price.
Quick tip: If an item is currently not available on Reverb, you can select 'Follow this product' to be notified of any new listings.
Check price
Buy at Amazon.com
We may receive compensation from the companies whose products we review. We only recommend products that we believe in and test.
Recommended Reads:
Latest posts by Guitar Space Team
(see all)