What's this? A Gibson? For less than $1k? New? Am I sure? Sure I'm sure!
Occasionally, I find myself jealous of today's beginner and intermediate guitarists. An affordable new Gibson was not a thing when I was learning and developing my playing. But for a few years now, Gibson have been offering precisely that.
The SG has been at the forefront of affordable Gibsons, because who doesn't want to be Tony Iommi or Angus Young? And the Special has been the designated name for affordable Gibson SGs.
Let's take a closer look at it.
Core Features and Specs
The SG body shape first appeared in 1961, with the intention of it replacing the Les Paul model. The SG stands for "solid guitar." An SG isn't a real SG if it's not a slab of mahogany with a couple of humbuckers wedged in – this reviewer's favorite type of guitar!
| | |
| --- | --- |
| Construction | Set neck |
| Body | Mahogany |
| Neck | Mahogany |
| Fingerboard | Rosewood |
| Frets | 24 |
| Pickups | Gibson 490 humbuckers |
So far, so SG really. Obviously, there are a couple of corners cut to keep the cost lower than the SG Standard. The devil is in the detail really. The Special has a lack of binding on the neck, simpler inlay shape, different pickups, and a lower grade tonewood.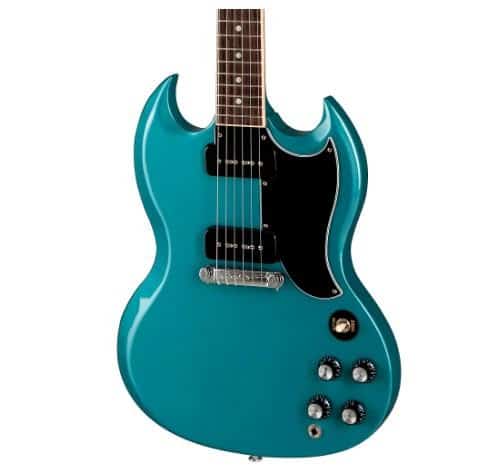 This will work well for…
Those about to rock. Who we salute.
Sorry. That had to be done.
Anyway, yes, the SG is very much a rocker's guitar. Its balanced tone lends itself equally to both rhythm and lead playing.
For intermediate guitarists who have their playing style down, and who knows what they want to sound like, but may not be ready to commit to the cost of a Standard SG, the Special is a great compromise. It's got the looks and the parts for it.
Does it do what it should?
The SG is one of those guitars that has stood the test of time, and I would credit its simplicity with being a major factor in this.
The parts of the Special aim to deliver SG looks without the expense of the Standard. And it pretty much does that.
Gibson uses trans finishes on this model, so the mahogany they select needs to be aesthetically pleasing, as well as meeting tonal quality standards.
Everything on the Special is stock Gibson parts. The 490 humbuckers used to be included on the Standard, which now features improved pickups.
Apart from that it's the classic simplicity of an SG style guitar: the humbuckers are controlled with a three-way pickup selector, and four knobs – a volume one and a tone one for each pickup.
Currently, the Special comes with 24 frets embedded in it rosewood neck, but this hasn't always been the case. From what I can make out, they flit between 22 and 24 frets in different years. The fingerboard also claims a thicker cut of wood.

Construction
The SG's construction has always been based on simplicity, and in light of its cost to customers, the Special doesn't have anything to compromise that.
The set neck has been carefully fitted. It's a tidy piece of workmanship, with the heel sitting flush against the body. Nothing looks forced, and there are no blemishes or glue residue around it at all.
The SG has some chamfering along the top back of the body for comfort, and also around its cutaway horns for easier access to the higher frets. This contouring helps appease the weight of what is generally a pretty dense wood.
The bridge and stop bar have been securely fitted – -there are no causes for concern there.
The neck has a slim profile, designed for speed and comfort. The block inlays look neat and tidy, as do the frets embedded in the fingerboard. I don't feel like it's really missing the binding of the Standard.
It's difficult to say much more about its construction when it relies so much on minimalism, and when it's one of the designs to which other manufacturers clearly derive inspiration from.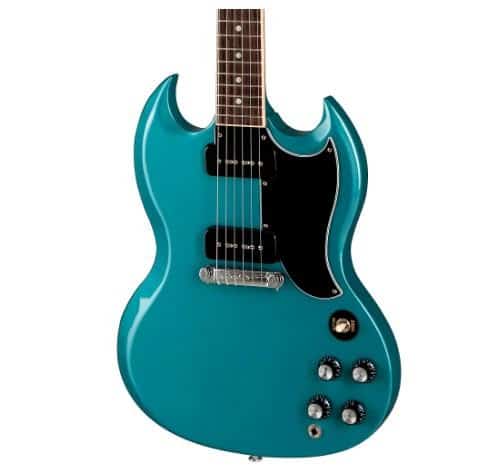 Tones
I've been drooling with anticipation to get this plugged in and cranked up!
It's important to review tones based on the context of who the intended player of the guitar is. In the case of the SG, the player is most likely to be at an intermediate level, so it's unlikely they'll be playing a 10-watt solid state practice amp, but they probably won't be using a 100-watt valve head either.
The most likely amp for this player is a hybrid amp, so I'll be playing through a 2×12, 50-watt combo. The EQ will be set to my own personal preferences: bass at four; middle and treble each at six.
Some test strumming before plugging in at all doesn't highlight any concerns. It highlights a brightness that I'm looking forward to hearing more of through an amp.
Plugging in and switching on to the clean channel, on the bridge pickup, gives a bright sound. It's high, but not piercing. It wouldn't be the kind of cutting trebley sound that you'd get from a single coil guitar. It's not a bad tone, but I feel the application of it would be limited.
I felt there was a bit more success in the clean tones in selecting both or the neck pickup. With the volume cranked a little bit, to the point where it's just breaking, there's the opportunity to get some relatively bluesy tones out if it. That's always cool.
Moving over to the overdrive channel, dialing the gain up to six, and staying on the neck pickup, and this thing is ready to riff. Fantastic for power chords and palm muting. Switching down to engage both pickups is a good all-rounder rock tone. It's got a well-balanced sound for playing open chords, but still plenty of bite for solos.
If you're playing purely lead, the combination of the mahogany body and the bridge pickup will cut through the rest of the noise.
Playability
There's no doubt that the SG Special is a highly playable guitar, especially for those looking to play some straight up, dirty, classic rock 'n' roll.
I believe that a great deal of the playability attributed to a guitar comes from psychological preconceptions, so for an intermediate guitarist who's making the step up from their learner instrument, strapping on an iconic brand, in the form of one of their most iconic shapes, is likely to instil a great sense of inspiration, getting one step closer to their heroes.
There's no doubt that SG purists and professional musicians might scoff at things like the pickups and lack of binding on the neck, but nobody is forcing them to play one. It might be interesting to note that the current pickups on the Special were once used on the Standard.
Playability is a subjective aspect of guitars, as every player has different hands, different ideas of great tone, and different budgets. But for the intermediate player with hard rock in their ears that they need to replicate, the Special will work without completely breaking the bank.
Pros and Cons of the SG Special
Pros
Cons

The chance to own an iconic brand at an affordable price
Parts are all of professional Gibson standard
Construction is solid
Ideal for an intermediate player with hard rock skills, but who needs a hard rock guitar

Costs had to be cuts somewhere – which may upset seasoned players
Pickups may not be to everybody's tastes
SG Special Alternatives
The SG frequently inspires variations by other makers. Some better, some worse, and some just different. If you're feeling enamored by the body shape, but the special isn't quite doing it for you, here are a few alternatives.
Gibson SG Standard 2016 T
Before moving to the "inspired by SG" models from other brands, let's take a quick look at the actual Gibson Standard SG. If you can push your budget a little bit to the Standard, you certainly don't have anything to lose by checking out what is essentially the baseline model for any variations.
As mentioned throughout the review of the Special, there's really not an awful lot of difference in terms of features. The core construction is identical; there's a hotter pickup at the bridge, in the form of a 498T humbucker; it has a bound neck and a high gloss finish.
ESP LTD Viper-401
ESP have a take on the SG via their LTD brand. The Viper-401 is essentially a more metal version of the classic design. Besides its slightly offset body shape, in the interest of avoiding lawsuits, this Viper comes equipped with a couple of EMGs.
The Viper has the mahogany body, a three-piece mahogany neck, and the rosewood fingerboard. They've managed to make the electronics even more simple by has two knobs, one each for volume and tone. It comes with black hardware and binding along the neck.
Although not directly obvious in body shape, the symmetrical design of Schecter's S-1 feels like quite a nod to the SG. The S-1 has Schecter's coil tapped Diamond series pickups, offering a wider range of tones.
The body is made of swamp ash, offering a different tone to the other mahogany bodies we've seen. Couple with the maple neck and rosewood fingerboard, Schecter are clearly aiming for a guitar that will do everything,
SG Special – The Final Note
I would recommend the SG Special 2017 T for any intermediate guitarist who is focusing their playing development on rock. It pulls off the sounds you need, from chugging, power chord riffs, to solos that will cut through the rest of a band.
It's not quite the Standard, but for the price, it's a good effort.+
Check out more Alternatives from Gibson:
Latest posts by Guitar Space Team
(see all)