ESP is synonymous with metal guitars, something enhanced by their association with Metallica. In the case of the Explorer-shaped models, it's something that's emphasized by James Hetfield's signature models that have been available for some time now.
Now that the obligatory Metallica reference is out of the way, we'll be looking at the EX-401FR, which is the Eastern-made LTD branch of the company. It's priced very much for intermediate players, so let's take a look at what it offers them, in terms of parts, construction, tone, and playability, and taking the next steps in guitar ownership.
Core Features and Specs
The core features of this EX are quite traditional in terms of pointy guitars: a slab of mahogany for the body, coupled with EMG humbuckers are at the tonal heart of this instrument.
There's nothing jumping out as groundbreaking in terms of the specs, something which strongly indicates classic simplicity, with a focus on construction and playability. And indeed, construction is where the most effort has gone.
| | |
| --- | --- |
| Construction | Set-through |
| Body | Mahogany |
| Neck | Three-piece maple |
| Fingerboard | Rosewood |
| Frets | 22 |
| Pickups | EMG humbuckers |
Set-through construction isn't the most popular guitar-building method. We'll look at it in a little more detail later.
This will work well for…
The body shape, EMGs, and Floyd Rose put this firmly in the camp for metal players.
More specifically, this is ideal for intermediate metal players: they're comfortable with their palm-muting and power chords. If they're lead players, they'll have built up some decent speed runs in their solos.
They'll also be at the stage where their technical knowledge of the guitar itself, as an instrument, is becoming substantial, so they'll be refining their tastes and developing some idea of what they want to sound like, and how they're going to achieve the tone in their head.
Does it do what it should?
In terms of the parts used, a mahogany body combined with a couple of humbuckers is pretty standard. In saying that, it's worth noting that some of the key components are not own-brand, stock parts, and are from companies who specialize in making them.
Namely, the pickups are from EMG, who make pickups; the machine heads are from Grover, who make machine heads; and the tremolo is from Floyd Rose, who make tremolos.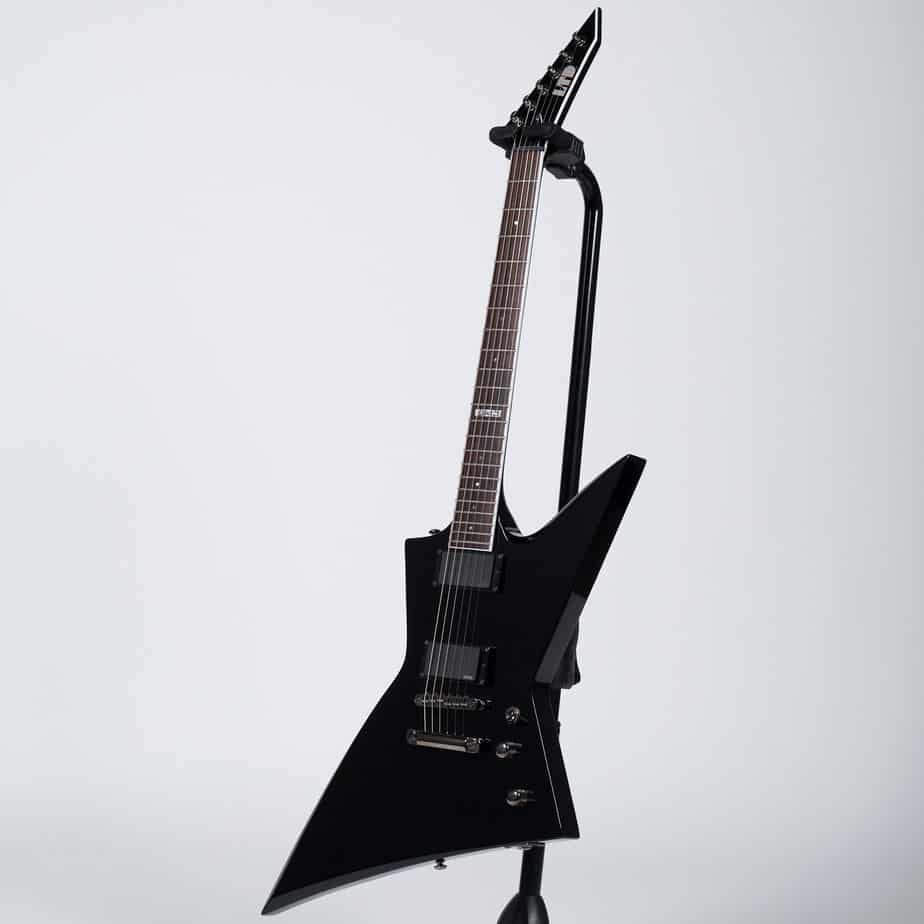 The EMGs are popular with metal guitarists for their clarity and high output. Breaking from the usual 81/85 EMG configuration, this 401 places an 81 at the bridge and a 60 at the neck. The 60 essentially claims to accentuate lows, mids and highs for a balanced tone, whether you're playing chords, riff or solos.
The Floyd Rose is the tremolo of choice for metal guitars, as it's designed to hold tuning better than a standard floating trem, allowing for more extreme dive-bombs and general bendiness.
Apart from the ever-sturdy Grover machine heads, the 401 has two knobs, each for volume and tone, and a standard three-way pickup selector switch.
Construction
As mentioned, the construction of the 401 is not the most common type of construction around.
A set-through neck joint takes a little bit from bolt-on, set-neck and neck-through, with the idea of taking the best bits and eliminating the disadvantages. The body has a long pocket into which the neck is glued.
The alleged benefits of this include:
Improved sustain – as does every non-standard guitar design feature
Brighter tone
Better access to higher frets
Better wood stability
Despite these benefits, it's not super-popular as an option for guitar builders, as its complexity creates higher manufacturing costs, and it can be difficult to fit a double-locking tremolo due to the routing required into the wood being used on the neck.
The latter point of which LTD has completely disregarded with the EX-401FR.
Fiddly set-through neck construction aside, the black hardware looks solidly attached. The fingerboard looks ready to rock. It has dot inlays, apart from the 12th fret, which has a white block with the guitar's name, and it has some very tidy looking binding.
Tones
You can't help but approach the EX-401FR with an expectation of what it's going to sound like. Having looked at the parts and construction, the tones should be pretty much predictable.
Taking a minute to have a dry play, sans any amp at all, and you can get some indication of the thickness of the tone that's about to occur.
I used a hybrid combo amp for the review, more specifically, a 50-watt hybrid. It seems about right for the likely owner of this instrument – more than what a beginner would be using, but some hundreds of dollars short of what a professional would be using. It's a relative balance.
Plugging in and switching on to the amp's clean channel, I set the EQ levels to four for bass, and six on the mids and treble. It should give a decent balance. Obviously, it's important to try these things with your own preferences.
The EMG 81 at the bridge sounds bright and clear. I'm not usually a fan of bridge pickups by themselves, but this is actually nice. Moving over to select both pickups, and it's got a lovely, full fat tone. If you do quiet verses in between wailing loud choruses, you should be happy right here. The EMG 60 by itself, while retaining the clarity of the notes, is a bit thick.
Kicking into the overdrive channel, with the gain set to six, and heading back to the 81, and you'll be rocking a solid metal lead sound. If that's what you do, you won't be disappointed, and there's plenty of enjoyment to be had here.
Switching to both pickups, or just the 60, and there's plenty of room here for more rhythm-oriented players to indulge in some serious riffing. The lone 60 in a power chord capacity is very much a beautiful monster.
Playability
The EX-401FR really is pretty much everything an intermediate guitarist would want or need to play.
The neck has a slim profile, so there's a good scope for those who are building up their shredding ability. The tidy binding along the fingerboard ensures no catching as you speed up and down.
With a guitar at this price, the tonewood is the most likely candidate for cost-cutting. This means that in terms of tone, higher quality or density wood might have been used, aiding the brightness and intensity of the notes. Still, that would be looking at a more expensive/professional level guitar. For somebody building up to that, the 401 is a fine stop-gap.
It's not the heaviest guitar in the world, so it's ideal for a live setting, for longer shows.
The Floyd Rose trem is always a cool piece of kit to have in you guitar arsenal. I certainly gave it some thorough use during the review, and any detuning was minimal.
There really is plenty of bang for buck here. The parts, construction, and tones bring everything together into a very desirable instrument.
Pros
Cons

Quality instrument for the price
The parts used are decent
Construction is spot on
Great stop-gap between a beginner instrument and a professional level guitar

Additional bevels around edges of body may not appeal to all
Plenty of competitors to consider
Only available in black – this limited color option may not appeal to everybody
Alternatives
There are plenty of similar guitars out there if you feel inspired by the EX-401FR, but you're not sure if it's quite the one for you.
Along with the flying V body shape, the Explorer shape was first introduced by Gibson in 1958, but was a bit too radical for the time, and was shortly discontinued.
Epiphone 1984 Explorer EX
With the rise of metal in the 80s, there was a renewed popularity for the once-outlandish shapes. As a tribute to this era, Epiphone produced the 1984 Explorer EX (link to website). As with the LTD, it features a mahogany body. Rather than a fiddly-constructed set-through neck, this has a good old standard set-neck construction.
This Epi also has EMG pickups, but the more regular 81/85 configuration. Rather than a Floyd Rose, it has the standard Gibson/Epiphone combination of a Tune-O-Matic bridge and a stopbar.
Employing an approach that seems a little less metal, but only just, Schecter Guitar Research have the E-1 Standard. Again, it comes with a mahogany body and rosewood fingerboard, but it's the hardware that steers it off the metal route somewhat.
Look at that hardware! It's not even black! Although it does share Grover machineheads, the pickups are Schecter's own brand Alnico ones, and are coil tapped for a greater range of tones.
Jackson X Series Kelly KEXMG
Jackson's take on the Explorer body shape is called the Kelly. In true Jackson style, some of the carving of the body shape might be considered extreme! This particular version is from the X Series, and is called the KEXMG.
Unlike the other guitars mentioned, this one has got a basswood body, so between a low-density tonewood, and the saw-happy manufacturing process, this will weigh very little. Apart from that, it's got the EMG 81/85 pickups and the Floyd Rose, and has been put together with neck-through construction.
Read More:
How to find the Best Electric Guitar
The Final Note
The EX-401FR is a totally solid guitar, and well worth a look for any intermediate metal players looking for that step up to the next level of instrument.
It's rare that beginner models will come equipped with EMGs, so this – or any of the alternatives mentioned – would be an interesting direction to take, as their knowledge develops, and they understand more about what elements o