When battery powered amps were first released on the market, portable amps weren't reliable. They didn't produce a quality tone and were poorly made. With modern day technology improving, the overall quality of portable amplifiers has also improved.
Nowadays, when you take time to shop around for a practice amplifier, you're going to find some amps that produce a large enough sound that you'll be able to use it as a combo amp and an amp for live shows. However, if you're looking for an amp that's going to be easy to travel around with and only to practice on, battery-powered amps.
If you're looking for an amp that's going to be portable but comes with a powerful tone, your options on the market are going to be much more readily available. However, if you're looking for an amplifier that's going to allow you to have a significant amount of control over your sound or any additional features, you're most likely going to want to look for an amplifier that's less portable and more expensive.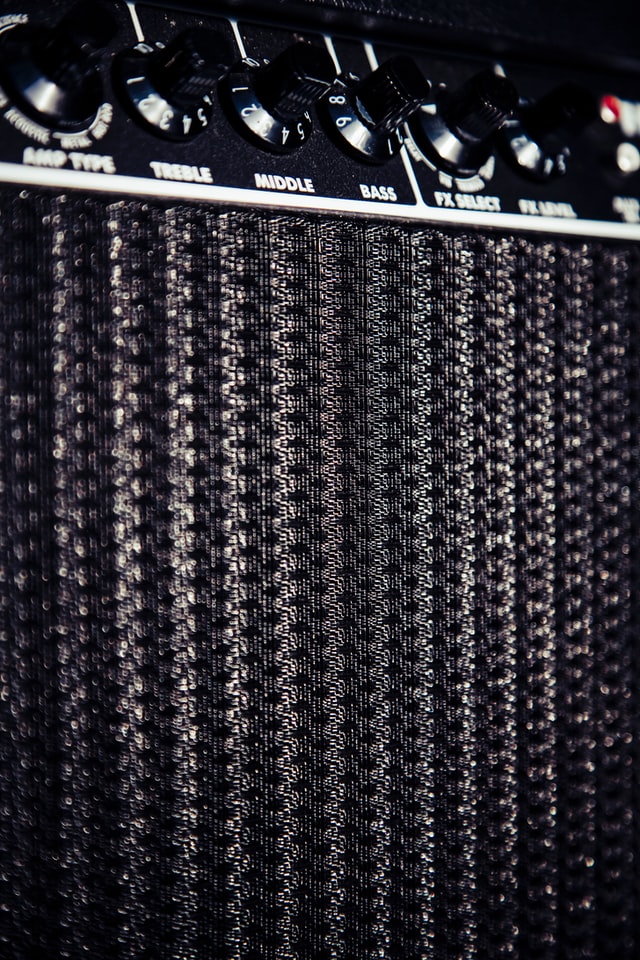 Benefits of using a portable amp
Having a portable amp in your collection will allow you to play your instrument whenever and wherever you want. Even if you're only looking around to find an amp to have with you for practicing only, they are still much cheaper options for you to get your hands on than an electric amp.
There are a few different portable amp options available on the market today that will provide you with a similar sound to their parent amps' tone without providing you with as large of sound as a full-sized amp.
While shopping around for a portable amp, you are going to find that there is a large variety of different sized amps for you to choose from. You are going to find everything from headphone amps to moderately large combo amps. In other words, just because you're shopping around for a portable amp, doesn't mean that you're going to end up with something that is tiny produces a low-quality sound.
Most musicians ten to use portable, battery-powered amps for practicing on or for traveling around with. Even if you're an experienced musician who is looking around on the market for a portable guitar amplifier, know that you can play on several different guitar amps just to have fun.
You may not find your perfect tone in a portable, battery-powered amplifier, but they do allow you to test out different sounds and tones on your instrument. You can also build your customized stereo rigs if you're looking to build your tone and sound.
If you are taking this route, it should be noted that your sound isn't going to include a reverb, so your sound is going to be very dry. If this is the case with your sound, picking up a pedal will add reverb to your sound and truly allow you to customize your sound even further.
While Blackstar is not a brand that many people will recognize, especially if you're new to the guitar scene. However, the Blackstar FLY 3 does an outstanding job of providing users with large, robust tones with an affordable price tag.
The amplifiers that Blackstar produces are mainly best for studio and home use, due to the low wattage that their amps require to work. However, this amplifier does come with an overdrive channel, a clean channel, an EQ section, and a few other additional effects.
Read our Full Blackstar Fly 3 Review.
Blackstar FLY 3 Electric Guitar Mini Amplifier | Guitar Center
The Blackstar Fly 3W combo is the new gold standard for the mini class of amplifiers. Though it's small, it's not a toy. It's an incredible low-wattage practice amp that you can use in your bedroom, put on a desk or throw in your backpack and jam wherever you want, via the battery-powered operation.
Buy at Amazon
Buy at Guitar Center
We earn a commission if you make a purchase, at no additional cost to you.
05/25/2023 11:54 pm GMT
Yamaha THRS Desktop Combo Amp
The Yamaha THR10 Mini Guitar amp is a battery powered amp that is an absolute marvel. However, it also comes with an incredible price tag. Yamaha released the Yamaha THR5 10-Watt Desktop Guitar Combo Amp at a much more affordable option with a very comparable sound to the THR10.
The Desktop Combo amp comes with five amp models, clean, lead, crunch, modern, and brit hi. The amp also comes with the usual ten affects you can find on any amp.
When using the delay effects on this amplifier, you can use the tempo function on the amp by using the dual-functioning button that also serves as a chromatic tuner. The most interesting part about this amplifier is that all of the models and effects on this amplifier can be edited on a computer and can all be loaded on the amplifier via a USB cable.
TheFender Mini Deluxe provides users with an incredibly compact size with the impressive tone that Fender is known so well for. If you've ever seen the Fender Hot Rod Deluxe, the cosmetic features on the Fender Mini Deluxe is a sized-down version of the Fender Hot Rod Deluxe. It comes with mini chicken head knobs, a dog bone handle, and a chrome control plate.
As for the tech aspects, you're going to be running on a one-watt battery powered amp that requires a 9-volt battery. The Fender Mini Deluxe is a single two-inch speaker, with a headphone jack, volume control, tone control, and drive controls.
The total height measurement for this amplifier is just around six inches and weighs around one pound; making is extremely easy to carry around with you wherever you travel.
The Marshall MS4 Mini Micro Full Stack Battery Amplifier is a one-watt battery-powered guitar amp that comes with tone control, a volume control, and gain control, as well as two independent speaker cabs. Each speaker cabinet holds a three-inch speaker. The total height for the Marshall MS4 hits close to ten inches, making it small enough to be easy to carry for people of all sizes.
As for the amp itself, you can switch between overdrive and clean mode without much trouble. The single tone control that this amp comes with will allow you to change the stability between treble and bass. This battery powered amp makes the perfect addition to any musician who is looking for a portable amp for blues, alternative rock, or classic rock.
While the price tag on the Vox Mini 3 G2 is much higher than the other amplifiers that we have on this list. This battery powered amp comes with a lot of additional features that really up the overall quality of the amp.
Unlike the average one watt amplifier, the Vox Mini 3 runs on three watts. This amplifier comes with eleven amp tones, a tuner, a microphone, and additional effects. With the Vox Mini 3 G2, musicians can plug into a recording program and have complete access to your guitar's tone.
The effects that the Vox Mini 3 G2 comes with are chorus, flanger, compression, and tremolo; this amplifier also comes with an analog delay, spring reverb, tape delay, as well as room reverb. There is also a tuner switch which doubles up and allows you to tap out a tempo to set up your delay time.
VOX MINI3 G2 Battery Powered Modeling Amp | Guitar Center
It features VOX's original "Bassilator" circuit that delivers tone with powerfully solid lows and a bottom end that will hold up even at low volumes. The quality of the effects has also been greatly improved.
Buy at Amazon
We earn a commission if you make a purchase, at no additional cost to you.
05/26/2023 10:05 am GMT
As for the Orange CR3 Micro Crush you're going to be getting your hands on a three-watt battery powered amp with a four-inch single speaker, a tone control, and an overdrive mode.
What sets this amplifier apart from most other amps, the housing for the Orange C3 is comprised of wood instead of the typical plastic. The Orange CR3 comes with a headphone jack, a chromatic tuner, and is run off of a 9-volt battery.
Orange CR3 Micro Crush | Guitar Center
The redesigned control panel gives you full tonal control with gain, shape and volume. Backing off the gain and pushing the volume will give you a crunch tone, while pushing the gain up will give you searing high-gain tones. The shape control, like the Micro Dark, cuts or boosts the mids, giving fat mid through to scooped tones.
Buy at Amazon
Buy at Guitar Center
We earn a commission if you make a purchase, at no additional cost to you.
05/26/2023 02:14 am GMT
The Roland Micro Cube is one of the smallest portable amps that Roland manufacturers, but in its small size hides great power. This battery powered amplifier uses eight different effects including reverb, delay, and emulation, as well as the ability to store presets; having these features in a small sized amplifier makes it extremely a powerful amp.
The Roland Micro Cube GX doesn't have a tap tempo option like other amplifiers on this list, but it does come installed with a memory function. The memory function on the Roland Micro Cube GX allows you save and replay your favorite setting at any time you please.
Conclusion
Discovering which battery-powered guitar amp is going to be the best amplifier for your personal needs is all going to depend on what you're looking for in an amp.
Even if you're an expert musician, who is just looking to expand your sound with different amplifiers, testing out some of these affordable amplifiers can open you up to an entire world of unique sound. Experimenting with your sound can be a lot of fun, so have fun hunting for your newest amplifier to add to your collection!
Latest posts by Guitar Space Team
(see all)