In the early years of the music industry brands like Gibson and Fender were dominating the electric guitar market. More than a half-century later guitar players are often met with the choice between PRS vs Gibson electric guitars that exemplifies the clash between the old and the new.
For the purposes of this article, we are going to compare the legendary Gibson Les Paul to the relatively unknown PRS SE Custom 24 as they are among the best models these manufacturers have to offer.
Either of these guitars can be used to play blues, jazz, or virtually any other genre of music which makes opting for one or the other even more difficult.
Our PRS vs Gibson comparison will grant you an insight into the features of these guitars and help you decide which one is better suited for the genre of music you want to play.
The Main Differences Between PRS vs Gibson
The main differences between Gibson Les Paul and PRS SE Custom 24 are:
The PRS SE Custom 24 has a double-cutaway body shape, whereas Gibson Les Paul has a single-cutaway body shape.
The PRS SE Custom 24 has 24 frets, whereas The Gibson Les Paul has 22 frets.
The PRS SE Custom 24 has a floating tremolo bridge, whereas the Gibson Les Paul features a fixed Tune-o-Matic bridge.
The PRS SE Custom 24 has a wide and thin neck, whereas the Gibson Les Paul is equipped with a rounded C shape neck.
The PRS SE Custom 24 has a 25-inch scale length, whereas the scale length on the Gibson Les Paul is 24.75 inches.
The PRS SE Custom 24 weighs 8.5 pounds, whereas the Gibson Les Paul can weigh between 9 and 12 pounds.
The PRS SE Custom is made from a brand old 35 years old, whereas the Gibson Les Paul is from a company that is 118 years old.
Key specifications
| | | |
| --- | --- | --- |
| Features | Gibson Les Paul | PRS SE Custom 24 |
| Body shape | Les Paul single-cutaway | Double cutaway |
| Body material | Mahogany back and a three-piece maple top | Mahogany back, and bound beveled maple with poplar burl veneer top |
| Neck | Three-piece maple with an ebony fingerboard | Maple, with rosewood fretboard |
| Frets | 22 nickel silver alloy frets | 24 |
| Tuning machines | Schaller M6 with large buttons | PRS-Designed Tuners |
| Warranty | Limited Lifetime Warranty | Limited Lifetime Warranty |
| Latest price | Check the latest price here | Check the latest price here |
A closer look at the features of PRS vs Gibson guitars
Here's what PRS SE Custom 24 and Gibson Les Paul have to offer
PRS SE Custom 24
PRS or Paul Reed Smith guitars has established itself as one of the leading electric guitar brands over the last 35 years.
The company released the first model from their SE series in 2000 that became known for featuring affordable electric guitars such as the Custom 24 model.
Read our full PRS Custom 24 Review here.
Around the same time, the PRS launched the Singlecut guitar model, which they were forced to withdraw from the market due to the similarities with the Gibson Les Paul guitars.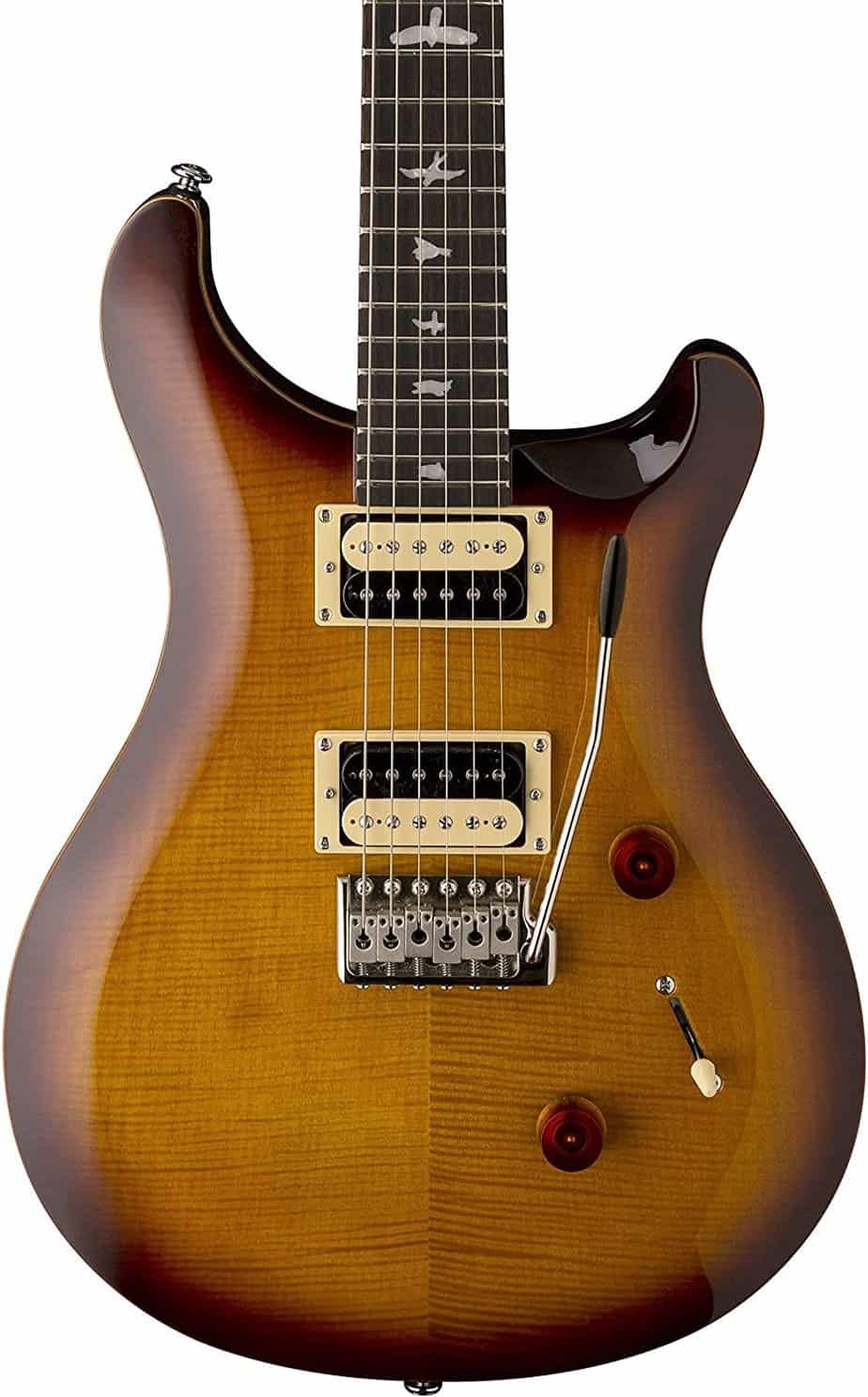 However, this event didn't have a major impact on their SE series that today includes signature models from Santana and Bernie Madsen. The SE Custom 24 electric guitar is arguably one of the manufacturer's highest praised models both for its sound and playability.
Key features
Double cutaway body shape
The body's top is made of maple with poplar burl veneer, while the back is made of mahogany
25-inch scale length
Wide, thin neck shape with 24 frets
85/15 ''S'' treble and bass pickup
Volume and Push-Pull tone control with a 3-way blade pickup switch
Compatible with 009 to.042 string sets
Shape and size
The mahogany and maple body as well as a maple neck make this PRS' electric guitars one of the best looking models from the SE series. However, the manufacturer offers several different versions of their SE Custom 24 model and the guitar's finish depends on the model you choose.
Although the color of the guitar may vary, the features of all SE Custom 24 models are the same, hence you will get an electric guitar that weighs just 8.5 pounds.

This can be particularly important during long gigs and jam sessions when you don't have the opportunity to set the guitar aside and rest for a while. The SE Custom 24 has a double-cutaway body that enables you to reach lower frets without having to extend your fingers.
In addition, the headstock allows the strings to be in a straight position from the bridge to the tuner, which makes it easier to tune the guitar.
Sound
Like with all electric guitars, the quality of the sound SE Custom 24 produces depends on the amp you are using.
Even so, this PRS guitar model has equipped with an 85/15 ''S'' pickup mechanism as well as a Volume and Push-Pull tone control that has a 3-way blade pickup switch. These features enable you to control how the instrument is going to sound even before you plug it into an amp.
What's more, all versions of the SE Custom 24 electric guitar are compatible with 009 to.042 ultra-light gauge string sets that have lower tension. In turn, this increases the guitar's playability and makes it easier to bend strings during solos. However, if you would like to get darker tones offered by heavier string gauges, this guitar may not be a good choice for you.
The SE Custom 24 is a versatile instrument that enables you to play anything from classic jazz to indie rock. If you are just starting out you can check out our list of electric guitar songs you should learn how to play.
Other noteworthy features
Besides the position of the headstock, all SE Custom 24 models feature a PRS-designed tuner that simplifies the process of tuning this electric guitar.
The guitar also has a PRS Patented Molded Tremolo Bridge that is made of a cast steel block that contains a brass plate and saddle. This ensures that the string receives sufficient support and that vibrations can reach the soundboard without any loss of quality.
It is also worth noting that SE Custom 24 models suited for left-handed players are also available, but you must check the handedness of the model you are interested in.
Reliability
The SE Custom 24 PRS guitar is an excellent pick for anyone who is in need of an affordable electric guitar that sounds great.
You can use it to perfect your guitar-playing skills or to perform in front of a live audience with the same level of efficiency. The guitar's electronics don't break down easily and the manufacturer offers a limited lifetime warranty.
Even so, finding the replacement parts for PRS guitars can be challenging if you don't live in the United States.
Gibson Les Paul
There are very few electric guitar models that are so closely knit with the development of rock n' roll music. Jimmy Hendrix, Eric Clapton or Jimmy Page are among the musicians who played on different versions of Gibson Les Paul.
Currently, there are more than thirty different versions of the Les Paul Gibson guitar and they have similar or identical features. Consequently, which Gibson Les Paul model you are going to opt for depends on your budget and your style.
Even though the original Les Paul Gibson guitar had a single-cutaway body, the Gibson company released several models that have a dual cutaway body. You can check out our comparison of Les Paul Standard and Custom models to better understand the variations of these electric guitars.
Key features
Single or dual cutaway body, depending on the model
Mahogany back and a three-piece maple top
22 nickel silver alloy fret neck with ebony fingerboard
Tune-o-Matic bridge and a Stop Bar tailpiece
3-way Switchcraft pickup selector
Aged black speed knobs
Compatible with .010 – .052 string sets
Shape and size
The shape of a Les Paul guitar depends on the model, as you can choose between single cutaway and double cutaway options. Standard models have a single-cutaway body that is usually made of variations of maple and mahogany.
Moreover, the guitar's neck is also made of maple, but the materials used to produce the fingerboard are usually ebony or rosewood. Gibson Les Paul guitars have 22 jumbo or nickel silver alloy frets as well as a 12-inch fingerboard radius.
The 24.74-inch scale length is standard for all Les Paul models, while the headstock is positioned at an angle. These electric guitars weigh between 9 and 12 pounds and they are heavier than most PRS models. The finish on a Les Paul guitar depends on a model as either of them is available in several different finishes. It is also worth noting that Gibson offers models that suitable for both left and right-handed players.
Sound
The pickup on a Les Paul guitar also depends on a model, as you can get an instrument that has a Burstbucker 1 neck pickup and Burstbucker 2 bridge pickup or reverse mounted Custombucker neck pickup and a Custom-Wounded Seymour Duncan DDJ bridge pickup.
These are not your only options as a Burstbucker Zebra or classic neck and bridge pickups are also available. The sound of a Les Paul guitar is determined by these features so the only way to find out how a particular model is going to sound is to play it.
The string sets that are compatible with these electric guitars also vary, so on most Les Paul model, you can use .010 – .046 string sets, while only a handful of models allows you to use .010 – .052 string sets.
Like the PRS SE Custom 24, the Gibson Les Paul instrument is versatile and it enables you to experiment with the sound.
Other noteworthy features
Even though controls are not identical on all Les Paul guitars, most models have 2 volume and 2 tone control knobs. In addition, you will have a 3-way Switchcraft pickup selector at your disposal as well as a ¼-inch Switchcraft output jack.
All Les Paul model options feature a version of Gibson's Tune-o-Matic bridge while tuning machines depend on a model. In addition, most Gibson Les Paul guitars have a Stop Bar tailpiece.
The inlays also vary from one model to model although most Les Paul guitars have Mother of Perl or acrylic trapezoid inlays.
Reliability
Gibson Les Paul guitars are frequently mentioned in conversations about the best electric guitars of all times. Countless legendary musicians have played on various versions of this great guitar which speaks volumes about its reliability.
Their sound can be adjusted to almost any genre of music from metal, punk to indie rock and jazz. All of the Les Paul models that emerged over the years are durable and reliable instruments that enable musicians to express themselves in any way they want.
Check out our Gibson SG vs Les Paul Comparison
PRS vs Gibson – Pros and Cons
PRS SE Custom 24
Pros
The double-cutaway body makes it easier to reach high notes
The guitar is made from high-quality materials
Offers a variety of volume and tone controls
Excellent price-performance ratio
Cons
The gig bag is the only accessory that comes with this guitar
Finding replacement parts for PRS SE Custom 24 can be difficult
Gibson Les Paul
Pros
The sound can be adjusted to the needs of different guitar players
Iconic and recognizable design
Available in more than 20 different variations
Features high-quality electronic components
Cons
The scale length is shorter than on PRS SE Custom 24
Gibson Les Paul guitars can be heavy for some players
The Best Alternatives to PRS and Gibson guitars
The electric guitar market is versatile and brands like PRS or Gibson are just a couple among numerous options you have at your disposal.
Fender, Ibanez or Yamaha brands produce stylishly designed electric guitars that are capable of awe-inspiring performances. We've shortlisted a few of the best alternatives to PRS and Gibson guitars, so let's take a look at what they have to offer.
Fender Player Stratocaster
Fender and Gibson brands are equally important for the history of rock n' roll, as David Gilmour, Steve Ray Vaughn, or Ritchie Blackmore played on the famous Fender Strat.
The Fender Player Stratocaster belongs to the huge Stratocaster family that features tens of different models.
This great guitar has a classic Fender Strat body that is made of alder as well as a gloss polyester finish. The neck and the fingerboard are made of maple and the neck has a modern C shape.
Even though the Fender Player Stratocaster has a 25.5-inch scale length its fingerboard radius is just 9.5-inches.
In addition, the guitar's electronics are remarkable since it's Player Series Alnico 5 Strat Single-Coil bridge and neck pickups ensure that every tone sounds great.
Before we go on, check out our in-depth Fender vs Gibson comparison.
Ibanez RG Genesis Collection RG550L
If you are looking for an electric guitar that is designed for left-handed players, then Ibanez RG Genesis Collection RG550L may the right choice for you.
Although it is primarily designed for different genres of metal music, this Ibanez model grants you versatility in terms of your playing style and the sound you want to produce.
The body is made of basswood while the Super Wizard neck is built from a combination of walnut and 5-piece maple wood.
The guitar features the Edge Tremolo bridge and V7 (H) neck pickup as well as S1 (S) middle pickup and V8 (H) bridge pickup.
Yamaha Pacifica PAC112V
Novice guitar players can benefit from opting for a Yamaha Pacifica PAC112V guitar since they won't have to spend a small fortune on this model.
Besides being affordable, this electric guitar is also versatile because you can play funk, blues, or rock with it.
The instrument's body is made of alder while the neck is made of maple with a rosewood fingerboard.
The PAC112 features a H/S/S pickup system with a 5-position selector and Push-Pull and Coil-Split switches that extend its tonal capabilities.
This model is available in several different finishes which enables you to choose the one that matches your style.
FAQs
The Verdict: Are PRS better than Gibson electric guitars?
The short answer is no. PRS SE Custom 24 guitars cannot outperform any of the Gibson Les Paul models.
Gibson is probably one of the most famous guitar manufacturers that has been producing guitars for over a century. PRS, on the other hand, has only been around since the mid-1980s and it still doesn't have a reputation the Gibson company does.
PRS SE Custom 24 electric guitar is an affordable solution for an aspiring guitar player that will provide sufficient sound versatility necessary to play different genres of music.
Les Paul guitars are studio and stage-proven and you can use them to record your new album or at a concert. That's why these guitars are a better choice for an accomplished musician who already knows how to make the most of their capabilities.
Did you find our PRS vs Gibson comparison useful? Leave a comment and let us know or check out our Fender Duo Sonic vs Mustang comparison to learn more about these guitars.
Read More: Check out how Gibson Les Paul compares to Epiphone Les Paul or learn more about how to find the best locking tuner.