For entry-level guitars, especially electric guitars, you need to know what you are looking for, what you want, and what exactly you should buy. There are guitars out there that are cheaper than dirt, but aren't worth much.
However, the Epiphone SG Special Electric Guitar is not one of those guitars! While it is priced under $200, it has amazing materials used in the composition of the body.
One of Epiphone most popular models from their lineup is the SG Special, as it has been seen in the hands of some of the most legendary guitar players. However, it's also a popular model among players who aren't so famous and that's because it's a guitar that fits within a beginner's budget.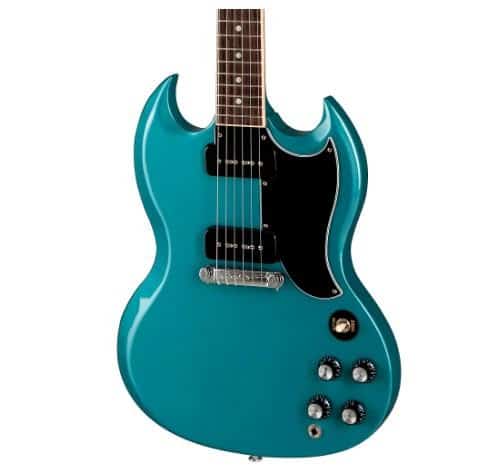 This Epiphone SG Special is an entry level model and the hardware that comes with this guitar is the same that would come with any other entry level guitar Epiphone produces. All of the hardware on the SG Special are chromed, which gives a cosmetic contrast between the darker color of the rest of the body.
Since this is an inexpensive guitar, it's a surprise to see that the body is made from solid alder, which provides a high-quality tone that is typically found in expensive guitars. The neck is made from a hard maple, with a 24.75" scale, as well as a SlimTaper D-shape profile, so it's fast and easy to play.
Epiphone's SG Special Electric Guitar comes with a KillPot switch, which mutes the guitar for a second when pushed; this provides the guitarist with the ability to manually effect the sound of the guitar. It's actually a really fun button to play with and experiment with.
The Tune-o-Matic bridge and StopBar provides the SG Special with decent sustain, as well as tuning stability. The contour of the body and neck makes it comfortable to play at a faster tempo and not strain your hands.
The Epiphone SG Special was born when Epiphone decided that they wanted to make their own double cutaway solid guitar. The body of the Epiphone SG is made from an alder and maple laminate, while the neck is comprised of a standard maple unit.
If you love the Epiphone SG, the SG Special is everything you love, just packed down to a smaller size. While there are several choices of finish you can choose from, the red and black combo or the all black are the two more popular choices.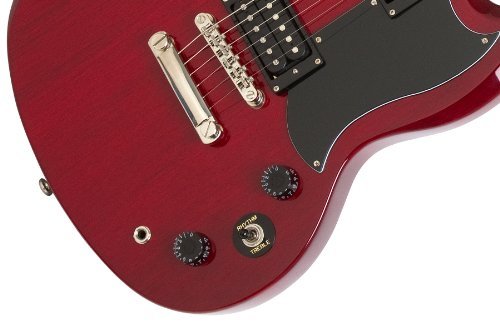 If you have ever seen any video of AC/DC'S Angus Young walking across the stage to perform in his school uniform, there is a large chance that you've seen the Epiphone SG Special guitar! George Harrison, Frank Zappa, Angus Young, and Jimi Hendrix all have played the Epiphone SG; the Epiphone SG Special is the same exact guitar, with a smaller body and a smaller price.
Criteria
It is most definitely easy to become overwhelmed by the massive guitar market that's available; there are a countless number of guitars available in every single style in the world.
In order to know how to evaluate a guitar's quality to make sure that the guitar you're looking at is the proper one for your needs, you need to understand what criteria is used to evaluate a guitar's quality.
This review of the Epiphone SG Special Electric Guitar will look at the following criteria:
The playability to the SG Electric
The materials that this guitar is made from
Who the SG Electric is best guitar is best suited for
The tone
The value of the SG Electric for your money
Overall, the Epiphone SG Special Electric Guitar is a guitar that will stick with you as you become a better player. There is a reason that it's been found on stage, being played by some of the most famous guitar players in the world.
There are people who have a few negative things to say about this guitar, but if you're a beginner looking for an inexpensive, but quality investment to make, don't worry about them!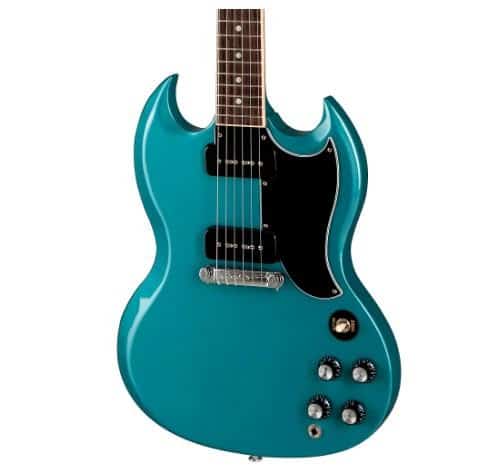 Would you Suggest the SG Electric?
Yes, I would! If you are a beginning guitarist, an intermediate player, or someone who loves to jam out all night long on stage, this is an amazing guitar for the price.
If you are on the hunt for an electric guitar with superb quality, but doesn't cost you an arm and a leg, the Epiphone SG Special Electric Guitar is a wonderful investment for both beginning and experienced players to make.
Even if you're a professional guitarist, if you're looking for a cheap electric guitar that produces that hard rock 'muddy' sound ASAP, the Epiphone SG Special Electric Guitar won't disappoint you. It's inexpensive and does a fairly decent job with live on stage performances. It's easy to down tune and stays in tune for long periods of time.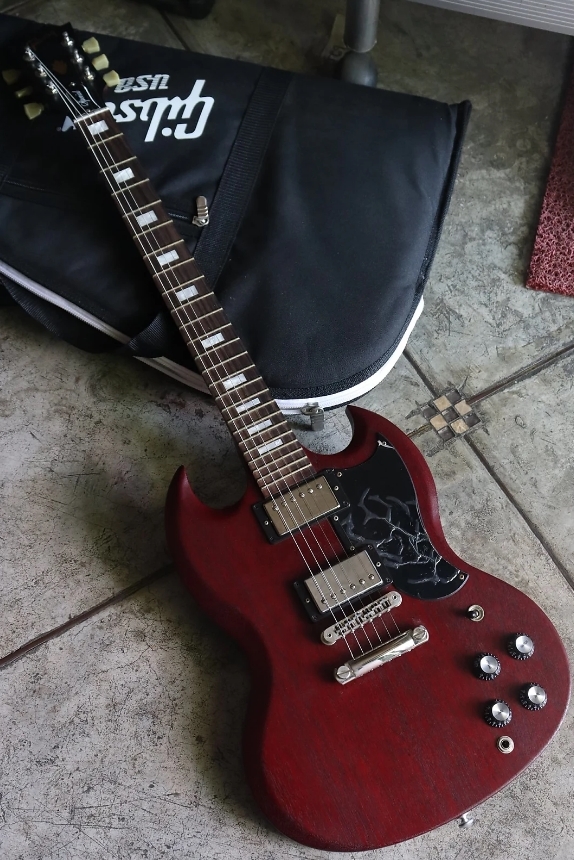 Core Features of the Epiphone SG Special Electric Guitar
The Epiphone SG Special Electric Guitar is a rather attractive guitar, that's jam packed with a whole bunch of features that Epiphone is well known to style their guitars with.
Sleek design
Attractive finish
Bolt-on neck comprised from maple; provides players with durability
Solid mahogany body
Open coil Humbucking pickups; 700T at the bridge position and 650R on the neck
Come with Epiphone's famous LockTone Tune-o-matic bridge
Stopbar tailpiece (makes changing strings very easy)
KillPot Control
Cutout body
22 medium jumbo frets
White dot inlays
75 inch scale
SlimTpaer D-shape profile
Rosewood fretboard
Single master volume knot
Master tone knob
Standard Truss rod
Three-way pickup selector switch
KillPot switch
Before we go any further, I want to point out that it is very uncommon to find a beginner's level guitar to have a body comprised from solid mahogany. However, it's not a bad thing! Having a guitar that's made from a solid mahogany body, the guitar has a more stylish look, while also improving the playability and overall sound.
If you are a beginner reading this article and don't know what an open coil Humbucking pickup is used for, keep on reading.
The open coil Humbucking on the Epiphone SG Special Electric Guitar are noise free! They are amazing to have in order to achieve that gritty, growly, edgy sound that you aim to produce when playing rock. Epiphone produces all of their guitars with their Tune-0-Matic bridge; it makes changing strings a lot easier.
Who is the SG Special Best Suited For?
While electric guitars are easier to fit into a broad range of genres, each model of electric guitars are created with a specific sound in mind. The Epiphone SG Special Electric Guitar best fits into a hard rock sound, that's filled with overdrive. While this guitar does perform distortion well, the SG Special handles overdrive better.
If you are a guitarist that is looking for a clean and clear sound, I would not suggest to you to purchase. While there is a decent amount of distinction between single note pitch changes, if you are looking to play a precise and subtly, you are going to have a difficult time getting the sound you are looking for.
Does the SG Special Work as Advertised?
Epiphone describes this guitar as a versatile, lightweight instrument. Yes, the Epiphone SG Special does work as advertised; it offers a decent amount of over driver that provides players with a classic rock sound; whether you're playing classic rock chords or playing a solo, notes have a decent clarity and distinction.
Pros of the SG Electric:
Costs less than $200
Has a timeless look and feel
Produces a quality 'classic rock' sound
Fast neck
Easy to down tune
Cons of the SG Electric:
Tuners feel a little cheap
The output jack has an awkward placement; it's on the face of the body. While it's not the most comfortable design, it does stay true to the original SG's style.
Doesn't come with double volume and tone controls
The original strings that come with the guitar are not high quality
Other Alternatives to Consider
Best Electric Guitar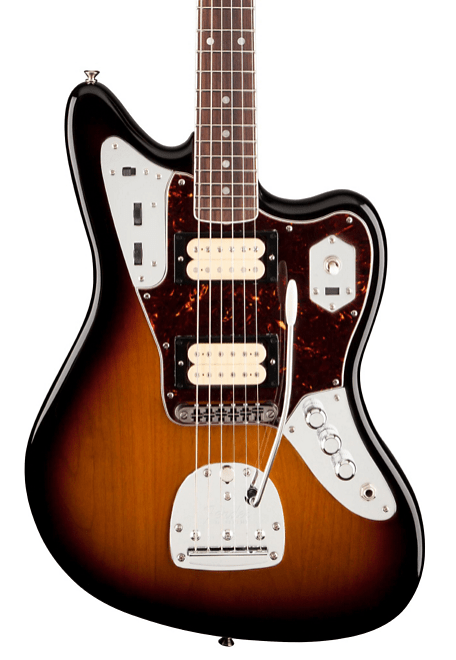 This electric guitar is an exact replica of Kurt Cobain's famous guitar. This guitar is comprised from an alder body, maple neck, rosewood fingerboard, and an upgraded Adjusto-matic bridge. The Fender Kurt Cobain Jaguar is a great piece to add to your collection if you're a collector or a professional guitarist, as it has quality sound projection and tonality.
Most people believe that ¾ size guitars are just meant for small children. This Ibanez Mikro Electric Guitar is built to the same high standard that any other full-size Ibanez model is made to. The only difference between this guitar and any other full size Ibanez guitar is the scale length and the pricing!
What's Your Final Take on the Epiphone SG Special Electric Guitar?
The sad thing about the Epiphone SG Special is that it's one of those guitars that is super controversial- there are a lot of people who claim this guitar to be a complete waste of money.
However, when judged on the total makeup of the guitar, the Epiphone SG Special is a guitar that's not only affordable but is an instrument that will grow with you as you become a better musician. Overall, this is a guitar that will absolutely appeal to many new players, but there are plenty of reasons for any experienced player to enjoy too!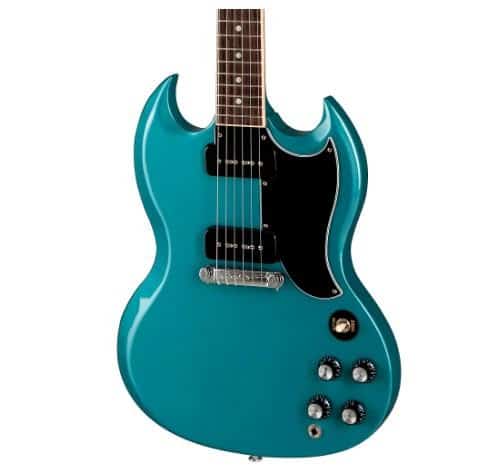 Latest posts by Guitar Space Team
(see all)