If you're a passionate guitarist, then having the best instrument for your style will be important. Chances are you've also heard of Gibson and their two flagship guitars, the SG and the Les Paul.
Today we're going to be comparing the two side by side and answering the question; SG vs Les Paul, which one is best?
Gibson has an excellent reputation within the guitar world. They have been producing some of the finest guitars, amplifiers, and other equipment for well over 60 years and continue to be at the forefront of the modern guitar market.
They've designed and released some of the most iconic electric guitars of all time, but arguably their two most influential are the Les Paul and the SG.
We'll outline the key features of each, look at the pros and cons associated with them, answer some of the most frequently asked questions as well as giving our thoughts on who we think suits them. We'll even throw in some alternatives for you to try.
But before we get into it, let's look at the main differences between the two.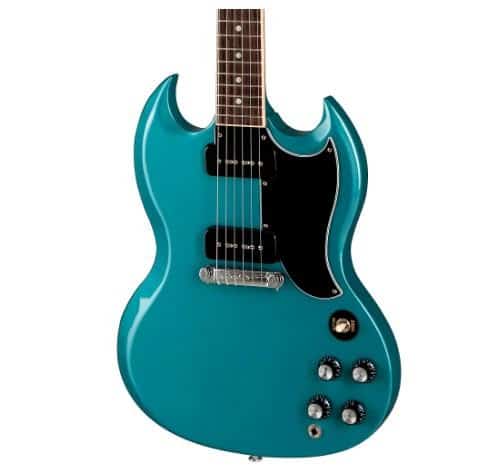 The Main Differences Between a Gibson SG and a Les Paul
The main differences between the two flagship Gibson guitar models are:
The SG is lighter, whereas the Les Paul typically has a heavier construction
The SG has a slimmer profile, whereas the Les Paul is chunkier
The SG is made up of solid Mahogany throughout, whereas Les Paul's feature a Maple cap
The SG's neck joins its body at the 22nd fret, Les Paul's joins at the 16th
SGs are brighter with more pronounced mids & highs, whereas the Les Paul excels in the lows
The SG's output jack is located on the front of the guitar, whereas the Les Paul's is located on the bottom of the body
Despite the apparent differences between the two, there are also some similarities. They are both made using Mahogany, for example. They both also have two humbucker pickups in the neck and bridge positions with a similar tone and volume controls.
Key Specifications
Exploring the SG vs Les Paul Features
Here are the main features of the Gibson SG and the Gibson Les Paul.
The SG was born while Gibson was designing the Les Paul. While the Les Paul was a hugely popular model, it was facing declining sales in the 1960s. This was mainly down to Gibson's main rivals, Fender, bringing out models that were far lighter and easier to play.
The response was the release of the Solid Guitar or 'SG.' It was a lighter, sleeker version of the Les Paul and helped Gibson compete with Fender. Since its release, its been in constant production and picked up support from a whole host of world-famous musicians.
Some of the most famous guitarists to favor the SG have been; Angus Young (AC/DC), Tony Iommi (Black Sabbath), Robbie Krieger (The Doors), Frank Zappa, Derek Trucks, and Jerry Garcia, to name but a few.
If you're looking for that rock'n'roll sound and like playing classics like AC/DC's 'Back in Black, you should be looking at getting an SG.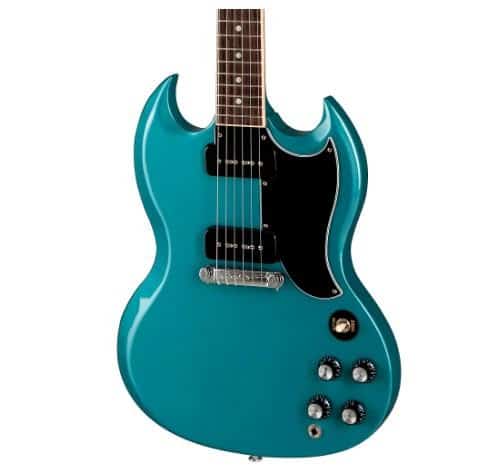 Gibson SG Key Features
First launched in 1961
Solid-body construction
Mahogany body
Hardtail Gibson Vibrato bridge
Bright and pronounced mids & highs
Lightweight
Different variations within the SG family suitable for other players
Design
Design-wise the SG moved away from the sleek look of the original Les Paul and introduced harder edges and features like the instantly recognizable devil horns. It also broke away from the design further by incorporating a double cutaway and a flat top.
The overall instrument is also much lighter, with a lack of maple top that was common with Les Pauls. These changes were intended to reduce the overall weight while keeping the tones the same.
Although the tones were not precisely matched, they were far from bad. In fact, Gibson stumbled into creating one of its most popular models whilst altering the formulae that had proved to be so popular.
Sound
Tonally, the SG has a real brightness to its highs and mids. This means it appeals to musicians who like a slightly more pronounced overall sound than those who favor a Les Paul.
Despite this focus, the SG is still a very versatile guitar. You can see that simply by looking at the roster or guitarists who use it. There is no one single genre that defines it. From classic rock through to blues and funk, the SG has been used to play it all.
Feel

The feel of the SG is really where Gibson tried to break the successful Les Paul mold. Moving to a thinner body and shortening the fretboard meant that they could save on precious weight, which had been viewed as a negative of the Les Pauls.
This made for a much more 'playable' guitar. One that could be moved around with greater ease while performing and provided greater access to the higher frets due to the body and neck design.
While this increased maneuverability is what Gibson wanted to achieve, they hadn't necessarily planned to change the tones so drastically. The release of the SG highlighted that many of these elements that had been seen as a Les Paul negative were, in fact, crucial to producing its sound.
Tone, Inputs, and Controls
This is an area of the guitar that remained pretty constant throughout the design phase. The two models both have the same effects and controls; they are just situated in different positions.
On the Les Paul, you'll find them on the front with a jack underneath the body. Whereas with the SG, that jack is situated alongside the controls on the front.
The tone and volume effects are very similar across both models. They are found on the front of the guitar and are easily accessible during play.
The Gibson Les Paul is one of the most recognizable electric guitars ever produced. Its easily the most popular Gibson guitar and remains highly sought after to this day. An original Les Paul from the 1960s can fetch anywhere up to $150,000 depending on model and condition.
The design and tone of the original have stood the test of time well, with its supreme versatility helping to give it legendary status amongst musicians from all manner of genres.
When compared with the SG, it looks, sounds, and feels very different. This is down to both its design and the materials used to construct it, but more on those in a second.
In terms of musicians who made Les Paul famous, the list is almost endless. To name but a few; Les Paul himself (obviously), Slash, Paul McCartney, Billy Gibbons, Pete Townsend, Jimmy Page, Ace Frehley, Peter Green, Gary Moore, Zakk Wylde, Peter Frampton, Joe Walsh, Paul Kossoff, and Alex Lifeson.
Design
The design of the Les Paul laid the foundations for it becoming the legend that it is. It has classic good looks with a single-cut body, rounded edges, and a slim-taper neck. While these all certainly contribute to the famous Les Paul tone, they are very unforgiving.
The single-cut body, for example, is known to limit upper fret access for some players, and the slim-taper neck offers little relief.
Its body is also substantially thicker than the SG as it has a Maple cap on top of its Mahogany body. While this helps create those famous sounds and looks fantastic, it gives Les Paul a bit of a weight problem. Easy to overcome for some, but for many, this guitar is tough to play.
Despite Gibson's best efforts to alleviate these weight issues, including via the release of the SG, the bottom line is that if you want the Les Paul sounds, you have to learn to play a Les Paul. Weight and everything.
Sound
Overall, the sound of a Les Paul is much thicker than that of the SG. It has such an exceptional reputation for a reason and its distinct tone, in our opinion, is fuller with a greater bite when compared to the SG.
The specifics of the Les Paul tone are ultimately decided by which model you opt for. This is because elements like which p90 humbuckers, hardware, and capacitors the guitar has will have a bearing on what it sounds like. Ensure you do your research on which model suits your ear before purchasing one.
Feel
The feel of a classic Les Paul is closely linked to its design. The guitar's weight ultimately gives it that unmistakable sound and gives it a less than optimal feel. The Les Paul is a big, heavy instrument.
There is simply no getting away from the fact, no matter how hard Gibson tries to reinvent it and solve these playability issues.
That being said, guitarists have long accepted it, and it's common knowledge that to enjoy the classic Les Paul tone, you have to put up with its size and weight.
Tone, Inputs, and Controls
What exactly is the tone of a Les Paul? The idea of the classic Les Paul tone is bandied around a lot, but what does one sound like?
Well, the best way to describe it is as having a 'thick' sound with a sustaining overdrive. This overdrive leads to an almost creamy tone, with plenty of aggression should you need it.
In terms of the inputs and controls available, they are pretty standard. Unlike the SG, the inputs are on the front of the guitar next to the volume controls and tone inputs. This makes them very accessible while playing.
SG vs Les Paul – Pros & Cons
Gibson SG – Pros
Excellent upper fret access
Brilliant choice of p90 humbuckers
Lightweight
Lots of neck varieties
Ergonomic
Thinner body profile
Gibson SG – Cons
Neck dive can be an issue
Thinner body (depends on your point of view)
Volume & tone knobs less accessible
Gibson Les Paul – Pros
THE classic rock sound
An array of pickup options
Looks awesome
Gibson Les Paul – Cons
Very heavy
It can be muddy, loud, and distorted
Not great at staying in tune
Fragile
Expensive
Are There Any Alternatives?
You'll no doubt have heard of Fender's flagship instrument if you're into guitars. The Stratocaster, or Strat, is a favorite amongst many musicians and is one of the most popular guitars ever produced.
Tonally, it is very different from SGs or Les Pauls. It typically suits that country twang a little more. Think Rolling Stones and early Led Zepplin instead of AC/DC and Guns 'n' Roses.
It's also more comparable to the SG in terms of weight and playability, so much lighter than a Les Paul. Then there's the price, again much cheaper than a Gibson, particularly if you're after a Les Paul.
The Tele preceded the Strat and was one of Fender's earliest success stories, and the debate surrounding which one is best has raged ever since.
In terms of what they can offer, the Telecaster is often thought of as somewhat of a musical chameleon. It has the uncanny ability to sound good, no matter what genre you chose to play.
For this reason, a Tele is a great choice if you like to mix up your sound and experiment with a range of genres instead of just sticking to one or two.
My Pick for Most Players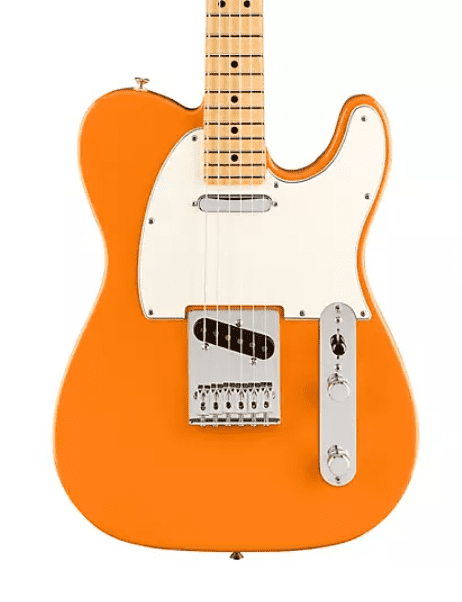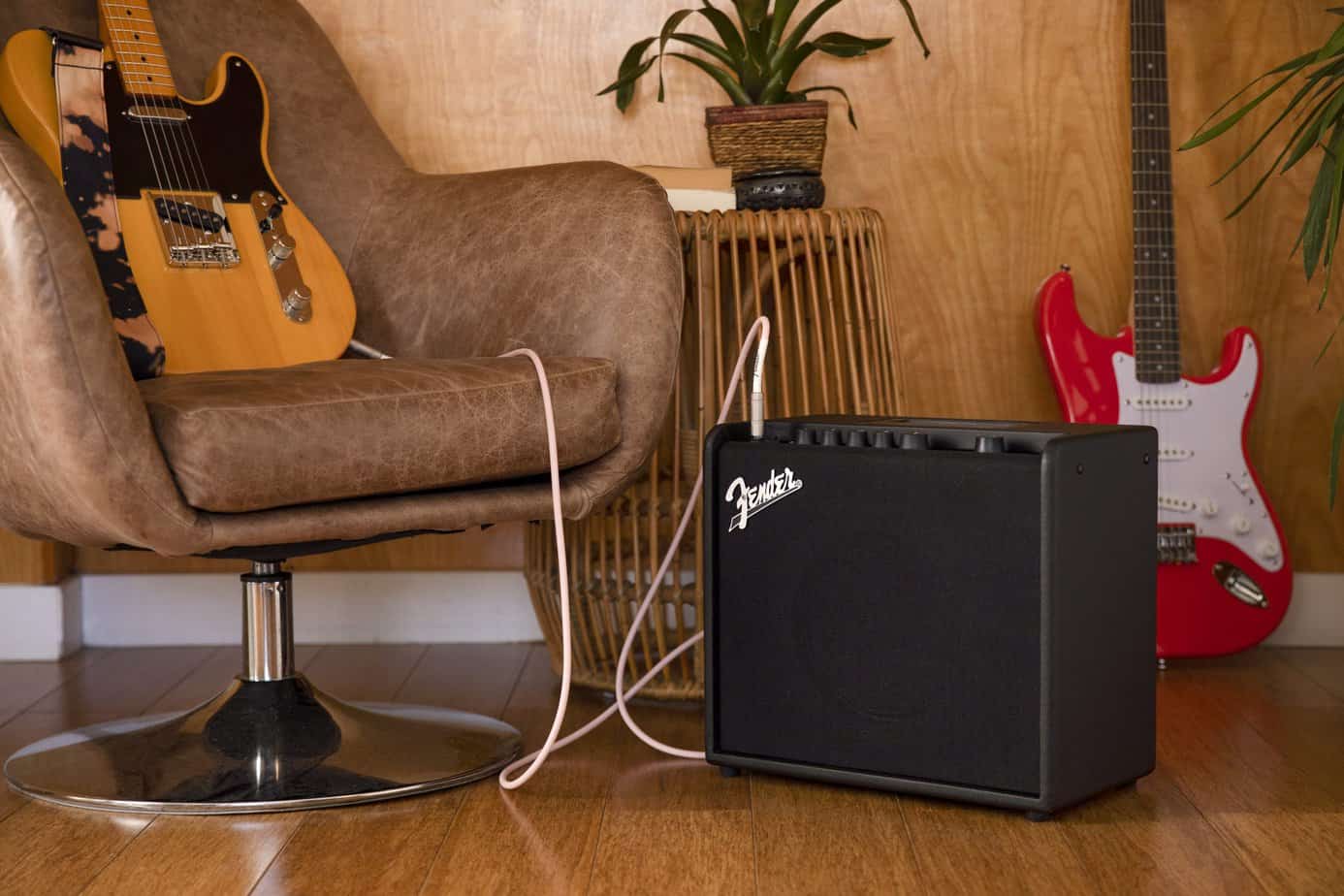 Unleash the Sound: Enjoy Free Shipping on Orders $50+ from Fender!
Rock out without worrying about shipping costs! Fender is offering free shipping on all orders of $50 or more. Whether you're searching for a new guitar, accessories, or merchandise, this promotion ensures that your musical dreams come with no additional shipping fees. Take advantage of this limited-time offer and have your gear delivered right to your doorstep, free of charge.
Shop Now
We earn a commission if you make a purchase, at no additional cost to you.
Fender's offerings are brilliant in their own right. If you're after a guitar that will look and sound like a Gibson, then your best bet lies with Epiphone.
Gibson owns Epiphone, hence their ability to imitate them well. The difference between their instruments and the Gibson originals is mainly down to the price tag.
Their most notable guitar, the Epiphone Les Paul, is regarded as the best Les Paul alternative on the market.
Although they don't come with quite the same standard of finish as a Gibson, the Epiphone does a fantastic job at recreating the famous tones for those on more of a budget. Well worth checking out if that applies to you.
Read our full Epiphone Les Paul vs Gibson Les Paul Comparison.
Frequently Asked Questions About Gibson SG & Les Paul
Question: Why is an SG Much Cheaper Than a Les Paul?
Answer: SGs are easier to make than a Les Paul. With a Les Paul, the manufacturer has to carve the top especially. This is essential to the instrument's overall tone but adds time and expenses to the production process. By contrast, and SG is much quicker and easier to build, hence the price difference.
Question: Do Gibson Les Pauls and Gibson SGs Hold Their Value?
Answer: Guitars are not investments unless you plan never to play them. It is very rarely the case that one can be bought and sold on for more than you originally paid for it. However, that being said, some brands and models retain their value much better than others.
Of these, Gibson Les Pauls and SGs are possibly some of the best on the market. So long as you look after yours and don't play it into the ground, you can expect to achieve anywhere up to 85% of the original value should you ever wish to sell.
Question: Are Gibson SGs Easy to Play?
Answer: The SG features an extra-thin neck with excellent access to the upper frets. This helps save weight and makes the guitar much more accessible to play than heavier models like the Les Paul.
Our Verdict: Which Guitar is Better For You – SG vs Les Paul?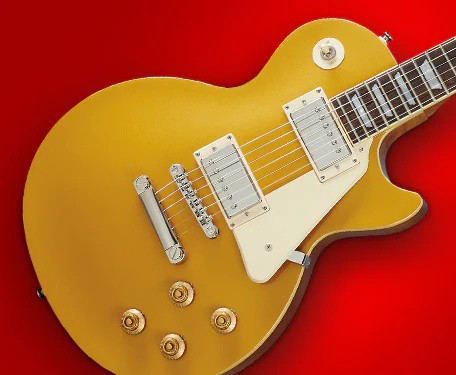 Both of these models are excellent guitars and bound to leave you smiling once you get the chance to play one. But which one should you ultimately go for? This is a question that only you can answer.
If you're considering a Les Paul, then you'll already be accustomed to its sound and tone. When comparing it to an SG, they are night and day.
If you are thinking of getting a Les Paul, then the real question is, which Les Paul do you get? There is such a wide range of options available that you're guaranteed to find the right one for you.
If, on the other hand, you're looking for a lighter, easier-to-play model, then the SG could be perfect. This is a much more player-friendly model that is more forgiving when performing, both on your fingers and back, thanks to its thinner body profile.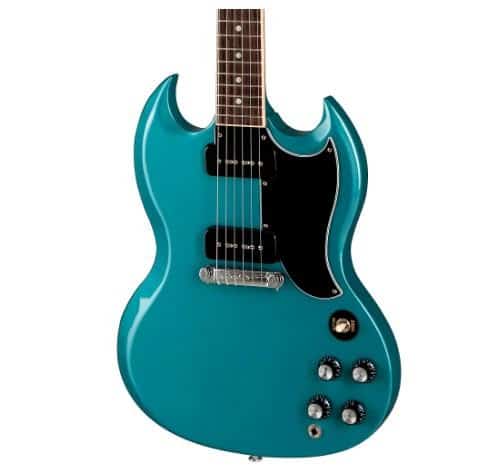 Latest posts by Jodie Chiffey
(see all)