Ever since 1952, the Les Paul has been Gibson's flagship electric guitar. Loved by both professional and amateur musicians, the world over this legend has been reinvented time and again, each with slight tweaks to the winning formula. We'll be focusing on two of their most popular models here and answering the question; Les Paul Studio vs Standard. Which one is right for you?
Gibson releases an updated version almost every year with several models for guitarists to try and choose from. The two that we're examining today have proven to be some of the best since their initial release in the mid 20th century.
The question on many a musician's lips is which one of these suits them. After all, if you're looking at a Les Paul, you're spending a pretty hefty sum of money – it's essential to get it right.
Each comes with different features, from the pickups to the body, and they both come in at various price points. In this feature, we're going to compare the two side by side, take a look at some potential competitors, answer some of the most frequently asked questions about Les Paul and finally give our thoughts on who each model will suit them best.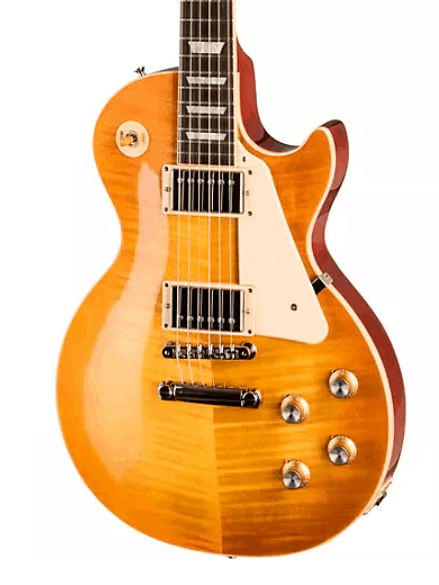 Gibson Les Paul Standard '60s Electric Guitar | Guitar Center
It features a solid mahogany body with an AA figured maple top; the mahogany neck has a '60s-style SlimTaper profile. Loaded with a calibrated pair of BurstBucker 61 pickups and hand-wired controls, it's got a huge voice that's always ready to rock.
Check price
Buy at Reverb
We earn a commission if you click this link and make a purchase at no additional cost to you.
But first, let's take a look at the main differences between the two.
Main Differences Between the Les Paul Studio and the Les Paul Standard
The main differences between the Les Paul Studio vs Standard are:
The Les Paul Standard features Burstbucker Pro Rhythm pickups, whereas the Les Paul Studio features a pair of 1957 classics.
The Standard version benefits from an internal DIP switch, giving the player a huge variety of tone options, whereas tones are more limited with the Studio.
The Les Paul Standard's neck is asymmetrical with a slim taper, whereas the channel on the studio model is a slight taper with a 12-inch fingerboard radius.
The tuners are different, with the Studio model sporting Grover Kidney tuners, whereas the Standard one uses Locking Grove ones.
There are also many critical similarities between the two. For example, they both feature coil-taps in the pickups, both benefit from an ultra-modern and lightweight body, both have cryogenically treated frets, and above all are both excellent guitars.
Key Specifications
Exploring the Features of Both
Now that we've taken an overview of the main features and made a side-by-side comparison of both models, let's take a deeper look into the features of each and how they stack up against one another.
The studio version of the famous guitar is aimed at guitarists who want the sound and feel of the Gibson classic but who don't necessarily need the extra visual features or added extras. This essentially translates to the studio model being akin to a 'slimmed down' version or a more entry-level product. That being said, this is still a Gibson Les Paul, and the price reflects that.
Les Paul Studio Key Features
Priced much lower than the standard model
Modern weight-saving technology used to improve playability
About 1/4-inch thinner than the Standard
Slim-tapered neck profile
Build
The guitar features solid Mahogany throughout with the inclusion of Maple for the top wood. These are premium materials and the look, feel, and sound is where you would expect them to be as a result.
Using Gibson's renowned 'ultra-modernization' process, weight has been stripped away from the solid body, creating a much better playing experience. The weight reduction means you can play for much longer when performing stood up.
The Maple included on the top of the instrument adds a rustic element to the overall aesthetics and generally appeals to those who like an understated guitar.
The neck on the Les Paul Studio encompasses a slim-taper profile that is perfectly suited to the modern guitarist searching for the right balance between comfort and speed whilst playing.
Sound
When it comes to the overall sound and tone, they are very close to what you can get from the Standard version. As you would expect from a Gibson, this guitar performs very well sonically and the only differences between the two come when you look for a slightly darker edge to your play.
The sound of the Studio is rounded out slightly due in part to the lack of a Maple cap. Although there is an audible difference between the two, it is not necessarily a negative, just a distinct difference that any potential suitors should be aware of.
Pickups
The pickups are an essential part of any guitar, and the Les Paul Studio is no different. The two models come with varying pickups as standard, and although they are, of course, interchangeable, it pays to be aware of each before you buy. Upgrading can be an expensive job!
The pickups featured on the Studio version are a pair of high-powered '57 classic humbuckers that are great at delivering the iconic Les Paul tone. These vintage-voiced PAF units deliver a beautiful sound and feature a coil tap circuit on both. This is controlled by a pull/push setting on the tone dials and, once activated, gives the humbuckers a sound more akin to that of a single-coil model.
The standard version of the classic instrument is what many would consider being the real deal. Featuring all of the original design elements that helped make its name, the Les Paul Standard is regarded by many as the perfect balance between classic engineering and modern playability.
There are two versions of the standard model to choose from, with the Les Paul Standard '50s and the Les Paul Standard '60s currently available. They have different characteristics and are aimed at Gibson fans who want slightly other things from their flagship model.
Price-wise, both standard models sit in a much higher bracket than the studio version, but you do get the complete package for that. Let's have a closer look at the specifics of the Les Paul Standard's key features.
Les Paul Standard Key Features
The classic Les Paul, including all additional features
No weight reduction
Available as either the 1950s or 1960s version
Premium Gibson pickups used
Asymmetrical-taper neck profile
Maple tope AAA frame (the 1960s)
Build
The Standard '50s is as true to the original design as it is possible to get. With that said, it features none of the modern weight-saving technology you'll find in the studio version, meaning this is one o the heaviest guitars that Gibson produces.
The neck is also fully rounded, again adding to its vintage feel. This fully round neck means it feels pretty substantial whilst playing, something that may not suit all types of players.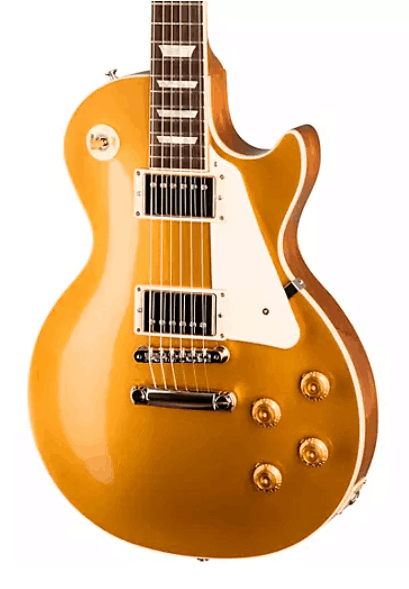 Gibson Les Paul Standard '50s Electric Guitar | Guitar Center
Returning to the roots of a classic, this Les Paul Standard '50s oozes authenticity and serves as a reminder of Gibson's history of innovation. The traditional figured maple on mahogany construction and '50s neck profile bear a gorgeous nitro-lacquer finish for that legendary look.
Check price
We earn a commission if you click this link and make a purchase at no additional cost to you.
As you might well imagine, the '60s Standard model also features many design elements that hark back to a golden age for electric guitar music, including the lack of weight reduction we also find in the '50s model. This keeps the sound and tonal output within the same realm of the Standard '50s but a few minor advances in technology have also crept into the design.
Some of the most notable of these changes are a three-dimensional AA figured Maple top and a much slender neck profile that just enhances the playability somewhat.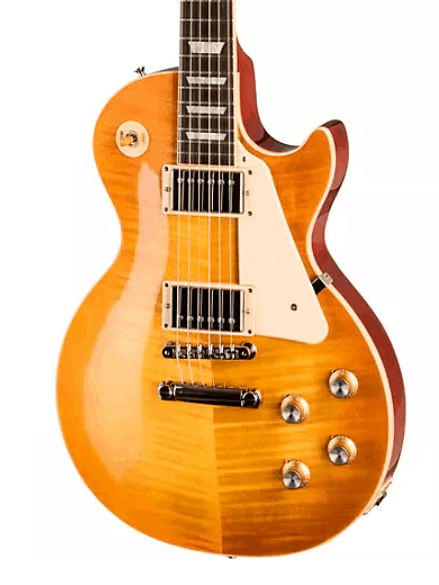 Gibson Les Paul Standard '60s Electric Guitar | Guitar Center
It features a solid mahogany body with an AA figured maple top; the mahogany neck has a '60s-style SlimTaper profile. Loaded with a calibrated pair of BurstBucker 61 pickups and hand-wired controls, it's got a huge voice that's always ready to rock.
Check price
Buy at Reverb
We earn a commission if you click this link and make a purchase at no additional cost to you.
Sound
The '50s
Much like the build, the overall tone of the '50s standard Les Paul is as close to the original as it is possible to get. The lack of modern weight reduction results in what Gibson calls the full-fat experience. Perfect for purists, but if you like the playability that comes with modern technology then be wary here.
If the purest and richest Les Paul tones are what you need from your guitar then it's hard to overlook the '50s version. A deliciously warm mid-range is combined with creamy lows to produce what can only be described as one hell of a playing experience.
The '60s
The lack of weight reduction is yet again key to the sound. Much like the '50s model you can expect to get the classic Gibson tones that many enthusiasts will be after.
Where the '50s Les Paul delivers unmistakably warm and creamy notes, with the '60s version you can expect to achieve much brighter tones with a far more pronounced attack. These differences in sound coupled with the variations in feel make the two totally distinct whilst undeniably brilliant.
Pickups
The '50s
The pickups are another design area that set the two apart both physically and tonally. Burstbucker one and twos feature in the neck and bridge respectively and help to bring through an older feel to that of either the '60s version or the Studio model.
A PAF design that incorporates Alnico II magnets helps to deliver a nostalgic tone that is both airy and full-bodied. Every minute detail and subtle nuance is picked up on and compliments the vast majority of playing styles well. It's also worth mentioning that they are also known to excel with both distortion and overdrive, helping to pronounce your mids, even in a busy mix.
The '60s
On the other hand, the '60s model features Burstbucker 61T and 61R humbuckers across the bridge and neck. Much like what we see on the 50s Les Paul, they are PAF design with Alnico V batteries that help to deliver the unmistakable tones of a 1960s Gibson. We found that these things add a layer of upper mid-range bite to your sound.
Les Paul Studio vs Standard Pros and Cons
Les Paul Studio
Pros
Looks and feels like a classic Les Paul
Lightweight for performing stood up
Great sound at a fraction of the cost of the standard version
Solid build
High-powered '57 humbuckers are a great set of pickups
Cons
Les Paul purists may not like the changes
Doesn't include all of the cosmetic features that come with the standard
C grade Maple wood top
No option for different neck profiles
Les Paul Standard
Pros
Classic looks
Famous Les Paul tones
Highly versatile
A Short scales length leads to easy bending
Incredible craftsmanship and high-quality materials used in its construction
Cons
The price point is high
Very heavy
Lack of Tremolo
Set neck (hard to fix if damaged)
Are There Any Alternatives?
Here we'll take a closer look at alternative guitars on the market. There are plenty to chose from but only a very few and rival the classic Les Paul.
Owned by Gibson, Epiphone has a penchant for making excellent guitars at a lower cost than that of many leading brands. They perhaps have an unfair advantage over most when making models to rival the Les Paul and their attempt here is pretty impressive.
Previously, many fans of the Epiphone Les Paul have had to settle for mediocre electronics and other issues. However, with this iteration of the Les Paul, Epiphone has come closest to recreating the look and feel of a Gibson.
At a lower price than even the Studio model, this guitar is sure to appeal to many musicians both beginner and advanced. With the newly re-designed pickups, this instrument should be on the list of guitars to check out for anyone in the market.
You can check out our full comparison between the Gibson and Epiphone Les Pauls here.
The EC-1000 is a great guitar in its own right and is perfect for styles like rock and metal. They have built on the concepts behind the original Les Paul and put a modern twist on the design. A single-cut guitar with cool features like EMG pickups makes this an impressive alternative, especially given its price.
ESP is well-known for building and designing custom instruments for professional musicians across the globe. If you're worried about purchasing an inferior quality product then fear not, ESP only deals in the best.
There are, however, some significant differences between the EC-1000 and the Les Paul. for example, you won't be seeing the beautifully carved Maple cap here and you'll be playing with 24 frets as opposed to 22. You do get some bonuses though. If you like tremolo you'll be pleased to know the EC-100 is available with Floyd Rose tremolos if needed.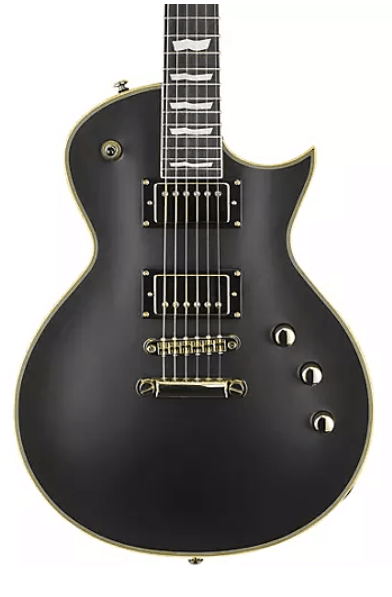 Frequently Asked Questions
There plenty of questions we hear often about these two models and the differences between them. Here, we'll attempt to answer some of the most common ones.
Question: Does a Les Paul Studio Sound Like a Standard?
Answer: Similar, but not the same. They do have a noticeable difference in tone that is mainly down to the materials with which they are constructed. The standard features the original solid body that comes with some serious weight but also allows for the authentic Les Paul sound.

On the other hand, the Studio model has a slimmer body that weighs much less, meaning the tone changes slightly and is more suited to the upper mids.
Question: Is the Les Paul a Good Beginner Guitar?
Answer: The Gibson Les Paul is often regarded as a purist's guitar. If you opt for the standard version you sacrifice a lot of modern playability for the classic Gibson tones. This means they are not the most ideal instruments for beginners.

The Studio, on the other hand, is a much better option. With its superior maneuverability, beginners will be able to get to grips with it much quicker.
Our Verdict: Which Les Paul Model is Best For You?
There is no right or wrong answer here, only preference. If you are a guitar purist then you have no option than to opt for the Les Paul Standard. You'll be in your element and safe in the knowledge that you own one of the most well-known and well-loved guitars of all time (if the price doesn't put you off too much!).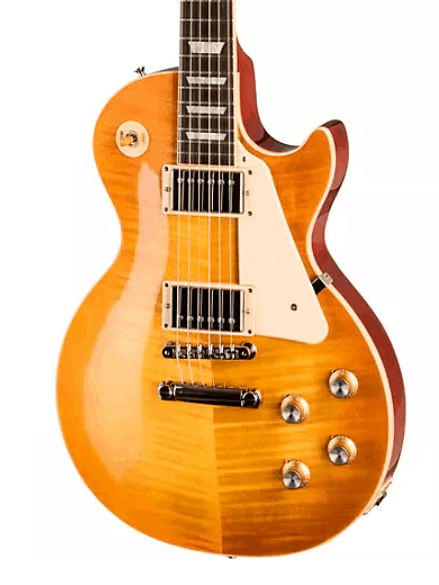 Gibson Les Paul Standard '60s Electric Guitar | Guitar Center
It features a solid mahogany body with an AA figured maple top; the mahogany neck has a '60s-style SlimTaper profile. Loaded with a calibrated pair of BurstBucker 61 pickups and hand-wired controls, it's got a huge voice that's always ready to rock.
Check price
Buy at Reverb
We earn a commission if you click this link and make a purchase at no additional cost to you.
If, however, you appreciate the benefits of modern tech then you may well prefer the Les Paul Studio. A much more player-friendly model that sacrifices only a little of the classic Les Paul charm. If a slightly more lightweight (both physically and financially) option sounds good then this is the guitar for you.
Jodie is a trained classical guitarist. She is also a full-time blogger and loves to write about different types of guitars. Just give her 60 seconds of your time, and she'll tell you all that you need to know about any guitar of your choice.