The electric guitar you have comes with a built-in pickup that is largely responsible for its sound. Hence, the choice between BurstBucker vs 57 Classic pickups comes down to how you want your instrument to sound.
Also, changing a guitar's pickup is a highly technical process that can be overwhelming for anyone who doesn't feel comfortable with soldering wires. You should keep in mind that electric guitars are not compatible with all pickups that are available on the market.
So, there is a chance that BurstBucker or 57 Classic pickups won't fit your instrument even if you have a Gibson Les Paul guitar.
This BurstBucker vs 57 Classic comparison will help you determine which of these pickups is better suited for the genre of music you want to play and if you can use it with the electric guitar model you have.
Main Differences Between BurstBucker vs 57 Classic Pickups
The main differences between BurstBucker vs 57 Classic Pickups are:
57 Classic pickups are balanced, whereas BurstBucker pickups have unbalanced coils
57 Classic pickups utilize the Alnico II magnet, whereas some BurstBucker pickups are equipped with the Alnico V magnet
57 Classic pickups have three versions, whereas BurstBucker pickups are available in four different versions
57 Classic pickups are usually 'hotter' as they contain a large number of windings, whereas you can choose between under-wound and over-wound versions of BurstBucker pickups
57 Classic pickup is a great fit for the Gibson ES-335 Dot Graphite, whereas BurstBucker is best suited for the Gibson Les Paul Modern Graphite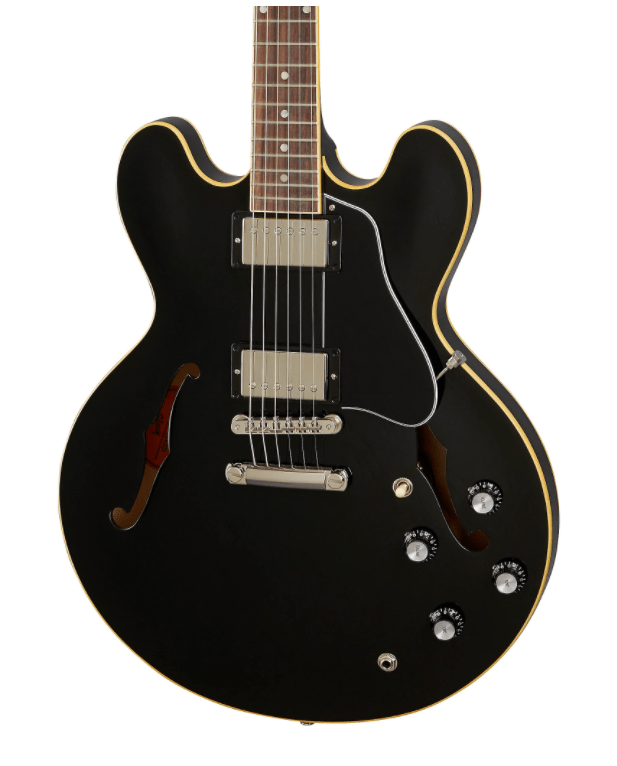 Key specifications
| | | |
| --- | --- | --- |
| | BurstBucker | 57 Classic |
| Output | 8.3 ohm | 7.5 ohm |
| Position | Both | Both |
| Wiring | 2-Conductor unbalanced | 2-Conductor balanced |
| Magnet | Alnico II, Alnico V | Alnico II |
| Dimensions | 2.75 x 1.5 x 1.06 inches | 2.75 x 1.5 x 1.06 inches |
| Warranty | Limited lifetime warranty | Limited lifetime warranty |
| Latest price | Check latest price here | Check latest price here |
BurstBucker vs 57 Classic feature comparison
Let's take a closer look at the features of BurstBucker and 57 Classic features
BurstBucker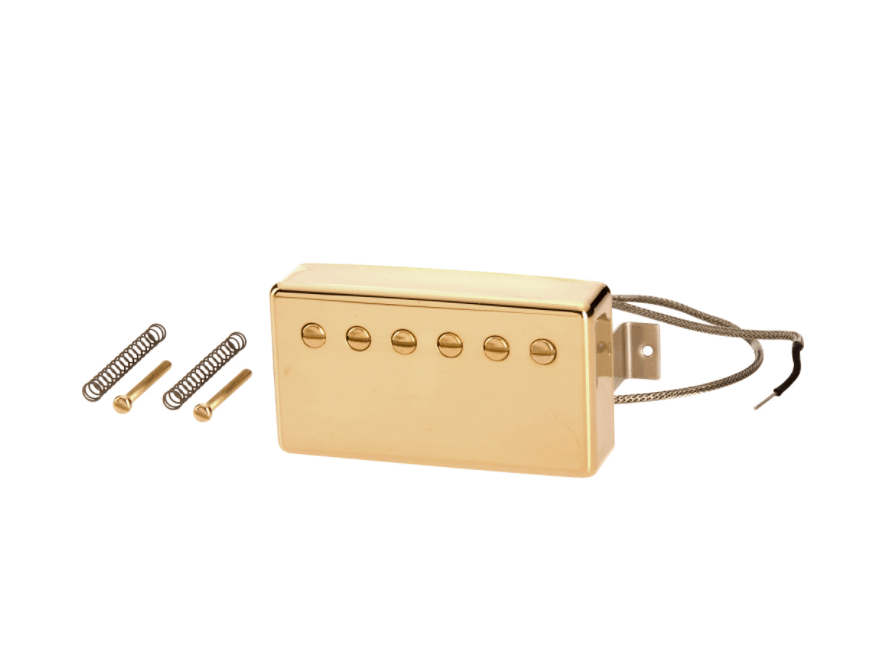 Gibson Burstbucker Pro Bridge Humbucker Pickup | Guitar Center
The BurstBucker Pro's characteristic sweet harmonic complexity and crystalline clarity derive from its slightly unmatched bobbin windings. Alnico V magnets are used in place of the traditional Alnico IIs, yielding fatter, meatier tone with more drive and attack.
Check price
We earn a commission if you make a purchase, at no additional cost to you.
Gibson Les Paul Standard is probably the most famous electric guitar model that is fitted with BurstBucker pickups. However, you should keep in mind that the manufacturer offers four variants of these pickups that have different tonal qualities.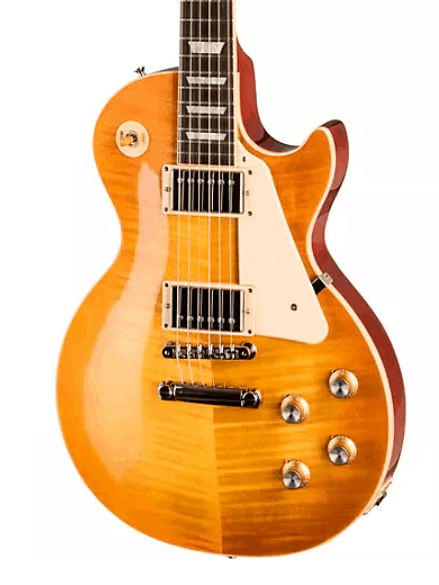 The BurstBucker pickups were created with the aim of replicating the sound of Gibson's original PAF (Patent Applied For) pickup that revolutionized the sound of modern music.
Consequently, either of the four BurstBucker versions generates characteristically vintage sound exploited by blues and early Rock n' Roll musicians.
Although it is nearly impossible to differentiate between different BurstBucker models by just looking at them, their sound properties are not the same. Furthermore, the maximum output of the BurstBucker pickups varies from 6.5 to 8.4 ohm.
Also, these pickups can be used on the bridge and neck positions but you must check if the model you're interested in fits your guitar's neck or bridge before you purchase it.
Key features
Unbalanced 2-Conductor wiring
Alnico II or Alnico V magnets
The maximum output varies between 6.5 and 8.4 ohm
Height adjustment screws
Universal dimensions of 2.75 x 1.5 x 1.06 inches
Available in four different finishes
Suitable for bridge and neck positions
Overall design
Gibson offers BurstBucker 1, 2, and 3 pickups that are designed to fit both traditional and standard Les Paul guitars. The dimensions of these humbucking pickups are identical, as well as their construction.
Like all humbucker pickups, the BurstBucker 1, 2, and 3 models utilize a two-coil design to eliminate the electromagnetic interference that causes the humming of guitars.
Gibson Burstbucker Type 2 Humbucker PickupDouble | Reverb
The Burstbucker Type 2 humbucker is wound in the range of Gibson's '57 Classic for replica sound. Unpolished magnets and non-potted coils, just like the original. Slightly hotter than the BurstBucker 1, the 2 works well in the bridge position with a BurstBucker 1 in the neck position.
Check price
Buy at Sweetwater
We earn a commission if you make a purchase, at no additional cost to you.
Besides the BurstBucker 1, 2, and 3 models, the manufacturer also offers the BurstBucker Pro version of these pickups that has a higher output and it's better suited for hard rock musicians than the 1, 2, and 3 models.
There are four different finishes available for either version of BurstBucker pickups, and you can choose between Nickel, Gold, Double Black, and Zebra options. The string spacing on these pickups is standard and it matches the string spacing on most Les Paul guitars.
Sound
The sound properties of a pickup are determined by the number of coil windings and the magnet types a particular pickup model is using. The BurstBucker 1,2 and 3 pickups utilize the same Alnico II magnets that give the instrument a warm tone that is characterized by smooth highs.
The BurstBucker Pro model is equipped with Alnico V magnets that produce bright tones and add the extra treble to keep the sound clear. All BurstBucker models have an unbalanced 2-Conductor design, which means that the number of windings on the coils is not the same.
For instance, the BurstBucker 1 is under-wound which influences its sound but not enough to make it sound considerably different than the original PAF. On the other hand, the BurstBucker 3 is over-wound which increases its output while retaining the classic PAF sound.
The sound differences between BurstBucker pickup models make them better suited for different genres of music, but you can use either of these pickups to play anything from jazz and blues to hard rock.
Other noteworthy features
Replacing a pickup on your Les Paul guitar isn't necessarily a simple process. In fact, you shouldn't install a new pickup on your own unless you're absolutely certain that you know how to complete each step of this process.
The manufacturer has made the pickup replacement process a little easier since all BurstBucker models come with a wiring diagram that shows you how to connect the pickup to the guitar.
It is also worth noting that replacing a pickup on your Les Paul guitar is only advisable if you want to change the way the instrument sounds since nearly all Gibson's models come with high-quality pickups that define the guitar's sound.
Reliability
The BurstBucker pickups are designed with durability in mind and you can use them for years without replacing them. Gibson offers a limited lifetime warranty for all their pickup models so in case any of their components malfunctions you will be able to replace your pickup for free.
In addition, only inexpensive guitars are equipped with low-quality pickups, so if you have a Gibson Les Paul Classic or Standard guitar chances are that you already have an excellent pickup.
So, getting a new BurstBucker pickup only makes sense if you have a low-end guitar you would like to upgrade.
57 Classic
The name of this pickup refers to the year when Gibson Company first started using PAF pickups on their electric guitars. Like the BurstBucker, the 57 Classic pickups are designed to replicate the sound produced by PAF pickups that were featured on Goldtop and Custom Les Paul guitars between 1957 and 1960.
There are two versions of 57 Classic pickups and you can choose Standard and Plus options that have almost identical features. You should also keep in mind that Gibson offers the 57 Classic Standard pickups with either two or four coils.
The four-coil version offers more sound options and allows you to split coils to modify the instrument's sound as you see fit.
The output of these pickups is identical to the output of the BurstBucker 2 and 3 pickups, while their sound properties are so similar that even trained musicians may have a tough time differentiating between them.
Key features
Balanced 2 or 4 coil design
Alnico II magnet
Maximum output between 7.5 and 8.3 ohm
Available in four different finishes
Universal dimensions of 2.75 x 1.5 x 1.06 inches
Suitable for neck and bridge positions
1.97 pole piece
Overall design
All versions of the 57 Classic pickups are made to match the exact specifications of the first Gibson's PAFs that were introduced in the late 1950s.
These pickups look almost the same as the BurstBucker pickups and they share all of the most important features. Hence, the Alnico II magnets you can find on the BurstBucker 1,2, and 3 models are also used on all versions of the 57 Classic pickups.
However, unlike the BurstBucker pickups that always have a 2-Conductor design, the 57 Classic Standard pickups are available in 2-Coil and 4-Coil designs.
The dimensions of all 57 Classic pickups are the same as those on the BurstBucker model, but that doesn't necessarily mean that they are compatible with the same electric guitar models. Also, the same color options are available for both BurstBucker and 57 Classic models.
Sound
The sound of the 57 Classic Standard pickup is the most similar to the sound the BurstBucker 2 pickup produces. The reason for this is that both pickups have approximately the same number of coil windings, but the 57 Classic Standard has a balanced winding.
This means that both coils have the same number of windings, unlike the BurstBucker models that have a different number of windings on each coil. Like the original PAF pickups, the 57 classic pickups have nickel-plated pole pieces, nickel slugs, and maple spacers.
In addition, they are wax potted so that all air is removed, which eliminates the feedback. The output of these pickups depends on the model and it varies between 7.5 and 8.3 ohms, which ensures that you can use them to play Rock music.
Even so, the rich and warm sound of 57 Classic pickups best fits Blues and Jazz music genres, as it isn't aggressive enough to replicate the sound nourished by bands like Black Sabbath or Metallica.
Other noteworthy features
Installing the 57 Classic pickups on your guitar can get complicated even with the wiring diagram provided by the manufacturer, as you must know how to remove the pickup your guitar is already using.
That's why it is best to consult a professional if you want to upgrade your guitar's pickup as you might end up damaging the instrument if you're not careful. Also, you should check if the 57 Classic pickups are designed for neck, bridge, or both positions.
All 57 Classic pickup models come with height adjustment screws that enable you to decide how high the pickup on your guitar is going to be.
Reliability
Like all the humbucker pickups produced by Gibson, the 57 Classic pickups are capable of remarkable performances. Their high-quality features enable you to install them on professional instruments you're using during studio sessions or live performances.
You will get a limited lifetime warranty if you opt for any of the 57 Classic pickup models that cover almost all defects that can occur over time. However, it is important to check which electric guitars are compatible with these pickups before you decide to purchase any of the available models.
BurstBucker vs 57 Classic – Pros and Cons
BurstBucker
Pros
Replicates the distinctive sound of Gibson's PAF pickups
Under-wound and over-wound models are available
Suitable for different genres of music
Moderately priced
Cons
BurstBucker pickups are not listed on Gibson's website
Complicated installation process
57 Classic
Pros
2-Coil and 4-Coil designs
Made to match the specifications of the original Gibson PAF pickup
Rich and warm sound
Long warranty period
Cons
Compatible with a limited number of guitars
Not suitable for all genres of music
The best alternatives to BurstBucker and 57 Classic pickups
One of the greatest challenges of choosing a new pickup for an electric guitar is that you cannot test its sound. The best you can do is to find out which pickups your favorite guitar players are using in order to get the idea of the sound a particular pickup model will deliver.
Besides the BurstBucker and 57 Classic pickups, Gibson offers several other pickup models, but you may not be able to use them if you don't own a Gibson guitar. That's why we selected a few of the best alternatives to BurstBucker and 57 Classic pickups, so let's take a look at what they have to offer.
In case you're looking for a pickup you can use to play Blues, Jazz, or Rock, you should consider getting the Seymour Duncan SHPG1B pickup.
The so-called Pearly Gates pickup is equipped with Alnico 2 magnets and they have a 4-Conductor design that allows you to modulate the sound of your instrument in accordance with your needs.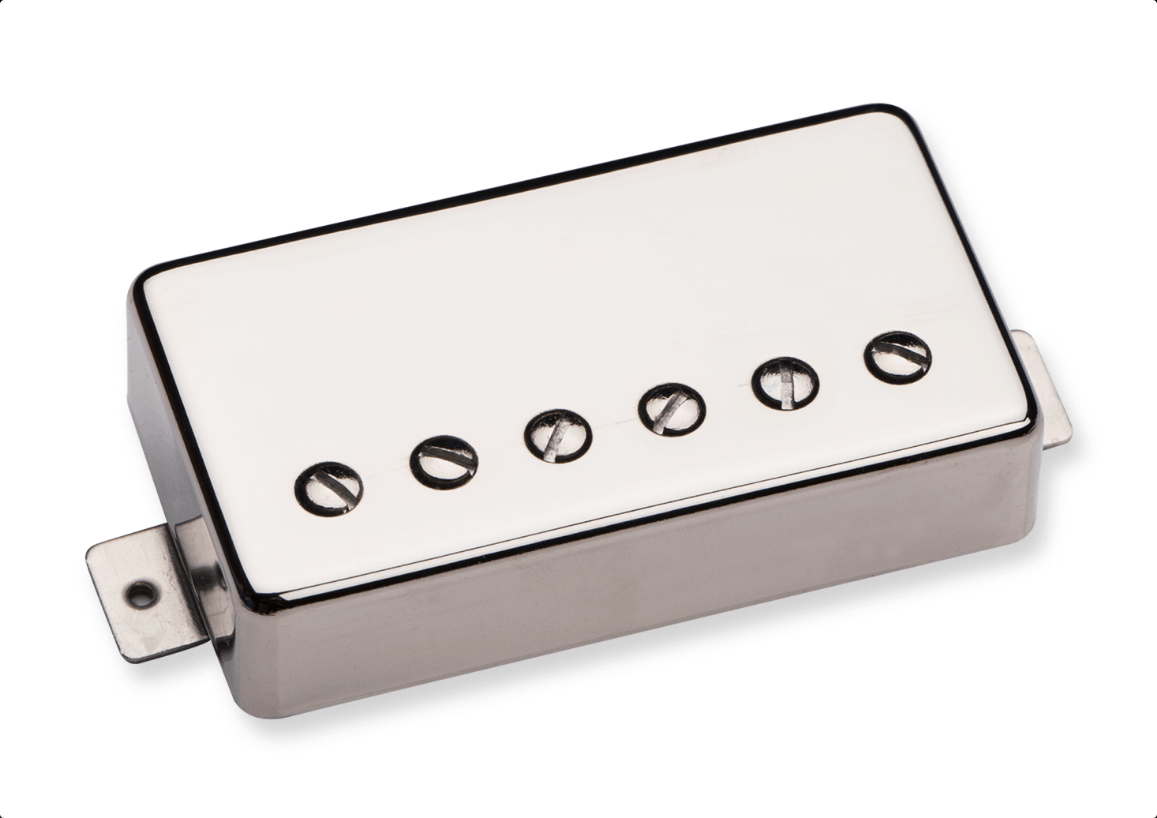 The output of this Seymour Duncan's model is 8.1 ohm, which is slightly less than what the BurstBuckel Pro or 57 Classic Plus pickups can offer. Also, the Pearly Gates pickup is less expensive than either of Gibson's models.
Guitar players who need a pickup set that is designed for more aggressive genres of music could benefit from getting the EMG James Hetfield Signature Guitar Pickup Set. This set includes both neck and bridge pickups that are equipped with C and C/S magnets.
These pickups are designed after the pickups the co-founder and lead singer of Metallica was using throughout his career so it is hardly surprising that they can generate clear sounds that are perfectly suited for metal riffs.
Also, the EMG developed a solderless system that simplifies the installation process and enables you to replace the pickups on your guitar faster.
Fans of Fender guitars who can't afford the brand's high-end models will love using the Fender Tex-Mex pickups, as they allow them to upgrade the sound properties of their low-end guitars. These single-coil pickups utilize Polysol-coated magnet wire and they have Alnico V magnets.
In addition, the Tex-Mex pickup utilizes the reverse-wound and reverse polarity to prevent humming and it has staggered pole pieces that balance out its output.
This Fender's pickup is going to make your instrument more versatile and allow you to play different genres of music while having to spend a fraction of the cost of the BurstBucker or 57 Classic pickups.
FAQ About BurstBucker and 57 Classic Pickups
Question: Should I replace my guitar's pickup with the BurstBucker pickup?
Answer: You can only install BurstBucker on guitars that are compatible with this pickup, and even if the electric guitar model is compatible with this pickup you should only replace the one you're already using if you want to change the sound of your instrument.
Question: How durable are BurstBucker pickups?
Answer: Once you install a BurstBucker pickup you will be able to continue using it for a long time. Its performance capabilities won't deteriorate over time, and you will get a constant sound quality from this pickup.
Question: Do 57 Classic pickups use Alnico V magnets?
Answer: All versions of 57 Classic pickups are equipped with Alnico II magnets that were used in the original design of the Gibson's PAF pickup.
Question: Are 57 Classic pickups expensive?
Answer: You will have to spend between $150 and $200 on the 57 Classic pickup model, which makes these pickups slightly more expensive than the models offered by their competitors.
The Verdict: Does BurstBucker Produce Better Sound Than 57 Classic Pickup?
The BurstBucker and 57 Classic pickups are created with the aim to recreate the sound of Gibson's PAF pickup that characterized the sound of Les Paul guitars that were released in the late 1950s and early 1960s.
All versions of these pickups deliver a unique vintage sound that shaped Blues, Jazz, and Rock music. Consequently, opting for either of these pickups only makes sense if you want to play some of these music genres.
Furthermore, their features and performance capabilities are nearly the same so you can hardly go wrong if you opt for any of the BurstBucker and 57 Classic pickup models. Also, these Gibson's pickups are similarly priced and your budget isn't really a factor that will help you choose one over the other.
Was this BurstBucker vs 57 Classic comparison useful? Let us know in the comments or continue reading about the best telecaster pickups.
Latest posts by Jodie Chiffey
(see all)