Fender vs Gibson is the classic never-ending clash between legendary guitar brands. Their Iconic design and tone are part of rock music and defined the sound of many genres.
Having owned and used many US models from both brands in the studio and live shows, I want to give an in-depth comparison that might help you decide which one is best for you.
My Bottom Line Up-Front:
If you want the freedom of having an easy-to-play guitar that sits in the warm midrange and can go from jazzy to dark and super aggressive, a Gibson is a perfect guitar.
A Fender guitar is a great choice if you are into any kind of music that does not require high gain. Fenders are extremely versatile guitars and won't have any difficulty adapting to anything as long as the single coils pickup can handle the gain level.
Remember that you could use both of them in the same situation and get a different yet overall great result.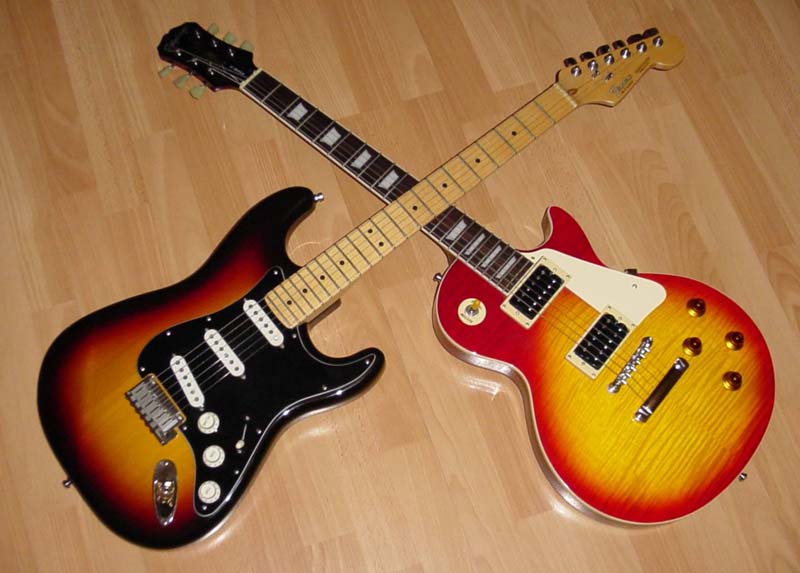 Main Differences Between Fender vs Gibson
The main differences between Fender vs Gibson are:
Fender electric guitars use mostly

single-coil

pickups, whereas Gibson guitars feature mostly Humbucker style pickups or similar ones such as P90s.

The brands' design is drastically different where the elements that stand out immediately are the body shapes, scale length, neck, and headstock.

The "Fender tone" generally refers to a bright, woody with lots of attack, whereas Gibson is mostly known for its guitar's warm tone.

Both guitars can be used in similar settings in blues and rock; however, Fenders are used more in modern music, country, funk, and overall where a lower gain brighter tone is needed, whereas Gibsons tend to be more friendly to high gain and are used more in hard rock. The warm tone makes them more friendly to jazz guitarists.

Fender uses lightweight Ash and Alder, while Gibson uses Mahogany, whereas Gibsons are generally heavier than Fenders due to the different tonewoods used in the build.

The shorter scale length and neck profile give both guitars a different feel where Gibsons are generally easier to play. This, however, depends mostly on the style and taste.

Fender has more affordable models in its main series of guitars, whereas

High-end Gibsons tend to be more expensive than Fenders
Why Should You Buy a Fender?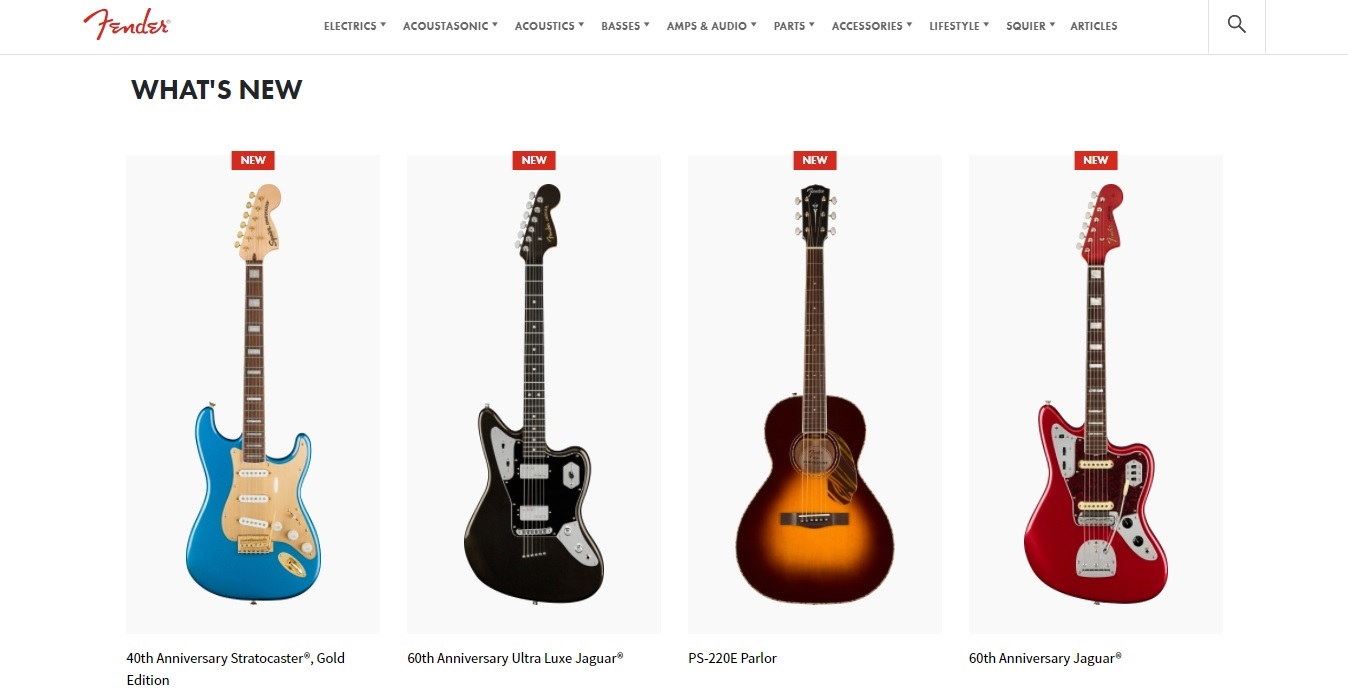 There is a vast selection of Fender guitars, from their beginner squire series to the Premium US-made Stratocaster. All of the models are mainly based on the two top sellers, the Stratocaster and Telecaster, and share the same bright tonal characteristics.
The one common trait of all Fenders that I believe beats Gibsons is Tuning Stability and Intonation. A well-set-up quality Gibson will stay in tune just a good Fender; however, the headstock design makes Strat a better build in this area.
Being lightweight, you can easily hold a Fender for hours and never feel the strain. Some guitarists like heavy guitar. In my case, I don't want to get tired while playing one and prefer lightweight ones.
The tremolo and 5-way switch on Strat makes the guitar super versatile and a staple for all working musicians to at least own one. The one quality that makes them the perfect studio guitar is how they cut through the mix. Because of this reason, the Telecaster is still the most recorded electric guitar in history.

Related read: Comprehensive Gibson vs Fender History Guide.
Another good reason to buy a Fender is how easy they are to customize. Being more affordable than Gibsons, you could buy a budget Stratocaster with a good neck and switch the pickups to quality ones.
Apart from the many reasons you have to buy a Fender, I have listed some of the cons you might encounter after owning a Strat or Tele for a long time.
Fender Guitars Cons
The single coils can't handle much gain and start to make noise

The guitars can get overly bright and sound tiny on the bridge pickup in some specific genres

The bolt-on neck design and low output pickups cause them to have less sustain
Why Should You Buy a Gibson?
The feeling of power when I first played an A power chord on a Gibson Les Paul through a high gain Marshall is forever a great memory I often recall.The main characteristic of all Gibsons is how they can easily go from mellow warm to bitting aggressively in high gains. The power and ease of playing that come with Gibson guitars are the main reasons I would suggest you buy one.
Humbuckers were invented to remove the "hum" when playing on high gain/volumes. With a quality Gibson, you will not have the issues single coils give and can switch from completely clean to heavy without getting too "squishy" or losing out note separation when playing distorted chords. This makes Gibsons just as versatile as Fenders but in their own way.
From my experience, tunning won't be an issue if you set up your Gibson correctly from a good luthier who knows what he is doing. The G string going out of tune more on Gibsons is not entirely false, but there are remedies to that.
However, you should know that in all old vintage Les Pauls from the 50s and parts of the 60s, the frets are in the wrong place! Sounds unbelievable, but it's true. Even a 100.000$ gold top Les Paul from the 50s can never be intonated perfectly as Gibson used the wrong measurement accidentally. However, it's not a significant error, and the guitars are still perfectly playable.
Not all Gibsos are heavy. The Gibson SG, the most sold model ever of the brand, is a lightweight guitar and as easy to play as a guitar can be. The short scale and ease of access to all the frets make this model one of the most playable guitars of all time.
Another aspect that makes Gibson a great brand is the versatility of their Pickup. If Fender's are limited to single-coils and some single-coil-looking EMG or humbucker, Gibsons have in their arsenal the historical P90s and many low output ones they use one jazz guitar.
Gibsons does way better than Fender when it comes to semi-hollow and hollow-body guitars offering many models and even legendary ones like the ES-335. The iconic Archtop design remains a favorite among jazz and blues players.
Using both an SG and Les Paul Custom for years, I also noticed some things I didn't like that I listed below.
Related: Comprehensive SG vs Les Paul Comparison.
Gibson guitars Cons
It's easier for Gibsons to be not intonated or go out of tune if not set up properly.

Generally, they are heavier and can tire out your shoulder if played daily on shows.

The weight and design make them more prone to neck and headstock damage

They are overly pricey, especially on vintage models

It's very easy to make a Gibson sound muddy if you are not careful
Can I Get a Fender Tone Using a Gibson and Vice-Versa?
Apart from stating the differences, you might already be familiar with; I want to add some personal insight into getting the most out of both brands.
You could use a Gibson guitar in the same situation where a Gibson would be considered better and get great results. You can for sure play in a rock band with a Stratocaster for a long as you don't need to go into very high gain amps. If you want to use a Strat still, you could use a Strat model with a humbucker on the bridge position and solve the issue.

A fender can have a very warm similar to the Gibson Les Paul if you play around with the EQ and tone knobs. Also, a Gibson can be used in a funk band and still get a bright, glassy percussive tone.
You can also use a Gibson in the studio and cut through the mix as a Fender would. You can adapt any guitar for modern genres if you EQ the low-mids out.
Keep in mind that most of the electric guitar's tone comes from its pickups, and playing around with different kinds can make a guitar go beyond its limits.
Models to Consider
The best models to consider from Fender and Gibson are the first of all the ones that fit your budget and playing style.
Their main line of instruments of both brands is US-made, and as such, it's quite expensive. Quality is guaranteed along with great conditions if you buy from trusted sellers. From Gibsons and Fenders, I'd suggest you purchase the following models from both the Mainline and budget alternative as I believe they better represent the brand.
The Stratocaster is the first image most nonguitarists have in mind when the world electric guitar is mentioned. Legends such as Jimi Hendrix, David Gilmour, Jeff Beck, and many others have this Iconic model so popular.

The Strat is probably the most versatile guitar model of all time that can serve for anything apart from playing heavy music.
Fender American Ultra Stratocaster | Sweetwater
Fender's high-performance iteration of the modern Stratocaster. It offers several upgrades over traditional designs, including Fender's latest Ultra Noiseless Vintage Strat pickups, a 10–14-inch compound radius fingerboard on an effortless Modern "D" neck, and S-1 switching to roll in fat neck tones on pickup positions 1 and 2.
Check Price
Buy directly at Fender
We earn a commission if you make a purchase, at no additional cost to you.

The player series is the Mexican-made modern counterpart of the American Strat. It still keeps the same tonal characteristics as the US-made one and it's great playability but at a lower price.
The main difference between this and the American Strat are the pickups, overall electronics, part of the tonewoods, and attention to detail. It still is a quality guitar fit for every intermediate player or anyone who wants to get started with a Fender.
Fender Player Stratocaster | Sweetwater
The Fender Stratocaster is considered by many guitarists at Sweetwater to be the classic solidbody electric guitar. Introduced in 1954, the Stratocaster has flaunted its svelte body curves, tonal dexterity, and expressive vibrato in the capable hands of guitarists cross-genre.
Check Price
Buy directly at Fender
We earn a commission if you make a purchase, at no additional cost to you.
The Les Paul Standard is the definition of what a rock sound is. Blues and rock legends have used Les Pauls Standard for its classic warm tone that can heavily distort with ease.

The most sought out replicas of a Les Paul standard come from the '50s and '60s due to the superb quality guitar of both decades. The only downside of a Les Paul Vintage replica or original is that it's very pricey.
Check out our Les Paul Standard vs Traditional Comparison.
Epiphone is Gibson's take to manufacture affordable instruments that stay true to their US-made counterparts in design and tone.
As with Fender's Player series or Squier, this branch of Gibson guitars is not made in the US and uses less expensive parts. This does not mean, however, that you get a low-quality Instrument. A fun fact you might not know is that Slash uses an Epiphone even though most claim he uses an expensive Gold Top Les Pauls.
There are also many other classic models from both brands you could consider buying, such as the Gibson SG, Fender Telecaster, or Les Paul Special
Other Guitar Brands to Consider
You should buy from a guitar brand primarily if you resonate with the music their instruments are associated with. If you are torn between Fender and Gibson, you could choose another premium brands that blend the best of both worlds!
A great example of that is PRS

; a high-quality builder founded when both Gibson and Fender were struggling to release quality instruments. Guitarists needed a change, and Paul Reed Smith answered with the best guitars in the market.





The PRS S2 Custom 24-08 Electric Guitar

is probably the best example of a quality PRS.
PRS also has an affordable series of instruments, making them similar to Fender and Gibson and accessible for all player levels.

Related read: PRS vs Gibson Comparison
Another modern alternative to Fender and Gibson is Suhr guitars. The brand produces some of the most versatile guitars that are fit for both modern guitarists and vintage tone lovers. I especially highlight how easy to play these instruments.
Their looks are very similar to Stratocasters, and their close tone has the same glassy vibrance. However, they do feature mostly humbuckers on the bridge, making Suhr guitars versatile for rock musicians/
Suhr Classic S Antique HSS | Reverb
Suhr / Classic S Antique HSS Rosewood Sonic Blue in used condition! This guitar has almost no signs of use, and is in such good condition that it can be said to be like new. The truss rod is in good playing condition. Please take a look at this opportunity.
Check Price
We earn a commission if you make a purchase, at no additional cost to you.
FAQ
Question: Who sells more guitars, Gibson or Fender?
Answer: If we don't consider the sub-brands, Fender is the biggest guitar seller as it offers more affordable Instruments.
Question: Why is Gibson expensive?
Answer: Gibsons are more expensive than Fenders due to a combination of brand value, quality tonewoods, expensive labor costs in the US, and the manufacturing process.
Question: Are Gibson or Fender acoustic guitars better?
Answer: Gibson acoustic guitars generally are more expensive and are considered high-end instruments. Fender makes some high-end acoustic, but most acoustics guitars they manufacture are affordable models.
Final Thoughts of Fender vs Gibson Brand Comparison
The main aspect you should ultimately consider when choosing between a Fender or Gibson is what feel and tone you are looking for.
No other guitar builder has contributed to the electric guitar's evolution as Fender and Gibson, and their reputation matches the quality. Both brands offer premium quality on the mainline and affordable options that stay true to the original.

If you have the budget and are an upper-intermediate or advanced player, I'd suggest you aim for the US version. If you are on a budget or need some more practice before jumping to an expensive instrument, the Epiphone, Squire, and 'Player' series might be the best alternatives.
Latest posts by Altin Gjoni
(see all)