The Gibson Les Paul is a classic guitar, and from shape to feel to tone the guitar embodies what an electric guitar should be. The guitar's tone is iconic, and popular rock from the '60s and onward is soaked in the big and bold tone of the Les Paul.
Both guitars are some of the most popular models in the Gibson range, and indeed, among Les Pauls in general.
The custom is older and more soaked in history, and Les Paul wanted to make a deluxe, premium version of the iconic guitar — and he succeeded. The Standard came along in the late '50s, almost ten years after the Custom was introduced.
With both guitars having such a long and iconic history, and a very similar appearance, what makes the custom worth paying the extra dough for?
In this article, we'll take a look at some of the main differences and try to parse out exactly what makes these guitars unique.
Bottom Line Up Front: These are both phenomenal (if expensive) guitars that anyone would be lucky to own. That said, the Gibson Custom (Sweetwater / Reverb) has all the little extras (custom "tulip" tuners, carved maple top, custom neck pickups) to make it live up to the billing.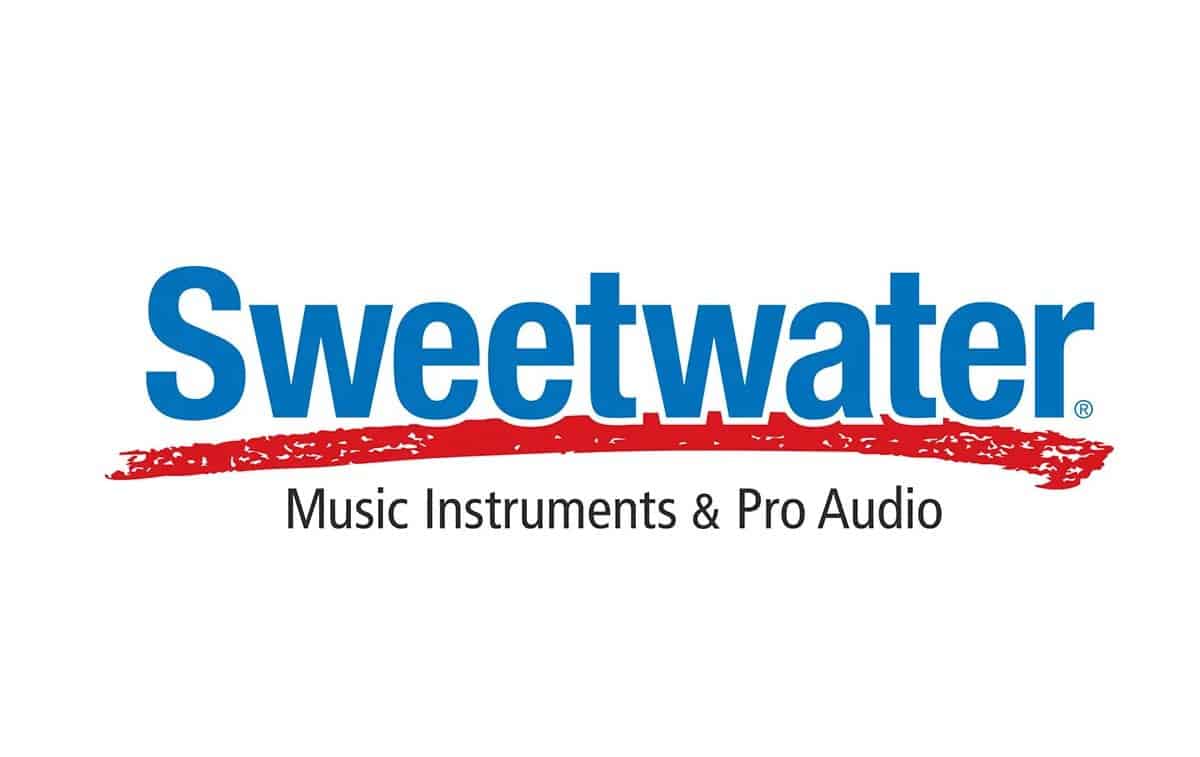 Main Differences Between Gibson Custom vs Gibson Standard
The main differences between the Gibson Custom vs Gibson Standard are:
Gibson Custom has a one-piece mahogany neck with an ebony fingerboard, whereas Gibson Standard has an asymmetrical slim-taper neck with a rosewood fingerboard featuring a compound radius.
Gibson Custom is loaded with slightly lower output 490R neck pickup with Alnico II magnet and 498T bridge pickup, whereas the Gibson Standard is fitted with fairly standard Burstbucker Pro bridge and neck pickups.
Gibson Custom has a solid mahogany body with hand carved maple top, whereas Gibson Standard has a one-piece mahogany body with a book-matched maple top.
Gibson Custom has metal "tulip" tuners, whereas Gibson Standard has to lock Grover tuners.
Gibson Custom has the traditional 9-hole weight relief and weighs a little over 9-pounds, whereas Gibson Standard has "ultra modern" weight relief and weighs around 8 pounds.
Iconic Pick
Many guitarists describe the Custom as a Standard dressed up in a tuxedo: it's a Standard with all the frills and extras you'd expect for the extra cash.
The main differentiator is in the name itself though: the Custom is crafted in Gibson's custom shop, largely by hand, and so will have the extra details and hand-crafted finesse that factory guitars are lacking. Although this is largely aesthetic, there are also some important details under the hood that make the Custom worth forking out the extra dollars.
Related: How to Find the Best Strings for Les Paul.
The Les Paul has not changed much since its inception in the early '50s, and aesthetically, a Les Paul from today is almost imperceptibly different from one made half a century ago.
The guitar has slowly evolved over time though, and Gibson has adapted the guitar to suit the needs of modern players. The neck profile is a lot thinner than the previous iterations; the guitar is a fair bit lighter due to the modern weight relief system and has it modernistic locking tuners.
The biggest difference is the pickups: they now feature a coil-splitting feature that allows you to turn your humbuckers into a single-coil for a thinner sound than Les Paul's have traditionally just not been capable of.
| | |
| --- | --- |
| Build | One-piece mahogany body, book-matched flame maple top, a set, one-piece mahogany neck, bound rosewood fingerboard, acrylic fretboard markers, 22-medium frets, Tektoid nut |
| Hardware | Locking Grover tuners, aluminum Tun-o-matic bridge, stopbar tailpiece |
| Tech | 2x Burstbucker Pro pickups, 2x push/pull volume and 2x push/pull tone controls, 3-way pickup selector |
| Weight | 8.37 pounds |
| Scale | 24.6-inches |
All in all, the Les Paul Standard is a great guitar, a classic and iconic axe that retains the aesthetics of all those that came before it, with a modern twist that caters to modern players.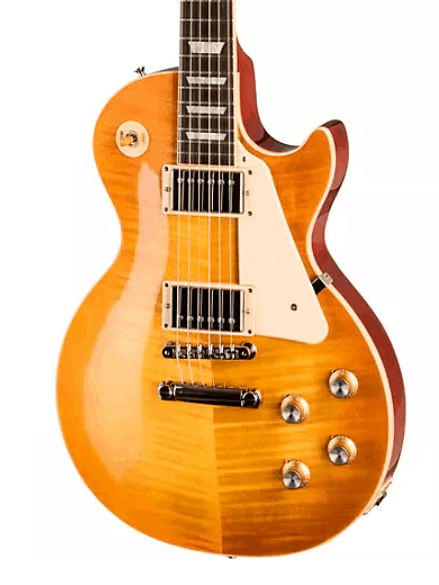 Les Paul wanted a guitar made that looked like it was wearing a tuxedo, and the Les Paul Custom was born. This guitar is about as good as a Gibson gets, with all the furnishings and small but beautiful trimmings that make it worth the extra money. It stays true to its heritage and has changed very little since its inception, but adds some unique features that are both eye-catching and iconic.
The Custom has a touch of class that the Standard lacks, including a 7-ply binding on the front and back that beautifully outlines the contours of the guitar.
It has a multi-bound headstock with the iconic diamond inlay — one of the most iconic and recognizable headstocks in the history of guitars. The Custom is largely handcrafted and finished and is made in a different factory than the standard too.
The Gibson Custom Shop is located in Nashville, where the guitars are made carefully by hand with a unique attention to detail, and this is a large part of what makes the Custom so much more expensive.
While both the Standard and Custom offer the player unrivaled sustain (the Les Paul basically invented it!), the Custom ekes out slightly ahead of the Standard due to its heavier body.
This of course makes an already heavy guitar even heavier by modern standards, although the tone is worth the back pain! The pickups are warm, thick, and full, and everything you'd expect from a Les Paul.
Iconic Pick
See how Gibson Les Paul Standard compares to Studio in our full comparison.
| | |
| --- | --- |
| Build | One-piece mahogany body, two-piece figured maple top, 7-ply binding, one-piece mahogany neck, 12-inch radius fretboard, 22-medium jumbo frets, nylon nut |
| Hardware | Classic Kluson "tulip" tuners, nickel bridge, aluminum tailpiece |
| Tech | 490R neck pickup with Alnico II magnet and 498T bridge pickup, 3-way pickup selector |
| Weight | 9.10 pounds |
| Scale | 24.75-inches |
What about Epiphones?
Epiphone was once a standalone company that made some great guitars but was bought out by Gibson in 1957. Epiphone was Gibson's main rival prior to this purchase, especially in the archtop market.
They have since been sister companies, with Epiphone making more affordable, consumer-friendly versions of classic Gibson models.
Epiphone makes its own versions of both the Les Paul Custom and the Standard, and upon the first appearance, these guitars are very similar to the Gibsons. The main aesthetic difference is the headstock: Epiphones have a more rounded wing-shaped headstock, whereas Gibson has the classic kicked up edges.
Epiphone Les Paul's are made for the mass consumer market, with the aim to be more affordable than their Gibson cousins.
As you'd expect, the materials used are not of the same caliber as the materials used in Gibsons. From the wood used to the pickups and hardware, all the components are made to be budget-friendly and affordable to everyone while retaining the classic Les Paul aesthetic.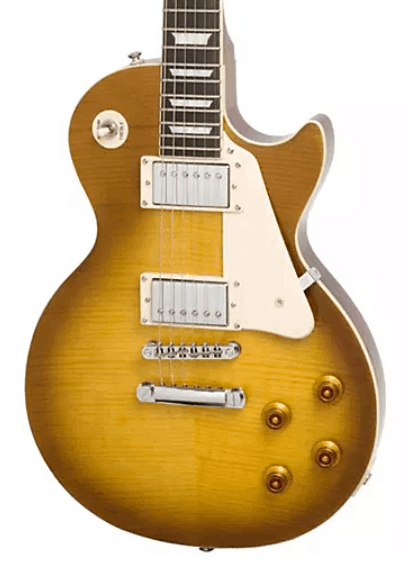 That being said, Epiphones are by no means "inferior" guitars — quite the contrary actually. They are still very capable instruments used by professional musicians the world over, including the likes of Gary Clark and Noel Gallagher. In fact, some players prefer Epiphones over Gibsons!
They are ideal guitars for working, traveling musicians as they are rugged and reliable, and, most importantly, fairly easy to replace. The road is hard on instruments, and it's far less of a bummer to break or lose an Epiphone than a Les Paul Custom!
One minor flaw concerning Epiphone Les Pauls that is worth pointing out is weight distribution: Epiphones tend to be unequally weighted toward the neck, causing them to annoyingly slide down while playing standing up.
While many Epiphone players complain about this, it doesn't seem to affect all of their guitars, and you may get lucky. Still, the issue is minor, and you'll swiftly get used to it.
Further Read: Epiphone Les Paul vs Squier Stratocaster Compared.
Why are Les Pauls so Expensive?
With Standard models fetching over $2000, and Customs ranging from $4000 and upward, buying a Les Paul can be prohibitively expensive.
Standards are made with superior wood, pickups, and construction techniques, and backed up by one of the best names in the industry and when you buy a Gibson, there is no doubt you are buying one of the best guitars money can buy.
Customs are the same, but with even more premium components and largely hand made, and buying a Custom is buying a piece of history.
Luckily, both guitars have excellent resale value. Customs especially will one day be worth more than you paid for them. Plus, you'll have the joy of playing one of the greatest electric guitars ever made!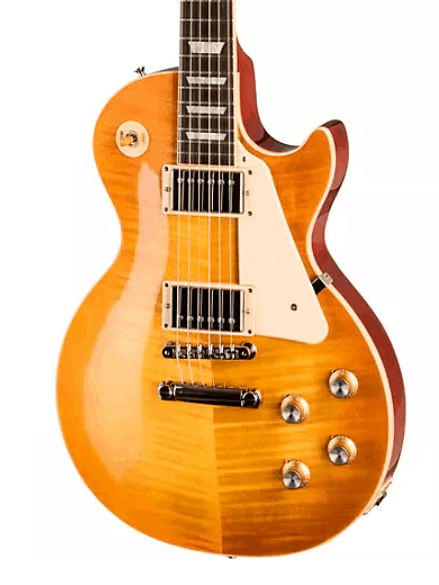 FAQs
Question: Are Les Paul customs worth it?
Answer: With the prohibitively high price of the Les Paul custom, you may ask yourself whether othe guitar is worth forking out upward of $4000 of your hard-earned cash. After all, this is almost half the price of a decent brand new vehicle, so is there a notable increase in tone and playability?
Well, it comes down to personal preference, but with a Custom, you are most definitely getting higher quality components like wood and pickups, assembled and built by hand by some of the best luthiers on the planet. Plus, they look and feel incredible, and it is arguably one of the best guitars money can buy.
Not only that, but Customs have fantastic resale value, and so you really are buying a long-term investment. For all these reasons, if you have extra money, a Les Paul Custom is most definitely worth the money in our humble opinion.
Question: Is Les Paul easier to play than a Stratocaster?
Answer: There has been an age-old battle between these two flagship guitars among players since their inception, and the Les Paul vs Stratocaster battle will likely always rage on.
However, there is no winner, nor will there ever be; both guitars are great, but each has its own unique sound and feel that appeal to different types of players. In terms of playability, a Les Paul does have a lower string tension overall than a Strat due to the shorter scale lenght, in theory making them easier to play on with the same gauge of strings.
Question: Why are Les Pauls so heavy?
Answer: Les Pauls are known to be back-breaking guitars, especially compared to the ultra-light Fender Stratocaster. But this is a huge part of what gives the guitar it's hefty unmistakable tonal qualities.
Les Pauls typically have mahogany slab bodies that are large and thick with a maple cap glued to the top, making them able to resonate and provide incredible tone but making them extremely heavy. Some models have cavities routed into the bodies to take off some of the weight, but of curse, this comes with a small sacrifice in tone too.
Final Thoughts Les Paul Standard vs Custom
Iconic Pick
Both of these iconic guitars from Gibson are powerhouses, and there is little to fault with either model (barring the back-breaking weight!). Owning a Les Paul is truly owning a piece of musical history, and you are playing the guitar that hundreds, if not thousands of popular music's most iconic songs were recorded on.
The Gibson Standard Les Paul is a capable, beautiful, and great sounding instrument that is worth every penny. The modern additions like the locking tuners, switchable pickups, and lighter body make subtle yet welcome additions to a classic design, and the guitar can hold its own with any other on the planet.
The Les Paul Custom is a collector's guitar. It has all the things that make a Les Paul so playable and is handmade and hand-finished by luthiers whose sole job is to make custom Gibsons, so you know you are getting one of the best Gibsons you could possibly own. Of course, these guitars are expensive, but they are an investment that your children's children could potentially benefit from.
If you have the money, the Les Paul Custom is an incredibly beautiful guitar, but the Standard is by no means a major downgrade!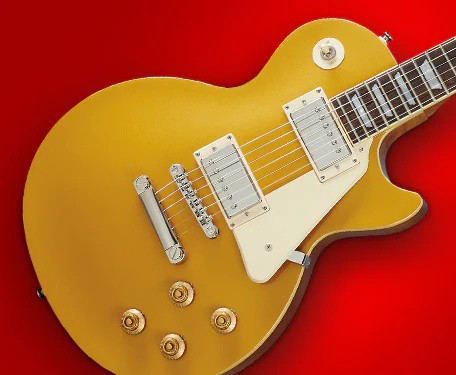 Read Next:
Latest posts by Kyle Baker
(see all)