Having your dominant hand be your left hand can be a bit difficult, but even more so in the guitar community. The majority of the guitars made in today's market are for right-handed players, but thankfully some companies are starting to get on board with making guitars for left-handed musicians. While most in-store options do offer a selection of left-handed musicians, online stores are going to have a more extensive choice than your typical in-store options.
Don't get me wrong, trying out an instrument in person before you commit to buying anything is the most important step to take when you're shopping for a guitar. But if you do a bit of research online and look around online stores, you will gather a better understanding of what left-handed guitars would work the best for you and your musical needs. We're here to help make the research process just a little bit easier on you!
How do you choose a left-handed guitar?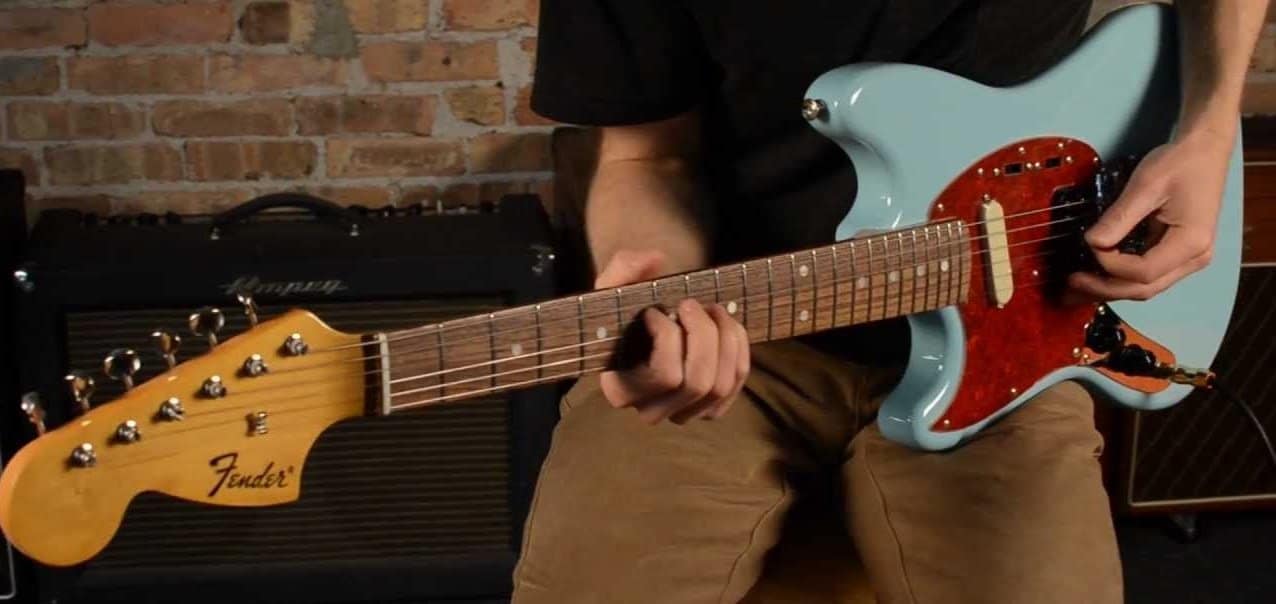 If you have never purchased a guitar before or you're shopping around for a musician that has never played guitar, you're going to want to figure out which way the musician is going to hold their instrument. For a left-handed guitarist, the right hand is going to be the one moving around on the fingerboard while their left will be picking and strumming over the sound hole.
You may end up choosing to go into a guitar shop to shop around for an instrument for a younger musician in your life, but be prepared that some of the guitar experts in the shop may try to push you into buying a right-handed guitar for your left-handed musician. This is because it's easier for young musicians to develop dexterity in both hands, but is a much more difficult task for older musicians to develop.
Don't let these experts push you (or your young musician) into trying to buy a right-handed guitar for your left-handed musician. There are plenty of famous musicians out there who fluently play the guitar with a dominant left hand, such as Paul McCartney, Jimi Hendrix, and Kurt Cobain.
You don't even necessarily have to buy a left-handed guitar! Other options include playing upside down, flipping a right-handed guitar, or also trying to learn a right-handed guitar. B.B King was a famous guitar player who had a dominant left-hand side but learned to play the guitar with his right.
Interesting Read: Comprehensive Guide to Kurt Cobain's Amp Settings.
What should you expect to spend?
You should expect to spend a little bit more on your guitar than you would if you were a right-handed player. This isn't going to be true for every left-handed guitar out there, but there is a lot more work that goes into producing a left-handed guitar than it does with a right-handed instrument. There are a lot of parts that have to be flipped or switch, not to mention that left-handed guitars just aren't as popular as right-handed guitars are.
There are a lot of high-end guitars on the market that can easily cost more than $2,000, so make sure that you start your search out with a budget in mind. You can buy a new guitar, a used guitar, or even a vintage model between $200 to $1,000 that will meet the needs of your average musician. Just know that you can produce outstanding sound without having to break the bank!
As a side note, if you are shopping around for a younger musician or a young adult, you may want to consider going with a ¾ guitar. These will be less expensive since they are a smaller size, which will be easy for a young adult or a child to play with.
What's the biggest challenge to learning to play the guitar with your left hand?
The biggest hurdle to get over is finding proper resources that will educate you on how to play the guitar with your left hand. Finding a guitar teacher that plays on his/her left hand is going to be extremely difficult to find, let alone if a left-handed teacher is in your budget. You could always buy books and lessons to learn off of, but most books and lessons are built for left-handed players.
It isn't impossible to teach yourself how to play guitar, but most chord diagrams and books are also made for right-handed musicians, meaning that you're going to have a tough time translating them from right hand to left hand, especially if you don't have any prior musical training. Don't worry; there is still hope!'
Thankfully, several online resources/classes have been built specifically for left-handed musicians. While these courses/classes/resources aren't exactly the most inviting pieces of information, you can still learn a lot by taking some time to read through all of the options left-handed musicians have available for them online!
Now, here are our selections for the best guitars for left-handed musicians!
Fender American Standard Stratocaster
The Fender Standard Stratocaster is the best-selling left-handed guitar on the market. Not only are musicians able to customize the look of their guitar by choosing from a selection of finish such as white, candy apple red, sunburst, and black, but the physical build of this instrument is also outstanding.
For the physical build of this guitar, the body is comprised of solid alder, while the fretboard is made from solid maple. The two kinds of wood together are lightweight (which is great for beginners), but also really help to create a full sound.
The body of this guitar is a double cutaway that has a thin gloss coating. The frets on this instrument are glossed with satin urethane that will not only encourage easy and smooth playing but will also help to prevent staining on the wood from your finger oils.
Another cool bonus that comes with the American Standard Strat is this model has a copper body-cavity shield that helps to remove unwanted feedback (that annoying buzzing sound that you often hear in cheap guitar models). Don't worry; this won't change your overall tone at all!
As for the neck of the Fender Standard Stratocaster, Fender rounded the neck to increase the versatility and comfort for all players. You will also find three Fender standard single coil pickups which are there to help balance the tone of the guitar, as well as aged plastic knobs, and a vintage-inspired tremolo bridge on this Strat.
While this guitar may be a bit of a bigger investment than other left-handed guitars in the market, the Fender American Standard Strat was built to grow with you and last through years of wear and tear. Not to mention that you're buying a guitar from a famous guitar manufacturer that is known to produce instruments that even the greatest guitarists that ever lived played.
If you're looking for a sturdy guitar to start off with as a beginning left-handed guitarist, the Fender Standard Stratocaster will be a sturdy and dependable instrument for you to use for years to come.
With all of that said, let's talk about some other amazing left-handed guitar models out there!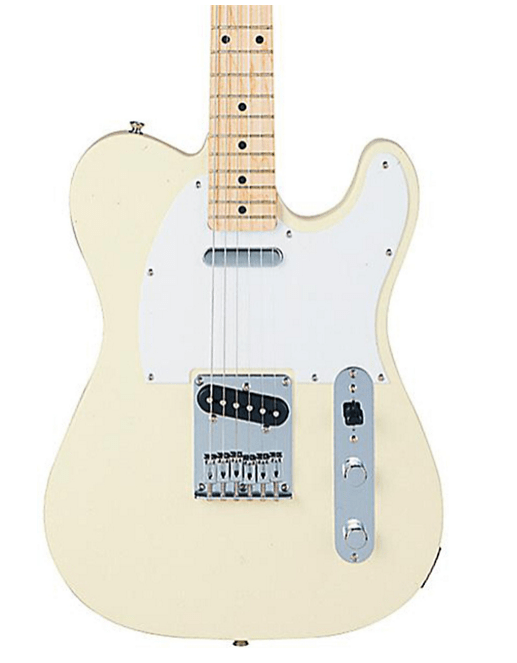 The Affinity Telecaster is a budget-friendly guitar that has been carefully crafted by Fender, which is one the world's most famous guitar manufacturers (and for a good reason). With a solid maple body, two single coil pickups, three-way pickup selectors, and a six-saddle bridge, this telecaster serves not only gorgeous looks but outstanding sound.
In case you were wondering what the differences between the Fender Telecaster and Fender Stratocaster are, the small differences in the placement of the knobs and pickups, as well as the body shape, and the difference in the pickups are the differences that define the Telecaster and Stratocaster.
While you may have heard a lot of beautiful things about the Fender Telecaster, you should always go into a store and try out a guitar, to make sure that it feels comfortable in your hands.
If you are someone that already has a lot of experience playing the guitar and are interested in upgrading your guitar into an intermediate or advanced instrument, this isn't going to be the guitar for you. The pickups in this guitar aren't of the highest quality, but this Telecaster certainly makes a wonderful guitar to start on!
Squier Affinity Series Telecaster Left-Handed Electric guitar | Guitar Center
This Tele features several player-friendly refinements such as a thin and lightweight body, a slim and comfortable "C" neck profile, a string-through-body bridge for optimal body resonance and sealed die-cast tuning machines with split shafts for smooth, accurate tuning and easy restringing.
Check Price
We earn a commission if you make a purchase, at no additional cost to you.
If you're in the market for a left-handed electric guitar, you've come to the right place! Ibanez has a mid-range left-handed electric guitar that makes this guitar perfect for beginning and intermediate musicians. Due to the physical appearance of this guitar, with the sharp pointed horns on the body of the instrument and the grain top, the Ibanez GRX70QA Electric Guitar is a popular electric guitar among a lot of heavy metal and rock musicians.
The physical build of the body of the guitar is made out of solid basswood, with a maple neck, a rosewood fingerboard, two humbucker pickups, and a single coil pickup. The reason this left-handed guitar sticks out from so many other ones on the market is mainly due to the tonal balance of this instrument, especially when compared against the tonal balance of other guitars in this same price range.
Ibanez GRX70QAL Left-Handed Electric Guitar | Guitar Center
The left-handed GRX70QAL matches classic good looks with the Ibanez eye for detail. Its poplar body is adorned with a handsome quilted maple art grain top and maple neck features a treated New Zealand pine fingerboard with white dot inlays.
Check Price
We earn a commission if you make a purchase, at no additional cost to you.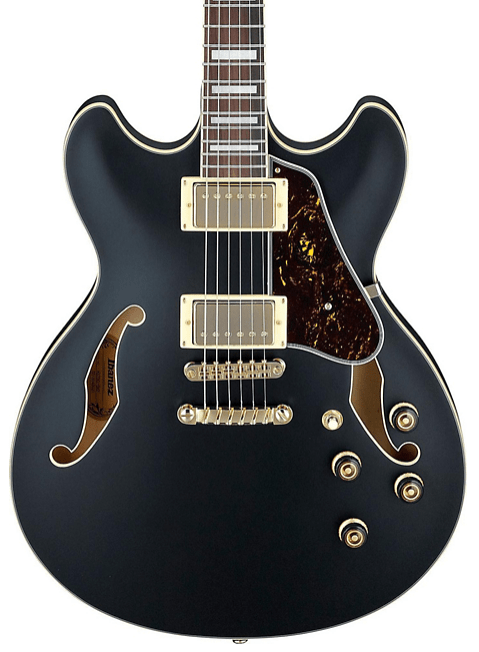 I had to make this list that included at least one acoustic guitar, so here we have the Ibanez Artcore. While this isn't an entirely acoustic guitar, this semi-hollow does provide more versatility than just your average acoustic guitar. This is because you play the AS73 just like a regular acoustic and it will sound like your average acoustic, but you can plug this guitar in and it will be amplified just like an electric guitar!
When plugged in, it will still sound just like an acoustic guitar, but it will be much, much louder (just like an electric guitar).
This semi-acoustic guitar sports a maple body, a mahogany neck, a bound rosewood fingerboard, pearl fretboard inlays, and F-holes. While this guitar does cost right around $500, but it produces beautifully rich tones and is a very responsive guitar that's hard to find on entry-level guitars.
Interesting Read: How to Find the Best Left Handed Acoustic Guitars.

The Epiphone Les Paul is another super famous guitar that also has left-handed options available! As for the physical build of this instrument, the Les Paul sports a mahogany body, a maple top, a rosewood fingerboard, and two Alnico Classic humbucker pickups. Combine all of these features and you've got an instrument that produces beautifully rounded tones!
The Epiphone Les Paul makes a wonderful alternative to the Gibson Les Paul if you're looking to stick to a budget, but still get a lot of the same features that come with the Gibson Les Paul. If you're an accessories junkie, a one really cool feature about the Epiphone Les Paul is that it comes with chrome accessories, a tune-o-matic stop tail bridge, and even a name brand tuner!
Epiphone Les Paul Standard 60s Left Handed | Guitar Center
This left-handed Gibson Les Paul Standard '60s electric guitar replicates the historic models adopted by some of the most legendary players of all time. It features a solid mahogany body with an AA figured maple top, and its mahogany neck has a '60s-style SlimTaper profile.
Buy at Amazon
Buy at Guitar Center
We earn a commission if you make a purchase, at no additional cost to you.
12/05/2023 07:56 am GMT
Conclusion
Being a left-handed guitarist isn't going to be easy, even after you've mastered your instrument. If you decide to play a lot of live venues, you're also going to have to pay attention to where you're positioning yourself on stage. You may also find that you have a problem finding a backup instrument or even problems finding a teacher or a guide to teach you how to play guitar as a leftie properly.
This doesn't mean that learning how to play the guitar as a left-handed user is impossible, it just means your journey is going to be a little more difficult than the average right-handed player!
Talking to as many left-handed guitarists as you possibly can really help to make your journey a lot easier, especially if you're just getting started with learning how to play! Also, don't forget to use as many online resources as you possibly can for lefties, as these will be the most affordable (most of the time free) resources available to you. Most importantly, don't give up if you get frustrated!
It's okay to take a break if you feel like you're struggling, but the only way you're going to beat your problem is by picking your instrument back up and working through your difficulties. Good luck and have fun, all of my leftie friends!
Latest posts by Alizabeth Swain
(see all)