David Gilmour is one of the most highly spoken of names in the guitar community, and it is safe to say that many people first picked up a guitar after listening to his fantastic playing in Pink Floyd records.
Gilmour was born in 1946 and joined Pink Floyd in 1967 as a replacement to Syd Barrett, who had just left the band. They produced and released some of the most influential albums in music, such as The Dark Side of the Moon (1973) and The Wall (1979).
His gear and sound have suffered numerous changes throughout his career. If you listen to a few different Pink Floyd albums or even his solo releases, you will notice that his tone changes frequently. David is known for mainly playing Stratocasters, but his rig was constantly changing: different pedals, amps, recording techniques, and much more.
This guide will show you the most essential elements of David Gilmour's gear so that you can figure out what you can change or add to your current setup to get closer to his sound if that is what you're going for.
Bear in mind that most of David Gilmour's gear when recording and playing live is vintage and not available to buy in any music store. However, many reissue models of guitars, amps, and pedals can get you very close to his sound.
5 Thing You Need to Know About David Gilmour
The Black Strat – David Gilmour's Main and Most Famous Guitar
"The Black Strat" is definitely David Gilmour's most famous guitar. It started off as a 1969 Fender Stratocaster that he purchased at Manny's Music in New York City in 1970.
This guitar can be heard on every single Pink Floyd record that came out between 1970 and 1983, and David played it on most of his tours with Pink Floyd and under his own name. This means you can hear it on Meddle, The Dark Side of the Moon, The Wall, Live at Pompeii, Wish You Were Here, and many more.
Aside from the numerous hardware modifications that will be discussed in detail soon, this guitar looked drastically different before. It originally had a sunburst finish, a rosewood fretboard, and a white pickguard.
It has undergone several changes, including a refinished black body, a maple fretboard, and a black pickguard, giving it the unique look that inspired its nickname.
By now, only a few minor things remain original on this guitar, like the pickup selector.
Here are a few more modifications this guitar has undergone through the years that are worth mentioning:
Even though this is probably David's most influential guitar, it wasn't always in his hands. It spent about 10 years in a display at the Hard Rock Café in Dallas, Texas. When he got it back, it was in terrible condition and had to be restored (the original tremolo was installed at this point, as well as a new neck from a 1957 Fender Vintage Reissue Stratocaster). The tremolo arm was also replaced by a shorter one at this point.
As for the strings, David will generally use GHS Boomers, and on his Stratocasters, the string gauge he prefers using is 010-012-016-028-038-048. Their classic roundwound strings feature a round core with a nickel-plated wrapping.
David has gone through phases where he used different guitars, such as the Candy Apple Stratocaster with EMG noiseless pickups and the 1957 Vintage Reissue. Still, this one is undoubtedly his most important instrument.
In 2019, Gilmour auctioned off a massive part of his guitar collection, and among those guitars, "The Black One" was sold for nearly 4 million dollars, making it one of the most expensive guitars ever sold. Sadly, it also means that we will probably never see and hear this guitar in David's hands again.
If you want to know everything there is to know about this guitar and the several phases it went through during its time in Gilmour's hands, there is an excellent book written by Phil Taylor, who was a technician for Pink Floyd and David Gilmour, which tells the fantastic story of this guitar from the perspective of someone who knows it as well as the player himself.
The Different Guitars Throughout David Gilmour's Career
Aside from the legendary Black Strat, David has used many other guitars featured on his records and live performances. Most of them are Stratocasters and Telecasters, but there are also others such as an exceptional Les Paul and a few acoustic guitars that he uses in certain songs like Wish You Were Here. This section will cover some of the most significant guitars that David has played on various occasions.
Many more guitars did not make the list, as it would be almost impossible to include them all.
1954 Fender Stratocaster #0001
This particular Fender Stratocaster is one of the most unique examples of this guitar in the world. Although Gilmour does not play it much due to its value, it is still worth mentioning it as it was associated with him for a long time. It was one of the guitars that was auctioned off in 2019 for $1.815.000.
Although this Stratocaster has the serial number #0001, it was not the first one ever made. The full details of this instrument aren't known, but it is speculated that it was made for display at a special event or for a Fender employee due to its finish and gold hardware.
Fender Vintage Series '57 Stratocaster with EMG SA Pickups
One of Gilmour's main guitars after he left Pink Floyd. It is a Candy Apple Red Stratocaster with a maple neck. David modified it by installing three EMG SA active pickups that were less noisy than the original single coils.
He bought this guitar when he got two others of the same model in 1984. However, the red one was undoubtedly the one he has used the most.
1955 Gibson Les Paul Goldtop
Even though David Gilmour is always associated with Stratocasters, he enjoys playing other guitars, such as his very special 1955 Goldtop.
This guitar is responsible for many of the sounds you can hear on the album "The Wall," including his legendary solo on "Another Brick in the Wall."
Many thought that the sound came from a Strat or a Tele, but it actually came from the 1955 Gibson Les Paul Goldtop with P-90 pickups.
1955 Fender Esquire
This guitar is probably David's most well-known Telecaster. It started as a Fender Esquire, which does not have a neck pickup, but he later modified it to include one.
It can be heard in songs such as Run Like Hell and Young Lust.
This guitar has some serious wear, and it was this beaten appearance that made Gilmour nickname it "The Workmate" since it looks like a working man's guitar.
Gibson J-200 Celebrity
At a certain point, David acquired three of these guitars and started using them on tour to play songs like "Wish You Were Here." He also has one constantly tuned in the DADGAD tuning to perform the song "Poles Apart."
Another couple of interesting acoustic guitars from Gilmour's collection are the Martin D-35 and Martin D-12-28 that were used to record songs like "Wish You Were Here" and "Shine On You Crazy Diamond."
The Amps Used by David Gilmour
While most of David's gear changed regularly during his time with Pink Floyd and as a solo artist, one piece did not suffer many changes: the amplifier. He mainly used the Hiwatt DR103 Custom Head for his studio recordings and live performances, but his setups included other amps as well.
This section will go over some of the most essential amplifiers that we have heard through Gilmour's legacy.
Hiwatt DR103 Custom Head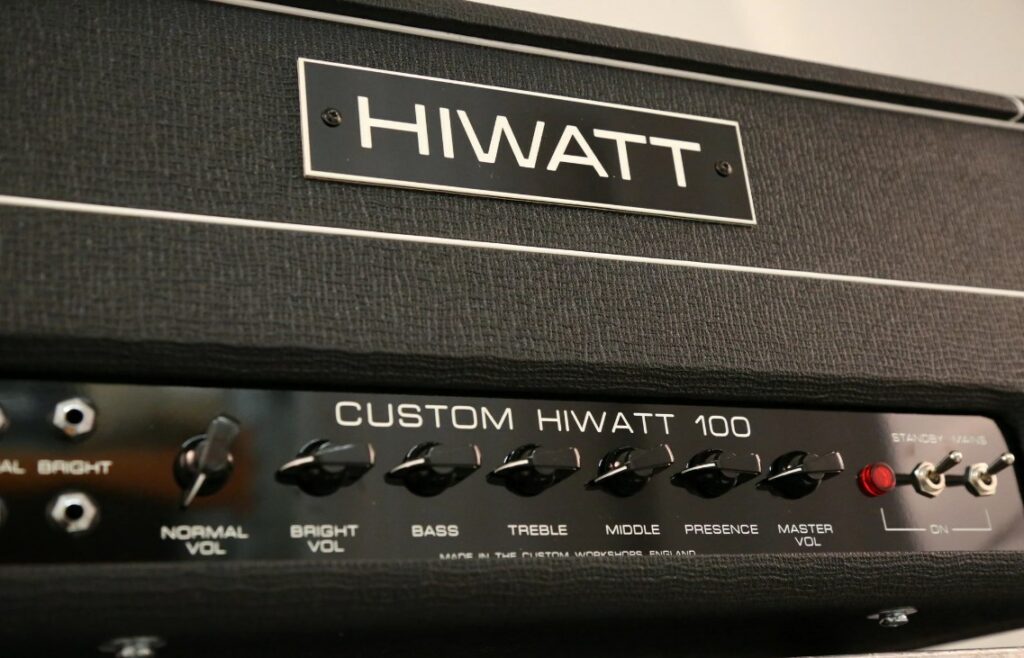 This has been David's leading amp since 1969. He uses this head with WEM Super Starfinder 200 cabs, loaded with 4 12″ Fane Crescendo speakers.
He has also played other Hiwatt models, but this one is featured on most of Pink Floyd's records and his solo work.
The amplifier head is powered by 4 Mullard EL34 power tubes and 4 ECC83 pre-amp tubes.
Fender Twin Reverb Head
Gilmour has also been known for using Fender Twin Reverb heads in the studio and on stage. Since these amps are very powerful, have much headroom, and work well with all kinds of pedals, they fit right into the style of amp that David likes to use.
Yamaha RA 200R
The Yamaha RA 200R is actually a unique speaker cabinet that captures the essence of the Leslie rotary speaker cabinets frequently used with Hammond organs.
Gilmour used a real Leslie to record some songs, but later, he started using the Yamaha RA 200R blended with the sound from his Hiwatt to achieve this unique modulation effect.
You can hear it on many occasions, both live and in the studio. Notable examples of this speaker being used include the song "Dogs" in the Animals record and "Raise My Rent" from David's own album released in 1978.
Pedals and Effects Used by David Gilmour
You could write an entire book about the effect pedals that David Gilmour has used throughout his long and busy career. His rig has been known to change constantly, as he enjoys trying out different colors and approaches to get the tones that he is so famous for.
Rather than getting his distortion sounds from his amps, David likes to use what is commonly referred to as a "clean platform," which is typically a high wattage amp with a good clean sound and much headroom.
He then uses that as a foundation tone to apply all of his gain stages, time-based effects such as delay and reverb, and modulations such as a phaser, flanger, or chorus.
Here are some of the most essential effects used by David Gilmour:
Electro-Harmonix Big Muff Pi
David Gilmour has used the Big Muff, mainly the Ram's Head Big Muff Pi, on various famous recordings, such as the legendary Comfortably Numb solo.
This fuzz pedal screams with sustain and works great with single coils if you can tame it – it can also get quite muddy.
Dallas Arbiter Fuzz Face
Another fuzz pedal, the Dallas Arbiter Fuzz Face, was a big part of Gilmour's rig. He used germanium and silicon transistor pedals (NKT275 and BC108 transistors, respectively).
You can hear these pedals on classics like Money or Time (The Dark Side of the Moon).
BK Butler Tube Driver
This pedal is an overdrive that features a preamp circuit driven by a vacuum tube, making it quite memorable among gain stage pedals in general.
It is very versatile, able to deliver everything from a clean boost to a singing lead tone, which is why Gilmour liked it.
After Pink Floyd stopped playing, he used this pedal a lot in his own tours.
Binson Echorec II
The Binson Echorec is an epic delay unit that many famous artists have used during the '60s and the '70s. It uses 6 12AX7 tubes to deliver a warm, unmistakable delay sound that is still coveted by many players.
Unfortunately, its size and maintenance requirements caused Gilmour to switch to digital alternatives in the late '70s.
Univox Uni-Vibe
This unique pedal was designed in 1968 to recreate the sound of a Leslie speaker (a rotating speaker), but it ended up sounding quite different. Many guitarists such as Jimi Hendrix and David Gilmour adopted this sound for various applications.
Gilmour has used this particular modulation effect to create dreamy soundscapes, such as you hear in the intro of the song "Breathe" in The Dark Side of the Moon.
MXR Phase 90
The MXR Phase 90 is one of the pedals that must be covered in a Gilmour gear rundown since you can get closer to lots of his tones by using a pedal that you can still buy just about anywhere and isn't particularly expensive.
David has used this pedal in many of the same contexts as he would use his Univox Uni-Vibe pedal, making it an excellent way to reproduce his sound for a much cheaper price.
You can hear it on songs such as Echoes, Have a Cigar, and Dogs.
Check out our complete MXR Phase 90 Review.
MXR Dynacomp
David Gilmour has commented about using several different compressors both in the studio and on stage. One of his most favorite picks is the MXR DynaComp with the script logo.
He has used this pedal since 1977 and has been a staple of his signature sound ever since. While many people only use compressor pedals on their clean tones, Gilmour used it with overdriven signals, which helped him craft his lead tones more meticulously.
Electro-Harmonix Electric Mistress
The Electric Mistress is one of the most unique flanger pedals that have ever hit the market, and unfortunately, the vintage units are hard to find and very expensive.
Gilmour was one of the first players to make the most out of its sound, and you can hear it throughout Pink Floyd's records from 1976 to 1983.
The Classic Recordings Featuring David Gilmour
David Gilmour has participated in several legendary recordings, mainly by Pink Floyd, although his solo work is also highly regarded. This section will go over a few of the most impressive records in which you can hear David Gilmour in several different contexts.
His rig changed frequently and some of the recording and mixing techniques, which is why you can listen to distinct tones in most albums in which he played.
Meddle (1971)
Meddle came out in 1971, and its most popular song is probably Echoes, which made up the entire Side B of the original record.
David Gilmour can be heard playing his legendary Black Strat through the Hiwatt DR103 head in this record. Some of the most essential effects he used to achieve his tones here were the Dallas Arbiter Fuzz Face and the Binson Echorec II.
The Dark Side of the Moon (1973)
The concept album "The Dark Side of the Moon" is arguably Pink Floyd's most successful album, which catapulted the band to international recognition. It is frequently considered one of the most outstanding records of all time.
David Gilmour has a defining role in every song, creating lush soundscapes using time-based effects and modulation, as well as some of the most famous guitar solos in music history.
He used his classic combination of the Black Strat with the Hiwatt DR103, and also other exciting pieces of gear such as the Maestro Rover rotating speaker for Leslie tones and the Fender 1000 twin neck pedal steel guitar tuned in open G for songs such as Breathe and Great Gig in the Sky.
Wish You Were Here (1975)
Released in 1975, this album features one of Pink Floyd's most legendary compositions, Shine On You Crazy Diamond. David used his Black Strat, Fender 1000 pedal steel guitar, and a Martin D-35 12 string acoustic guitar. The latter is featured on Wish You Were Here.
He mainly used his trusty Hiwatt DR103 for the entirety of this record, and some of the most important pedals include the Dallas Arbiter Fuzz Face with BC108 transistors, the Colorsound Powerboost, and the MXR Phase 90.
Animals (1977)
Animals are one of the most famous Pink Floyd records, and Gilmour has the spotlight on many occasions. There are several guitar solos worth checking out to steal some fantastic lines.
In the recording process, David used many of his standard pedals, such as the Dallas Arbiter Fuzz Face, Univox Uni-Vibe, MXR Dynacomp, and others designed by Pete Cornish as the Tone pedal and the Custom Fuzz P-1. He also used a Heil Talk Box for a section of the song "Pigs."
As for the guitar, he used his trusty Black Strat and 1959 Fender Telecaster, and an Ovation Legend acoustic guitar. The amp setup included his Hiwatt DR103 Head with WEM Super Starfinder 200 Cabinets. He occasionally used the Yamaha RA-200 for Leslie-oriented sounds.
The Wall (1979)
The Wall was one of Pink Floyd's most successful records, selling over 30 million copies worldwide and staying in the number one place in the US charts for 15 weeks.
There are several instances in which David Gilmour shines on this record. One of the most known moments is his classic solo on "Another Brick in the Wall, Part Two," which he recorded on his Gibson Les Paul Goldtop with P-90 pickups.
Other significant effects include the Dallas Arbiter Fuzz Face, EHX Big Muff, EHX Electric Mistress, MXR DynaComp, MXR Phase 90, and a variety of Pete Cornish customs pedals.
He used some of his most reliable guitars like his Black Strat, the 1955 Fender Esquire known as "The Workmate," and his two famous acoustic Martins: the D-35 and the D12-28 12 string guitar.
As usual, the amp that did most of the work was his trusty Hiwatt DR103 Head with the WEM Super Starfinder 200 cabinets.
Rattle That Lock (2015)
Rattle That Lock is David Gilmour's most recent solo album. You can hear lots of different sounds, which are a consequence of a different kind of studio setup, experimenting with lots of different pedals that had been used in different time periods in the past, among other factors. Most of it was recorded in David's studio in Brighton, although parts were recorded in Sussex, at his farm, and the studio inside his boat, the Astoria.
The main electric guitars featured in this record are his trusty Black Strat, a 1956 Gibson Les Paul with P-90s and Bigsby, a Gretsch Duo Jet, and the Esquire/Telecaster conversion; commonly known as "The Workmate." As for acoustics, he used a few different Taylor and Martin guitars, such as the Taylor NS74 and the Martin D-35.
As for effects, David used various pedals, both old and new. For instance, he used an Origin Effects Cali 76 Compressor and a Slide Rig Compact Deluxe Compressor instead of the MXR DynaComp or the Boss CS-2.
Some of the older pedals include the MXR Phase 90, BK Butler Tube Driver, Colorsound Powerboost, and the Electro-Harmonix Electric Mistress.
Getting David Gilmour's Sound on a Budget
Reproducing any of David Gilmour's rigs will inevitably turn into an expensive journey very quickly. Aside from the expensive guitars and amplifiers, his complex pedal setups are pricey, even if you settle for cheaper alternatives to some of his choices.
Regardless, it is possible to get substantially close to his sound by using gear that is available in most major stores today rather than using vintage equipment.
This section will help you find some of the critical elements to David Gilmour's tone on a budget, using gear that doesn't break the bank and captures its essential tonal properties.
The Guitar: Fender Player Stratocaster Maple Fingerboard Limited-Edition
For the guitar, it makes perfect sense to go with a Stratocaster. The Fender Player Stratocaster is an excellent option below $1000. Still, if you are on a tighter budget, you should also look at the Squier Classic Vibe Series, which provides excellent value for the money and is substantially cheaper than the Fender model.
This guitar has a black finish, black pickguard, an SSS pickup configuration, and a maple fingerboard, just like Gilmour's most famous guitar. Aside from being able to get close to his Stratocaster tone, it also looks the part.
GuitarCenter – Fender Player Stratocaster Maple Fingerboard Limited-Edition Electric Guitar Black
GuitarCenter – Squier Classic Vibe '50s Stratocaster® Maple Fingerboard Electric Guitar, Black
The Amplifier: Fender Blues Junior IV
When looking for an amplifier, you should try to get a tube amp if you can, as they will be much more responsive to the pedals included in this rig and overall sound better than the solid-state counterparts that you can get on a budget. Keep in mind that they require some maintenance over time, while solid-state amps are generally more reliable.
For this rig, a Hiwatt amp would be too expensive, which is why we're suggesting a Fender combo amp. The Fender Blues Junior IV is an excellent option because it is one of the most affordable tube amps by Fender.
Its lush, clean tone is a great starting point to craft your tone. The onboard spring reverb also sounds very decent, and it allows you to save some money by not having to buy a reverb pedal. Lastly, this amp works well with pedals, which are an essential part of the David Gilmour setup.
GuitarCenter – Fender Blues Junior IV 15W 1×12 Tube Guitar Combo Amplifier Black
The Effect Pedals:
If you're setting out to capture David Gilmour's tone, you know that you will need to put together a moderate-size pedalboard. If you're on a budget, you should establish priorities and decide what kind of sound or period you are going for.
Also, for the purpose of saving money, a reverb pedal will not be included, and we're considering that the onboard reverb from the amp will be used instead.
Some effects, such as the Uni-Vibe, have been left out on purpose since the objective is to come as close as possible without spending a massive amount of money. The following examples are some of the essentials, although you could still save a bit more by decreasing the number of pedals.
Fuzz
A fuzz pedal is definitely a must-have if you're trying to replicate David Gilmour's tone. For this slot, you have several options. Gilmour has used Fuzz Faces and Big Muffs, so choose the one that suits your target tone the best.
Here are a couple of good options for a fuzz pedal on this rig:
Overdrive
An overdrive pedal is always useful to have, and you can use it for several different purposes. You can set it with a high Level and low Gain to use as a clean boost, or you can increase the Gain to get a more saturated sound.
Gilmour also used overdrives to stack gain stages and achieve a more saturated tone, so you can experiment with pedal order and settings to get different results.
The Boss BD-2 is a classic pedal that can do a lot with just 3 simples controls, and it suits this rig very well.
Delay
The delay is a huge part of Gilmour's sound, so you can't really skip this one. While there are many expensive delay pedals, you can go with something more affordable that still offers quality and reliability, such as the Boss DD-3T.
If you want to save up a bit more, you can also check out other brands such as Mooer.
Compressor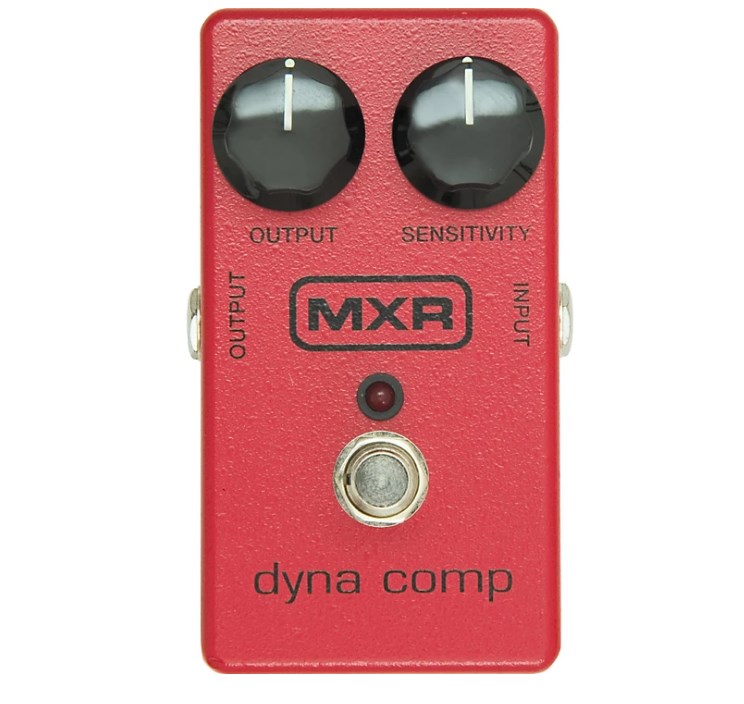 A compressor pedal is also a crucial component to consider when putting together a David Gilmour-inspired rig. Fortunately for you, David used the MXR DynaComp on most of his records, a pedal that is not expensive at all.
Phaser
A pedalboard for this purpose can't be complete without modulation, and for the sake of protecting the budget, we're going to compromise on only one pedal.
You could choose a phaser, flanger, chorus, or uni-vibe pedal for this slot, and in this case, we're going with the phaser, more specifically, the MXR Phase 90.
This pedal gets you right in the ballpark of many of Gilmour's classic tones at an inexpensive price point, which is why it made sense to go with this one.
Frequently Asked Questions About David Gilmour's Guitars and Gear
Question: What is David Gilmour's main guitar?
Answer: The guitar most often associated with David Gilmour is the Black Strat. This guitar was acquired by David in 1970, in New York City. Since then, has been through tons of modifications, including a refinish, replacement neck, electronic mods, new pickups, a different tremolo system, and tremolo arm. There was a time when this guitar was on display at the Hard Rock Café in Dallas, Texas, but it was eventually returned and restored to its former glory to be used by David on stage once again.
Lastly, in 2019, this guitar was sold at an auction for nearly 4 million dollars, making it one of the most expensive guitars ever sold.
Question: What effects does David Gilmour use?
Answer: David Gilmour is known for using massive pedal rigs and changing pedals around frequently. He uses everything from gain stages, time-based effects, modulations, compressors, among others.
Here are a few of the effects that you are likely to find on David Gilmour's pedalboard, as well as some examples of the pedals he has used within each category:
• Fuzz – Electro-Harmonix Ram's Head Big Muff Pi; Dallas Arbiter Fuzz Face (NKT275 and BC108)
• Delay – Binson Echorec II; MXR Digital Delay
• Overdrive/Pre-amp – BK Butler 911 Tube Driver; Colorsound Power Boost
• Distortion – ProCo RAT 2, Boss HM-2
• Wah – Dunlop Cry Baby, Vox Wah
• Phaser – MXR Phase 90
• Vibe – Univox U-915 Uni-Vibe
• Flanger – Electro-Harmonix Electric Mistress
• Chorus – Boss CE-2, Boss CE-3
• Compressor – MXR DynaComp; Boss CS-2
Question: What is David Gilmour's main guitar amp?
Answer: Although David has used and owned dozens of different guitar amps throughout the years, it is safe to say that his main amp is his Hiwatt DR103 Head. He used a Fender Twin Reverb Head, a Mesa Boogie Mark I, or other Hiwatt models, but the DR103 is the one he has used the most, both in-studio recordings and live performances.
It has a lot of power and headroom, two features that can't be overlooked when you are playing in stadiums worldwide. It also helps Gilmour craft his tone carefully with his pedals without worrying about the amp saturating too much.
Question: What string gauge does David Gilmour use on his guitars?
Answer: David Gilmour plays GHS Boomers on all of his electric guitars. The string gauge depends on the guitar itself, but the general rule is that he uses one set for his Stratocasters and Telecasters and another for his Les Pauls and other guitars.
• Strat/Tele String Gauge: 010, 012, 016, 028, 038, 048
• Les Paul String Gauge: 010 1/2, 013, 017, 030, 040, 050
Question: Did David Gilmour sell most of his guitars?
Answer: In 2019, David Gilmour auctioned off some of his most historical musical instruments that he had used countless times in the studio and live performances worldwide.
In total, there were almost 130 instruments. The money raised from this auction was donated to a climate change charity.
Here are some of the guitars that were sold that day:
• The Black Strat ($3.975.000)
• 1954 Fender Stratocaster #0001 (approx. $1.800.000)
• 1958 Gretsch White Penguin ($447.000)
• 1955 Gibson Les Paul Goldtop ($447.000)
• 1969 Martin D-35 (approx. $1.000.000)
• 1976 Ovation Custom Legend ($399.000)
• The Red Strat ($615.000)
• 1974 Electric Console Steel Guitar ($300.000)
• 1983 Fender Stratocaster ($187.500)
Latest posts by Gustavo Pereira
(see all)