In this article, we're comparing the Les Paul Traditional vs Standard. Our objective is to help you decide which guitar is better.
Through carefully reviewing each guitar's key features, pricing, benefits, and drawbacks, we hope to help you come to the conclusion of which guitar is best.
We'll start off with the main differences between the two guitars.
Main Differences Between Les Paul Traditional vs Standard
The main differences between Les Paul Traditional Vs Standard are:
The Les Paul standard has a compound neck radius, whereas the traditional does not
The Les Paul traditional has a thicker neck profile, whereas the Standard has a slimmer neck profile
The Les Paul Standard features the new Ultra-Modern Weight Relief, whereas the traditional has no weight relief
Standard has locking tuners, whereas the traditional has period correct green keystone pegs.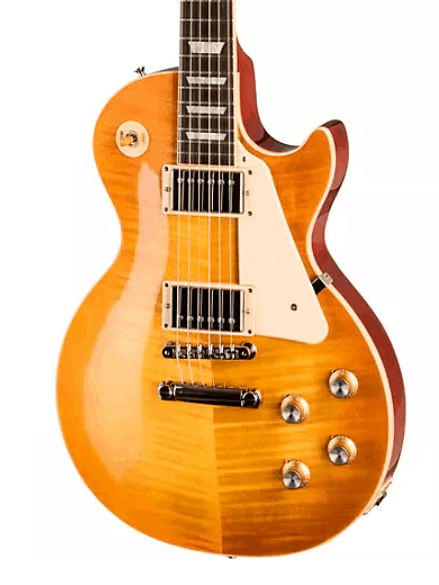 Key Specifications
Comparing Key Features: Les Paul Traditional Vs Les Paul Standard
Neck Profile
The Les Paul traditional has a thicker neck profile than the Standard. We can't say this is good or bad since it boils down to your preference.
The Les Paul standard has a compound neck radius meaning that the fretboards are curvier at the bottom near the nut and gradually become flatter towards the top end of the neck.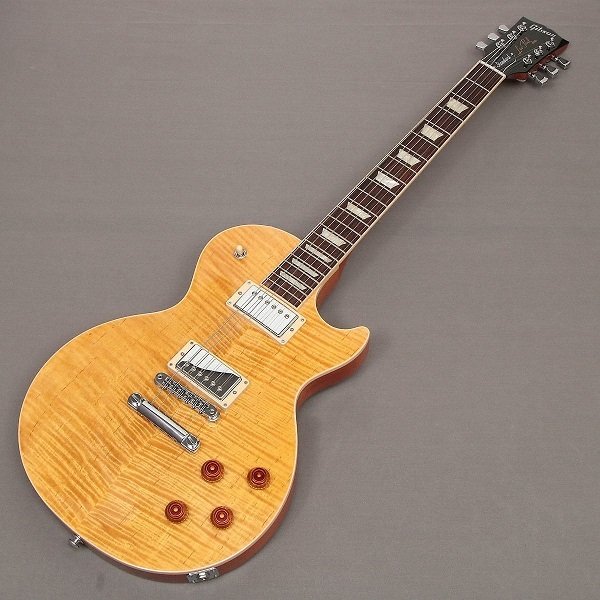 The Les Paul Traditional has a regular neck radius.
Guitarists claim that a smaller radius makes fingering chords easier, while a flatter radius is better for soloing and offers greater sustain. Our advice is to try out both and see what works for you.
Pickups and Sound Difference
If you are into that "Les Paul Sound" without modifications to it, then the Traditional is your best bet. The guitar is versatile, but it produces a fuller and beefier sound similar to what was prevalent in the late '50s. This is due to its lower output Burstbucker 1&2 pickups and Alnico magnets.
The Les Paul Standard can cater to heavier and more contemporary sounds such as jazz, rock, blues, metal, and even country. This is thanks to its versatile Burstbucker Pro pickups.
The guitar also features a coil tap function that allows you to split the pickups and make them sound single coil. The coil-split feature further allows you to push for a wider variety of tones while remaining punchy and clear.
Another noteworthy feature of the Les Paul Standard is the internal DIP switch, which gives you even more tonal options. Think of it as having a built-in compressor, which comes in handy for recording. The DIP switch is what allows you to split coils on your pickups, engage the treble bleed circuit, and even engage the transient bleed circuit.
Finishing
The Les Paul traditional 2019 is available in 2 finishes- Heritage Cherry Sunburst and Tobacco Burst. The Les Paul Standard 2019 is also available in 2 finishes- Seafoam Green and Blueberry Burst.
Additional Features
The Les Paul Traditional features no weight relief, whereas the Les Paul standard does. This means the traditional is a little heavier than the standard. However, the guitar's weight contributes to its amazing sustain.
The Les Paul standard's ultra-modern weight relief makes the guitar noticeably lighter, and the company claims that this has no effect on the guitar's tone.
Another noteworthy feature on both guitars is their tuners. The Les Paul Standard makes use of locking tuners. This helps the guitar stay in tune longer. The traditional guitar uses period-correct green keystone pegs.
Celebrities Who Played Les Paul
Here's a list of famous guitarists that have strummed Les Paul guitars:
Les Paul
Slash
Billy Gibbons
Randy Rhoads
Zakk Wylde
Ace Frehley
Bob Marley
Neal Schon
Stever Clark
Pricing: Les Paul Traditional Vs Standard
Les Paul guitars aren't what you would call cheap, but for their level of performance and quality, they're well worth the price.
In our opinion, the difference between the Les Paul Standard and the Traditional is too significant to ignore, except you have a big budget. Then the price difference may not be a determining factor for which guitar you get.
The Les Paul standard goes for as high as $3000 depending on what model you're looking out for. The traditional guitar comes at a lower price, with some models selling for about $1800 and going as high as $2000.
The reason for the price difference could be the build of both guitars. While they look the same on the surface, one surpasses the other with its modern features. The standard guitar is one that is constantly innovated to offer its users a wider range of tones, while the traditional is meant to maintain the old school sound it started out within the 50s.
Pros and Cons: Les Paul Traditional Vs Standard
Les Paul Traditional Pros
It is cheaper
Produces classic Les Paul sound
Quality build
Les Paul Traditional Cons
It is heavier
It does not offer a wide range of tones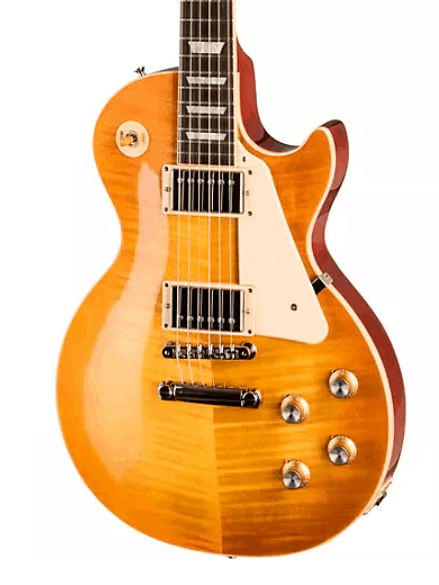 Les Paul Standard Pros
Offers wider tone range
It is lighter because of the weight relief feature
Has a "built-in compressor."
Les Paul Standard Cons
Factors to Consider When Buying a Les Paul Guitar: Traditional Vs Standard
Pickups
Standard Les Paul guitars were set in the '50s and use humbucker pickups. These types of pickups are known for their round tones and are a crucial element in most Les Paul guitars.
Since guitar pickups are replaceable and relatively cheap, the Pickup your Les Paul guitar comes with shouldn't be one of the deciding factors for buying it. However, we advise you to keep the original pickup your guitar comes with to keep its resale value high.
Flame Tops and Finish
It's not uncommon for most Les Paul guitars to have a bit of cut maple at the highest point of its mahogany body. Many Les Paul devotees find guitars with a high level of blazing or wood figuring higher in value than others.
Les Paul guitars named as "Premium" or "AAA" or "in addition to" are seen as higher in value.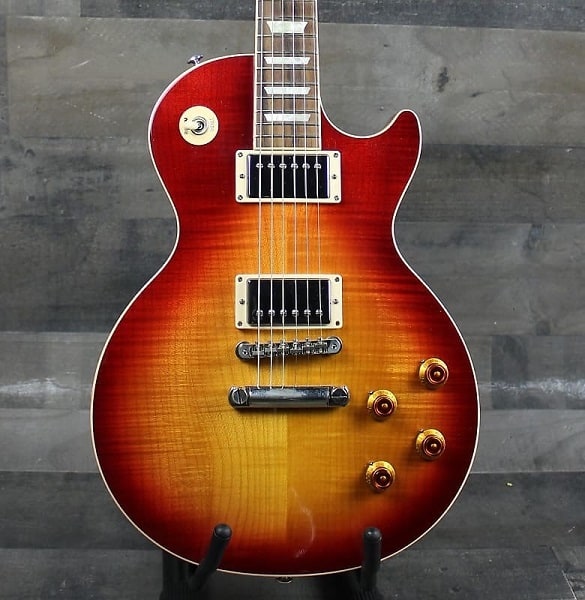 Neck Profiles
A notable way to spot the difference in Les guitars is to assess their neck profiles. You want to focus on how well it fits in your grasp. Les Paul guitars have two neck classifications:
50's style- neck profile is thicker, rounder, and more C-formed
60's style- these are more slender than the 50's style and can be better described as D-shaped
Price Range
One of the most important things to consider when faced with a buying decision is the value you're getting. This is something that depends on you; hence we cannot tell you which Les Paul guitar will be of greater value between the standard and the traditional.
Model and Family Type
Gibson Lea Paul guitars come in a shocking number of varieties, and within each group of guitars is another list of varieties. Before you buy your Les Paul guitar, it would be a good idea to go through as many varieties as you can and to get a basic knowledge of what each variety is capable of.
Alternatives to Les Paul Traditional and Standard
Here we listed a few alternatives to the Les Paul electric guitar.

The Epiphone Les Paul could be considered as Gibson's younger brother. It easily contends with some of the best guitars on the market and is often used by professionals because of the amazing sound it offers.
The pickups are the same as those on the Gibson, meaning you get to enjoy lush and dynamic sound on both guitars. Also, it uses the same tonewood as the Gibson Les Paul. Finally, they're a lot cheaper and come in a wider variety of colors.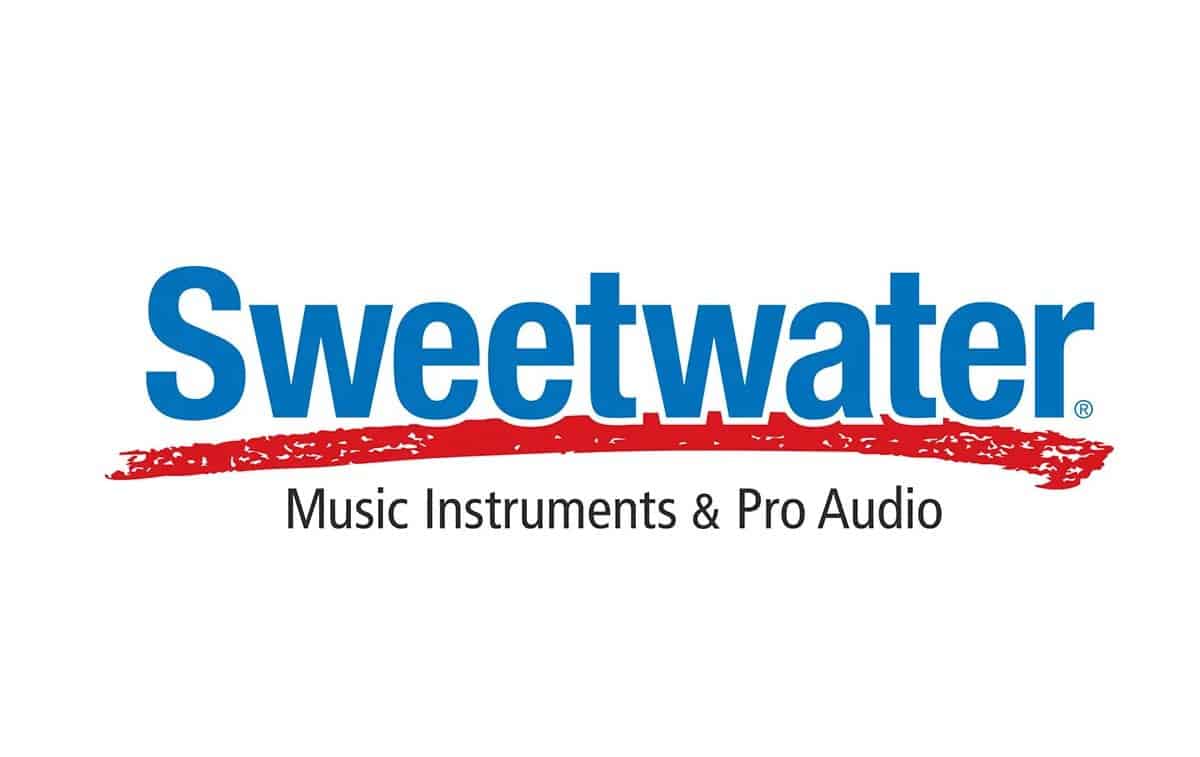 How does the ESP-LTD EC-100 stack up against the Les Paul guitars? Firstly, it has a look. The guitar is made from the same materials that the Les Paul guitars are made from, and some models have a maple top.
It is considered one of the best guitars for metal. ESP-LTD builds on the concepts pre-established by Les Paul with its impressive options such as EMG pickups and custom guitars.
ESP LTD EC100QM | Reverb
The ESP LTD EC-100QM Electric Guitar's eye-popping figured top and matching headstock veneer plus a model number inlay at the 12th fret and black hardware make this one a real looker.
Check price
We earn a commission if you make a purchase, at no additional cost to you.
Many PRS fans will be offended to have this guitar called an alternative to anything. This is because PRS is one of the top guitar makers in the world, and like Gibson Les Paul, it is known for making excellent guitars.
Their single-cutaway guitars are a worthy rival to their Les Paul counterparts. The SE 245 is made with the same materials as the Les Paul guitar, and to an extent, sounds like them. The guitar is a good alternative for intermediate and working guitarists because of its affordability.

All Fender guitars are popular for their impressive sound quality, and the Stratocaster is not an exception. The Fender Player Stratocaster boasts of a strong low end, powerful mids, and an outstanding bell-like high end, which all contribute to its clarity in the production of successive notes.
Fender guitars also feature an original style and feel. The Player Stratocaster will fulfill your musical dreams. It's flexible enough to play all music styles.
Related: See how Fender Guitars compare to Gibson in our full comparison here.
Frequently Asked Questions
Question: What is the difference between Les Paul Standard and Classic?
Answer: Compared to other models, the Les Paul Standard has a bulkier and more rounded neck structure, while the Les Paul Classic has a slender candle neck structure, which is easier to handle by faster players.
Question: Is Les Paul considered a good guitar?
Answer: Possibly one of the guitars that produce the best sound, the Gibson Les Paul is considered the most adaptable model currently. It derives its popularity from its smooth appearance and legendary outlook. The Les Paul comes in different versions with different setups for all players.
Question: Is SG better than Les Paul?
Answer: The majority of SG guitars weigh less than most Les Paul guitars. The SG has a more slender structure and does not feature the maple top that most Les Pauls have. The SG guitars are very suitable for lead guitars since their high frets are more accessible.
Our Verdict on Les Paul Traditional Vs Standard
After reviewing both guitars critically, we've come to a conclusion that, in our opinion, the Standard guitar is the better option.
The Les Paul Standard guitar offers a wider range of tones and can cater to modern sounds prevalent in the music industry today. Its compound neck profile makes it a suitable guitar for soloing, and it doesn't give you too much trouble with fingering strings.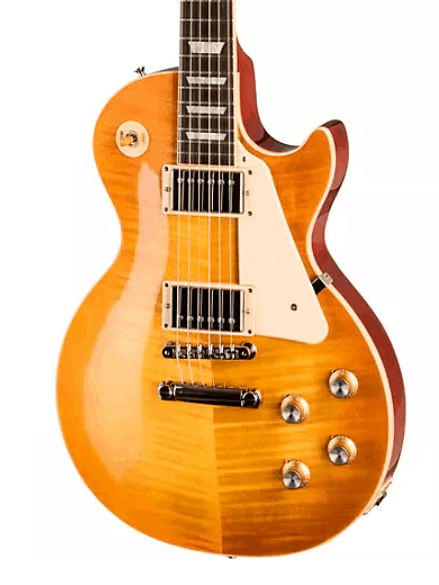 It also comes with additional features such as weight relief, which makes the instrument feel lighter. Overall, we think if you have the money, you should consider adding it to your collection.
We would recommend the Les Paul Traditional guitar for people who can't get over the old sound. The standard not only gives you the sound but the look it had when it first launched.
Not to mention it comes in at a more affordable price depending on where you purchase your guitar from. The most recent models of the standard could be cheaper than older models of the standard.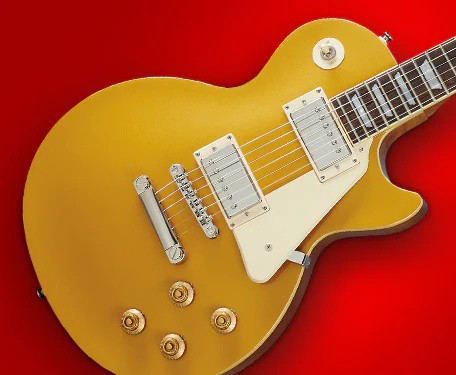 Latest posts by Jodie Chiffey
(see all)