What are the first brands that come to your mind when you think about guitars? Perhaps it's Martin acoustics or Ibanez electrics.
For me, it simply has to be Gibson and Fender. These names are synonymous with the electric guitar, two brands that have built such an excellent reputation for themselves that it's almost impossible to find a famous guitarist who doesn't use their guitars!
No matter where you go, whether it's a high-school practice room or a world-famous live music stadium, it's almost guaranteed that you will come across either a Gibson or a Fender guitar. However, don't let this fool you into thinking that these are new guitar brands – they've both been around for decades and have a rich history behind them.
In celebration of these fantastic guitar brands, I've decided to put together this guide to Gibson vs Fender Guitars' history. I'll be discussing the history of both brands, some famous guitarists that use their guitars, some of the best guitars they produce, and providing my personal opinion on which brand I like the most. Read on to find out more!
Bottom Line Up Front: Both Gibson and Fender have a highly fruitful history in electric guitar building, from Gibson's iconic Les Paul to the revolutionary Fender P-Bass electric bass guitar. However, for me, the most iconic moment in this long history is the Fender Stratocaster, a guitar that brought high-quality craftsmanship to the everyday guitarist.
The Early History of Gibson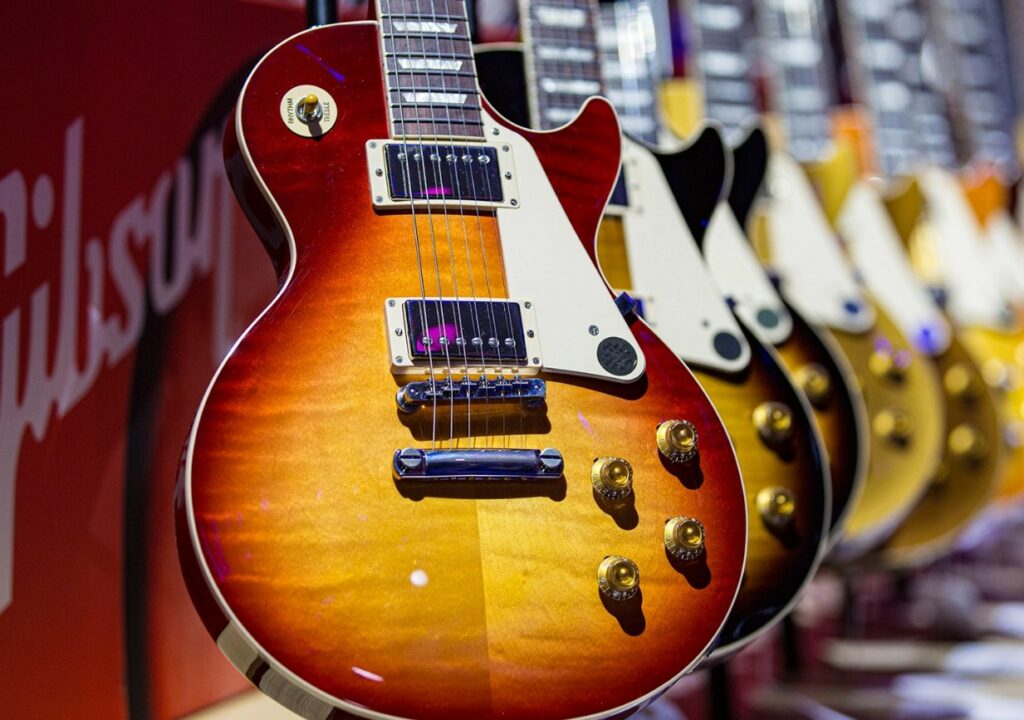 It was pretty difficult to decide where to begin with this guide to the history of Gibson vs Fender, but in the end, I decided that the only place to start would be at the very beginning.
In this case, that would be well over 100 years ago, all the way back in 1894. During this year, a man named Orville Gibson started everything for Gibson when he began to build and sell mandolins.
However, it wasn't until eight years later that Gibson turned his name into the company that would soon become one of the biggest guitar brands of all time. Fender began focussing on producing three initial staples of the company – The Electric Spanish Guitar, Archtop Guitars, and the Harp Guitar. All three of these pioneer Gibsons were produced in Orville's very own factory named the Kalamazoo Factory.
This continued until 1950, with all of Gibson's guitars falling into the category of amplified mandolins and acoustic guitars. Orville Gibson built a strong reputation for himself doing so, but little did he know that things were about to change dramatically.
The Top 3 Electric Gibson Guitars
The early experiments of Gibson set a fantastic precedent for how the brand would evolve, and this ultimately led to a complex evolution. However, it must be said that three key Gibson guitars were found at the center of this evolution – let's take a look at which ones I'm talking about.
Gibson Les Paul
The first major change in Gibson's company was when he first met Lester William Polsfuss. If you're a fan of Gibson guitars like me then you'll probably already know who this is – he was the man who invented the initial prototype behind the famous Gibson Les Paul guitar, and boy oh boy did that change the guitar world forever!
This instrument was initially proposed by Polsfuss as a 4×4 post with a Gibson neck attached to it, and whilst this probably looked insane at the time, thankfully Gibson realized the potential it had around 10 years later. This happened just in the nick of time too, as Polsfuss first showed Epiphone his design, but they thought it was ridiculous and shooed him away!
All of this might sound a bit silly, but this early prototype did lead to the original Gibson Les Paul. This is one of my favorite guitars of all time due to its stunning tone, reliable truss rod, neutral shape, and strong bridge. It was features like these that truly innovated upon the electric mandolins that Gibson was already creating, and without them, who knows if we'd even have the electric guitar to this day?
These days this guitar is still produced in the USA only by the finest guitar craftsmen, and for this reason, it has become incredibly expensive. However, back in the day, it would have cost a fraction of the price for an original.
Luckily, Polsfuss did finally collaborate with Epiphone after they sadly missed the boat the first time around, and this led to a cheaper and more affordable version – the Epiphone Les Paul. This truly was a huge part of the history of guitars, especially for Gibson!
Pros
Widely considered to be the first true electric guitar
Strong bridge and truss rod for tuning and tension stability
Neutral body making it excellent for all genres
A simply unmatchable tone
Available as both expensive Gibson Les Paul and as a cheaper Epiphone alternative
Cons
A lot of people think that the Gibson SG was the second electric guitar made by Gibson (more on this later), but this is not true. The next step Gibson took after popularizing the Les Paul was to design the Gibson ES-335, with the ES standing for Electric Spanish.
Take a quick look at the instrument online and you will understand exactly why it received this name, it's truly a beautiful design and it must have been great for Gibson to get back to his roots in Spanish guitars!
First designed in 1958, this semi-hollow guitar didn't exactly rock the Latino music scene as you may expect, instead being favored by blues and rock artists. It featured a truly gorgeous solid-wood tone, a lightweight feel that would normally be associated with acoustics, and of course that wonderful hollow look.
Fun fact – I recently discovered that the ES-335 was the first electric guitar to have the hollow acoustic design, super interesting!
Pros
A gorgeous hollow acoustic body design
Crisp solid-wood tone
Favored by some of the biggest names in blues and rock music
Feels very similar to a lightweight acoustic guitar
Cons
Whilst I'm a huge fan of the hollow acoustic design, not everybody is
It may not be as big of a name as the Les Paul or SG, but the price certainly is!
After the raging success of the Gibson Les Paul and the ES-335, it was only a matter of time until Gibson recognized that they were onto something and decided to expand their wings further. This came in the form of the Gibson SG, a decision that was surprising to many but solidified Gibson's place in the guitar world as a true brand, not just a one-trick pony.
I only found out recently that SG stands for "Solid Guitar", with the full name of the guitar originally being called the "Gibson Les Paul Solid Guitar".
The main difference here was that the SG was more lightweight and had a thinner body and neck than the original Les Paul, in addition to being designed with a double cut-away that made the guitar look spikier.
It was this change in appearance that, in my opinion, truly placed this guitar in the history books of rock 'n' roll, with many guitarists choosing this model over the traditional Les Paul because the spikes looked flame-like and more rock 'n' roll.
Whilst many people believe that the Les Paul is the best-selling Gibson guitar of all time, this is not true – it is the SG, and I put a lot of this down to the aesthetic.
Pros
Stunning dual cut-away flamed body design
Thinner and more lightweight than traditional Les Pauls
Available in many different finishes these days
Favored by some of the biggest rock stars in history
Cons
Despite being the best selling Gibson guitar, it doesn't quite touch the reputation of the Les Paul, yet the price is similarly expensive
The Early History of Fender
As I mentioned earlier, it's undeniable that the history of Gibson and Fender first began with… well, Gibson! We've covered how that exactly went down with Orville Gibson's electric mandolins and acoustic guitars, how Lester William Polsfuss jumped in to change the game forever, and most importantly the history of the three first and most iconic electric guitars produced by the company. Now let's take a look at the next major piece in this historic rivalry – the history of Fender!
Around the same time that Gibson was focussing on mandolins and electric acoustic guitars, another great innovator was arriving on the scene – Clarence Leonidas "Leo" Fender, a radio salesman from Southern California. Whilst radios and guitars may seem unrelated, Gibson and Fender had something in common – they both loved tinkering with electronics.
So, much like Gibson, it wasn't long until Fender partnered up with a Clayton Kauffman to see if he could apply electronic pickups to lap-steel amplified guitars. These early experiments continued with the team trying different styles out, and it wasn't long until 1950 when they built the first Esquire, a precursor to the Fender Telecaster. Little did Fender realize that this truly was the beginning of something special!
The Top 3 Best Fender Guitars
After the Fender Esquire was born, word started to get around, and Fender rapidly began to experiment with other guitars after hearing of the Gibson Les Paul. It would be essential to their survival that they build some new guitars to compete, and compete they did! Let's take a look at the three most important Fender guitars in this era.
I previously mentioned how early experiments with electric steep-lap guitars led to the Fender Esquire, and this led to something far more iconic – the Telecaster. If you're a guitarist and you've never heard of this model, where the heck have you been? Whilst the Les Paul was a huge success, many people believe that the Telecaster formed the foundations of success that the electric guitar has in this day and age.
The guitar shape was softer and curvier, the single-coil bridge worked wonderfully for country and blues music, and the "lipstick" neck pickup added immense tone to form a truly lethal timbral combo. It was something very different to the style of the Les Paul that guitarists would hear a year later, yet it was preferred by many including some of the greatest guitarists of all time.
One last thing that I think is particularly important to mention about the Telecaster (and other Fender models for that matter) is the price. As opposed to Lester William Polsfuss who was undeniably a bit of a guitar elitist, Clarence Fender was all about building guitars "for the people", focussing more on making something that was affordable and accessible to new guitarists.
In my opinion, that ethos remains to this day, with Fender's persisting at producing truly stellar guitars at a fraction of the price of Gibsons.
Pros
Argued by many to be the model that brought electric guitars to popularity
Single-coil bridge pickup and neck "lipstick" pickup combo that works tremendously for country, blues, and slide guitar
Significantly cheaper than the Gibson Les Paul
Cons
Some believe it doesn't look quite as cool as Gibson alternatives
Not quite as well suited to rock music as Gibsons
Let's switch things up a little bit with a bass guitar – that's right, Fender has a history of producing bass guitars too, and not just any old bass guitars but electric models! Many people are unaware that Fender designed the first electric bass guitar to reach mainstream use, named the P-Bass (otherwise known as the Precision Bass).
Up until this point, the word "bass" was generally associated with the cello or the double bass, classical instruments that provided bassier tones for instruments with more treble. Sure, other brands had toyed around with the idea of an electric bass, but the single-coil bridge and humbucker pickups found on the P-Bass took this to another level.
The tone was incredible, the body was built like the Stratocaster (more on this in a moment), and ultimately this instrument formed the sound of bass guitars for years to come. You can find this bass tone in pop, metal, soul, RnB… just about any music in the 2020s!
Pros
One of the first and most iconic electric options for bass guitarists
A beautiful bass tone that has been left unchanged for decades
A cheap option for new bass guitarists
Cons
Some people like variety in their models, making it a bit repetitive if you already own a Stratocaster.
If you hadn't already guessed that I was going to be finishing up this list with a Fender Stratocaster, you need to study up because it is perhaps THE most iconic Fender guitar of all time. Some might say that it is more iconic than the Gibson Les Paul, and that is saying something.
I must admit that I'm a little bit biased towards this guitar because it was the first electric that I ever owned. Despite it being released in the '50s, my Father bought me a newly build Sunburst Strat for my 12th birthday, and man was I happy with that gift!
In my opinion, this is the most versatile guitar out there – you'll hear it in everything from death metal to country, and this is all due to the bolt-on neck which provides customization that is simply not found in other guitars within its price range. It's a guitar that can be set up in many different ways depending on the genre that you play, the pickups can be switched satisfyingly to hit different timbres, and the overall tonal controls provide a level of versatility that is simply magic.
It's a truly special electric guitar, that in my opinion, represents the peak of Fender production. I love Gibson guitars too and I recognize that both brands have a unique place in the history of guitars, but the Strat is just iconic.
Pros
Many would consider it to be the most versatile guitar of all time
Incredibly cheap considering its high quality at around $500
The bolt-on neck allows it to be customized extensively
Played by almost every big name out there, it's incredibly famous
Cons
If you're a metalhead, you may think that this guitar looks a little bit "indie" and soft.
FAQ
I hope that you have enjoyed this guide to the history of Gibson Vs. Fender so far! I've covered a lot of information, from the early days of each guitar brand to their first cornerstone designs and up to their three most iconic guitars. It's a lot of information to take in, so I've decided that I'm going to break things off for a little while by answering some of the most frequently asked questions I see in regards to these guitar brands. I hope they are useful to you!
Question: What Makes the Gibson Les Paul So Popular?
Answer: The Gibson Les Paul is an incredibly popular guitar, mainly due to the immense craftsmanship and quality that Lester William Polsfuss put into it, with the build quality still being matched by the finest American guitar craftsmen to this day.
Question: When Was The Gibson Les Paul Invented?
Answer: Whilst the initial rudimentary design was conceived a couple of years earlier, the first Gibson Les Paul to hit the shelves was released in 1952.
Question: Why Do Some People Prefer Fender Guitars to Gibsons?
Answer: Whilst the quality of Gibson's premium guitars is certainly unmatched by Fender, many people prefer Fender guitars such as Stratocasters and Telecasters due to Clarence Fender's noble passion and attitude towards building cheap and affordable yet high-quality guitars.
Question: When Was The First Fender Telecaster Released?
Answer: Believe it or not, the first Fender Telecaster was released in 1951, a whole year before the Gibson Les Paul and three years before the Fender Stratocaster!
My Verdict
So, there you have it – in case you weren't aware of the immensely interesting history of Gibson vs Fender guitars, you now have a complete guide to walk you through it. It's undeniable that the start was a little bit bumpy, particularly in terms of the rivalry between Clarence Fender's stoic approach to guitar creating and Lester William Polsfuss's premium elitism. However, one thing is for sure – both craftsmen and their brands eventually built some of the greatest guitars in history.
My first electric guitar was the Fender Stratocaster (with a Sunburst finish), and I honestly could not recommend this guitar enough. It's a very high-quality electric guitar well renowned for being extremely versatile, and the price point is just top-notch. I've got a lot of love for the Gibson Les Paul too of course, but the price is simply too high for my budget, but if you can afford it then it may be a better choice for you!
I hope you've enjoyed this guide, and remember the classic battle between Clarence Fender and Lester Polsfuss next time you pick up one of your guitars. It may have been a tense rivalry at the time, but it led to great musical history, and I have to applaud that!
Latest posts by Calum Vaughan
(see all)