Having the best guitar brands ranked is a daunting task, to say the least. Most lists and comparisons are often made from historical relevance, not considering what's available today and of interest to most players' budgets. Having spent a life dedicated to the instrument and tried the best (and worst!) guitars from popular brands, I want to share my list from the perspective of an everyday working musician who could not always afford high-end guitars.
My goal is to give you knowledge on which brand fits you best now and what to aim for in the future. The names here or ones you probably already know are the best, yet the approach I'll take will serve in perhaps a more practical way, and you will find some lesser-known modern builders along with suggestions for some models to check out.
How Do You Rank Guitar Brands?
Ranking guitar brands according to their premium instrument line only would be like ranking car brands only by their luxury models. That works for a sports brand that releases a few models per year, and it also does for boutique guitar brands. It might not work though, if the primary market is not 3000$ + instrument but anything between that and your first guitar.
The main criteria I used to rank the brand is how their guitars fit different player levels. Surely a 59′ gold top Les Paul beats most guitars in every aspect, yet that might not be relevant to casual players who aim to own a mid-range guitar.
The next criterion is more genre and style specific. I would never rank Schecter above Fender in a regular list, but if it comes down to Metal music, there's no comparison of who's the best guitar company.
The overall built quality

is a vast subject that depends on multiple factors that change almost yearly. I will focus on what the brands offer in 2022, considering all modern factors like offshore production.

Multiple options

are crucial in making a brand serve the guitar player. There's no bigger turn-off than liking a brand but finding that they only have a few models available with the specs you're looking for, and none are quite what you wanted.

History

is also essential, but not something to cherish in memory or raise the price. A brand leaves a big mark in music if it revolutionizes how players think and use the instruments for decades. This demonstrates that they were building fantastic instruments in the past, and those are most likely available today as well.
I'm not the biggest vintage purist, but I'll admit a pre-war Martin was not only great at the time but is still a fine instrument more than it was 100 years ago. The same goes for most classic brands, which never managed to top their 60s models.
With five top brands for every category, you will have more than enough websites to research your next guitar to buy.
Best Guitar Brands for Beginners
The best guitar brands for beginners offer the best balance of value and quality at the lowest price. Here, history comes second and what you see when you enter a guitar store's beginner section is the most important.
Fine tonewoods and vintage tones are not that important if you're still figuring out how to make cowboy chords sound right.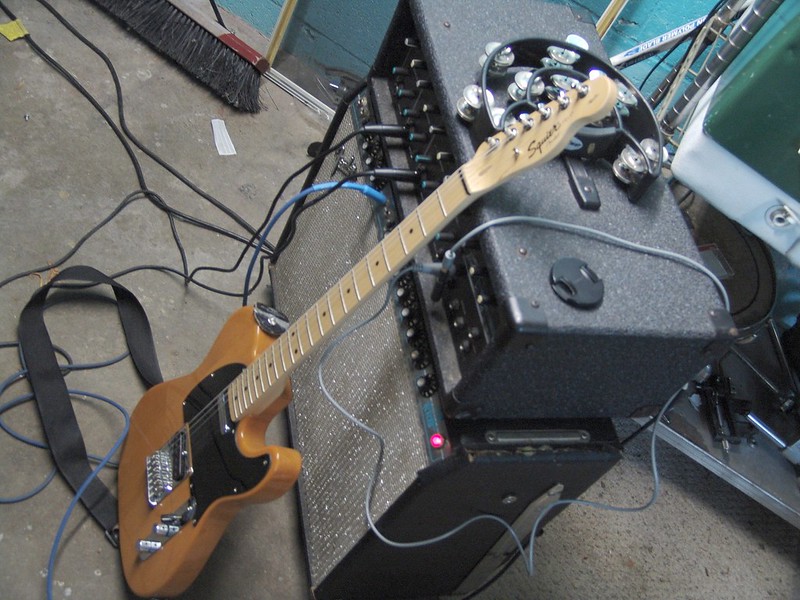 Fender makes the top of the list for beginner guitar brands as they have a vaster catalog of starter guitars than other brands. Squires have been around for decades and, while still being cheap, maintain a part of the quality of Fender US guitars at their core.
I have played Squier Stratocaster, who played almost as well as the US-made Strat. Indeed the sound was not the same, and I would not play in a stadium; however, that doesn't relate to beginners.
Even if you are into heavy genres, a Stratocaster-shaped squire with a humbucker on the bridge is more than enough for your early days. Also, they make excellent guitars to modify.
Even though acoustic guitars were not their forte, recently, the brand has been making quality budget acoustic guitars that rival any acoustic-specific brand.
Epiphone
A strong second best is Epiphone, the Gibson equivalent of the Squire. It's no wonder seeing that the two biggest guitar brands in the world are the ones that lead the huge beginner guitar market with their subbrands.
I find Epiphones to match Squires in almost every aspect, sometimes even offering better-built instruments. If we compare their more expensive models, I will pick the best Epiphone over the best Squire anytime. Their tone has more character, and they tend to hold their value longer than the all present Squires.
Besides slight fixable issues with tuning stability, quality Epiphones could last up to your advanced years. Even Slash plays an Epiphone and not a Gibson, as everyone thinks.
The only thing that makes Squire the best subbrand is the wider variety of prices and models available for beginners.
Yamaha Guitars
Yamaha guitars never failed to deliver, especially when it comes to acoustic guitars. Their selection of affordable acoustic guitars is vast and can fit every budget while assuring top playability. They are undoubtedly the best pick from the list of classical guitars for beginners.
Yamaha acoustic guitars are as flawless as a budget instrument can be. The standardization and quality check are so high that they beat many high-end US makers in this aspect. They might not sound exceptional, but they have never failed a beginner before.
The electric model that put Yamaha on the list is the Yamaha Pacifica, which sold immensely over decades, and rightly so. It's one of the finest instruments you can play as a beginner guitar and turn into a great practice or rehearsal instrument. It's like a Squire and affordable Ibanez merged into one solid instrument.
Washburn Guitars
When confronted with bigger companies, the American guitar builder Washburn was never a headliner yet kept its acoustic and electric guitar solid and affordable. It does not have the immense catalog Fender has, but you won't suffer in options either.
The brand started making guitars at about the same time that Gibson did, yet it only arose later in the 80s when their electric guitars fell into the hands of virtuoso like Nuno Bettencourt. His signature guitar might be too expensive for this list, but the acoustic apprentice series is one of the best modern affordable acoustic options.
The Sonamaster electric guitar and the Yamaha Pacifica might be the top choices for a budget guitar fit for multiple genres. From personal experience with their acoustic-electric guitars, I easily vouch for their reliability on stage and ease of play.
Harley Benton
My first guitar was a Harley Benton, and two decades later, it's still a great practice instrument. Harley Benton deserves a spot on the list for offering probably the best first guitars at a ridiculously low price. You could land a solid beginner electric guitar that a Squire and Epiphone any day for under 200$.
The brand is part of the massive instrument retailed Thomann, where all musician know can find the best affordable gear. As such, they cut off marketing and distribution costs and can make Haelry Benton guitars cheap at the extreme while retaining quality.
The downside is that there's not much information on specific models online, and it is sometimes a matter of luck if your guitar will be a standard cheap guitar or an impressive "I can't believe I got it this cheap" model.
Best Guitar Brands Rated for Intermediate up to Advanced Players
Getting up the ladder of skill and price, guitar brands start to rank differently as a certain standard of quality is taken for granted. Decade after decade, this list changes as the selection of instruments to consider becomes bigger and bigger.
PRS Guitars
Paul Reed Smith founded PRS guitars in the 70s, intending to make better instruments than the struggling Gibson and Fender. He succeeded massively and kept proving that mid-range and high-end PRSs always offer something more than their rivals.
The best examples are the PRS 24 custom and the affordable counterpart; the PRS SE Custom -24 are fantastic instruments with a massive price difference. The best part is that you don't feel much difference when playing them, as if prices were not so different.
They compensate for the slight lack of options by providing jack-of-all-trades solutions that nail all aspects of playing. A high-end PRS can be used for rock, blues, funk, metal, and jazz, while I dare the best Strat or Les Paul to do that. Suhr guitars is another builder, much smaller in size and versatility, that does the same.
The brand is so confident in the quality of its guitar that they offer a limited lifetime warranty for all instruments.
Fender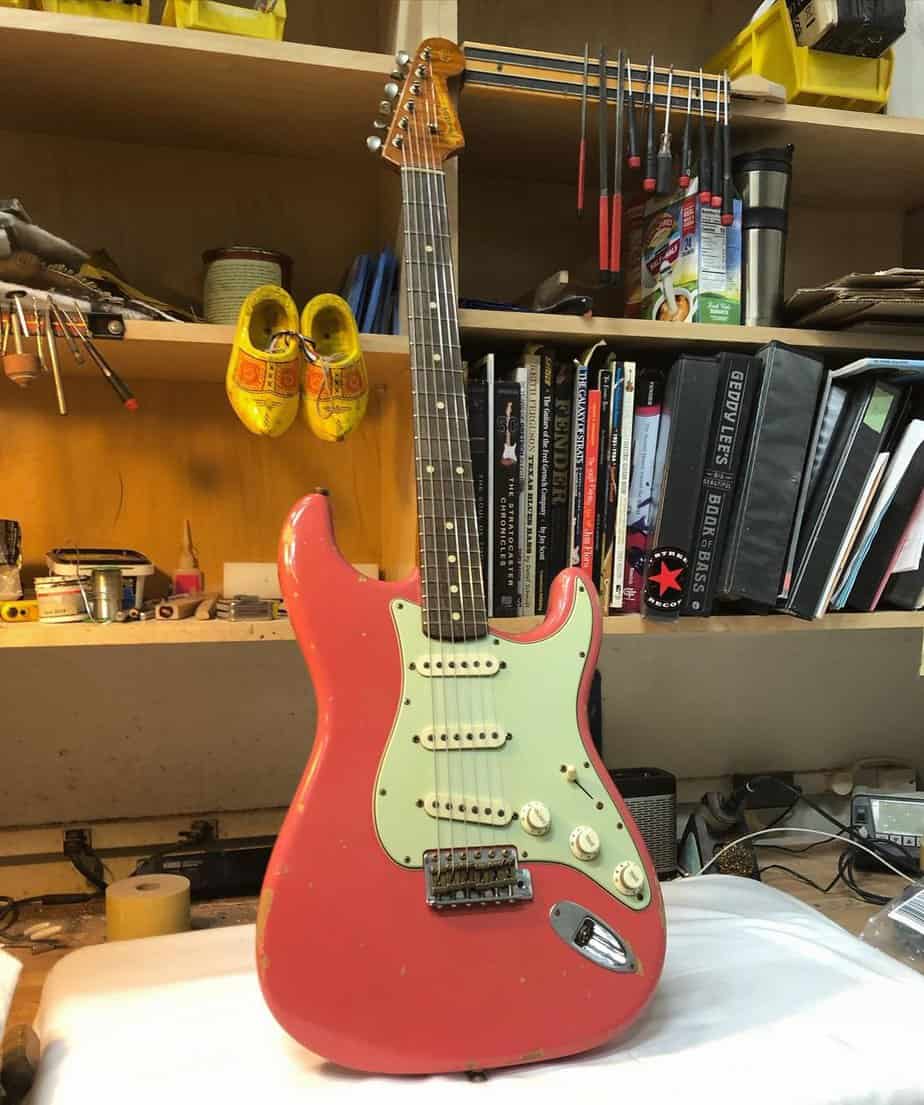 Fender is ever present in every guitar list as the brand has its hands almost everywhere in the guitar world. The makers of the world's most popular electric guitar model offer a vast catalog of new and vintage gear to intermediate and advanced guitarists.
Among the historically great builders, I believe Fender is doing the best job of bringing new products to guitar players. While I think Gibson is stuck somehow in the past, Fender keeps pushing its value Player series and revamps vintage models continuously with its custom shop guitars. They even started their guitar lesson website, one of their many attempts to bring something new to the guitar world.
Telecasters are still the most reliable and recorded guitars ever, while there is nothing much to add about the Stratocaster that it's not already said about its versatility.
Read Also: Gibson vs Fender Guitars History: Which is Better?
Gibson
Quality Gibsons, especially vintage models, are becoming an entity for rock guitarists more than instruments. They are expensive to the point of being an artifact, yet the sound you get from them is unbeatable.
No brand can rival Gibson's historical catalog of guitars in the high-end section, and even Jimi Hendrix or Clapton Stratocaster is as sought out as the 50s and 60s Les Paul. Classic rock's PAF sound is their merit more than any other company.
As soon as the gain knob started to crank up in the 60s or the first overdrive pedals were out, Gibson stood out of the bunch. The SG beats and Les Paul Standard/custom beats almost all rock guitars in playability and character.
I find them among the top brands, even on the jazz or acoustic side. Gibson Archtop guitars and old acoustic guitars rank among the best modern-era instruments.
I ranked Fender higher than Gibson because I feel the company has become repetitive to almost going bankrupt a few years ago. That is slowly changing, though, as Gibson was bound for a big comeback.
Ibanez
On the heavy side of things and the side of the world, Ibanez was and is the all-around precision rock and metal guitar manufacturer. While I'm not a fan of their beginner models, the intermediate and high-end models never fail to live up to expectations.
What I find exceptional about Ibanez are the signature models. They have hundreds of signed artists, and each model differs from the others. From jazz hollow-body guitars to 7-string chuggers, they cover all possible genres of music.
What I'd recommend first is the Ibanez GEM Steve Vai signature which is, not without reason, the most-sold signature guitar ever. It laid the ground, along with Van Halen's "Frankenstrat," for what the standard shredders electric guitar should look, feel, and sound like.
Interesting Read: Ibanez vs Schecter: Which Brand Is Best For You?
Martin
Martin guitars represent a big part of the acoustic sound of modern music. Martin's are unparalleled, from early 20th-century folk tunes to being still a name that represents American tradition and a warm, rich, "woody" guitar tone.
The majestic Martin D-28 slipped the folk limit and fell into the hands of some of the best rock songwriters. The same is happening today, with advanced and professional players of all genres bringing their Martin to the studio or concert halls.
What I value about the brand, besides the classic models, is that they are still producing guitars that sound like vintage instruments. Any Martin feels old and well-crafted as if it resonates good tone just by looking at it. Even though the price is high, you can't go wrong with a Martin.
The closest brand that comes to mind when Marting is mentioned is Taylor. Both tend to aim at the same target, but one does it best ultimately.
Read also: Best Martin Guitar Options: How to Pick the Right One
Acquired Tastes
Among the many guitar brands, some are much of 'acquired taste' that you only like if you are into a genre.
Gretsch
Gretsch is a class act in both quality and design. They hold the crown as the stylish guitar brand that is equally great to play and beautiful to the eyes. What separates Gretsch from other 60s invoking brands, such as Rickenbacker, is superb playability and the versatility of both tone and price ranges.
Their modern mid-range of instruments is exceptional and, in some aspects, superior to vintage models – a rare thing to say about classic brands. They are much easier to play and more reliable at times than vintage models. A few exceptions, like the "White Falcon" and similar high-end vintage models, are legendary.
Even the modern Streamliner series looks like it came out of a Chris Issak music video and has the uncopiable sparkly glassy clean tone.
Rickenbacker
Rickenbacker was the first company to promote and market the electric guitar. The Beatles played one each, and thus, the world saw their Rickebacker 4001 in action playing rock n' roll tunes.
Rickenbacker managed to keep the value of their guitar intact even though the company went through many financial troubles and is not the best example of how to run a guitar company in the long run. There's no doubt that if you want to recreate the 60s bright, clean tone, no other guitar or bass takes you back so well as a Rickenbacker.
The biggest downside is that they are hard to find and very expensive, and it takes some time to adjust to their necks.
Schecter
Schecter is the extreme metal guitarist's new favorite brand. Their 7 and 8 guitars are not only fantastic but more affordable than most heavy guitar giants such as Ibanez. The US maker has excellent mid-range guitars and professional US-made custom shop instruments, which metal guitarists are choosing over other big brands.
For beginners and intermediate players, I recommend the massive Diamond series.
Strandberg
The headless guitar makers are nothing but without a head on their shoulders when it comes to making guitars. Over the years, they periodically arose as the niche choice everyone's favorite player would often pick up and play.
If you're into tricky chord shapes and equally complex play, the short scale length and overall playability make them unparalleled. They are though relatively hard to find.
Charvel
Charvel only makes premium instruments and keeps their signature artists limited to technical players that need everything an electric guitar can do. It's one brand that listens to the player's needs and makes guitars fitted to them.

They are expensive, but I can't deny I would invest in one of them and replace 2 or 3 of my touring guitars.
FAQs
Question: Why Did Gibson Go Bankrupt?
Answer: The main reason, according to experts, was the brand's decision to become a lifestyle brand and not only focus on musical instruments.
Question: What Brands Does Fender Own?
Answer: Squier, Gretsch, Jackson, Charvel, and EVH are all owned by Fender.
Question: Which Brand Sells The Most Guitars?
Answer: Fender and its sub-brands are the market leaders in guitar sales.
Final Thoughts on Best Guitar Brands
The best guitar brand, ultimately, is the one that fits your style and not the opposite. It's a somewhat cliche conclusion that requires some work to determine what works best for you. My tip is to go with broad brushes and not overly obsess with details that are not essential to your playing.
No matter how big the name is, it's good to switch if you play an instrument for a while and it doesn't click with you. If you're a gigging musician or studio player like me, give your new guitar a least two gigs, and don't over-obsess with vintage gear.
Latest posts by Altin Gjoni
(see all)