If you're a guitarist, there's only one piece of equipment that probably matters even more than your electric guitar – your amplifier.
Choose wisely and it will instantly boost your performance. Today we're going to discuss two great ones: Fender Champion vs Mustang.
Fender amps are nearly as legendary as their guitars. They are known to provide beautiful brightness and clarity, lots of articulation, and great headroom. Throughout the years, they became sort of an eponym for "American guitar sound", although that, of course, can mean many things to many people.
But which one should you choose?
Well, no two Fender amplifiers are identical, so you should pay attention to several important details before making the decision.
Fender Champion and Mustang, the amps we compare in this article, provide a great example of this diversity. While being almost identical in price and power, they are likely to attract two very different types of guitarists.
Since both amps come in various sizes and with possible modifications, we've focused mainly on classic 20W bestsellers for the most objective comparison.
Bottom Line Up Front Summary: Most guitarists will be more than happy with the Fender Champion amp (Fender Shop / Amazon) , ideal for beginners and intermediates. Once you fall down the software modeling and digital effects rabbit hole, upgrade to the Fender Mustang (Reverb / Sweetwater)
Main Differences Between Fender Champion vs Mustang
The main differences between the Fender Champion vs Mustang are:
Fender Champion comes with traditional analog-style controls and supports DSP effects, whereas the Mustang focuses on software modeling and digital effects
Fender Champion is bigger yet lighter, whereas the Mustang has smaller dimensions but weighs more.
Fender Champion doesn't have USB connectivity, whereas the Mustang has this modern feature.
Fender Champion cannot be used with Fender FUSE software, whereas the Mustang can.
Fender Champion is better for vintage-lovers, whereas the Mustang looks and sounds very contemporary.
Best for Beginners & Starting Out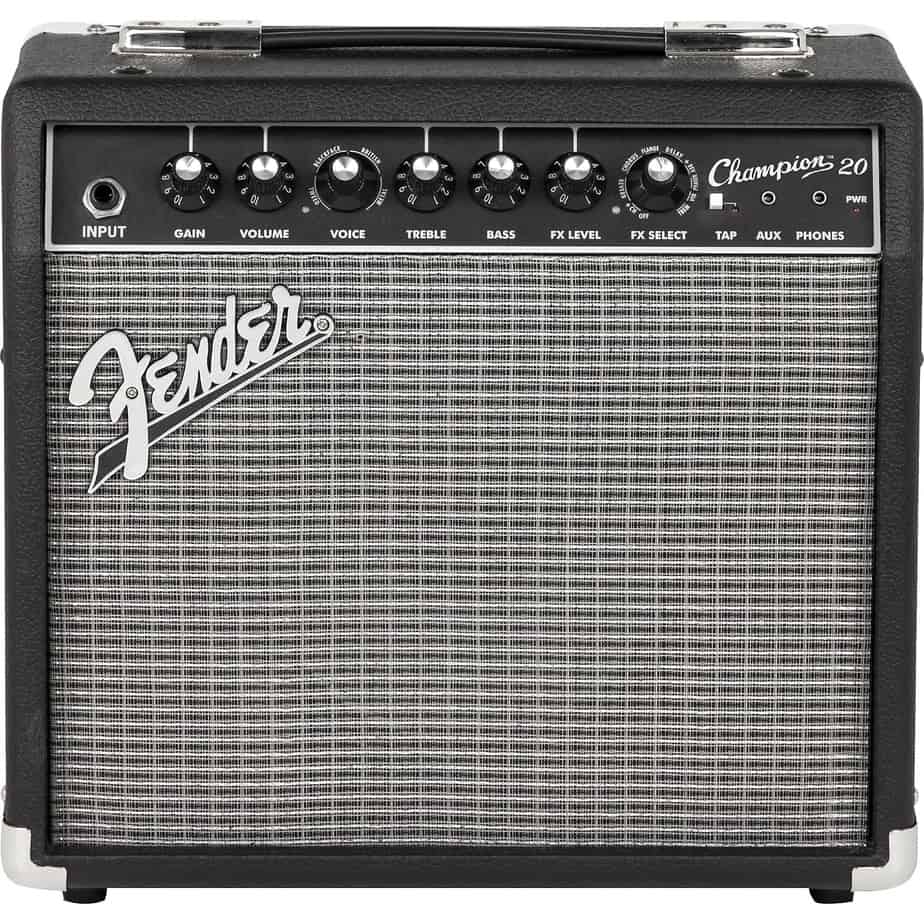 Besides these major differences, both models also have many similarities. For example, they both have a 1×8" speaker, both can't be used as portable (battery-powered) amps, and both have a wide range of classic in-built effects. Let's discuss them one by one in detail.
Key Specifications
| | | |
| --- | --- | --- |
| | Champion (20W) | Mustang (20W) |
| Type | Solid-state | Solid-state |
| Speaker | 1×8" | 1×8" |
| Built-in Effects | 12 | 12 (+ more with FUSE software) |
| Amp models | 12 | 24 |
| Connectivity | 1/8" AUX input, headphone output | USB, footswitch, headphone output, mp3 / line-in |
| Dimensions / weight | 16.00 x 12.00 x 16.00 inches / 6.61 lbs | 7.60 x 15.50 x 14.50 inches / 17 lbs |
| Price | See here for the latest price info. | See here for the latest price info. |
Exploring Fender Champion vs Mustang features
Here are the main features of the Fender Champion and the Mustang:
The Fender Champion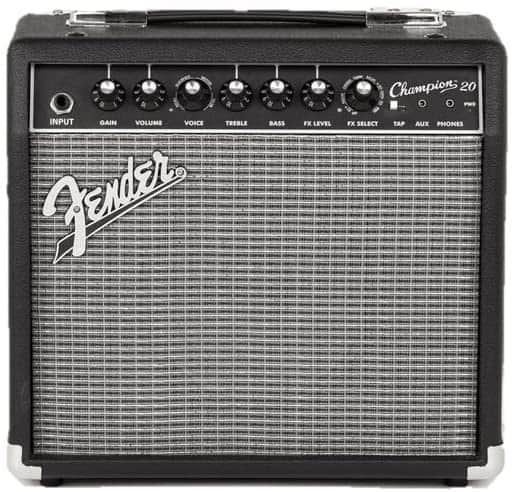 Champion is one of Fender's oldest and best-renowned amp series. This iconic amplifier has been around ever since 1948, and its trace and legacy could be found across every genre and musical style.
The original predecessor of all contemporary 'Champs', as they're often affectionately referred to, was Champion 800, a small yet mighty 4-watt amp equipped with a single 8-inch speaker. Later, the original concept evolved into various performance classes, sizes, extras, and even some limited editions.
Champion's most famous users include the likes of Eric Clapton, so you're sure to land in good company. Although the sound and vintage design of this amp can make it look like the best match for blues-rock or jazz players, it will perfectly complement your hard rock or funky riffs too for sure.
Fender Champion 20 Key Features
Clean and bright tone
Intuitive dial knob controls
12 onboard effects
12 models/presets
1×8" speaker
20W
Vintage design and feeling
1/8" auxiliary input and headphone output jacks
One channel
Design
Fender Champion sports a traditional, sleek yet simple design that is genuinely likable and perfectly functional. The cab is small enough to be easily portable (but don't forget that it must be plugged into mains every time), which nicely contrasts with its punch and power.
The cab is black with a silver grill and steel reinforcing plates around the corners. The handle on the top feels sturdy and reliable, just like the rest of this beautiful amp. If Fender is really famous for something, it's definitely their construction qualities – and Champion is no different.
Of course, if you're willing to spend a bit more, you can have a stylish Fender '57 Custom Champ – breathtakingly beautiful vintage amp covered in beige tweed. This special edition will certainly be the pride of every guitar setup.
Best for Beginners & Starting Out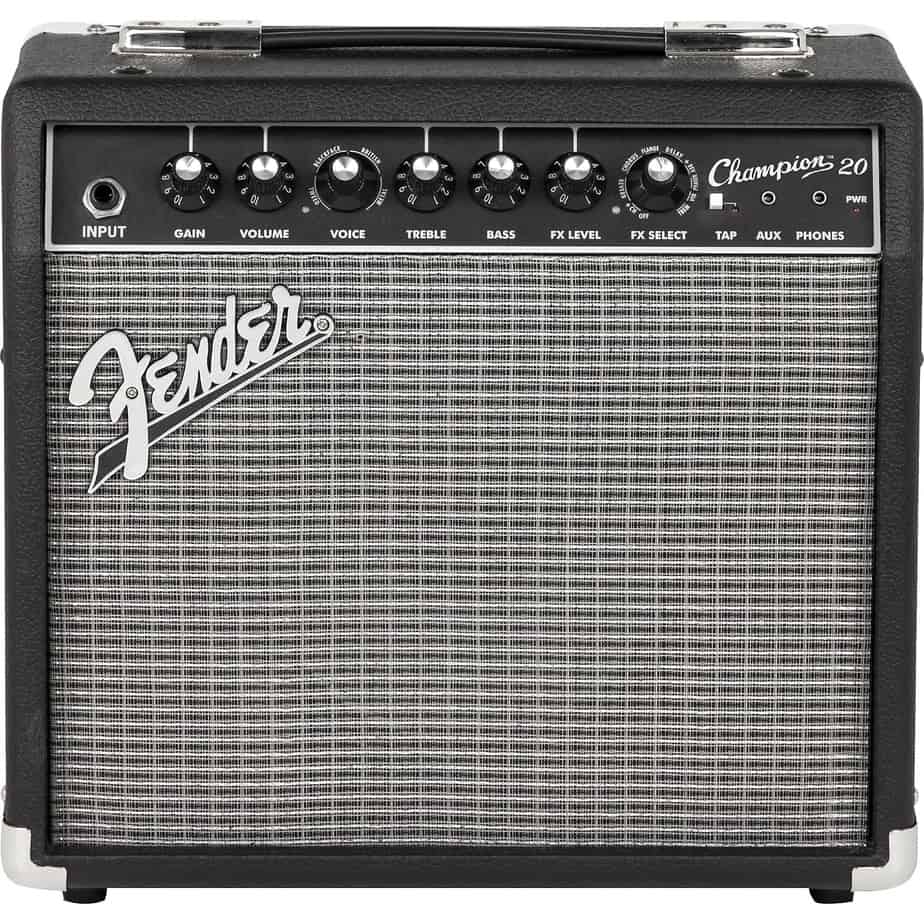 Effects and Controls
Although it might not be the best-equipped amp on the market, Fender Champion is still packed with a generous amount of in-built effects – especially given its affordable price and small dimensions.
You'll basically find all your favorites here: Reverb, Delay, Chorus, Tremolo, Vibratone, and Overdrive. Lots of options for experimenting and playing with your sound – and nice saving, since you don't have to buy any of these effects separately.
When it comes to controls, everything is neatly organized in a slightly reclined row of dial knobs at the top of the front panel: Volume, Channel, Gain, Channel 2 Volume, Voice, Treble, Bass, FX Level, FX Select, and Tap Tempo.
It looks a bit old fashioned (in the best sense of the word) and clearly appeals mostly to analog-loving guitarists. However, the most important quality of this setup is its convenience that allows you to sculpt your tone easily and smoothly at any given moment.
One small weak point that diverts from this direction is Champion's main power switch located quite inconveniently on the backside. I personally don't like this and I even managed to turn the whole cab off once or twice unintentionally, but maybe it's just me and my clumsiness.
Sound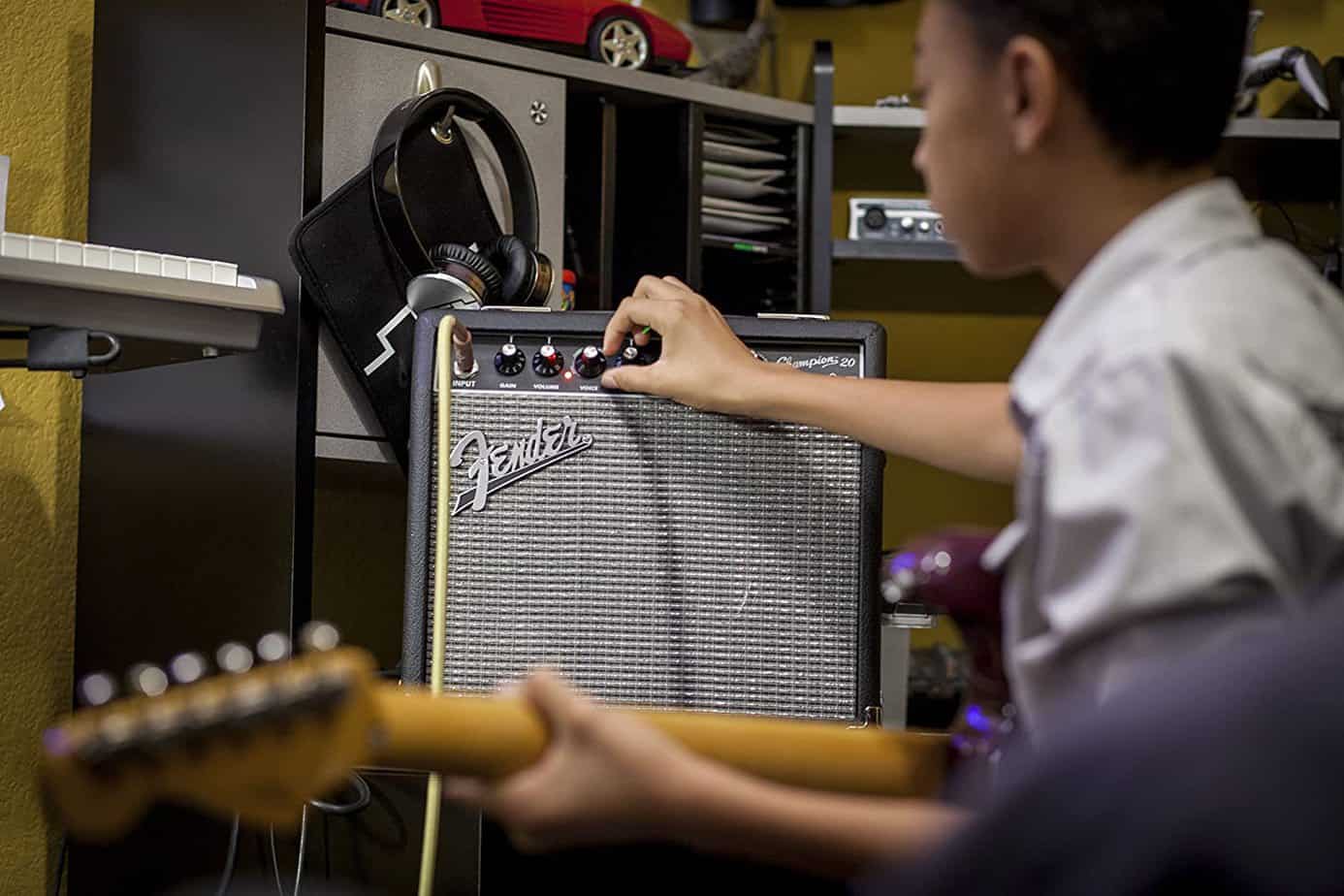 Fender Champion is really a champion – especially when it comes to clear, excitingly well-articulated sound that can be appreciated across a wide range of musical styles and genres.
It also has rich options for those who like to play with the tone and voice of their sound. Onboard amp models include some of the legendary vintage amplifiers – not only the Fender ones, but also iconic models by Vox, Marshall, Mesa Boogie, and some others.
When it comes to power or punch, this clearly depends on the exact model you choose. The 20W version of Fender Champion we are focused on in this comparison is, logically, not intended for big gigs. It will mostly suit enthusiasts who want practice without excessive noise, although it can surely work well with smaller jam sessions too.
Other Features
If you're asking whether this amp has any downsides at all, I must say that for me it certainly does. Fender Champion has only very basic connectivity – aux in and headphones, that's pretty much it. Forget about connecting this amp directly to your computer via USB and playing with your sound digitally, you'll have to get some other gear to accomplish this.
While this might be totally fine for many guitarists, it's definitely something you should know before you make the purchase.
All in all, Champion is a great piece of equipment for an ambitious beginner. However, as your skills (and appetite) grow, you will probably feel a bit stuck within its limitations.
Reliability
Although Fender Champion 20 is definitely on the cheaper side, rest assured that this doesn't show off in any of its constructional qualities. It's still Fender – pretty tough, road-ready, and built to last.
The Mustang
Just like the Champion amps, Fender Mustang Series amps also come in many different sizes and modifications. Some of them are great for practice or smaller friendly jams, others can work miracles on stage too.
There are basic ranges Mustang I and II (Mustang 20 we focus on in this comparison belongs to the first series), and also slightly more advanced Mustang III and IV. Mustang GT is the newest and technologically most advanced Mustang amp type – the main difference is that it supports Bluetooth technology.
Although their parameters and features can differ, what all Mustang amps have in common is a beautiful contemporary feel, a modern pro-digital approach, and great sonic qualities.
Coming with a rich variety of onboard effects and model presets, this is an ideal piece of equipment for someone who prefers going his own way off the beaten path. Fewer traditions, less vintage style, more options, and digital technologies.
Fender Mustang 20 Key Features
Modern amp with clear contemporary sound
Modern design and feeling
Works with Fender FUSE software
1×8" speaker
20W
USB connector, aux in, headphone output
One channel
Design
In comparison with Fender Champion, Fender Mustang is slightly smaller in size – however, it paradoxically weighs a bit more. Of course, it's still very compact and conveniently portable, so this probably shouldn't be a major dealbreaker.
The exact product we're looking at is Mustang I V2 – version 2.0 which comes with a slightly modernized design and looks even more elegant than its predecessor, version 1.0.
Just like Champion, the Mustang series also brings some special pieces for those who'd like to add a bit more style into their onstage presence. For example, the newest models like Mustang LT-25 (2019) come with a sleek black-on-black design that looks truly great. Of course, it will cost you considerably more than Mustang I v2.
Fender Mustang GT 40 | Guitar Center
Its cabinet design is more gig-ready and durable; the 12" Celestion speaker produces strong, powerful response; and the improved amp, speaker and cabinet models ensure that Mustang GTX sounds amazing. Stereo XLR line outputs and stereo effects loop let you interface with PA, recording and outboard gear.
Check price
Buy at Amazon.com
We earn a commission if you make a purchase, at no additional cost to you.
Effects and Controls
The main difference between Mustang and Champion lies in the latter's ability to interact with Fender's FUSE software, which was specifically designed to supplement Mustang series (I-IV) amplifiers. This digital controller gives you even more options, making your experiments more creative and enjoyable.
Sadly, Fender announced that it won't be developing FUSE in the future anymore (their Mustang GT series amps already use different software). Nevertheless, Fender FUSE will still have the full support of its producer, so you'll be able to enjoy your Mustang to the fullest anyway.
In comparison with its direct predecessor (v1), Mustang I v2 comes with five additional amp models, five completely new stompboxes, and the pitch shifting option. Controls are located on the upper side of the cab, which might lack the old school sleekness, but it also facilitates manipulation from the standing position.
Sound
Fender Mustang really is a little gem for any guitarist who feels the urge to explore and improve his or her skills. Its natural sound is bold, bright, clear, and there's no sign of interference from any of its knobs and controls.
That certainly doesn't mean it lacks some character though (as some die-hard analog amp lovers might argue) – it has tons of character, but it allows you to determine, choose, and 0sculpt this raw sonic energy to perfection.
Of course, utilization of Fender's FUSE software is simply a must, you won't be able to enjoy all the abilities of this amp without it.
Other Features
As I've already mentioned before, Fender Mustang's biggest asset is its modern connectivity. Simply plug this amp into your computer, download Fender's FUSE software, and you're ready to model your sound without limitations.
You can also connect this amp to your outboard pedal effects, but I found the results rather disappointing in comparison with Mustang's dedicated onboard features.
Reliability
Fender Mustang is definitely a piece of exceptionally reliable and durable music equipment. You might not be crazy about its modern and functional design, you probably might not even love its great sound and versatility (that sounds very unlikely though…), but you surely won't complain about how well this amp is constructed.
Fender Champion vs Mustang – Pros and Cons
Fender Champion
Pros
Bright, warm sound with a slight vintage feeling
Small yet powerful
User-friendly analog dial knobs
Great price
Nice set of onboard effects and model presets
Cons
Fewer connectivity options
The main power switch located on the backside
Fender Mustang
Pros
Nice contemporary style and feeling
Can be used with FUSE software
Has more connectivity options (incl. USB)
Great price
More presets than Champion
Cons
A little bit heavier
FUSE software is no longer being developed
Are There Any Alternatives?
If you're firmly decided to stick with Fender yet need to cut your expenses slightly more, Fender Frontman 10G is a perfect budget-friendly alternative for you.
This one channel electric guitar amplifier has a 1×6″ speaker, a perfectly compact body, and beautifully articulated sound.
Having 10W of power, this is an ideal practice amp for all enthusiastic beginners. You can use it at home or bring it with you to your practice room whenever you need to.
Users also love it for its classic vibes and intuitive controls.
Fender Frontman 10G Amplifier | Guitar Center
The Frontman 10G is perfect for beginning guitarists, students and teachers and guitarists on a tight budget looking for an "extra" practice amp. Fender Frontman amplifiers have won an army of users by delivering quality tone at a great price.
Check price
Buy at Amazon.com
We earn a commission if you make a purchase, at no additional cost to you.
You can learn more about this nice little amp in our Best Mini Amplifiers for guitar article.
Missing an additional channel? Orange Crush 20 is a stylish and powerful twin-channel amp that should satisfy you.
Its price is very similar to both Fender amps we've discussed earlier in this article, and it also comes with 20W performance.
The main difference is in its two foot-switchable channels, which might be seen as a big step forward.
But there's surely more to adore about this amp. Many guitarists simply love the unique and instantly recognizable design of all Orange products.
On the other hand, their construction is a little bit less sturdy than Fender's, so you should treat this amp with some care.
If you're not primarily after a heavy-weight power, maybe you'd be able to appreciate the gorgeously distinctive valve sound of the Blackstar HT-1R mini tube amp.
This compact, perfectly portable speaker might have just 1W, but you definitely shouldn't underestimate it – especially if you're a metal fan, because that's its favorite genre.
Blackstar HT1R costs significantly more than you'd pay for Fender Champion or Mustang.
For an amp that's mostly designed for beginners, this might seem like a little too much. Nevertheless, the tube sound might definitely be worth it.
FAQs About Fender Champion and Mustang
Question: Can you use pedals with Fender Mustang?
Answer: Yes, besides providing you with numerous built-in effects and amps presets, Fender Mustang also allows you to pug in your external pedals. However, experienced users would probably agree that on-board effects work and sound much better with Mustang amps.
Question: Is Fender Champion a tube amp?
Answer: Fender Champion surely appeals to those who like old school vintage warmth of tube amplifiers. Nevertheless, it's a solid-state amp that spares you from all the weaker points valve amps are known for. Needless to say, it's also considerably cheaper.
Question: What is the difference between Fender Mustang v1 and v2?
Answer: Fender Mustang v1 had a slightly less appealing design – the new model comes with an improved an dmodernized look crowned by a new tolex. Moreover, the Mustang v2 also comes with 5 new amp models, the same amount of new stompboxes, and pitch shifting
Our Verdict: Which Amp is Better for You – Fender Champion vs Mustang?
Whether you're looking for your very first guitar amp or a nice yet simple backup gear for practice, Fender Champion should make you happy. It's a simple yet powerful and very reliable amplifier that bears all the famous qualities of its iconic brand.
Moreover, its old-school design, valve-like warmth, and analog controls will fulfill your dreams about a classic vintage amplification.
On the other hand, if you're a bit further in your guitar journey, and you're more into exploring, experimenting, and crossing the lines, I would strongly suggest you to try Fender Mustang.
For the same price, you're going to get simply more – more options for sculpting your perfect sound, more inspiration for pushing the boundaries, more connectivity to your favorite gear. Of course, the difference also comes in controls and the general feeling of the sound. These are very individual qualities though, so I guess you'll have to try and see for yourself.
Bottom Line Summary: Most guitarists will be more than happy with the Fender Champion amp (Fender Shop / Amazon) , ideal for beginners and intermediates. Once you fall down the software modeling and digital effects rabbit hole, upgrade to the Fender Mustang.
In any case, I hope this comparison helps you understand your options and make the right decision for you. If you need more inspiration, check out our list of Top 4 Fender Guitar Amplifiers or our tips for Best Budget Amps.
Read Next
Latest posts by Jodie Chiffey
(see all)