The guitar amplifier is one of the most important parts of a guitarist's gear. I would go as far as saying that I would rather have a really good amp with a medium-quality guitar with a nice setup rather than having a super expensive guitar plugged into a cheap amplifier.
A different amplifier can give a whole new voice and life to the guitar(s) you already own, and it could also allow you to make the most out of other gear such as effect pedals and some recording equipment.
This Fender Champion 100 review will tell you all you need to know about this powerful combo amp, designed and manufactured by one of the most popular musical instrument brands in the world.
Deciding which guitar amplifier you should get is not an easy task, since there are multiple variables that you must take into account if you want to get it right the first time. We're going to go over the most important points so that you decide if the Champion 100 is the amp for you!
Bottom Line Up Front
Personally, I would feel very comfortable playing the Fender Champion 100 in any situation that I frequently find myself in. I'd use it to record tracks, rehearsals, sessions, teaching and even gigging without worrying about having enough volume or the amp breaking down.
Solid state amplifiers are sounding better every year, and the peace of mind you get by knowing that you won't have a faulty tube or any unexpected issue associated with tube amps is extremely valuable if you're traveling around often.
It comes with a footswitch which allows you to switch between its two channels and engage/disengage its effects, which is very useful if you're playing with other people.
I would easily recommend this amplifier to anyone who plays blues, jazz, rock, funk, and any genre that doesn't require heavily distorted guitar tones. If you would like a version of this amp with a few more features, then you should take a look at the Fender Champion 100XL.
You can generally find the Fender Champion 100 for around $400.
GuitarCenter – Fender Champion 100 Guitar Combo Amp
Fender Champion 100 Main Features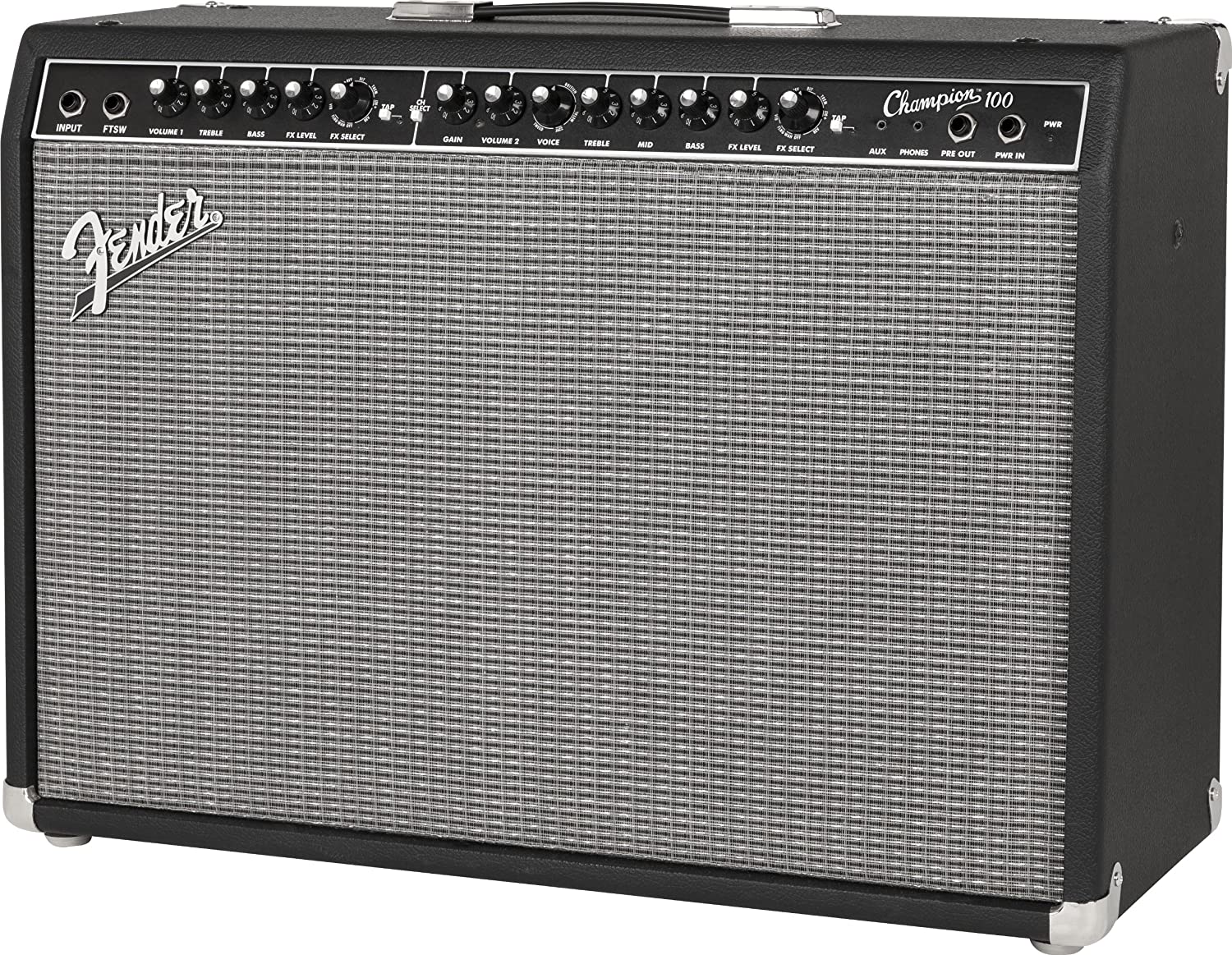 The Fender Champion 100 was released in late 2013 and it is packed with interesting, and convenient features for every guitarist. Let's discuss the aspects that make it a great purchase.
Dual Channel
The Fender Champion 100 has two independent channels, and it even comes with a footswitch that can switch between them. It can also switch the effects you engage on each channel on and off, giving you more possibilities while playing.
I remember that when I bought my Peavey Classic 30, I had to purchase the footswitch separately, and having it included with the amp is a nice touch for buyers.
The first channel only has a volume knob, a 2 band EQ (Treble and Bass), a knob to select which effect you want to use, an FX Level knob to define the amount of that effect in your tone, and a tap tempo to help you dial the perfect rate on time based effects such as delay.
I don't see why Fender would include a 2 band EQ on the first channel when the second one has a 3 band EQ, but there are ways to go around that, such as using an EQ pedal like the Boss GE-7.
The second channel has a few more features. The EQ is now more complete (Treble, Middle and Bass knobs), there's a Gain knob, and a Voice knob, which allows you to switch between different amp voicings.
The ones included are Jazz, Tweed, Blackface, British and Metal. Each of these voicings has different EQ curves, and they progressively have more gain, from Jazz to Metal. The effects controls are the same as in the first channel.
Sound
The Fender Champion 100 is an extremely versatile amp that can deliver great tones within a huge range of musical genres.
Personally, I think the best way to use it is to stick to the clean sound (you can achieve a clean tone on any of the two channels) and get your overdrive/distortion from a pedal. I think the clean sounds are far superior to the overdriven tones achieved by the second channel on the amp.
However, for something like an "edge of breakup" tone, I'd still be happy to use the second channel on a low gain setting, and then maybe use an overdrive pedal in front of the amp to push it into distortion whenever I need a boost for a solo or something similar.
The fact that you have a 2 band EQ on the first channel and a 3 band EQ does not keep you from achieving a nice sound on any of the channels, but you can take this detail into account when deciding which one you will use the most.
You also have a great effects section with a Level control and a Tap Tempo button, which will help you craft some stellar tones.
On the second channel, you have the Voicing knob, which allows you to switch between 5 different amp voices: Jazz, Tweed, Blackface, British and Metal. Each has a bit more gain and compression than the previous one, and the EQ curve also differs.
For instance, the Tweed and Blackface voices are going for a tone that reminds you of the early Fender tweed amps and the blackface amps that came out in the 60s. British is more in the Marshall territory, and Metal is obviously a high gain type of amp.
My favorite voices were definitely Tweed and Blackface, but mostly because I preferred cleaner sounds rather than heavily distorted ones from this amplifier. As far as the effects go, I really enjoy the Vibratone, since it is such a unique effect, reminiscent of the famous Leslie speaker.
Effects Section
One of the biggest advantages of the Fender Champion 100 is the fact that it comes with a variety of digital effects that can be used in a plethora of situations.
Out of the available effects, I'd have to say that my favorite is the Vibratone, which emulates a rotating speaker similar to the Leslie, often heard with Hammond organs. Fender manufactured the Vibratone between 1967 and 1972, and it was used by Stevie Ray Vaughan in a number of songs.
Apart from this classic and unique effect, you also get Wah, Flanger, Reverb, Delay, Tremolo, and combinations of Reverb + Delay and Chorus + Delay + Reverb.
Personally, having an amplifier with different effects was a key aspect of growing up as a musician. When you start, it can be very overwhelming to identify what effects your guitar heroes are using, and dialing in a good tone can be pretty challenging.
The opportunity of messing around with different effects was very valuable for me, as it made me understand which effect pedals I wanted to get first, and when I bought them, I was already familiar with how to dial my favorite tones.
Complete Specifications of the Fender Champion 100
You can check the full specifications of the Fender Champion 100 below:
Power: 100W
Controls: Volume, 3 Band EQ, FX Level, FX Select and Tap Tempo for each channel; overdrive channel also has a Gain control
Channels: 2 Independent, footswitchable channels
Inputs: 1 x 1/4″ Input
Available Effects: Reverb, Delay, Chorus, Tremolo, Vibratone, Flanger and Wah
Effects Loop: Yes
Speaker: 2 12″ Fender Special Design speakers
Impedance: 8 ohms
Dimensions: 19″ x 26″ x 10.25″ (Height x Width x Depth)
Weight: 40 lbs
Footswitch: Included, 2 buttons (switch channel, effects on/off)
Other: 1/8″ AUX input and headphone jack; Blackface type design
Pros
Powerful if You Need a Lot of Volume
Players who know that they will be playing with a loud drummer, other musicians with amplified instruments, or gigs in large venues are bound to worry whether their current amplifier has enough power to keep up with the demands that these things come along with.
The Fender Champion 100 packs a serious punch and I seriously doubt that you will feel like you're lacking volume.
When I played it, it reminded me of the Fender Frontman 212r, which is also a very loud combo amp with 2 speakers. This doesn't mean it can't do bedroom volumes comfortably, but if you're only going to play it at home, you might want to consider a smaller amplifier that you can make the most out of.
Clean Tone for Days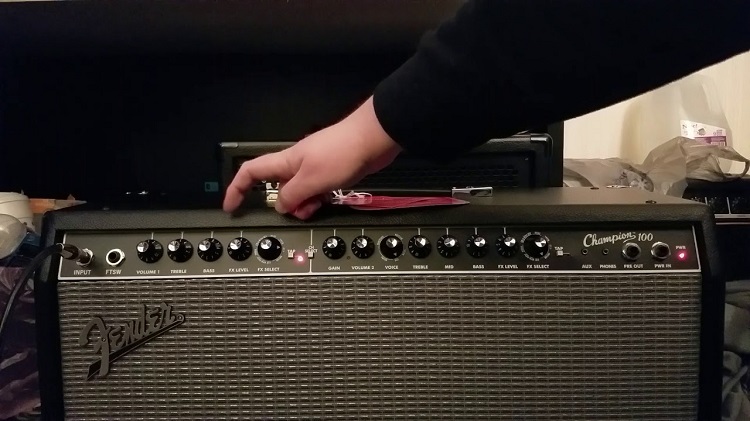 It would be disappointing to see a Fender amplifier in this price range with an awful clean tone, but fortunately, that is not the case at all with the Champion 100.
To my ears, even though it doesn't sound as good as some more expensive models like the Blues Deluxe, Deluxe Reverb or Hot Rod Deluxe, my favorite aspect of this amplifier was still its clean tone.
Even with a transistor circuit, it still felt responsive, alive and I wouldn't mind using it at all for recording and playing live if I had to.
I do own a Fender Blues Jr Tweed and a Deluxe Reverb at the moment, so I would go for those faster, but that does not mean that the Champion 100 does not have its place. This kind of amp comes with its advantages, namely reliability, which we are just about to discuss.
Reliability as a Transistor Amplifier
Many guitar players prefer to play tube amplifiers because they give a sensation that transistor amps often don't give them. They respond differently to dynamics, the tone changes significantly according to the volume, among other things.
However, it is also mandatory to take into account that they are much less reliable than transistor amps.
Tube amplifiers have vacuum tubes inside which can have several problems, and some of them can happen suddenly, without a warning that you should take it to a technician for maintenance. If this happens during a gig, it can be very awkward and complicated to solve if you don't have a backup amp.
For this reason, many players get their peace of mind by playing transistor amps instead, which are much more reliable than tube amps. Nowadays, the technology is advancing so quickly that transistor amps sound closer to tube amps than they ever did, making them more appealing to players of every kind.
Good Pedal Platform Amplifier
You might have heard the term "pedal platform" before when referring to amplifiers. A good "pedal platform amplifier" is an amp that reacts well to pedals that you put in between the guitar and the amp. Usually, this has more to do with drive pedals (overdrive, distortion, fuzz, etc) than with modulation and time based effects.
If you like to get your dirty tones and effects from pedals, you will be happy to know that the Fender Champion 100 responds very well to them, so you will have no problems incorporating it into your rig.
When I am thinking of buying a new amp, one thing I like to do is to visit a store that lets me bring a small pedalboard (something that holds 3/4 pedals like the Pedaltrain Nano) with a couple of overdrives and a fuzz pedal so I can see how the amp will respond to them. This always gives me a much better idea of whether I will enjoy playing it or not.
A Variety of Included Effects
Nowadays, I don't feel the need to have any effects on my amplifiers aside from reverb (especially if we're talking about a real spring reverb), but I can't overstate the value that having an amp with a ton of effects had in me when I was younger.
I remember having a modeling amplifier that had more effects than I even knew existed, but it helped me learn the difference between a lot of them, and it also allowed me to understand how the different parameters (such as mix and rate) would affect the overall sound of the effect.
The Fender Champion 100 has a big variety of effects, featuring chorus, flanger, wah, vibratone, tremolo, reverb, delay, and it gives you the opportunity to combine reverb + delay, as well as chorus + delay + reverb.
Maybe you are thinking of getting a flanger pedal but you aren't sure – that's when having something like this pays off. You can try it, and if you would like to have a better sounding flanger with more control over its parameters, you can make a much more informed purchase!
Cons
A Bit Heavy for Players Looking for a Lightweight Solution
At 40 lbs (18 kg), the Champion 100 is not the heaviest amp around, but if you are looking for something that can be easily carried around, maybe you can find something that will be a better fit for you.
The weight comes with its size and power, so you don't really need so much volume, you will probably be better off with a smaller and lighter amplifier.
For instance, my Fender Blues Jr Tweed weighs 31.5 lbs, and it is also considerably smaller, making it easier to carry around whether I am on foot or driving.
Not the Best Bedroom Amp if that's what You Want
As I was commenting before while we were discussing the volume of this amplifier, while it can definitely do bedroom levels if you need to, I don't think this is the best purchase you can make around this price range if you're not expecting to take it out of the house very often to play with other musicians in sessions, rehearsals or gigs.
In any case, its size, weight and volume might not bother you at all and you might still want it because of the effects or any of its features, so it is up to you to decide whether it seems like a good purchase or not.
The Champion 100 also features a headphone jack if you need to be really silent when you're playing, but personally, I don't like to play like that very often.
Not the Best Overdriven Sounds
My usual preference is to get my dirty tones from pedals instead of getting them straight from the amp. However, there are amplifiers with amazing dirty sounds, such as many Marshall, Orange or Mesa Boogie amps.
You might think it is a bit redundant to use the same pedals with different amps since they could all sound the same since I'm getting my overdrive from the same circuit, but amps react very differently to the same stompbox.
If I were playing the Champion 100 frequently, I'd have to say that its biggest disadvantage is the overdriven tones. It's not that they are unusable, and it ultimately comes down to personal preference. It is still nice to have access to various amp voicings that can help you get closer to the guitar tone you're hearing in your head.
Valuable Amplifiers to Check Out as Alternatives to the Fender Champion 100
Even though the Fender Champion 100 provides a lot of value for an affordable price, the market is full of interesting and diverse options to choose from nowadays, so there might be other amplifiers that you would like to try out the next time you visit your local music shop.
Here are a few of my top recommendations for those players who are already considering the Fender Champion 100:
Fender Mustang GTX 50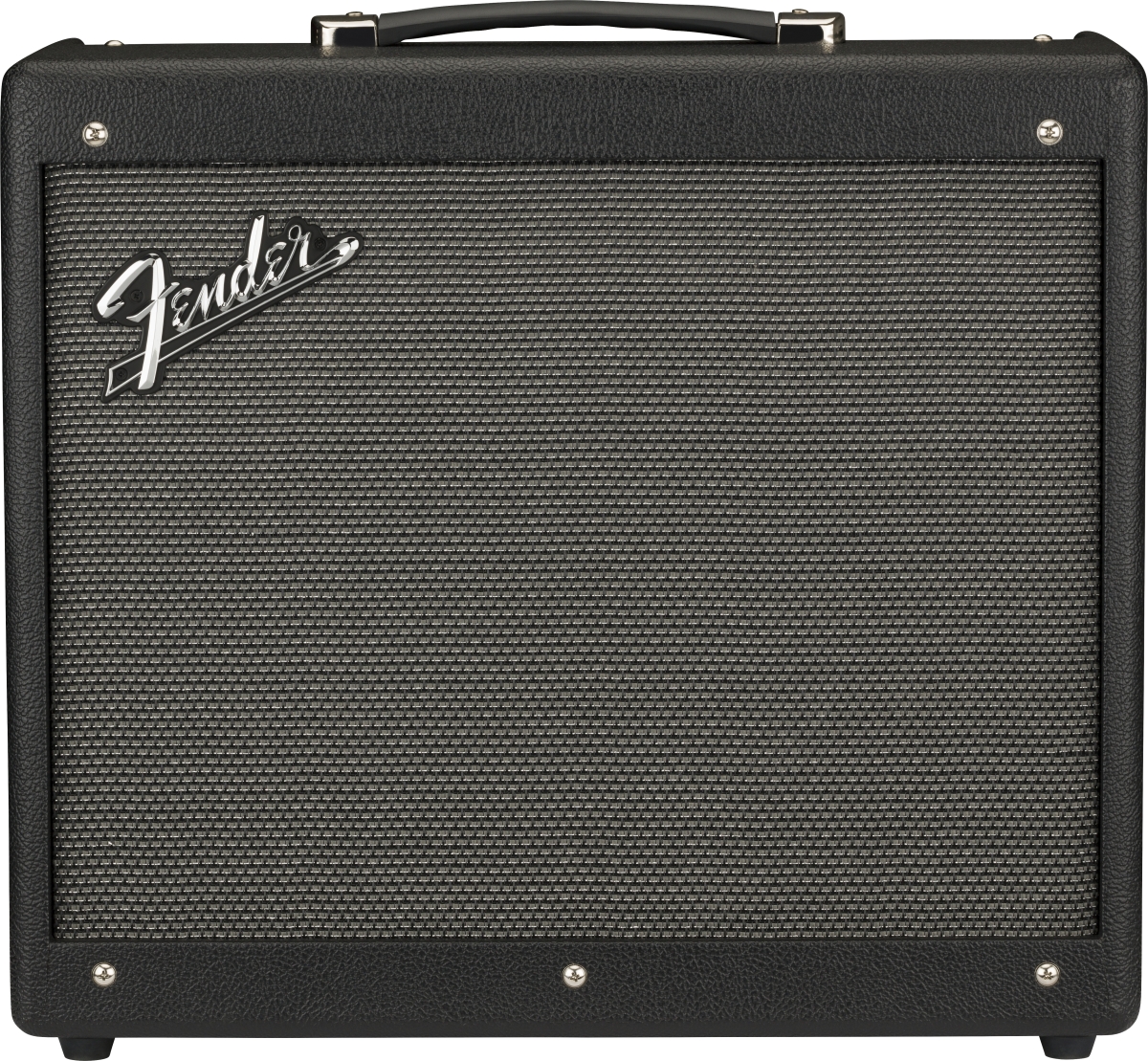 The Fender Mustang GTX 50 is an excellent alternative to the Champion 100. It is a more recent amp that has been around since January 2020, and it comes with several features that are an improvement on the Champion 100.
It is also significantly lighter, and it isn't as loud as the Champion, which might be appealing to those who don't need tons of volume when playing.
Aside from having a bigger variety of onboard effects, this amplifier also has modern features such as Bluetooth audio streaming, built-in Wi-Fi for updates, and you can edit your tones with precise detail via the Fender TONE app for iOS and Android, opening up a wide array of possibilities.
You can generally find the Fender Mustang GTX 50 for around $400.
GuitarCenter – Fender Mustang GTX 50 50W 1×12 Guitar Combo Amp
BOSS Katana 100 MkII
The BOSS Katana 100 MkII delivers an amazing value for its price, just like the first version of these amplifiers. The 100W version is still a 1×12 combo, giving you the same power as the Champion 100 in a smaller package.
It also features a plethora of amp voicings, effects, the possibility of editing your tones meticulously with their own software, and much more.
When I moved to Spain and left my amps at home, the Boss Katana was my first amp, and it was one of the best deals I have ever made. Since then, it has never let me down, and I have recorded a lot of tracks with it that sound just as good as many amps that are significantly more expensive.
Another aspect worth noting is that the dirty tones that you can get out of these amps are extremely good, taking into account how much it costs.
The BOSS Katana 100 MkII is usually sold for a price of around $400.
GuitarCenter – BOSS Katana-100 MkII 100W 1×12 Guitar Combo Amplifier
Marshall CODE 50
The Marshall CODE 50 is another modern amplifier that promises to deliver a huge variety of tones inspired by legendary Marshall amplifiers such as the JTM45 2245, Bluesbreaker, JCM800, Jubilee, and many more.
One of the most interesting aspects to me is the fact that it has 4 power-amp models and 8 speaker cab models, adding something more to the onboard preamp models.
You can run 5 simultaneous effects from a collection of 24, including compressor, auto wah, chorus, phaser, delay, reverb, and many more.
As with many modern amplifiers, the Marshall CODE 50 can be explored even further if you use Marshall's Gateway software, which lets you control all of its features remotely via USB or Bluetooth. I'd definitely recommend this amplifier to people who are more into getting great dirty tones over clean tones.
The Marshall CODE 50 can be found for a price of around $400.
GuitarCenter – Marshall CODE 50W 1×12 Guitar Combo Amp
FAQs: Frequently Asked Questions about the Fender Champion 100 Guitar Amplifier
Question: Is the Fender Champion 100 a Loud Amplifier?
Answer: With 100W of output power, the Fender Champion 100 packs a serious punch. Even though tube amplifiers tend to be louder, you probably won't feel like you need to get more volume out of this combo amp.

Whether you are rehearsing with a small band, a bigger group, playing gigs in local venues or on larger stages, this amplifier will surely deliver enough power consistently.

Since it does not rely on tubes, it is also less likely that it breaks down on you, or that you are affected by issues frequently seen on tube amps, such as volume oscillations and a very early break up.
Question: Is the Fender Champion 100 a Good Amp to Use with Pedals?
Answer: If you are the kind of player who likes to mess around with effect pedals, then you most likely are looking for an amplifier that takes them well.

The Fender Champion 100 is a great bet, since it works well with overdrives, distortions, fuzz pedals, and anything else you might want to throw at it. It even features an effects loop so you can run some effects such as delay, reverb and modulations through it, achieving a cleaner sound that some players appreciate having.
Question: Does the Clean Channel on the Fender Champion 100 Sound Good?
Answer: Since their early days, the amplifiers built by Fender were coveted by all kinds of players who wanted a crystal clear, pure and pristine clean tone. Some of their most famous models in this regard are the Twin Reverb, Deluxe Reverb, Princeton Reverb and the Super Reverb, although these are all tube amps.

Even though the Champion 100 is a transistor amplifier, it still delivers a lush, full clean sound that any player can appreciate. Whether you play jazz, blues, rock, funk or soul, you'll definitely enjoy the clean tones you can get out of this combo.
Question: Is the Fender Champion 100 a Good Amp for Metal?
Answer: Even though you can easily get a high gain sound from this amp by combining its overdriven channel with a couple of pedals, it probably would not be my first choice if I wanted an amp to play heavy metal music or other music genres that feature high gain tones.

Even though it can do a very decent job in heavier styles, I would still look into other brands such as Marshall, Peavey, Orange or Laney.
Question: Does the Fender Champion 100 have Any Effects?
Answer: The Fender Champion 100 comes pre-loaded with a variety of effects that guitarists of various genres will find interesting and useful for multiple contexts.

Both channels have the same effects, which are Reverb, Delay, Chorus, Flanger, Wah, Tremolo and Vibratone. There are also options that combine Delay + Reverb, and also Chorus + Delay + Reverb.
You have an Effects Level knob to control the overall mix of the selected effect, and there is also a Tap Tempo button so you can match the rate of an effect to the beat of a song.
Closing Considerations about the Fender Champion 100
Musicians all over the world have relied on Fender for decades to get amazing sound and playability from their instruments, and the Fender Champion 100 is just another example of an amplifier that can deliver a lot of value for an affordable price, making it an excellent choice for players of multiple music genres.
At 100W of output power, you will never have trouble keeping up with a loud drummer, as well as guitarists and bassists with powerful amplifiers. The clean sounds on this model are what you would expect from Fender, lush and pristine.
The variety of effects adds to its versatility, and the fact that you get a footswitch included to switch them on/off, as well as switching between the clean and dirty channels is a big selling point for gigging players.
Even though I mostly play tube amplifiers, I can definitely see myself playing this amp in a myriad of situations, and I am sure it would not let me down if I were to use it in a live performance.
Latest posts by Gustavo Pereira
(see all)