Fender amps are regularly reviewed on our site, and we have compared Fender Mustangs before. But, in this feature, we're going to look at the Fender Mustang III in more depth to see if it is the best fender amp you can buy.
Fender amps are almost as legendary as Fender guitars. The brand has a reputation for producing that much-loved 'All American' guitar sound with beautiful brightness and clarity.
If you're thinking of buying the Fender Mustang III, we have all the information you need to make a more informed purchase.
We'll explore the core features of this amp, look at how it performs as well as its pros and cons. We will also investigate some alternatives that are out there as well.
First, let's look at the key specs of this amp.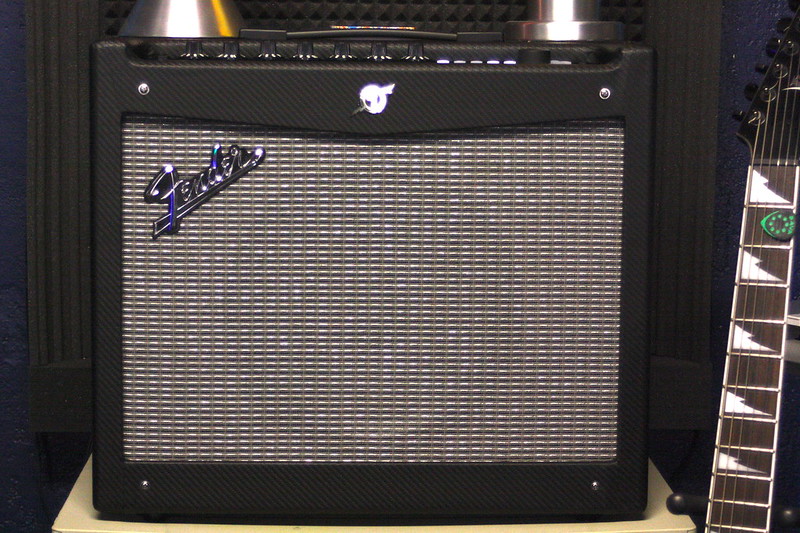 | | |
| --- | --- |
| Speaker | G12T-100 12 inch – Celestion |
| Inputs | One ¼ inch |
| Output Power | 100 Watts |
| Impedance | 8 Ohms |
| Channels | One Channel with 100 Presets |
| Controls | Gain, Volume, Treble, Bass, Middle, Reverb, Data Wheel, Master |
| Soft Keys | Amp Select, Stomp Edit, Delay Edit, Reverb Edit, Modulation Edit, Save, Utility, Tap/Tuner, Exit |
| Effects Loop | Mono Series Effects Loop |
| Headphone Jack | ⅛ inch Auxiliary Input Jack |
| Line Out | USB Port |
| Covering/Grille Cloth | Silver Grill Cloth & Black Textured 'Carbon Tweed' Vinyl Covering |
| Weight | 36 lbs |
| Height | 17.75 inches |
| Depth | 10.75 inches |
| Footswitch | Programmable 2 Button Footswitch Included for Quick Access, Tap Tempo, Preset Up Down, On/Off Effects. |
| Latest Prices | See here for the latest prices |
Core Features of the Fender Mustang III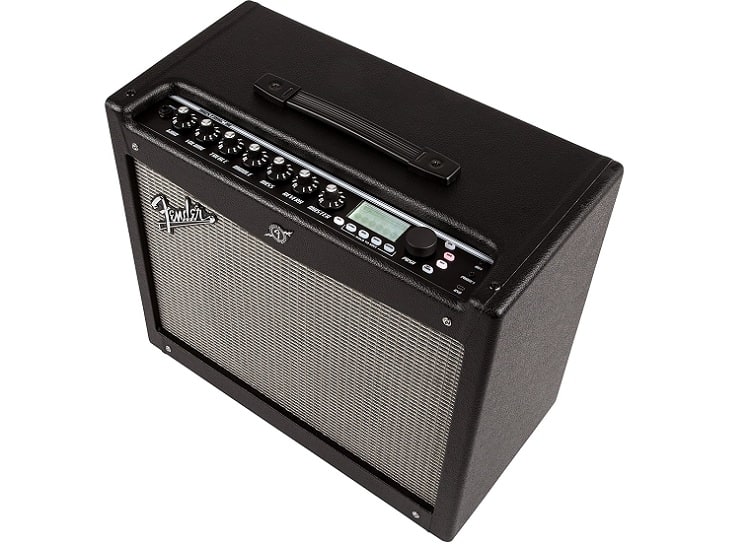 The Fender Mustang III is a solid-state amp with many features, making it suitable for bedroom players and venue giggers alike. Here we look into the core features of the Fender Mustang III.
Shape and Size
With dimensions of 27.31 x 52.07 x 45.09 cm, the Fender Mustang III is a conveniently portable amp. Its weight of 36lbs makes it comfortable to travel with between gigs, shows, or events. We like that all the controls are on the top of the amp, making it easy for players to tweak effects or volume during play.
Construction
Fender is known for its high-quality materials and components within their instruments and amps. With the Mustang III, you have a solid wood enclosure covered with black textured vinyl and black and silver strands.
The handle, positioned on top, is molded black plastic with chrome-plated caps and highly durable.
Sound
The sheer breadth of sounds is to be expected – it's Fender, after all. With the partially open-backed cabinet, you get the sense of spread and space that you would expect from a combo amp by Fender, complete with truly authentic reverb. The sound is bold, bright, and clear, providing the opportunity for any guitarist to improve their skills.
You would expect significant volume from the 100-watt power section, but we have to say that the Mustang III doesn't cut as well as other models – particularly the Fender Deluxe. However, times have moved on from loud being the be-all and end-all when it comes to amps. It does, however, still have the capacity to fill a venue adequately.
For the vast number of guitarists who jam at home and take on a few gigs here and there, the Mustang III ticks several boxes, and frankly, for its affordability alone, it's an excellent choice. The sound quality, tonal range, and volume capability are all impressive.
With 200 onboard presets and dozens of effects, you have the guitar tones required for almost every genre of music.
Other Features
The USB jack can be used for recording out or as a connection method for the FUSE software; it's also the primary ASIO interface but omits relatively low noise. You may be aware that *Fender has announced they're dropping support for FUSE software; however, you can still download it for Mac and Windows.
You can connect a media player, which will allow you to play along with tracks, which can really enhance rehearsals. The back of the amp is fitted with a stereo XLR output and FX loop.
Warranty
Finally, what kind of warranty do you get with the Mustang III Amp?
Depending on where you purchase the Mustang III from, you can also potentially buy additional cover. This can provide cover against accidental damage, environmental damage, and also wear and tear.
We would always recommend purchasing the Mustang III from a reputable source; this gives additional peace of mind regarding warranty – even for second-hand Mustang IIIs, which can be eligible for Pro Coverage insurance.
How Does The Mustang III Perform?
The Fender Mustang III is a powerful, digital modeling amp with the capacity to reproduce sounds of 17 classic amplifiers from world-famous brands, including Fender and Marshall. The amp models stretch from clear and clean sounds to show-stopping distortions, making it perfect for guitarists who experiment with different genres.
The USB connection and FUSE software enable players to really get the sound they're after effortlessly.
Pros of The Fender Mustang III
Overall we think that this amp is an excellent buy for a great many people, but here are our favorite bits:
Sound Variations
Whether you're playing country, blues, or jazz, or you're wanting to really deliver the volume and distortion of metal music; this amp does it all. It's small in size but has a powerful 100-W which means it should be capable of filling venues of most sizes.
Computer Software
Even though Fender no longer supports the FUSE software, there are ways around this, and once competitors see a gap in the market, who knows what could come next. The USB port means that you can connect the Mustang III to your computer and play about it with an unlimited number of features, sounds, and effects.
The Build
The solid wood case ensures longevity and is said to be highly durable by many guitarists. Its vinyl casing offers excellent protection against damages such as spills on the road or scratches and scrapes.
The world's best-selling amplifier series, Fender Mustang, really knows what they're doing in every aspect, from the materials for construction to the modern technology capabilities.
The Brand
Fender Play is relatively new and explains their pull away from FUSE. This software has a free 7-day trial and includes step-by-step lessons and the ability to track your progress. Fender seems to be constantly releasing new songs to play along with to increase your skills for when you're on stage with your amp.
The Series
Fenders Mustang series began in 2010 and were initially designed for budget-minded players and beginners – people who wanted a versatile amp for home recording and practice. The line now spans into everything from these small, portable beginner ranges to amps big and loud enough to gig venues with.
Warranty
As stated, by purchasing a Mustang III from a reliable retailer, you should receive a warranty. However, in addition to this, Fender themselves may still assist you with any product problems and can perform repairs on non-warranted equipment or used amps at affordable rates.
You can always contact Fender directly regarding warranty.
Cons of the Fender Mustang III
Accessibility
We have struggled to find any new Fender Mustang IIIs in stock online – anywhere. We can find plenty of used Fender Mustang IIIs, however, retailing at Guitar Center.
Tone
Players note a lack of visceral tone with the Mustang III and an inability to really project volume through this amp compared to others retailing at a similar value. It depends on what you're looking for whether this is a deal-breaker for you.
Loss of FUSE
It is still advertised as being compatible with FUSE, and it is but just not through the originally authentic channel. We appreciate that some players may be disinclined to use other software and find it a little underhand that it is regularly advertised as having something it doesn't.
Weight
Although it is a portable amp, it is a pretty heavy one to lug around. The array of features may counteract this, but it is worth noting that a 36lbs amp is around the weight of 33 kittens, so prepare for some sore shoulders if gigging is something you do regularly.
Are There Any Alternatives?
If you want to stick with the Fender Mustang series, then here are a couple of alternatives to the Mustang III:
The Fender Mustang I V2 guitar combo amp is the smallest amp in the Mustang series. It has a 20-W and 8-inch speaker so is targeted towards beginners at home, primarily. It has a USB capacity and is again advertised as having the Fender FUSE software.
It has one channel with 24 presets and is finished with the standard black textured vinyl covering with the silver grille cloth, which runs throughout the series. Ratings are mixed online for this, but people seem to be in unity over it being a top choice for a beginner's amp.
If you're just testing the waters with an amp and don't want to make a significant investment, the Fender Mustang I V2 is a good choice.
The Fender Mustang GTX has an unprecedented feature set and offers a phenomenal performance for a wide range of guitar players.
It will enhance almost any type of music and has Bluetooth compatibility for iOS and Android with a free app for deep editing. You can also connect Bluetooth for audio streaming and play along with your favorite music.
With the unique Wi-Fi capabilities, you can keep up with the latest product updates, ensuring that your amp will only get better. The cabinet is highly durable and gig-ready, and the 12-inch Celestion speaker produces a robust, strong response with a sound that is said to be amazing.
It is lightweight and portable, weighing just 19.5lbs, but players criticize the ease of using the app and cite that this can ruin the overall experience.
Fender Mustang GTX 50 50W 1x12 Guitar Combo Amp Black | Guitar Center
Mustang GTX50 offers incredible bang for the buck. The updated cabinet design is more gig-ready and durable; a new 12-inch Celestion speaker produces strong, powerful response; and the improved amp, speaker and cabinet models ensure that Mustang GTX sounds amazing. Stereo XLR line outputs and stereo effects loop let you interface with PA, recording and outboard gear.
Check Price
Buy directly at Fender
We earn a commission if you make a purchase, at no additional cost to you.
Fender Mustang LT-25 – Digital Guitar Amplifier offers a new digital experience. With its simple user interface with a 1. 8″ color display, this is a powerful 25-watt combo amplifier ideal for students and beginners.
It's highly versatile with a plethora of effects and functions that all produce amazing tones. The amp offers warm, almost pure tube sound despite it being a solid-state amp.
It has a stereo input to allow for silent practice, and the USB interface enables recording and the connection to online software. It's a brilliant choice for practice, yet capable of filling a medium-sized venue alone. Some players state that the menus can be challenging to navigate.
Fender Mustang LT-25 | Amazon
Mustang LT25 incorporates what we've learned over decades of producing the sounding guitar amps on the planet. It's ideal for beginners and students, with a super-simple user interface and a collection of 30 presets covering a wide range of music—a 'greatest hits' of electric guitar tones.
Buy at Amazon
Buy at Guitar Center
We earn a commission if you make a purchase, at no additional cost to you.
09/30/2023 04:57 am GMT
Frequently Asked Questions About the Mustang III
Question: What's the Best Guitar to Use With the Fender Mustang III?
Answer: Before you consider an amp, you should have a decent electric guitar as the amp will only amplify the sound and tone of the guitar – if it's good, the amp enhances it; if it's bad, the amp enhances that too. Choosing the right electric guitar will depend on many factors, such as; budget, intention, and experience level.
If you stick with well-known names, such as Fender, you're likely going to get a good-quality guitar that will work well with the Fender Mustang III.
Question: Is it Worth Buying an Amp for Their Bluetooth Connectivity?
Answer: Amps with Bluetooth have a great many benefits – possibly, none more than the removal of those hazardous wires all over the floor. Bluetooth lets an amp work with any compatible device, whether it be a smartphone, tablet, or computer, so you can play anywhere (with Wi-Fi!).
There are some downsides, such as a limited reach, but in our opinion, an amp with Bluetooth can be a worthwhile investment.
Final Thoughts on the Mustang III
The Fender Mustang III comes after the lower-powered I and II, with a larger 100-W and single 12-inch speaker; it has managed to be still compact and portable. The LCD screen and large data wheel are a modern-day finish to the traditional Fender cabinet.
The cabinet is made from particle wood and jacks of plastic, but we couldn't expect anything else for the affordable price of the Mustang III. Guitarists still claim this to be highly durable and aesthetically pleasing.
There is a significant range of adjustable effects and amplifier modes for players to experiment with. We should give a special mention to the reverbs and delays as both have wide selections – ranging from ultra-modern ambiance to vintage-inspired tones.
You can practice in silence due to the headphone jack, which also doubles up as a speaker-simulated recording out. For many guitarists, the fun in the trade is jamming at home, rehearsals, and occasional gigs, and for this, the Mustang III is ideal.
With good sounds, a healthy output section, great portability, and a highly affordable price, it's really a no-brainer.
Latest posts by Jodie Chiffey
(see all)