Fender has been releasing acoustic guitars since the early days of rock while it was still refining its Stratocaster. Today, its innovative models blend the acoustic guitar's tone and the electric's playability at their best. As such, I'd like to review the best Fender acoustic guitars you can buy today.
Bottom Line Up-Front
The company responsible for the quintessential electric guitar does not disappoint in the acoustic section. Even though most people know the company from the many Strat and Tele models, they have a vast choice of acoustics I have been lucky to try. A Fender could be your first acoustic to the one you play in a packed stadium.
Fender acoustics are an excellent choice for stage-ready affordable instruments. If you rely on the plugged-in tone of the guitar, you will find options for every budget. On the other hand, if you rely more on the rich acoustic properties of the tonewoods, want to get a full woody tone, or record guitar through a mic, there are only a few choices that rival other big brands.
For beginner and intermediate players, I've made sure to add budget models – the acoustic equivalents of the Squire. Whatever the price, a Fender is still a Fender, and you will feel that when you hold one.
My Top Fender Acoustic Guitars At A Glance
FA-135CE Concert Best for Beginners: An easy-to-play neck over a stylish Concerto body is all you need as a beginner.
CD-60SCE Dreadnought Best Sounding Affordable Guitar: Few guitars will respond better if you don't want to compromise tone for playability and are limited to a budget.
PD- 220E Dreadnought Best Acoustic Tone: You need a quality Dreadnought in your life. The more you play acoustic guitar, the more you seek a fine woody tone like the one this classic-looking Fender can give you.
Newporter Player Best Affordable Stage Ready Guitar: This guitar is a time capsule from the 60s surf rock era from the stylish California series. Beyond the design, it's a remarkable instrument for the stage.
American Acoustasonic Telecaster Best For The Stage: The Acoustasonic series goes beyond the acoustic-electric and is one of the first successful "electric-acoustic," with more of the first than the second.
Selection Criteria
The "best instrument" is a very ambiguous topic to discuss. Every player will give you a different answer depending on their experience.
When it comes to Fender Acoustics, I'll always go with the one that best suits my needs as a rock guitarist; that might not be true for you. I like a low action on an acoustic; some prefer to 'fight' the guitar. A beginner will insist on having an easy-to-play neck, while pros won't compromise tone for anything.
Even though styles differ, the criteria remain the same I use for almost all guitar lists.
Built Quality

Playability

Acoustic Tone

Plugged in Tone
What Guitar Style/Shape Do You Need?
First, it's best to know what kind of Fender acoustic guitar you need. Try to answer the following questions before deciding on a price point for your new guitar.
Are you a beginner in search of his first acoustic? Do you want to finally have an acoustic-electric guitar you can bring to a gig, or are you a seasoned performer exploring some high-end? Do you need a full acoustic tone, or all that matters for you is how it sounds plugged in?
I included one alternative for at least every category you fit in, so you should find what you need more or less inside your anticipated budget.
The Fender FA-135CE is one of those guitars I wish I had started playing with. It's the opposite of the horror stories you hear of second-hand acoustics with 1-foot high action or Chinese-made copies whose bridges come off.
I like the Concerto shape with the cutaway, which fits in both the classic and rock world. It's not big, yet not as small as not to bring some of the guitar's tone. There is not much of it; however, it's not as thin as not to make playing enjoyable.
No matter the price, A Fender is still a Fender. It's not close in the tonewoods used or the tone to US-made models, but the build has no flaws that will hinder your first years of learning guitar. You can even use it on stage for your first gigs due to the reliable Fishman electronics.
Specs
Single cutaway concerto body type
25.3" scale length; 1.69" nut width
Laminated Spruce top; Layered Basswood back and sides
Thin C-shaped Nato neck with Rosewood fingerboard
Fishman preamp with 2-band EQ and built-in tuner
Rosewood bridge; Crème plastic nut; Chrome die-cast tuning machines
Pros
Modern, comfortable neck
Easy access to higher frets
Good electronics for the price
Cons
Not much tone on the guitar
You could get a much better-sounding dreadnought-style acoustic for a few more dollars. Dreadnoughts are big body guitars with a more rounded mid-range and low end. I have never tried a dreadnought guitar which at least didn't sound close to decent, no matter the Tonewoods used.
The only downside to his shape is that it's hard to transport and not so easy to play with for small children. It's the shape you'll most likely find old guitar heroes use, but not rock and metal musicians when they play an unplugged show.
The cutaway on the CD-60SCE makes it slightly more modern and fit for lead if that's what you need.
Mahogany and Solid Spruce are excellent choices combined with the shape to make for a full tone. It does not have the rich overtones an expensive acoustic with seasoned woods has, but it's one of the best value choices for singer-songwriters.
What I don't like about the guitar is how different it sounds when plugged in. The Fishman preamp is not bad, but it doesn't do justice to the Tonewoods used.
Specs
Single-cutaway dreadnought body type
25.3" scale length; 1.69" nut width
Solid Spruce top; Mahogany back and sides
Mahogany Neck with Walnut Fingerboard
Fishman preamp with two-band EQ and built-in tuner
Rosewood bridge; Crème plastic nut; Chrome die-cast tuning machines
Pros
Excellent unplugged tone
Loud guitar great for campfires
The price
Cons
The EQ lacks a mid-frequency control.

Plain plugged-in tone compare to its acoustic one
CD-60SCE Dreadnought | Fender
Combining powerful onboard electronics—including a built-in tuner—with great tone and easy playability, the CD-60SCE All-Mahogany is ideal for beginning to intermediate level players who are ready to plug in.
Check Price
Buy at Guitar Center
We earn a commission if you make a purchase, at no additional cost to you.
The Fender PD- 220E is one of the best-sounding acoustic guitars Fender has ever produced. The company drifted from its electric-focused attitude to making a guitar worthy of being strummed in a folk setting or played by advanced fingerstyle pickers.
This under 1000$ guitar is remarkable for the tone it gets both unplugged and plugged in. Two acoustic guitar pickups are a wise choice for capturing all the small playing dynamics. Fingerstyle played who like to slap, and tap will be pleased, while pros of every genre could use it on stage or as an excellent spare touring guitar.
Specs
Dreadnought body shape
25.3" scale length; 1.692" nut width
Mahogany back & sides; Sitka Spruce top
Mahogany neck with Ovangkol fingerboard
Fishman Sonitone Plus body sensing pickup + under saddle pickups
Ovangkol bridge; Bone nut; Open Back with Nickel buttons tuning machines
Pros
Rich acoustic tone
The price
Easy to play neck
Good pickups
Cons
The positioning of the preamp control is slightly uncomfortable

The EQ is limited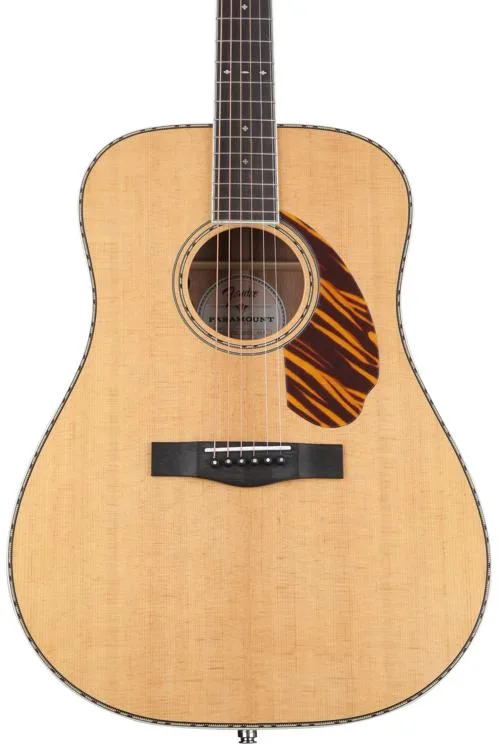 Straight out of the 60s, Fender rebooted one of its most successful series at a value price. The guitar looks special, plays well, and is an affordable jack-of-all-trades acoustic electric for gigging musicians.

Out of all the California series guitars, I prefer the All Mahogany Newporter special for one reason. The warmth of the Mahogany balances somehow the lack of a big body, making the guitar fit for almost any genre and style. Strumming will sound nearly as full as a Dreadnaught, while lead lines are easy to play due to the low action and fast neck.
This is the guitar I recommend for the Intermediate or advanced player who just needs one instrument on stage and can't afford to spend on a vintage acoustic. If this model is expensive, you can try the other less costly Newporter Player series guitars.
Specs
Single cutaway Newporter body shape
Solid Mahogany top, back, and sides
25.6″ Scale length: 1.69″ nut width
Silm C-shape Mahogany neck with Pao Ferro fretboard
Fender/Fishman Preamp system with tuner, phase, and EQ
Pau Ferro bridge; Bone nut; Sealed Nickel tuning machines
Pros
Classic look with a modern touch
Great sounding guitar, both plugged in and unplugged
Easy to play neck for both rhythm and lead
Cons
The EQ is not very detailed
Newporter Special Mahogany | Acoustic Guitars
Explore your individual creativity with the bold looks and inspiring sound of the Newporter Special. Featuring solid mahogany top, mahogany back and sides, the mid-sized Newporter body shape provides a balanced voice that's both articulate and powerful.
Check Price
We earn a commission if you make a purchase, at no additional cost to you.
The top of the game of Fender Acoustics is, without a doubt, the Acoustatonic series. The hybrid guitars feel like a futuristic blend of acoustic and electric guitars. They are expensive but unbeatable in the sonic possibilities on stage.
I was skeptical about the series because I found classical models untouchable. The sight of an acoustic with a Telecaster's body shape and neck felt odd. After trying one, I understood I was wrong. The guitar is much more than an electric guitar with a piezo.
The guitar can be both your crunchy electric lead guitar and the backing acoustic instrument of the band. I remember playing " Simple Man" by Lynyrd Skynyrd and seamlessly switching from the clean intro to the crunchy power chords as with an electric.
The volume control, bridge pickup, and pickup selector are all taken from the legendary Tele. The guitar nails the plugged-in acoustic sound but also allows you to shred a solo. You can use acoustic and electric voicings and blend them at will.
The downside to the blend is that it's neither of both ends. You can't use too much gain or have as much sustain as with an electric, and you can't strum big chords if you don't blend in some effect.
Specs
Single Cutaway Modified Telecaster shape
25.5″ Scale length; 1.6875″ nut width
Mahogany body and neck
22 fret Deep C-shape neck with Ebony fingerboard
Pros
Unrivaled tonal versatility on stage
Easy to play neck
One of the best clean sounds
Handles moderate gain tone, almost like an electric guitar
Cons
Limited acoustic tone due to its small size

Limited range of authentic sounding electric guitar tones

Very expensive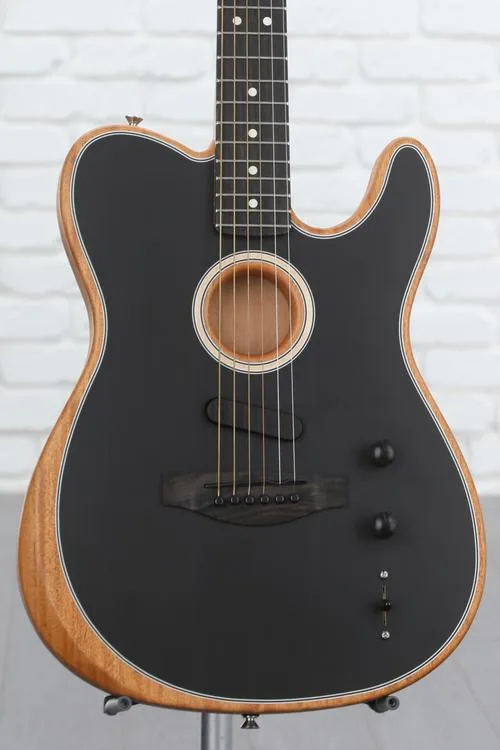 Fender American Acoustasonic Telecaster | Sweetwater
Guitarists of diverse styles and tastes are finding their voice in the new Fender Acoustasonic Telecaster. Now you no longer have to choose between acoustic and electric sounds for the gig; this hybrid takes you from folk and bluegrass flatpicking to greasy rock and soul with the flip of a switch.
Check Price
Buy at Fender Shop
We earn a commission if you make a purchase, at no additional cost to you.
Why Should You Buy Fender Acoustic Guitars?
An affordable acoustic Fender is an excellent choice for all styles if you are a beginner or intermediate player. You're guaranteed a big brand's quality check and excellent playability on all models.
My only tip is not to base your choice on how cool a slim guitar looks or how the neck plays like an electric. Going for a big body would be wise if you are into acoustic music, where the guitar holds up the weight of the entire song. A few years into playing, you'll understand that nothing replaces the acoustic resonance of a guitar.
For advanced players and pros, I'd recommend Fender's premium acoustic guitars, especially acoustic electrics, only for their versatility on stage. Few guitars can get more done than the Acoustasonic series, even though you could get yourself two excellent guitars, one acoustic, and one electric, for the same price.
Why Should You Avoid Fender Acoustic Guitars?
I consider Fender acoustics mainly oriented towards the modern guitarist, not the old-time singer-songwriter, finger, or flat picker. I consider myself more of the second, and if you are passionate about acoustic guitars, you probably are too.
Without considering budget models, which tick all the boxes for their price, the expensive ones are not usually big body guitars giving off that classic rich, airy tone you hear on records.
Guitarists, as you know, are very protective of their vintage gear. Even though I don't generally support the vintage obsession, when it comes to acoustics, I have to agree that nothing beats a high-quality classic model.
As a studio guitarist, I would 100% use a Fender acoustic on stage, but I would not prefer one in the studio where a model like the Martin D-28 would do far more justice.
Alternatives To Fender Acoustic Guitars
I find Yamaha offers more alternatives than Fender on the beginner range of acoustic instruments. The FG830 is a good example of how you can have an excellent tone on a budget.

The guitar has no electronics, so all the quality goes for tonewoods and craftsmanship. It's an excellent choice, probably better than the Fender CD-60SCE if you're looking to improve your first guitar and don't need to plug it in.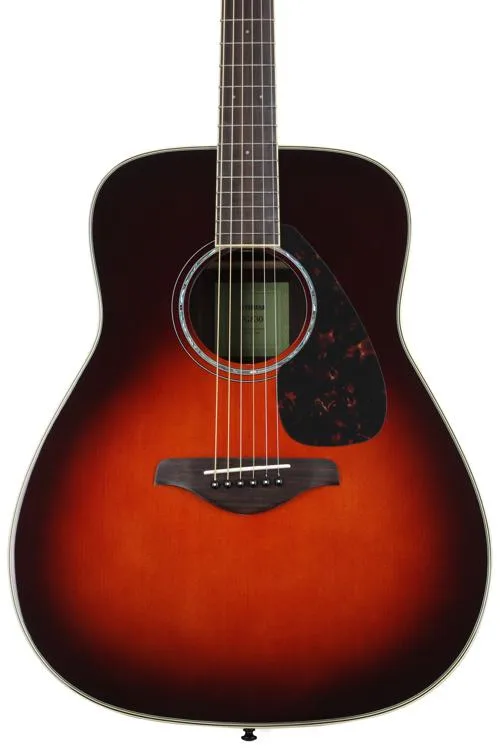 Yamaha FG830 Dreadnought Acoustic Guitar | Sweetwater
There's even more to love about this FG830, Yamaha's recent installment in their hugely popular FG series of acoustic guitars. Back is the comfortable dreadnought body style and solid spruce top that players loved in the FG730, but new scalloped bracing gives this acoustic an even bigger low end and better projection for live and recording applications.
Check Price
We earn a commission if you make a purchase, at no additional cost to you.
A great alternative to the intermediate stage-ready Fender guitars is Takamine. The Japanese builder has made a name for itself with all ranges of acoustic guitars.
The Mahogany Newporter is warmer, while this Takamine sounds more open and airy. Both have excellent electronics, so it's mostly up to what feels best when you try them. This guitar resonates slightly better and has more volume to do its Spruce top.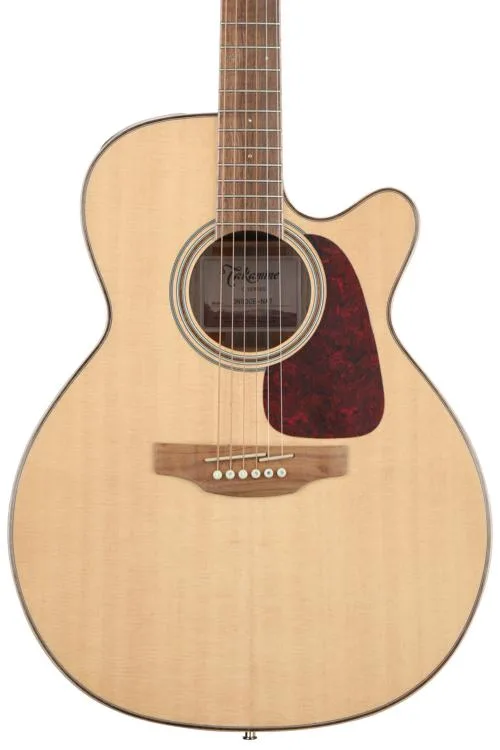 Takamine GN93CE NEX Acoustic-Electric Guitar | Sweetwater
The Takamine GN93CE NEX acoustic-electric is a small-bodied acoustic electric guitar that will provide you with full-sized sound onstage and unplugged. Grab the fast and comfortable mahogany neck, strum a few chords, and revel in the clear, full-bodied richness resonating from the extremely comfortable cutaway NEX-style body and scalloped X-braced solid spruce top.
Check Price
We earn a commission if you make a purchase, at no additional cost to you.
As much as I am a Strat person and would always choose a Fender before a Gibson, I have to give Gibson
credit for having the best acoustic legacy. Gibson acoustics can range up crazy sums for some legendary models.
The guitar I picked as an alternative to Fender acoustics is one of my favorite new Gibson acoustic electric. It's expensive but completely justifies the price with the rich, authentic tone it has both unplugged and plugged in.
I find it much superior to the PD- 220E Dreadnought and probably a wiser choice than an Acoustasonic if you don't use the electric feature of the guitar.
Gibson Acoustic G-Writer EC Acoustic-Electric Guitar | Sweetwater
There's a place where simplicity and complexity meet — it's called genius. And here at Sweetwater, we think the Gibson G-Writer EC acoustic-electric guitar is genius and then some. Handmade in the USA, G series acoustic guitars pack all the classic Gibson tone, feel, and playability you would expect from a company long regarded as a world leader in acoustic instruments.
Check Price
We earn a commission if you make a purchase, at no additional cost to you.
FAQs
I Bought My First Acoustic Fender, Now What?
Fender is entering the lessons trend with the highly recommended Fender Play in a world packed with online guitar courses. Most new guitars you buy today come with a free subscription to their classes, which I consider one of the best for beginners.
You will save time and money and access hundreds of video tutorials that can take you from not knowing how to hold the guitar to becoming an intermediate player.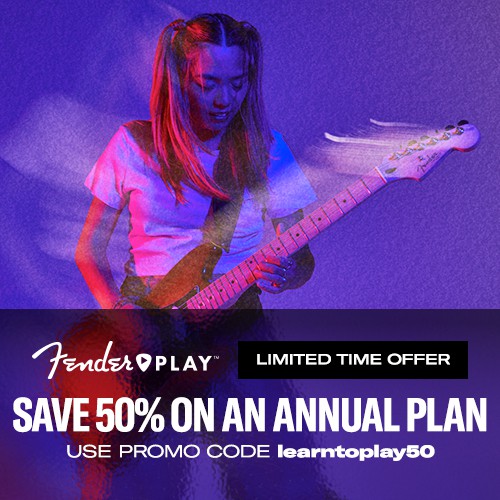 Strum to Success: Get 50% Off Fender Play's Annual Plan
Whether you're a beginner or an experienced musician, Fender Play provides top-notch guitar lessons and beyond, all from the comfort of your own home. With a vast library of lessons, easy-to-follow tutorials, and a supportive community, Fender Play is the ultimate platform to fuel your musical journey. Get 50% off their Annual Plan! Use the code learntoplay50 to unlock this exclusive deal.
Start Now
We earn a commission if you make a purchase, at no additional cost to you.