In this Gretsch Streamliner review, we're going to look closely at the guitars in the collection, including their features, pros, and cons, as well as some alternatives out there. We will also be looking at some popular FAQs about the Gretsch Streamliner before determining our feelings for the brand and its instruments.
The Gretsch catalog began to feature its first Streamliner in 1955, and the range was set to include affordable guitars for a growing audience. Fast forward, and we see the new Gretsch Streamliner Collection arrive, made up of a trio of very competitively priced guitars.
But first, let's look at the general specs for Gretsch Streamliner guitars.
Key Specifications of a Gretsch Streamliner
| | |
| --- | --- |
| Body Shape | Center Block |
| Body Type | Hollow / Acoustic |
| Body Material | Maple |
| Neck Material | Nato (Eastern Mahogany) |
| Number of Frets | 22 |
| Number of Strings | 6 |
| Warranty | 1 Year |
| Latest Price | Click here for latest prices |
Core Features of the Gretsch Streamliner Series
As you would expect from guitars originating from the same series, there are several standard features throughout. The control layouts are identical and relatively simple – by Gretsch standards. There is a three-way selector switch with master volume control, and although each model has its volume control, the tone control is the same.
They come in a range of colors, but all feature clear plastic knobs, and there's also white plastic binding on the bodies, fingerboards, and headstocks. The nickel-plated hardware has unbranded die-cast tuners and Gretsch's Adjust-Matic bridge.
Every guitar in the series has the teardrop-shaped pickguard, 'synthetic bone' nuts, and the 1950's style rosewood fingerboards with Pearloid block inlays. The fretwork is simply excellent on these guitars.
Shape and size
Click below to check out the models in the Streamliner Series before we go into further details: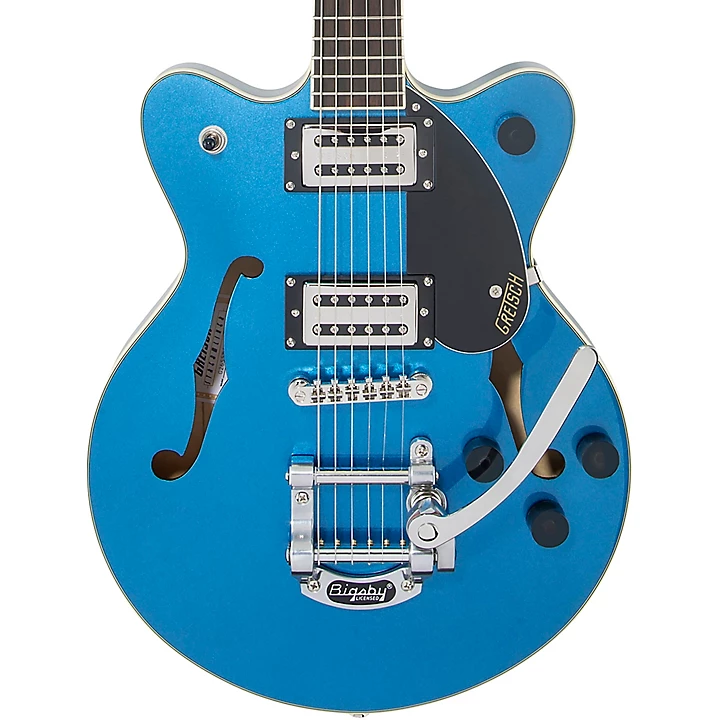 As you can see, the Streamliner models have been stripped back to basics and offer a look that is vintage and raw. All three models have the classic Gretsch wiring and knob layout, vintage-style fret markers, and a comfortable, fast-playing neck.
With semi-hollow, hollow, and chambered bodies featuring in the range, there is a shape and size to suit all. If you're looking for your very first electric guitar, the comfortable size and shape of this series are just one of the reasons we would rate them suitable for beginners.
Sound
The playability, tone, and overall sound of the Streamliner series are impressive. With enough acoustic tone provided to make playing without an amp an enjoyable pastime. Some guitarists cite that the Adjust-Matic bridge saddle can result in a buzzy sound but state that the easy-playing action and rock-solid tuning is impressive. Chords can be wobbled nicely too.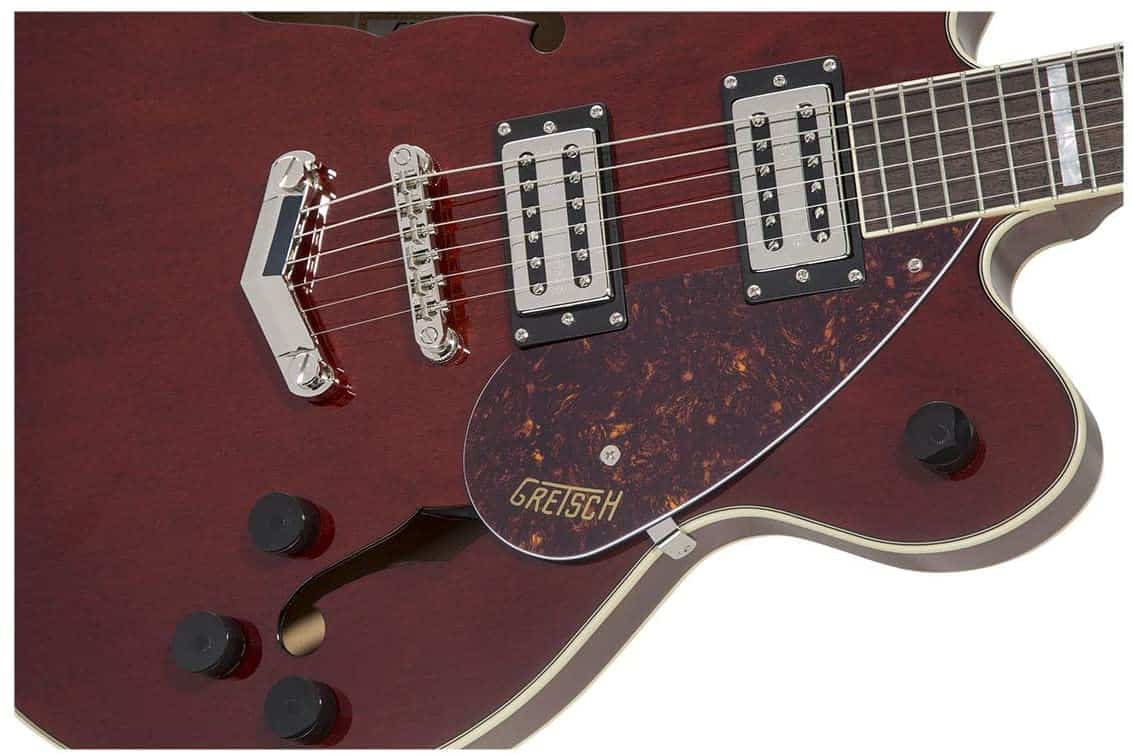 There is more of a throaty midrange bark than a retro twang and the bridge pickup of the G2655T, in particular, is powerful. Lowering the pickups for more distance between strings and coils will make this model sound a little sweeter and more characteristically like Gretsch.
The G2655T can produce crunchy riffs, great-sounding power chords, and a beautiful bluesy solo tone through an overdrive pedal and plays clean; it has a delicate roundness with a slight raspy bark.
We found the acoustic sound of the G2622T louder and slightly more pleasing than the G2655T, and this is likely down to the larger body and Bigsby absence. For those wanting a dirt sound, the G2655T can produce this in abundance, whereas the G2622T gives a cleaner sound.
For Jazz lovers, the G2420T is your gig. It is perfect for creating warm Jazz tones with a big hollow body, floating bridge, and low-set humbucker. The sound of the G2420T is woody, mellow, and highly balanced. To really optimize this, we would suggest pairing with an amp such as the Fender Deluxe Reverb.
Construction
Consisting of a staple 'U' shape neck, nato gloss body, mahogany bodies, and walnut fretboards, they're eye-catching guitars. The arched laminated maple constriction features slick-looking nickel hardware, and for increased acoustic projection, the F-holes are enlarged.
The G2655T is a medium jumbo guitar and comprises maple, nato, and laurel – solid materials that result in a sturdy guitar built for life on the road. Its bodywork is double-cutaway semi-hollow and made from maple wood with a gloss finish. The neck – nato wood – has a laurel fingerboard and jumbo frets of medium size.
The G2655T is the smallest guitar in the series and a scaled-down version of the earliest Gretsch's double-cutaway design. There is an interesting twist with the lightweight spruce center, with its intention being to solidify the structure and achieve high gain and volume more successfully.
The G2622T is a very similar model to the G2655T, except for its gold knobs and tailpiece. The G2622T has an arched body made from laminated mahogany with a chambered spruce center block. It is double-cutaway and has enlarged F-holes. Glossed nato wood is again used in the 24.75-inch neck.
The G2420T is a 'commanding guitar for powerful players' and is a single-cutaway hollow-body guitar. Materials used include; maple, nato, and rosewood – all finished with a highly protective gloss. The neck of the G2420T is white-bound nato with a thin U-shaped profile, which alongside the 12-radius rosewood fingerboard and 22 medium-jumbo frets, make it ideal for riffing, firing, or chord work.
Other features
There are considerable differences between Streamliner guitars and their significantly more expensive equivalents – in the Professional Collection. Streamliners are aesthetically and sonically closer to the older Gretsch styles, but having said this, there is a vast potential for upgrades.
The uniqueness in color is notable in the G2655T, with options for; Imperial Satin, Fairline Blue, and Phantom Metallic. Forego, Gun Metal, and Brownstone color versions can be selected with the G2622T, and all models can be purchased with online guitar lessons through Guitar Center.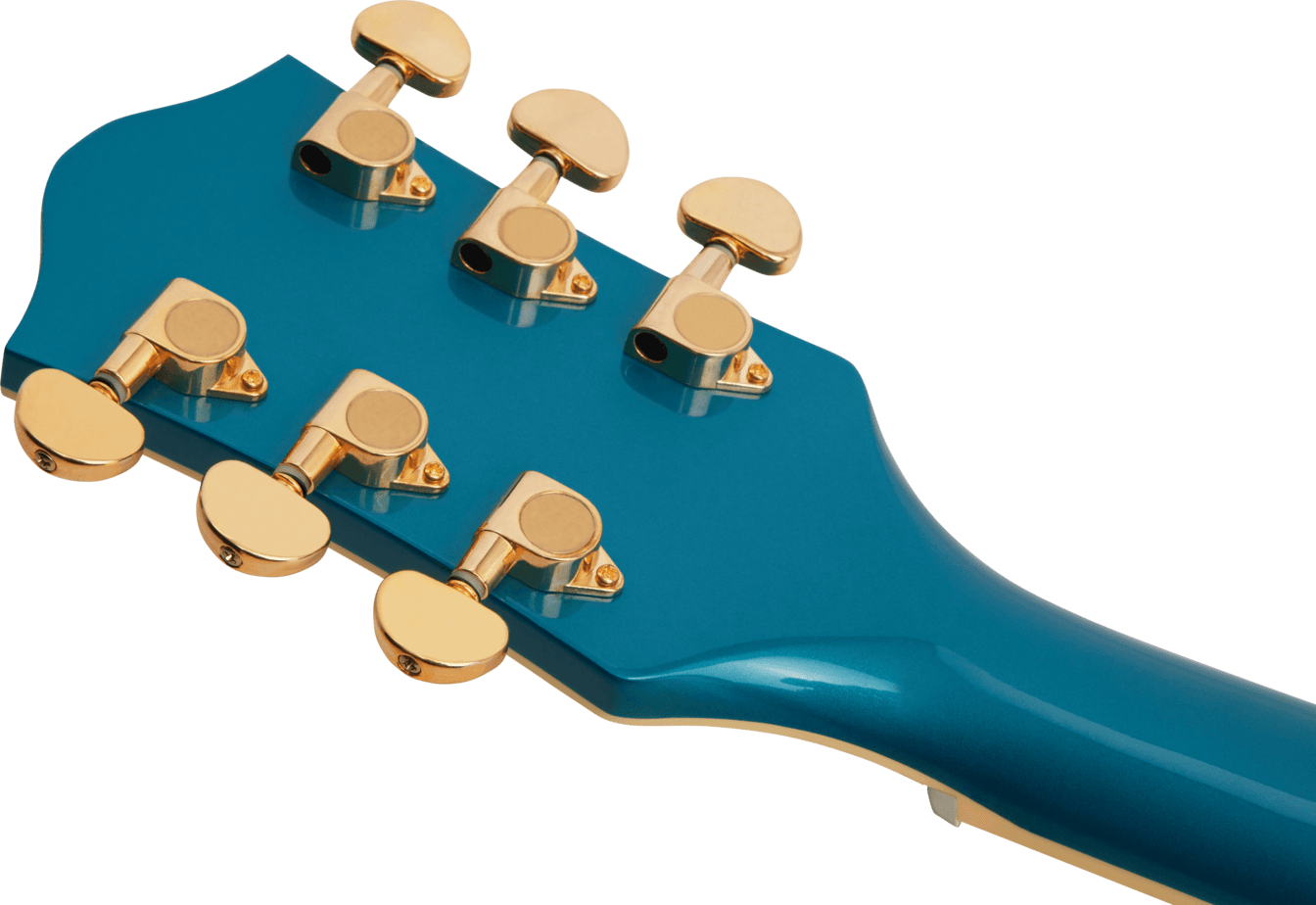 Warranty
Here is where the Streamliners give players a huge advantage compared to other brands. Gretsch's Limited Lifetime Warranty provides a guarantee for the guitars to be free from defects in workmanship and materials for as long as the original purchaser owns them.
It is essential that buyers keep their receipt/proof of purchase and get their guitar from an Authorized Gretsch Dealer to qualify for the limited lifetime warranty. Some components will only be under warranty for one year after purchase, and these include; electronic components, hardware, gig bags, and cases.
As always, if you do purchase from Guitar Center, there is the Pro Coverage applicable to all Streamliner guitars, which can cover the instruments beyond the standard wear and tear for up to five years.
How Do Streamliners Perform?
There are some differences between the G2655T, G2420T, and the G2622T. All guitars, however, are capable of producing stellar performances in the studio and on stage. This series delivers the feel, sound, and look you would expect from Gretsch, yet they're highly affordable and accessible to a larger number of players. If you're brand new to performing or an old hand, we are confident Streamliner will fit the bill.
These guitars are nowhere near the price brackets of the Professional Collection or their Electromatic equivalents; however, they're certainly not down-market and more than capable of performing well. The necks are comfortable and offer fast-play, up and down the length, some guitarists complain of the synthetic nuts being a little sharp, but this is down to personal preference.
Players can capture the tones of Jazz, Rock, Metal, and Blues with the Streamliner series. The guitars produce pleasing sounds played acoustically, and, when paired with a good quality amp, any musician could fill an arena with the G2655T, G2420T, or the G2622T.
Pros of Streamliner
With so much to love, and little to dislike, here are our favorite things about Streamliner:
Affordability
Affordability has to be the number one. The price tag for this level of guitar and build quality is pretty unbeatable. You would struggle to find a similar piece of equipment at this price point. From the maple wood, mahogany, and rosewood materials to the skilled manufacturing, this is an impressively made guitar that could reasonably sell for much more.
Gretsch produces high-end guitars, loved by world-class musicians the world over, and they have stripped things back slightly to bring fantastic instruments to the majority. The Streamliners are extremely impressive for the money. Build quality is phenomenal for the price, and tone and playability are even more remarkable.
The Streamliner series is primed to surprise many players who may have presumed a versatile, archtop, hollow-body electric sporting the Gretsch name was beyond their reach.
Warranty
The limited lifetime warranty is a major bonus, giving players great peace of mind that if the guitars fail due to (some) materials or workmanship, the brand will repair or replace that guitar for as long as it is owned. There are some clauses here; for example, the guitar must be owned by the original purchaser, and the receipt but still be kept.
The warranty doesn't cover all things, including electrical components, but that's where a Pro Coverage plan could step in. Overall, the warranty is a fantastic add-on by Gretsch.
Versatility
Streamliners are entry-level electrics, coming from a brand with a strong reputation for being synonymous with rockabilly and country music. But, Streamliner also provides a highly versatile instrument that can turn its hand to any genre.
Players of every genre can use a Streamliner to optimize the play. From blues and country to jazz and heavy metal, this trio is capable of playing it all.
Good Construction
Every model in the Streamliner series is very well constructed. Built with a combination of Mahogany, maple, and spruce wood. All materials really accentuate the sound, such as the Mahogany, which adds more to the mid sounds. Woods like Mahogany contribute towards a durable guitar, as well as adding the overall aesthetic as well.
The Streamliner series is made in Indonesia and comes with a limited lifetime warranty for any deficits due to workmanship or materials. We don't feel this would ever be needed as word on the street is that these guitars look great, play well and stand the test of time.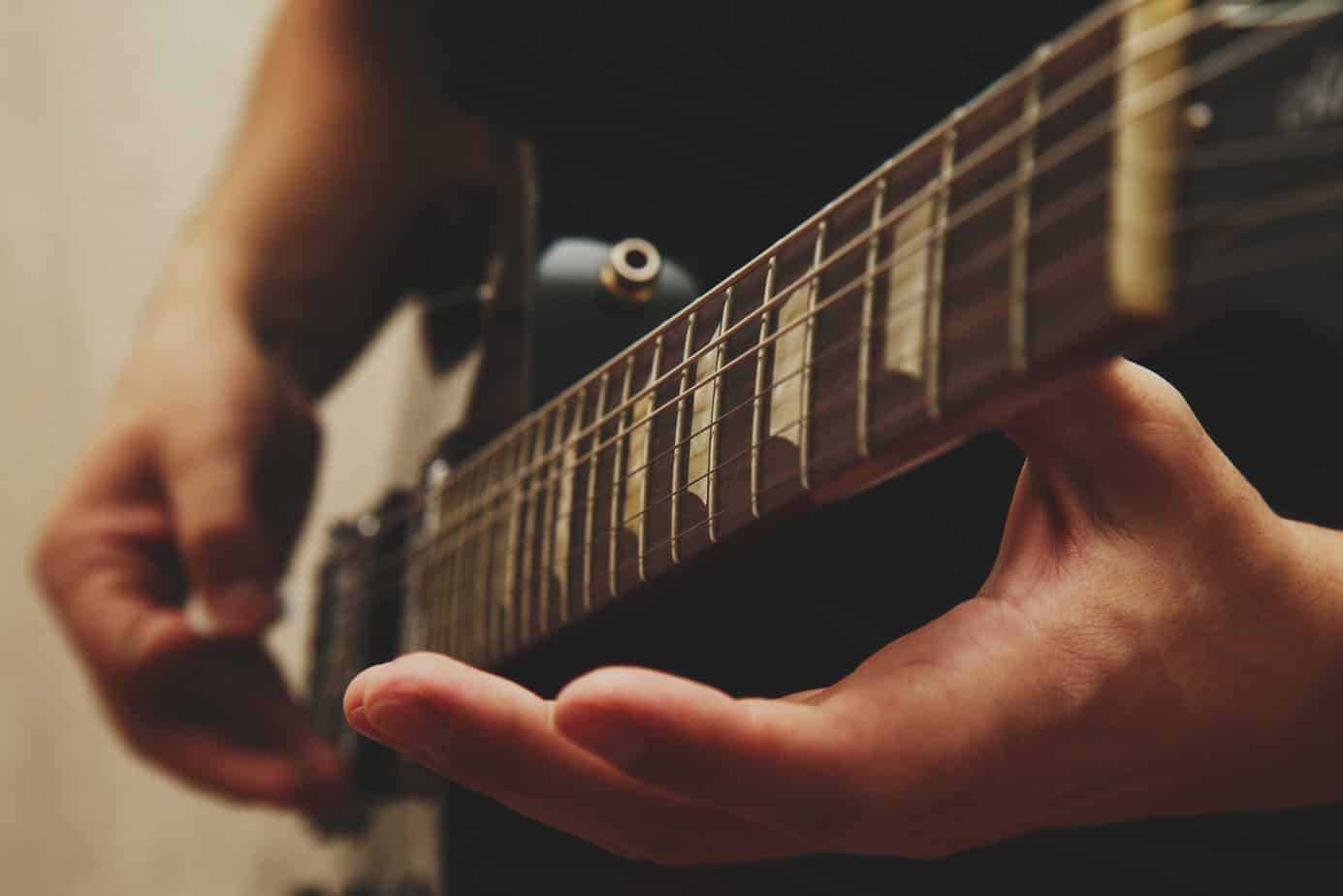 Cons of Streamliner
There are some things that you should be aware of, and these are:
They Could be Better
Gretsch had to make compromises in order to retail Streamliner guitars at the price they do, and there is a lack of features. For guitars with so much potential, this is slightly annoying. A simple set of metal 'G-arrow' knobs would be an affordable and simple upgrade, as would a metal switch tip.
There are some other upgrade possibilities such as to the tuners, bridge, and pickguard. There is so much room for customization too. We love the series but know it could be so much more.
Country of Origin
The historic home of Gretsch was in Brooklyn, New York but since demand has grown the brand has production facilities all over the world – predominantly the Far East. The Streamliner Series is manufactured in Indonesia. This isn't unusual for entry-level, or mid-level, guitars and it does go towards explaining the low cost.
Although these guitars look and feel much more expensive than their price point, an ethically conscious person may wonder at whose expense. We couldn't find much about the Indonesian factories that produce these guitars, but there is a discussion about it on the brand's dedicated forum.
Weight
Weighing in at around 12lbs these aren't the most lightweight guitars out there. There are issues too with finding neck-straps to adequately fit the guitars due to the tuners' weight, so if you're a guitarist who busks or plays events, expect a sore back.
Are There Any Alternatives?
If you're looking for a semi-hollow or a hollow electric guitar at around this price point, here are some to consider: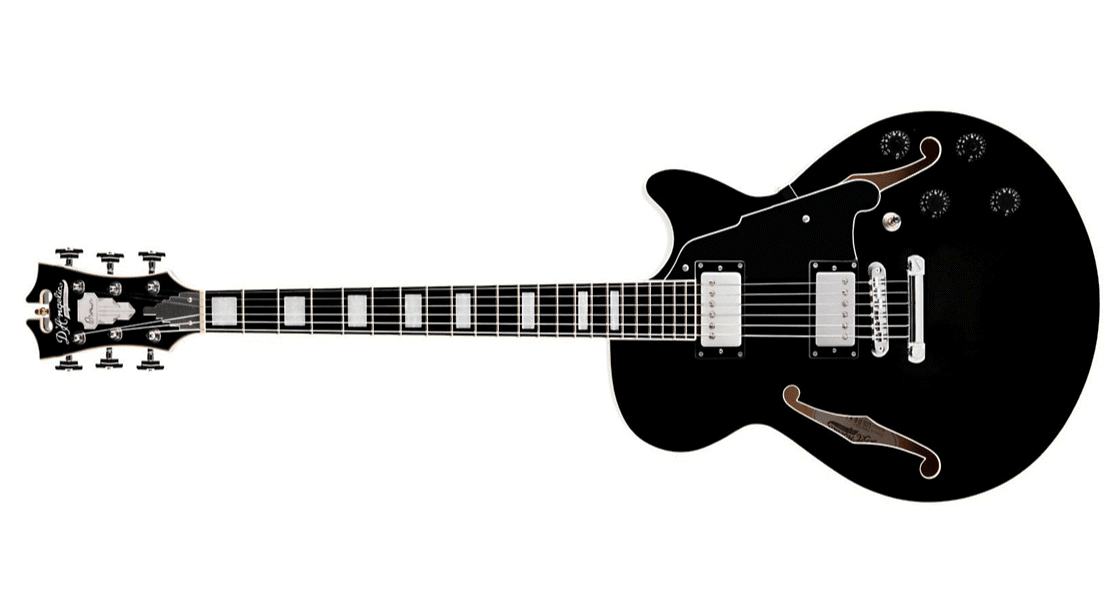 The D'Angelico Premier Series – EXL-1 has a balanced, organic tone that just oozes classic American Jazz. This is very much a Jazz guitar, with natural punchy mids and a warm acoustic edge. It comes with a gig bag and is made in Indonesia from rosewood, maple, and spruce. This is a distinctive and versatile guitar that shines above many other semi-hollows on the market.
It's a single-cutaway guitar with an arched back and arched top and made from laminated maple. It is slightly on the small side, with dimensions of 15 inches across, 18.75 inches long, and 1.75 inches deep.
The neck is made from maple and walnut, with a rosewood fingerboard and mother of pearl block inlays. The gold-plated tune-o-Matic bridge, ebony control knobs, and aluminum truss rod cover go towards explaining the slightly higher price compared to the Streamliner. Some models retail at a considerable amount more, such as the D'Angelico Excel EXL-1 Hollowbody Electric Guitar.
D'Angelico Excel EXL-1 Hollow Body Electric Guitar | Reverb
Inspired by John D'Angelico's legendary original archtop design, the Excel Series EXL-1 carries all the classic Art Deco-inspired details, like the scroll-style neck bevel, gold-finish truss rod cover and iconic D'Angelico "stairstep" tailpiece.
Check Price
We earn a commission if you make a purchase, at no additional cost to you.
The Epiphone Casino Hollowbody Electric Guitar has been a best seller of the brand for decades and even loved and played by Keith Richards, John Lennon, and George Harrison. The pickups provide an excellent variety of tones for players to take advantage of the acoustic and electric features of the Epiphone Casino.
Hard-wearing mahogany makes the neck, and the fingerboard is made from Pau Ferro with a lovely Pearloid inlay. There are two F-holes in the laminated maple body, and this really is a stunning guitar to look at, but how does it play? Actually, pretty stellar. The D profile neck means that the 22 frets are accessible, and the laminated frame allows for a smooth transition between chords.
Guitarists across the genres love the versatility of this guitar, and some consider it their best purchase in 50 years of playing! We love the three color options; Vintage sunburst, natural, and turquoise, too.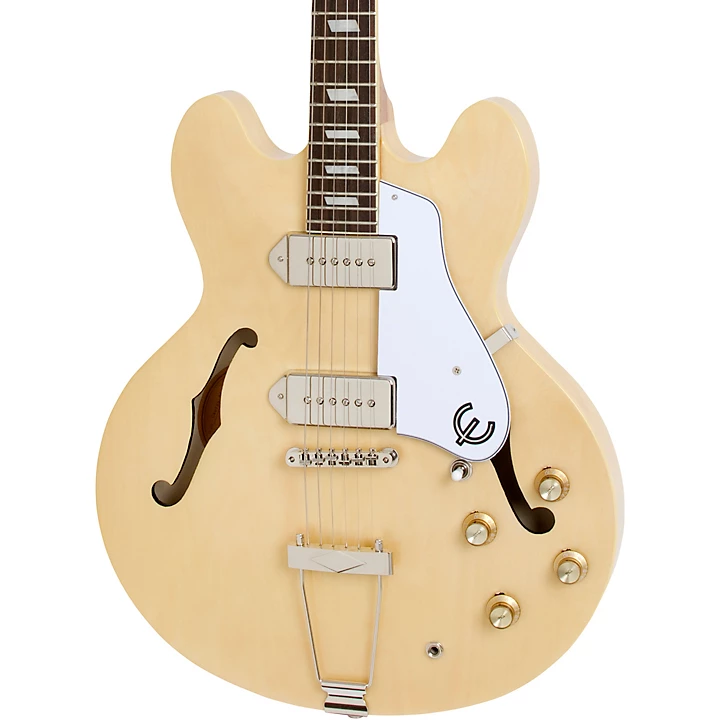 At Guitar Space, we have previously reviewed the Ibanez Artcore Series AS73G in great detail in our full review. To summarize, this is a highly versatile, semi-hollow guitar that we are proud to feature again. It has incredibly rich tones that are responsive and comparable to the Gibson 335 – but significantly cheaper to purchase!
Looking at the body and its aesthetically pleasing as well as structurally sound, made from maple wood from top-to-bottom with a mahogany wood neck – that's really built for speed.
Frequently Asked Questions About Streamliner
Question: How Did the Streamliner Series Come About?
Answer: It's a price point that hasn't really existed before. Now with the right factories, team, and knowledge, Gretsch has been able to make affordable versions of old classics for a larger market. The brand has reduced manufacturing costs to keep the affordability factor for the Streamliner series, by importing from Indonesia instead of using their original Brooklyn factories.
Question: Are Gretsch Streamliners Really all That?
Answer: They're pleasantly manageable and confidently deliver the sounds and spirits of Billy Duffy, Brian Setzer, and many in between. The Streamliner series offers incredible guitars for little expense – when comparable to other brands. Build quality is amazing for the price, and tone and playability even more so.
Question: Are They Good for a First Electric Guitar?
Answer: For those new to the scene of electric guitars, or just new to playing the guitar in general, the interest is a wonderful place to learn. There are a number of free Youtube Channels that offer lessons, regardless of the guitar, you're playing on.
When it comes to learning the electric guitar, looking for something uncomplicated, not packed with features, and at an affordable price, you really can't beat Streamliner.
Our Verdict: Is the Gretsch Streamliner Worth It?
The Streamliner Series represents outstanding value for money. For those looking to own their first Gretsch, or very first electric, this series is what they have been waiting for. For the money, they're well built and play well. The sound isn't as refined as some but it is clear and in line with expectations for this price point.
We believe that the G2655T and the G2622 are the better models for rock, blues, and indie while the G2420T is definitely the option for jazz – while still being a good choice for country, rock, and blues. The series has the look and sound that'll appeal to players looking at much more expensive guitars out there – now, they may not have to!
If this guitar doesn't catch your drift, check out our full review of the Gretsch White Flacon.
Read More:
Latest posts by Jodie Chiffey
(see all)