The Frankenstrat guitar is one that all rock fans will recognize instantly. The primary instrument of Van Halen's career, this is hands-down one of the most iconic and famous guitars ever to have existed. In my Frankenstrat guitar review and guide, you'll find out everything you could possibly want to know about this guitar, including some great alternatives to buy today.
Any musician worth their salt will know a bit about the Frankenstrat Guitar. There is now even a copy of the original in the National Museum of American History. This is certainly a special guitar.
With replicas available to buy worldwide today, my review will ensure you know the things to look for to ensure you get a great instrument instead of a low-quality, not-worthy-of-the-name guitar.
My Bottom Line up Front: If you're not convinced that the EVH Striped Series Frankie Electric Guitar is right for you, then a solid second is the EVH Striped Series Shark Electric Guitar, which plays like butter and has one awesome paint job. You may also want to consider the Ibanez Nita Strauss JIVA10 Signature Electric Guitar.
Frankenstrat Guitar Key Specifications
| | |
| --- | --- |
| Body Shape | Double Cutaway |
| Body Type | Solid-Body |
| Body Material | Basswood |
| Neck Wood | Maple Wood / Oil Finish |
| Scale Length | 25.5-in |
| Fingerboard Material | Maple Wood |
| Fret Size | Jumbo |
| Number of Frets | 22 |
| Electronics | Configuration: H, Bridge: Proprietary Open Coil Humbucker, Control Layout: Master Volume. |
| Hardware | Bridge Type: Tremolo/Vibrato, Bridge Design: Locking 2-Point Tremolo, Tailpiece: Vibrato |
| Pickups | Dummy Strat Neck, Direct Mount Wolfgang Humbucker Bridge |
| Controls | Volume, Dummy 5-way Blade |
| Bridge | EVA Branded Floyd Rose with D-Tuna |
| Tuners | EVA Branded |
| Color | Red Paint Job with Black and White Stripes, Finished With a Worn-in Reliced Look |
| Number of Strings | 6 |
| Latest Price | See Here |
Core Features of Frankenstrat Guitar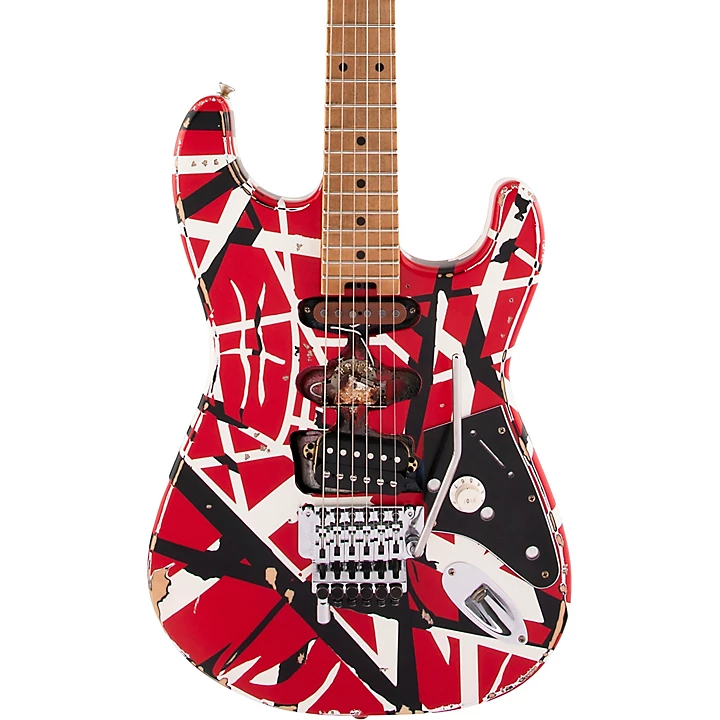 While you will never be able to buy the original Frankenstrat, the EVH Striped Series Frankie Electric Guitar is part of the affordable Striped Series from EVH and a guitar that truly replicates the Frankenstrat. While earlier models brought the ubiquitous look to many, this model is the best tribute to the original to date.
Here we will go through the core features of the EVH Striped Series Frankie Electric.
Neck and Body
The neck is made from quartersawn maple and has an attractive oil finish. I found the modified C shape slimmer than most and very comfortable to play. With it being more narrow, I would recommend this an excellent guitar for small hands.
The construction of the neck is costly and fascinating. The neck blank is sawn from the lumber angle, using the natural wood grain direction to gain superior strength and stability than standard necks. In addition, there are graphite reinforcement rods that provide even more potency to this area.
If you've ever seen Van Halen play live, you'll understand why it is so crucial for the neck to be so strong!
There are 22 jumbo frets on the fingerboard. The radius is pretty flat at 12-in to start with and gradually reaches 16-in at the top of the fret, which is perfect for fast and furious playing as well as appropriately pyrotechnic left-hand techniques.
Pickup and Hardware
After the explosion of 'Eruption,' Van Halen knew his place in the music world. But, being ridiculously influential, he energetically trolled his battalion of copycats by installing a dummy selector switch and pick up to confuse them initially.
On the original Frankenstrat guitar, the only active pickup was the ES-335 PAF, which Van Halen dipped in wax before soldering into his ax. The EVA Frankenstrat replica has taken this inspiration and developed the Wolfgang pickup, which slightly ups the ante in the output.
I found that this has led to a remarkable harmonic response and upper-mid sizzle. The sound is interesting, lively, and great fun to achieve a good tone through the pickup, fingers, wood, and a good quality amp – see our guide to the best amps for metal to find your perfect pairing.
The fact that the pickup is mounted directly to the guitar's body is a really cool detail that eschews the regular plastic pickup surrounds. In addition to looking pretty hot, this design also results in more tone transfer across the output.
As you may be aware, the only functioning bits of hardware are the volume control, tremolo, and the bridge pickup, with everything else being dummy units – as per the original. The electronics within the middle pickup cavity fit with the guitar's look and have been aged to achieve this. But, overall, there's great value to be had here.
Aesthetics
The first thing the eye is naturally drawn to on the EVH Striped Series Frankie Electric is the imagery, which is clearly fantastic. The reliced red with the white-and-black-striped paint job, white skirted Strat-style single labeled control knob, custom black pickguard and reliced hardware are all painstaking cosmetic touches unique to EVH, his series, styles, and relics.
There are manufactured natural-looking wear-and-tear marks and mismatched holes on the pickguard true to the original guitar yet. It couldn't look any more like the real thing, in my opinion, and I'd be super-proud to hang this replica on my wall to marvel at – and show-off about – in equal measures.
Side note: if you, too, like hanging guitars rather than using stands, here are our 5 best guitar wall hangers available to buy now.
Pros of the Frankenstrat Guitar Replica
Playability
This has to be one of the most fun guitars to play out there; not only is it easier to hold and scale, but it's also highly versatile, plus there's even a left-hand version (available to buy here). I found it easy to get in tune, and although the original strings aren't my preference, they are more than good enough and feel comfortable and strong.
Sound
This guitar sounds fantastic paired with any amp! I use the Marshall Origin Combo 5W as a practice amp, which generously supports most guitars. However, you may get better results with a higher wattage; after all, EVA was meant to be heard loudly!
Image
I can't stress enough just how fantastic this guitar looks. It's almost like buying a piece of stunning artwork with which you can create music!
The attention to detail is truly a thing of beauty. This guitar reflects years of life on the road and portrays a look of a long and interesting history, yet is brand new and has none of the associated problems often connected with a vintage guitar.
Cons of the Frankenstrat Guitar Replica
It is a Replica
I know to many, it seems obvious that you will not own the very guitar EVA built. But, with replicas comes criticism. I have to say that of all the similar guitars I have found during my research, none stand out greater or have more of an accurate likeness than the EVH Striped Series Frankie Electric.
It Needs Protection
This guitar is not finished, so very susceptible to sun damage and staining if not covered well or protected. Many owners will want to display this guitar; after all, its look is its biggest draw, but to do so will require careful placement, regular cleaning, and good protection from the elements.
It is Expensive
Electric guitars tend to be more costly than acoustics, but the EVH Striped Series Frankie Electric is in the high-end price range.
Best Alternatives to the Frankenstrat Guitar
If you're not convinced that this is the model for you, then here are some you may prefer.
EVH Striped Series Shark Electric Guitar

What I love most about the EVH Striped Series Shark Electric Guitar is how it looks; yes, it sounds phenomenal, has excellent playability, and is priced fairly. I don't believe I have come across such a stunning, eye-catching piece before. Plus, this is a spot-on replica of EVA's most aggressive electric with a shreddable neck and super-hot tones.
EVA's actual Shark guitar featured on the front and rear cover of his 1980 album 'Women and Children First,' and ranks in his career's top five iconic guitars.
The main difference with this replica to the original is the lack of dings, chips, and dents; this aside, I believe the look is identical, including mismatched chrome and gold tuners, mismatched parchment, and an oversized Harmonia bridge.
The ashwood body is painted burgundy and features eye-catching silver stripes. The finish is high-gloss, which results in an easy wipe-clean surface. The neck is graphite-reinforced maple and has a modified C profile, 24.75-in scale, Pau Ferro fingerboard, and 22 jumbo frets.
Any true EVA fan will appreciate the vicious growl and aggressive voice delivered by the Shark, thanks to the hot pickups. Overall, the personality is dark and warm, but not excessively so, and individual notes have excellent definitions. I found this guitar to pair better with a bright, high-gain amp such as the Peavey 5100 to truly bring out the bite.
Pros
Stunning Guitar
Identical Replica
Wolfgang Pickups Excellent
Perfect for Metal and Rock and Roll Style Play
Cons
Expensive
High Gain Amp Needed
Ibanez Nita Strauss JIVA10 Signature Electric Guitar
The Ibanez Nita Strauss JIVA10 Signature Electric Guitar is as stunning as the other guitars in this guide; it has a very subtle green hue to the deep space blonde finish, and this is enhanced with the moderate translucent application, which allows for the wood grain to show through. I could look at this guitar for hours!
The JIVA10 has a solid mahogany body yet is pretty lightweight at just under 7 lbs. There are three direct-mounted pickups, a familiar HSH pickup configuration, and Nita's signature Pandemonium humbucker in the bridge. There's one Tone control and one Volume control, yet while the controls seem basic, they make for easy playability with an excellent sound.
The neck of the JIVA10 is divine. It is a 3-piece, combining purpleheart and maple, with an ebony fretboard. There are jumbo frets with luminescent dot markers, and the pulse detail running up the neck really finishes off the eye-catching design of the instrument.
I found this guitar to be supremely comfortable to play or shred happily for hours. I love how the neck is thin, yet not too thin, and how lightweight the guitar is. I found no issues with tuning stability, and the controls all performed well, with an easy resistance.
When it comes to sound, the JIVA10 is one brilliant, spanky-sounding guitar with perfect ultra-clean tones. One problem I did discover was when kicking in the high gain, the pickups get pretty hot, but during my research, I found this was normal and nothing to be concerned about – the hardware is ok.
This is a guitar designed for high-gain rock and metal. If you're a player who wants a versatile, comfortable, and powerful guitar, then the JIVA10 should be one to look at further.
Pros
Superb Comfort when Playing
Simple yet Effective Controls
Eye-Catching Design
Perfect for Rock and Metal
Cons
Not American Made (The JIVA10 is manufactured in Indonesia)
Not a Direct Copy or Replica of EHA
Frequently Asked Questions about the Frankenstrat Guitar
Question: What was the Idea Behind the Frankenstrat?
Answer: Van Halen attempted to combine the classic sound of a Gibson with the tremolo bar functionality and physical attributes of a Fender Stratocaster. This resulted in an early attempt of the Superstrat. The story behind the creation of the Frankenstrat is pretty cool; EVA used factory seconds and discounted pieces, and many enthusiasts attempt to recreate this themselves.
I found a really informative piece on building a Frankenstrat here; although plenty more are available, I loved the step-by-step tutorial with this one.
Question: How Similar is the EVH Striped Series Frankenstrat Electric Guitar to the Original?
Answer: I genuinely believe there is no better replica around. Everything that matters is here: the performance, the sound, the unique look, and the worn-in feel. Tiny train-spotter details such as the reflectors on the back and the glued-on coin at the bridge can be added by home-modders if deemed necessary.
Question: Will I Find the Frankenstrat Guitar any Cheaper?
Answer: In my opinion, no. At Guitar Centre, this piece is available under financing options, with spreadable payments and a leas-to-own option. It is worth mentioning that these guitars can be hard to come by, so for my money, I would snap this up under whatever plan I could afford. Find out more about payment options at Guitar Centre here.
If you don't want to sign up for any payment plan, then it could make financial sense to attempt to build your own Frankenstrat, and there's tons of information out there to help with this.
Question: What Was The Design Process of This Guitar and David Lee Roth's Role?
Answer: David Lee Roth has very recently explained this answer in full in a 7-minute long YouTube video, where he talks about the influence he had on the paint job of this guitar. He humbly plays down his role and credits EVH for making the Frankenstrat what it is. However, he states that he's proud to have played a part in it.
Question: Are There Other Famous Guitarists to Have Created Their Own Variants?
Answer: Eddie Van Halen is certainly not alone when it comes to creating a custom guitar. However, not all have been so successful. For example, Bo Diddley created the "Twang Machine," which is basically a cigar box-shaped guitar designed to protect a groin injury, and there are no replica models of this.
On the other hand, Prince's custom-built Cloud guitars have been in massive demand for decades. These guitars have been notoriously hard to come by and extremely expensive, with one teal instrument being sold for a staggering $700,000. The good news is that these replicas are now available (with a much smaller price tag) and in some stunning color choices.
The Frankenstrat Guitar – My Verdict
I really think that EVA has pulled out all the stops with this guitar, and producing a guitar to this standard that is within reach of many Van Halen fans is applaudable. The EVH Striped Series Frankie Electric Guitar is a fantastic recreation and one that's been looked over and signed off by Van Halen himself.
While the EVH Striped Series Shark Electric Guitar is a very good guitar and another fantastic replica, it would be my number two. I loved so many things about this piece, but my heart stays with the EVH Striped Series Frankie Electric Guitar.
Another option for a similar guitar is the Ibanez Nita Strauss JIVA10 Signature Electric Guitar which is incredibly comfortable to play and sounds phenomenal.
Latest posts by Jodie Chiffey
(see all)