The difference between a good and a great guitar is sometimes a few simple mods. However, not all guitars are fit for modding, no matter how attached you are to them. Some will consume time and money only to never get in good shape. I will guide you through what I consider the best guitars to modify you can buy today.
Guitar players have been modifying guitars ever since the instrument became popular. Nowadays, it's more necessary than ever as quality guitars are becoming more expensive and vintage instruments untouchable for most.
Should You Mod Your Guitar?
The short answer is to figure out if you want your guitar to be different. Usually, you either want to change your guitar's look, playability, or tone.
The main reason to mod a guitar is to bring it to a level that responds to your playing. If you pick it up and feel it's not responding, it's a sign it needs some work. You also might want to improve on some already decent aspects of the instruments.
As a beginner, it's ok to have issues with tuning stability, high action, and not-so-great tone. If you become a better player, it has to improve or go.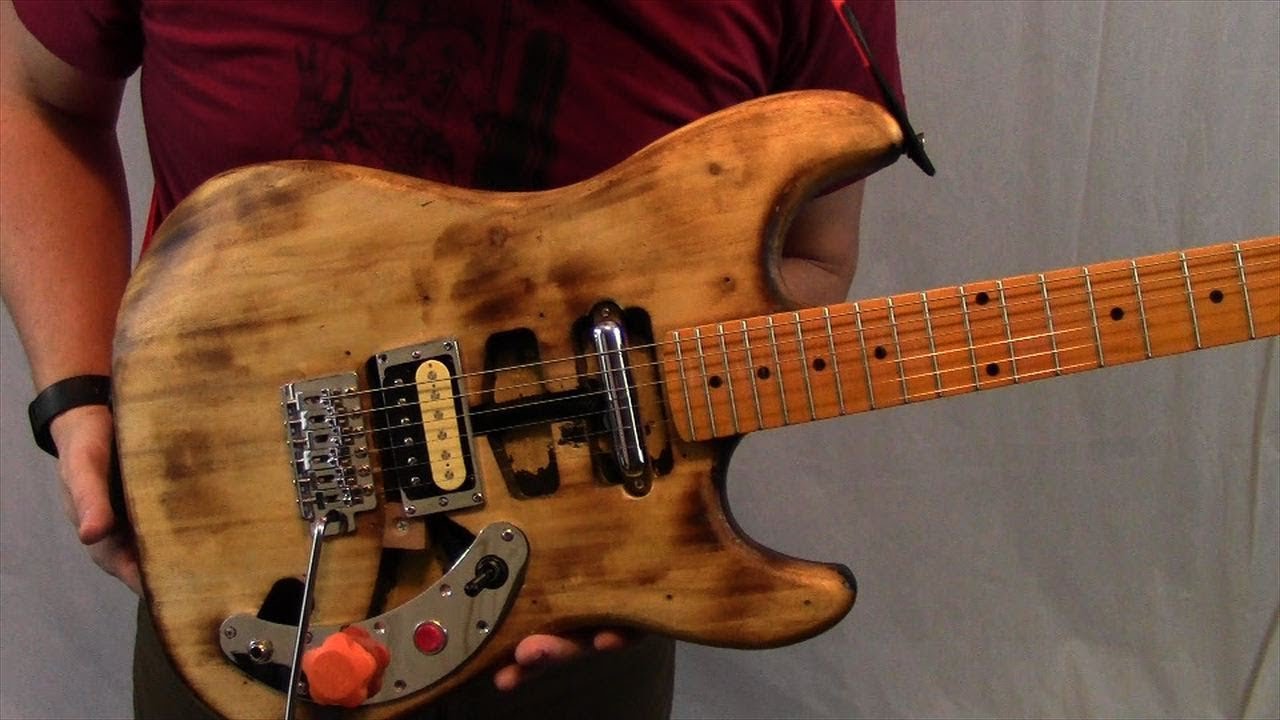 The first mod I ever did was changing my strat's bridge pick-up with a humbucker. The guitar was already in great shape, yet I needed the versatility the humbucker gives when playing rock gigs. Some black paint over the white pickguard gave the final rock guitar touch.
For guitar freaks like me who own a bunch of gear, I sometimes mod guitars as a free time activity. Finding out how P-90 sounds on my Tele or what happens if I put a Floyd Rose on my Strat is still fascinating as each guitar is different.
Modifying guitars is also a smart move for saving money. Overall you can get a stage-ready guitar for much cheaper than a new US Strat or any mainline axe.
Read also: Does Modding Guitar Work, and Is It Worth It?
What Makes a Guitar Good To Modify?
When I tried to modify my cheap, poorly built Harley Benton, there was nothing I could do to make it play well or even stay in tune for long. Changing the bridge, tuners and nut helped, only to find out that the neck was in awful condition. Replacing the neck cost me more than the guitar!
The result was a decent-sounding humbucker-packed rock guitar, but was it worth it?
Thinking about it now, It would have been wiser to sell it and buy another one ready to mood. When you start working on a guitar, though, there's this eagerness of wanting to make the best possible thing out of it—finding a guitar that's fit for modding in the first place would have saved me lots of time and money.
The main thing to look for in a guitar to modify is a good body and neck. The tone is adjustable as long as the build is solid, feels good to play, and is designed to leave space for mods.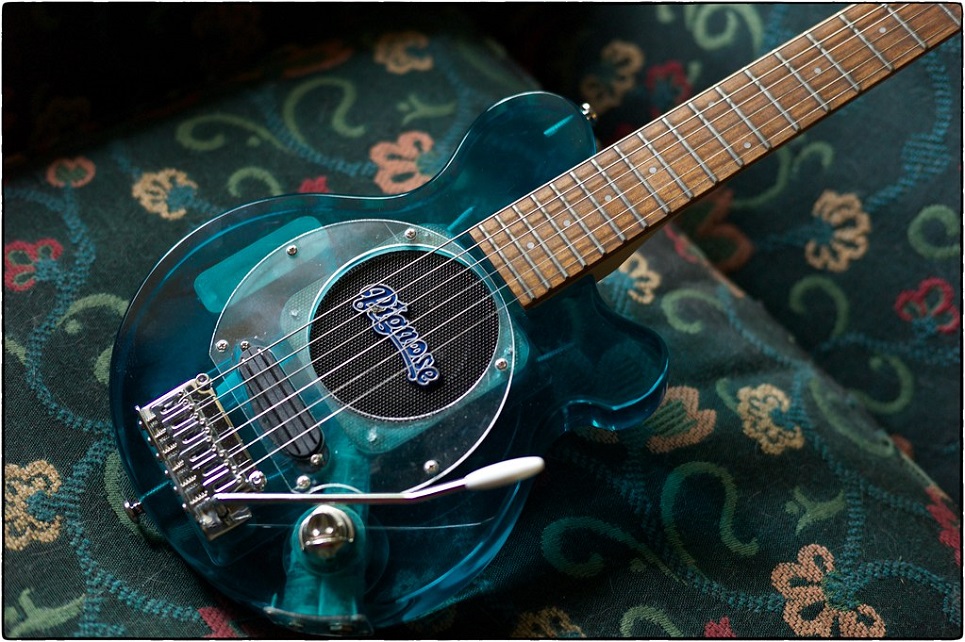 Other elements to look out for are the weight, depending if you are picky about having a light or heavy guitar, and some particular piece of hardware/electronics that's specific to your needs.
I'm saving the tone for last as it's probably subjective for every player. Don't get fooled by a guitar that only sounds good but fails at everything else. You could remove the pickups and find a more worthy body and neck.
My way of testing an electric guitar is playing it unplugged. If I enjoy playing it stripped down, it's probably worth investing some money.
Depending on your playing level or budget, you might need a different approach to modding. For this reason, I listed three guitars for each design style.
Les Paul Style Guitars
Mainline Les Pauls are notably expensive guitars. If you want the shape but can't afford the cost, modding a guitar from an affordable brand is the best way to go.

This cheap Les Paul-style guitar is one of Epiphone's best-budget beginner instruments.
The guitar looks great, but it's not a guitar you want to play on stage. Intonation and tuning stability is beyond the point of keeping the hardware intact. The pickups and looks, though, make the guitar worth modding.

Change the tuners, bridge, and nut to turn this cheap instrument into an excellent beginner guitar. If you want to use it until your intermediate years, the volume pots and at least one of the pickups should go.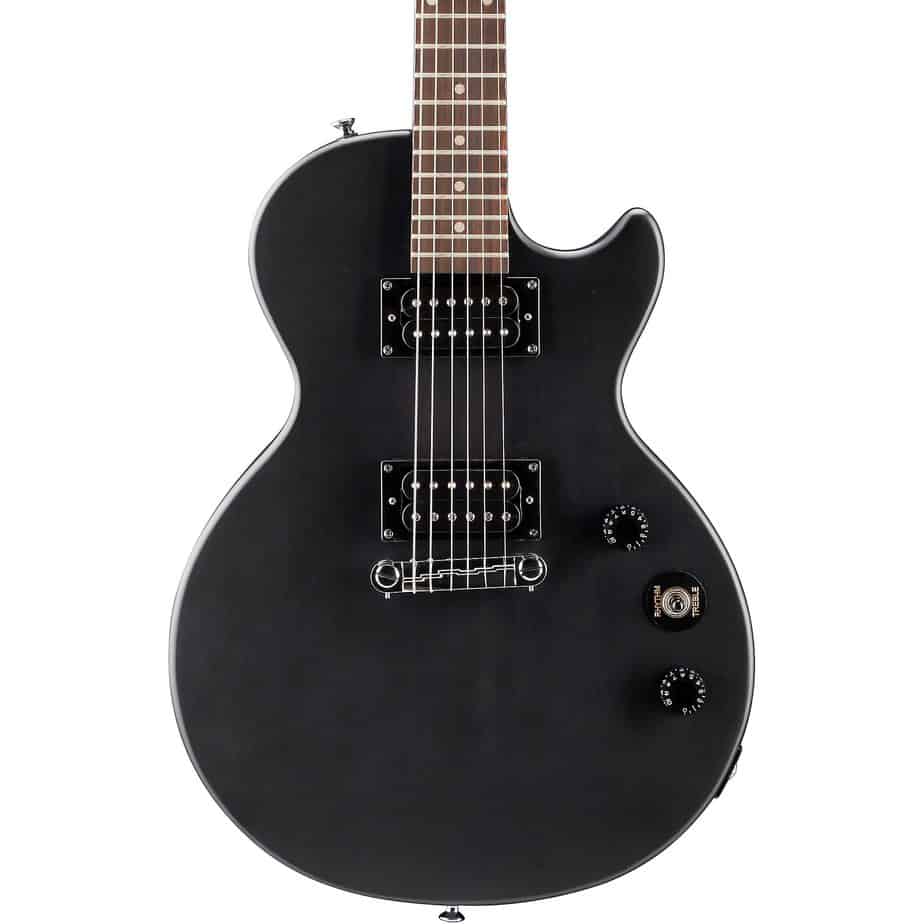 Epiphone Les Paul Special-I Limited-Edition Electric Guitar | Guitar Center
This is a limited-edition version of Epiphone's number-one-selling model is now available with a choice of "worn" finishes. The Epiphone Les Paul Special-I limited-edition electric guitar is a great way for beginners to get started on guitar with real Les Paul tone and feel.
Check Price
We earn a commission if you make a purchase, at no additional cost to you.
The looks alone make the guitar worth modding. As a Slash fan, I bought it, changed the tuners, and turned it into a beater guitar over the years.
The humbuckers are not very versatile; changing them and the pots will turn this beginner guitar ready for live shows. Paint the guitar black and put hotter pickups and locking tuners to have a classy metal guitar.
The Les Paul Studio is one of Epiphone's best takes on Gibson. Out of the 3, this is already an excellent intermediate guitar I would take on a gig without any modding.
If you want to bring it close to Gibson, you should change the pickups first. Brighter pickups with more attack and note separation will make it far more versatile. A new set of tuners and bridge is the next thing to do if you want to use the guitar on important shows,
I love modding this guitar as it saves a lot of money. There are plenty of alternatives for humbuckers and set bridges, from affordable to expensive ones. Even if you change all the parts, it will still cost less than a mainline Gibson.
Epiphone Les Paul Studio Electric Guitar Smokehouse Burst | Guitar Center
The Epiphone Les Paul Studio is part of the "Inspired by Gibson" collection that borrows the best basics—mahogany body, tune-o-matic bridge, Grover tuners and Alnico Classic PRO 'buckers—while ditching the rest. It's a no-frills guitar that still thrills with complex, vintage-inspired tones.
Check Price
We earn a commission if you make a purchase, at no additional cost to you.
Strat Style Guitars
Stratocasters are easily the best guitars to modify. Hundreds of brands today make Strat variations, so can you too if you own one.

A cheap squire is a perfect guitar to mod if you're a beginner who's just making the jump to intermediate player. With a surprisingly easy-to-play neck, it's an excellent choice to modify.
The latest Bullet series is extra affordable and looks as good as any Strat. The mandatory tuner, nut change, and new finish will put it head to head with the best Squires out there. Even if you end up making it worse, as many first attempts to modify a guitar do, it still won't hurt your budget much.
I suggest changing the bridge and middle pickups independently of the style of music you play. The neck position sounds like a Strat; the other two are poor pickups.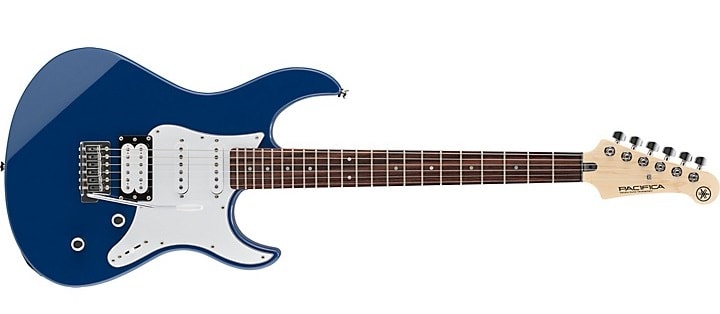 The Yamaha Pacifica is a legendary guitar model vastly popular among rock guitarists, checking all the boxes for a quality body and neck. It's my favorite guitar to modify from the list as it gives the most options at the lowest price.
Superstrats can be fitted with parts from many brands and thus be fit for multiple genres. An HSS configuration means you can experiment on a guitar from low output P-90 to high output humbuckers. Either turn this Yamaha into a jack-of-all-trades main Axe or a mean rock guitar.
I scalloped the second octave on mine and always use it whenever I need a lot of sustain on a solo.
If you're a shredder, you need the extra versatility of 24 frets and a Floyd Rose. Ibanez offers its affordable RG series with the same elements as its main line.
Adding frets can be tricky or mean replacing all the fretboard, while installing a Floyd Rose might considerably alter the guitar's body. This Ibanez already has moderately quality parts, so changing the pickups and perhaps adding locking tuners can drastically improve it. Consider an active pickup for the bridge.
The 5-way switch leaves space for multiple tones, yet most positions are just average sounding. If you are looking only for a rock and metal guitar, you might as well go the Van Halen way and modify it only to have a few very good positions.
Tele Style Guitars
The other main branch of guitar shapes is the old friendly Tele. The most sold guitar of all time and probably the most reliable is excellent to modify due to its simple design.
What makes this Tele outstanding for modding is the major difference you can get with a few parts. Only one pickup can dictate if it's going to be a country twang guitar or an aggressive rock one.

The Squier Bullet series is an all-around fantastic model choice for a first guitar. As with all guitars, around the 200$ price, it needs some modding to get in shape for playing live.
It might not necessarily go out of tune fast or have a poor tone, yet better tuners bring the extra reliability you need.
The neck pickup is pretty good sounding; the bridge one should go if you want to use the guitar for anything apart from practicing.
This guitar can go from beginner to intermediate level with less than 200$ of modding.
This Squier line is from a series that many people have heard of which inspires trust. The stylish look of the guitar and fine neck make it worth modifying. The dual humbuckers already sound good, but the design choice leaves space for easy replacing the pickups if you want to.
I can imagine this guitar fit in every stage with its refined looks. I'd suggest removing all the chrome-plated hardware or keeping the style uniform if you are replacing only one part. Tele's are cool cause they are simple; too much contrast could ruin that advantage.

The Squier Contemporary series comes with all you need if you need to play heavy music. There are 22 frets and two hot pickups already installed in the guitar – meaning you might only change the looks and the tuners to get a great rock and metal axe.
The best part about this Tele is the excellent neck. A smooth and modern C-shape is perfect for playing fast.
FAQs
Question: Can I Modify an Acoustic Guitar?
Answer: Yes, you can modify an acoustic guitar with excellent results. However, the acoustic properties of the guitar and its tone are hard to improve. You can drastically enhance playability with a few efforts, while major mods might hinder the guitar's body.
Question: Do modified guitars gain value?
Answer: Usually, modified guitar lose value in the market, especially if it's the main line instrument. Buyers prefer buying an intact vintage instrument rather than a modded one.
On the other hand, cheap guitars that are modded successfully could easily sell for more than their original price.
Question: Is it worth putting expensive pickups on a cheap guitar?
Answer: If you like how the guitar feels when played unplugged and stays in tune, then It's worth changing pickups. Intonation can be a significant issue on cheap guitars, so a bridge change is usually necessary.
How Much Should You Spend To Modify a Guitar?
The fine line between modifying or buying a new guitar is always tricky to define. Once you start, it's hard to stop making your guitar better. Depending on your budget, affection for a guitar, or the process of modifying it, you could be tempted to overspend easily.
I use a simple rule of thumb: "If the guitar needs more modding than its original price, it's not worth investing in it."
After all, if a Squire around the 400$ price needs double its price of modding to get into a shape I like, I might as well purchase a Player Series Fender and get closer to the real thing.
Latest posts by Altin Gjoni
(see all)