Yamaha Corporation is one of the biggest global brands, selling a variety of products. But Yamaha is especially well-known for their musical gear, which generated $2.47 billion US dollars in 2020 alone.
The APX500III is a hard-to-find guitar that packs a lot of punch. Even though it's a beginner's guitar, it's still one of the brand's best-selling guitars and is an iconic electro-acoustic guitar.
But what if you do get your hands on this guitar? Is it worth buying and playing?
Overview
As stated previously, the APX500III is in Yamaha's APX line. This line is groundbreaking; back in the day, your guitar was either built for only electric or acoustic. However, the APX line introduced a new breed of guitars: electro-acoustic guitars. This way, guitarists didn't have to choose one style over the other.
The APX500III embodies many of the qualities that Yamaha is famous for: performance, durability, and reliability. This guitar is powerful and delivers an incredible tone.
As far as price is concerned, it falls between cheap and mid-range. So, why is the guitar so difficult to find? The answer lies within Yamaha. For one, they stopped producing the APX500III.
Even with that being said, their guitars aren't very mainstream, thus they don't make many of their guitars. When looking for this guitar, your best bet is to find a used model.
Pros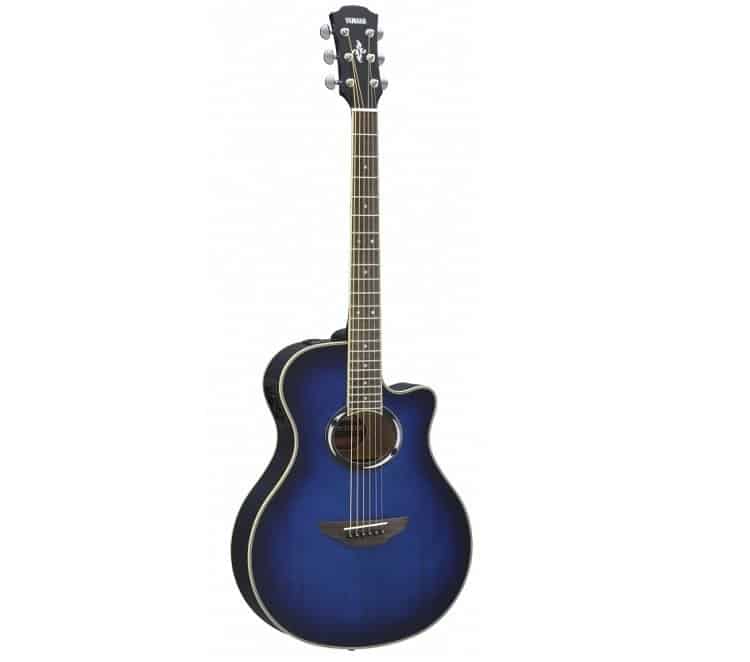 This guitar is great straight out of the box. There are few adjustments that need to be done. This not only makes this the perfect guitar for beginners but is a great jam guitar for professionals who just want something simple.
In addition, the tone and sound are excellent. Overall, this is a great guitar for the price.
Cons
If you're looking for volume, this isn't the guitar for you. Even when plugged in, this guitar doesn't achieve as impressive of sounds as competitors. In addition, Yamaha no longer makes this guitar, so it's extremely difficult to find.
Specs
Before we go into the review, let's cover some of the specs. Some of the most notable details include:
Non-scalloped X-type bracing
Yamaha APX Thinbo design
Okoume or nato neck
Laminated spruce body
25.6" scale
Rosewood bridge, neck, and fingerboard
Controls: mid-frequency control, 3-band EQ, built-in tuner
System 66 pickups
Die-cast tuners
Stock strings
Right-hand orientation
6 strings
Average price range: under $300
Standout Features
Easy to play
Entry-level but is still suitable for professionals
Little-to-no setup
Hardware and Electronics You'll Need
Cables
Amp
Picks
Strap
Extra strings
Tuner
Guitar humidifier
Bag
Sound
The APX500III has a huge sound with plenty of resonance. That's thanks to the X-type bracing pattern within the soundhole. The X pattern also maximizes the guitar's resonance so it sounds natural yet precise and dynamic.
The oval soundhole also creates broad low-end frequencies, making it sound amazing when played both acoustically and electrically.
With that being said, if you're looking for an electro-acoustic guitar that sounds amazing played in both ways, this is the guitar you'll want to use. The guitar always sounds clear, bright, and balanced, no matter if you're playing it acoustically or electrically.
The guitar uses Yamaha's System 66 pickup system. It's a simple preamp, plus an under-saddle piezo pickup.
Beginners can easily alter the sound using the controls. The guitar includes frequency control and volume knobs, in addition to a built-in tuner. Even with its broad range of tones, guitarists will likely benefit from using pedals, depending on the sound you're trying to achieve.
Recording musicians will especially love this guitar. It has virtually no feedback. At an affordable price, these are all great benefits. If only finding this guitar was easy.
Build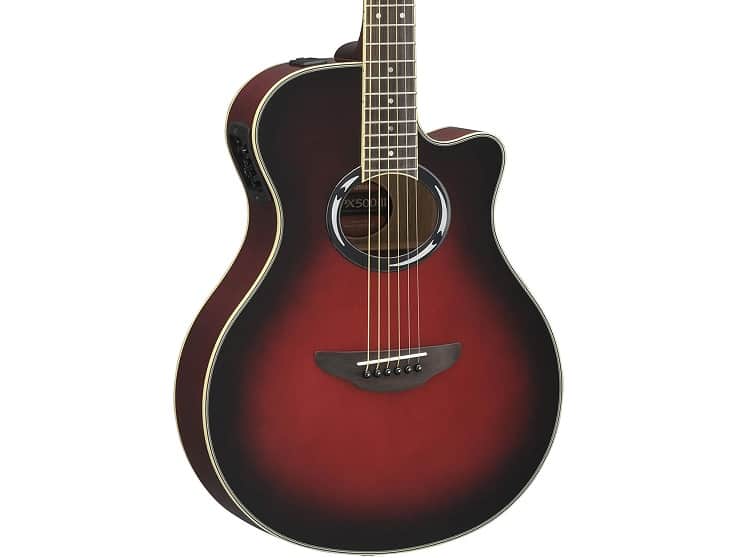 The Yamaha APX500III has a thin body. The reason why is so it's comfortable for every player, specifically kids and young adults. But that doesn't mean adults and professionals won't benefit from the smaller body. The top frets are easy to access, making it an ideal choice for performing guitar players.
The body of the guitar is made of laminated spruce with either nato or Okoume on the sides, neck, and back. It has a natural finish, looking like a sleek acoustic guitar.
The guitar is available in a wide variety of colors. These include:
Dusk sun red
Black
Vintage sunburst
Blue burst
The guitar has 22 frets on the neck. The hardware is pretty standard. This includes a rosewood bridge, die-cast tuners at the headstock, and comes with non-branded stock strings.
Overall, this build is ideal for both beginners and professionals.
Feeling
As stated previously, the guitar is thinner compared to other electro-acoustic guitars on the market. It also weighs less. The neck is slimmer and strings are low-action, so you don't need much strength to play the guitar.
This makes it an easy guitar to play for both beginners and professionals and is ideal for performing guitar players and other professionals playing guitar for long periods of time.
Downsides
Should you go out of your way to find this guitar? There's a reason why this guitar is extremely popular — there's virtually nothing wrong with it. While you'll want to change the strings and play with pedals, the guitar is extremely reliable, versatile, and comfortable to play.
The biggest downside is its rarity. Fortunately, there are great alternatives to this guitar.
Alternatives
Want a high-quality electro-acoustic guitar but have no luck finding the APX500III? Here are a few comparable alternatives.
The APX600 replaced the APX500III. The guitar is practically the same as the APX500III, though it's a little smaller.
Yamaha also makes other guitars that are readily available. By far the best example of this is the FGX800. It's a top-notch guitar with excellent sound quality and design. Even though it's slightly pricier, this is by far the most comparable guitar to the APX500III in the Yamaha line.
Yamaha FGX800 | Amazon
Yamaha's standard acoustic model, with simple and traditional looks and outstanding quality, at an affordable price.
Buy at Amazon
Buy at Sweetwater
We earn a commission if you make a purchase, at no additional cost to you.
12/01/2023 08:51 am GMT
While the Jasmine S35 is acoustic-only, it has an amazing sound with high-quality construction. It's also extremely affordable, making it ideal for beginners or professionals who just want a home guitar to use when jamming.
Fender is one of the most notable name brands in the guitar world. The CD60CE is a great guitar for both beginner and advanced players. While it doesn't offer anything too special, it's built well and offers excellent quality.
CD-60SCE Dreadnought | Fender
Combining powerful onboard electronics—including a built-in tuner—with great tone and easy playability, the CD-60SCE All-Mahogany is ideal for beginning to intermediate level players who are ready to plug in.
Check Price
Buy at Guitar Center
We earn a commission if you make a purchase, at no additional cost to you.
FAQs
Question: Does the Yamaha APX500III Come With a Warranty?
Answer: There's a warranty on the neck, top, sides, and back.
Question: What Are the On-Board Controls?
Answer: The Yamaha APX500III has volume, mid, low, and high controls. It also comes with mid-range frequency control. There's also a built-in digital tuner (though you should also use your own).
Question: Is It a Laminate or Solid Guitar?
Answer: It's a laminate guitar. That's why the guitar is reasonably priced.
Question: How Much Does the Guitar Weigh?
Answer: At 4.28 pounds, it's very lightweight. Ideal for a beginner getting used to their first guitar or for a professional who wants a lightweight guitar to use on stage.
Question: Should Beginners Choose a Similar Guitar?
Answer: While the APX500III is great for a beginner, it's a difficult guitar to find. That's why beginners should choose another guitar before using the APX500III.
Great alternatives include the Yamaha APXT2 ¾, Yamaha LL6 ARE, Fender CD-60S, Yamaha FG800, Epiphone Hummingbird Pro, Ibanez AW54CE, Taylor GS Mini, Epiphone DR100, and Martin LX1E Little Martin.
Question: Is There a Left-Hand Model of the Guitar?
Answer: Unfortunately, there are no left-hand options available for this guitar. If you are looking for a left-hand electro-acoustic guitar, we recommend the Fender CD-60S Left-Handed, Ashthorpe Lefty Acoustic Guitar, Taylor GS Mini Left-Handed Guitar, or the Yamaha FG820L LH.
Question: Is This the Only Yamaha Guitar That's Great for Beginners?
Answer: Yamaha is renowned for releasing beginner-friendly instruments, for more than just guitar. But if you're a beginner looking for the perfect Yamaha acoustic guitar, we suggest you look at the FS800 since the APX500III is no longer available. The APX600 is also a great guitar that is ideal for beginners and professionals.
Question: Are Yamaha Acoustic Guitars Good?
Answer: Yamaha acoustic guitars are a great choice. They sound great, are overall high-quality, affordable, and are great for both beginners and professionals. However, they're not the only brand that makes great acoustic guitars. Some other alternatives include Ovation, Blueridge, Taylor, Fender, Epiphone, and Martin.
Question: Do Any Major Artists Play Yamaha Guitars?
Answer: Yamaha has a whole array of endorsed guitar players on their roster, both for electric and acoustic guitar. Here are a few notable names:
Electric:
-Jason Mraz
-Chino Moreno
-Angel Alvarez
-Basil Fung
-Al Jourgensen
-Josh Podolsky
-And more
Acoustic:
-Chad Kroeger
-Rodrigo y Gabriela
-Andy Abad
-Clayton Gibb
-Edwin McCain
-Lee Ritenour
-And more
Question: Are Electro-Acoustic Guitars Good for Beginners?
Answer: Are you choosing your first guitar? Electro-acoustic guitars offer the best of both worlds. But are these the best option for beginners? There's debate whether electro-acoustic guitars are best for beginners.
Some also say electric guitars are better for new players and others say acoustics are better. The best course of action is to play the type of guitar that you want to play.
Yamaha APX500III Review: The Final Verdict
The Yamaha APX500III has many benefits. It's the perfect guitar for beginners, has a great sound, is overall high-quality, and comes with virtually no setup. Because it's lightweight, it also makes a great stage guitar.
Unfortunately, Yamaha no longer makes the APX500III. It's best to look at the alternatives if you want a great electro-acoustic guitar.
Would you rather look at either electric or acoustic guitars? We offer reviews and buying guides for both types! Continue reading our website.
Latest posts by Stephanie Jensen
(see all)