Purists may well sneer, but when it comes to the effects section of your guitar rig, there's a lot to be said for a multi-effects unit, as opposed to a bunch of stomp boxes.
As with any aspect of digital technology, the tonal difference between them and analog boxes are always reducing,
For some guitarists, particularly those in covers bands, who need a lot of sounds at their disposal, with minimum fuss, floor space and expense, multi-effects pedals can be the most sensible solution.
Here, we'll take a look at the best solutions for every budget.
The G1Xon is an ideal starting point for those venturing into the world of guitar effects for the first time.
With 78 effects, 22 amp simulators, and room for 100 of your own presets, it gives a little of everything.
It's important to be realistic about what's on offer. This is a cheap multi-effects unit. No, the tones aren't going to be as good as a more expensive model. The purpose of this pedal is to introduce beginner guitarists to a range of effects, to let them work out what they want to pursue.
At this price, compromises have to be made somewhere. The G1Xon is made of plastic, so is far from the most rugged multi-effects pedal on the market. I'd be nervous taking it beyond experimenting with noise in my bedroom.
The G1Xon does have a lot of choices, which makes it an ideal model for guitarists to develop their understanding of various effects they read about their heroes using, but it's important that the expectation of what can be delivered is managed.
The G1Xon also includes a 30-second looper recording function. Again, this is a useful tool for beginners, so they can recording some rhythm chords, and work out complimentary chords, lick or leads to go over it, honing their arrangement skills.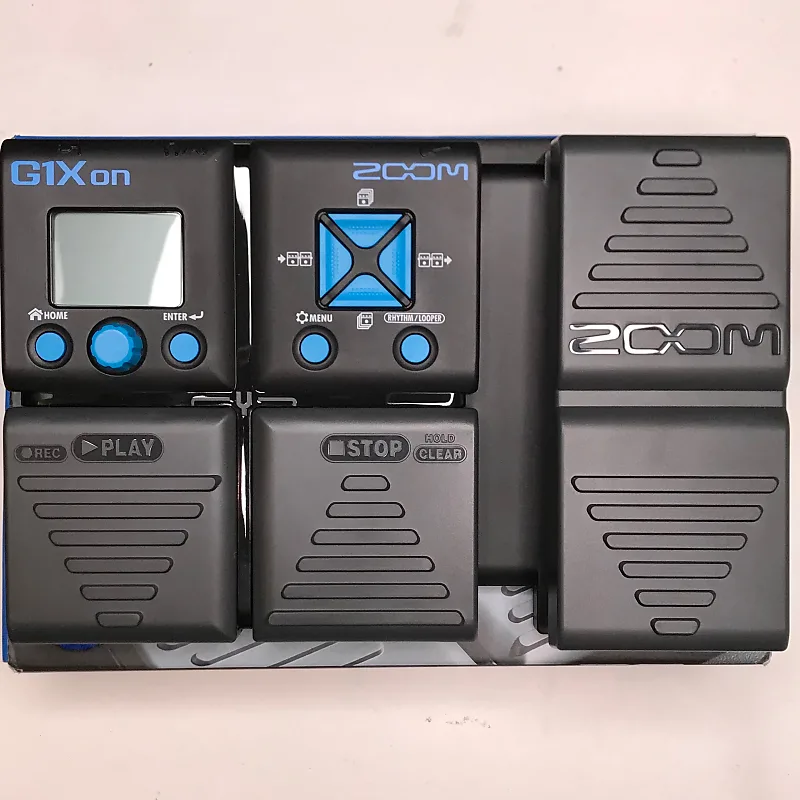 Zoom G1Xon Effect Processor | Reverb
The G1Xon is a guitar multi-effects pedal with a simple layout and easy-to-use functions. It features 100 onboard effects, from distortion to reverb to everything in between.
Check price
We may receive compensation from the companies whose products we review. We only recommend products that we believe in and test.
Before we give you the alternatives to try, why not read the full Zoom G1Xon review here!
Alternatives to the Zoom G1Xon
Vox Stomplab: a sturdy box from a brand best known for amps; this is particularly useful for amp simulation
Behringer FX600: a basic multi-effects solution from the budget brand; this has your core effects, and only one can be selected at a time
Mooer has been on the go for a while, specializing in taking well-known pedals and making smaller versions of them. They've become very good at it.
The GE100 is their multi-effects offering and includes 66 different effects and seven amp simulators. It's a tidy little package. Like the G1Xon, it's made of plastic, so it's best suited to bedroom guitarists, rather than the rigors of world tours, but that's the market it's aimed at anyway.
With beginner-level units like this, it's important to be realistic about the amp simulations. If you're playing through a ten watt, solid state amp with a six-inch speaker, it's never in a million years going to sound like a nice vintage tube-drive, 2×12 combo, or a Marshall stack.
A lot of the effects are based on Mooer individual stomp boxes, which in turn are based on existing pedals. They don't sound terrible, but again, it depends what your sound is coming out of.
The GE100 provides 180 seconds of recording time for looping. Even the more expensive multi-effects don't have that! This is good for guitarist who could record verse and chorus sections together for playing over. It suggests it might be useful for doing some interesting stuff live, but personally, I wouldn't trust that plastic.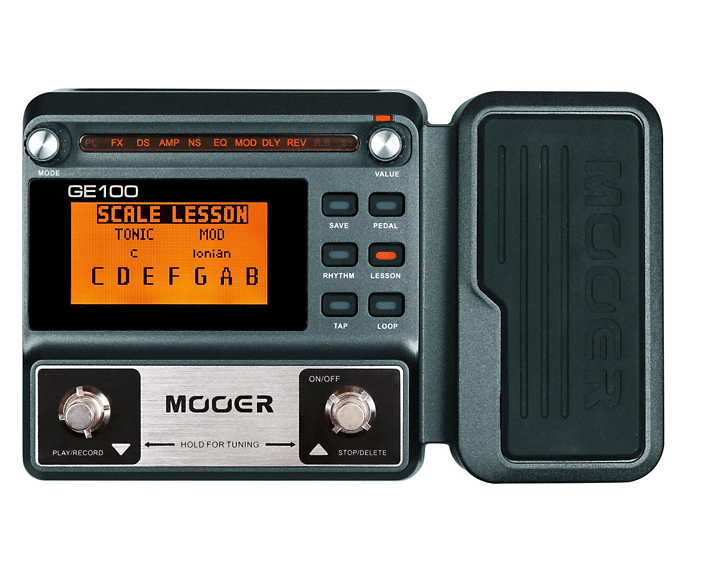 Read the full Mooer GE100 here to get full details on this multi-sound effect pedal that we love!
Alternatives to the Mooer GE100
Hotone Ravo: another brand focused on smaller sized pedals, this comes with 130 effects and can double as an audio interface
Digitech Element XP: the entry-level multi-effects offering from one of the stalwarts of multi-effects, this has 37 effects, 12 amps and nine cabs – quality over quantity?
With this offering from DigiTech, we're moving into intermediate models. A key indicator of that line is the pedal being made of metal.
DigiTech have crammed 85 effects, 55 amps, and 27 cabs into this little box. The metal casing gears it towards intermediate guitarists, because they are more likely to need something that's durable, without any worry of it getting broken when out and about gigging.
This would be a good consideration for guitarists starting to get out playing shows, likely in a covers band, who need a wide range of effects to cover a full set of various genres. Its sturdy construction lends itself to being brought around a few bars!
It also ups the level of tech involved. It features a USB connection which has two purposes. Firstly, it allows the RP360XP to be used as an audio interface – this is probably the best use of its amps and cabs settings. Secondly, it allows you to create patches from the comfort of your computer, using DigiTech's Nexus software.
The pedal comes with a bright backlit LCD screen so you can see clearly what you're doing. It's difficult to make mistakes! It's a basic but smart piece of kit.
For more information, read the full DigiTech RP360XP review here!
Alternatives to the DigiTech RP360XP
Line 6 M5: if you're strictly about having as many stomp box effects as possible, rather than amps, this has over 100, combining Line 6's most popular effect-type pedals
BOSS GT-1: with 108 effects, 99 factory presets and 99 user presets available, the GT-1 has USB connectivity for you to download more patches for free from the interwebs
The grandaddy of effects pedal brands in general, BOSS knows more than anyone what they are doing when it comes to multi-effects pedals.
As multi-effects units go, the ME-25 is pretty refined. Rather than try and give a little bit of everything, it keeps its amount of features concise and relevant. It comes with 61 effects and 10 amp model simulators. Relatively speaking, that's not a lot.
You'll notice quite a few more knobs and buttons on this compared to the units we've already looked at. This means that there's less fiddling with double-functions of controls, but it necessitates a bigger box overall. It's up to you which you prioritize.
At this level, USB connectivity is essentially standard, mostly to use the pedal as an audio interface, and for editing and downloading further patches. For the interface aspect, BOSS has included a download For CakeWalk's Sonar LE.
The ME-25 feels like an intermediately priced piece of kit, with aspirations of being used by professionals. It's certainly heading in the right direction, and I could see it being used by either, whether it's a predominantly covers playing musicians who need to play a lot of genres, or an alternative musician who needs to makes lots of weird/interesting sounds.
Need more info? Read the full Boss ME-25 review here!
Alternatives to the Boss ME-25
Line 6 Amplifi FX100: a very cool piece of gear from the pushers of technological boundaries, this comes with Bluetooth connectivity for easy connection to our phone or tablet, rather than fiddling around with an auxiliary input jack; the complimentary app allows you to create effects right on your device
The M9 is for those who want their multi-effect pedal to do literally just that – effects. The M9 – and its sisters in Line 6's M-series – does not come with any amps or cab simulation.
This is for people who want all of the effects pedals in one box, the idea is that it the series takes all the sounds from Line 6's effect-type-specific models
This is something that both gigging and studio musicians will get an awful lot out of. Obviously, it's not quite the same as having all the individual stomp boxes upon which these models are based, but it sure is a lot more practical!
It dispenses with the issue of multi-effects units needing to emulate amps, which never really sound like the amps they're emulating because it depends entirely on what the guitarist is playing through.
In terms of construction, this is a very well, built sturdy device, with metal casing and metal footswitches. I'd be more than confident of it lasting a couple of tours with anything other than cosmetic wear and tear.
It also allows you to store things called 'scenes,' which are essentially different pedalboards for any different type of music you might be playing.
If you want to read the full Line 6 M9, here you go!
Alternatives to the Line 6 M9
DigiTech RP1000: more a traditional multi-effects pedal, this is great because it includes the inimitable DigiTech Whammy; it also allows you to control external effects from it
TC Electronic Nova System: similar to the M9, this is devoid of any amp or cab simulation – this is all about the effects; it claims analog sounds with digital convenience
We started this list with a product from Zoom, so it seems a good point to catch up with them again.
As you can imagine, at this point and in this price range, we're now looking at a very different beast to the G1Xon. The G5n is very much aimed at guitarists taking their playing beyond bedrooms, and into the world, via a working covers band, who need a wealth of tone at the tips of their toes.
This is an effects-orientated piece of work, with amp simulation restricted to five amps and five cabs, while the number of effects is 68. It's got the usual suspects in terms of amps and cabs – your Fenders and Marshalls etc – which will work great through its functionality as an audio interface. You can achieve those classic tones without the hassle of actually having those amps.
Looking at the effects, and again, it's your usual assortment of sounds inspired by classic pedals. I'm talking about Electro-Harmonix's Big Muff and MXR's Dyna Comp. The whole gang is here.
In terms of constructions, it's what you'd expect at this price: a rugged and robust box of metal, ready to hit the bumpy road.
Zoom G5N Guitar Effects Processor | Reverb
To explore the wealth of possibilities that the G5N offers, Zoom continuously collaborate with inspirational, professional guitarists known for their taste and love of great guitar sounds.
Check price
Buy at Amazon
We may receive compensation from the companies whose products we review. We only recommend products that we believe in and test.
If you love the Zoom G5n as much as we do, why not read the full review here?
Alternatives to the Zoom G5n
Line 6 M13: a big brother to the M9 we looked at earlier, this comes with all the effects and functions of the range, with further scene capacity, and more footswitches for increased functionality
BOSS ME-80: very, very similar to the G5n, this is one of BOSS's top of the range; it comes with plenty of knobs and buttons for adjusting parameters
The T-Rex Soulmate is a very cool pedal, but quite different in the context of the other pedals we have looked at.
T-Rex have taken the best of their best individual stomp boxes and put them into one bigger box. Their schtick for the Soulmate is that it is just five of their effects, side by side in a single unit. It's as simple as that. Compared to some of the other gear in this list, it's hard to be any more simple!
The effects they've included are overdrive, distortion, delay, and reverb. These are based on their Møller, Mudhoney, Replica/Reptile, and Room-Mate respectively. The fifth effect is a boost.
It's tricky to pinpoint the user for this, but I would say that for the cost, it would be an advanced intermediate or a professional player. It will be somebody who is very clear about the tones they want and know they will get their money's worth.
Construction of the box is rugged and the layout makes perfect sense. A user can store ten presets in it, so without having to look recreate their dream tones every time they turn it on.
There is no amp simulation here at all, nor USB connectivity.
It sounds like it doesn't do very much, but the Soulmate doesn't need to. What does, it does well.
T-Rex Engineering Soulmate | Sweetwater
T-Rex soulmate acoustic multi-effects pedal is the perfect acoustic toolbox with compression, modulation, delay, reverb, 3-band equalizer, built-in tuner as well as +5 minimum Looper and active tap tempo footswitch.
Check Price
Buy at Amazon
We earn a commission if you make a purchase, at no additional cost to you.
For more information, read the ultimate review on the T-Rex Soulmate here!
Alternatives to the T-Rex Soulmate
Carl Martin Quattro: a couple of hundred buck more expensive, this has the same strppied back premise of the Soulmate, but analog
BOSS GT-100: more in line with your traditional all-singing, all-dancing multi-effects unit
It's a little-known fact that acoustic guitarists can use effects pedals too. It's not a big market, but it does exist.
As it's popular for acoustic guitarists to also sing, I'd recommend taking a look at the Play Acoustic from TC-Helicon, which includes effects on separate channels designed for both acoustic guitar, and vocals.
In the interest of a limited word count on a website about guitars, I'll focus on talking about the guitar side of things right now.
The best effect and I would definitely say the most functional and exciting, is the BodyRez EQ. This is designed to restore some of the nuances of your electro-acoustic guitar, that it would lose through being hooked up to a DI box, rather than using a well-placed mic, that would retain the natural resonance of the guitar.
It's got a bunch of reverbs, whether you want to sound like you're in a bathroom or in a church. IT also includes some chorus and detuning effects.
I'm a little bit more iffy about these. I think it would take a lot of effort to use these ones tastefully.
Please read the TC-Helicon Play Acoustic full review for much more information!
Alternatives to the TC-Helicon Play Acoustic
BOSS AD-8: obviously BOSS wouldn't miss a trick by ignoring acoustic players; this is a bit different in that its main intention is to emulate high-end acoustic guitars
Zoom A3: shares the guitar emulation idea of the AD-8, but also with the option of emulating three types of mic; like the Play Acoustic, it comes with effects like reverb and chorus, but also ones less associated with acoustic, like delay and tremolo
You can't list multi-effects pedals and just have one from BOSS. Here's a unique one on the list.
The GP-10 has an output on its back panel for connection to a Roland-ready pickup on your guitar. If you're not familiar with the Roland-ready pickup, it, combined with this pedal, will allow you to indulge in full synth capacity with your guitar. You can make your regular old six-string sounds like a bass or a piano or a violin.
It's absolutely not something that's for everyone, but it's nice to know it's there.
In saying that, I can think of two useful applications for it.
Firstly, if you're the guitarist in a genre-spanning covers band, you will need to be prepared for every sound imaginable. This will set you up pretty well for such things. I'd say it would be as close to future-proofing your rig as you can get.
Secondly, if you like to record songs, the GP-10 would be useful to have around the studio. If you're a home-recording enthusiast and want to spice up your recordings with instruments you don't have time or money for, this should cover you. Alternatively, it would do for recording demos before bringing an arrangement to other musicians.
Check out my full review on the BOSS GP-10 here!
Alternatives to the BOSS GP-10
Line 6 Firehawk FX: doesn't share the GK-compatibility fanciness of the GP-10, but does have USB connectivity and a complimentary app, for creating your sounds in your phone
ISP Technologies Impression: keeping things simple with just four effects: chorus, delay, reverb and flange; quality over quantity, and just the effects – no USB connectivity here
I'm a big fan of Hotone pedals. I don't see anything wrong with an approach to pedal-construction that revolves around making them small but mighty. Best known for their Skyline range of micro pedals, they've taken a similar principle to the Xtomp.
The whole premise of the Xtomp is that it's based around the pedal itself, and the accompanying app. Essentially, you use the app to select which effect or amp you want your Xtomp to sound like, zap it to the pedal, and it will sound like that. Pretty simple.
The Xtomp looks like a smartphone, and it's very easy to assume that kind of fragility when you first look at it. And, well, think about it: would you willingly put your phone on the floor in the dive bar you're playing. And then put your put in it? After having been in a dive bar bathroom? You know what I'm talking about!
In actuality, it's a sturdy, metal box. There's no problem.
The one catch is that apart from a limited selection of combo effects, you can only pick one effect at a time.
As an Android user, I'm glad that Hotone haven't restricted compatibility to iStuff. Android users can play guitar too!
If you need more information (and why wouldn't you?), check out my full Hotone Xtomp review!
Alternatives to the Hotone Xtomp
IK Multimedia iStomp: several hundred dollar cheaper than the Xtomp, this is one of the original mobile-compatibile effects devices – only compatible with iStuff though
Griffin Technology : not a lot of info about this product or brand, but it's the same premise as the Xtomp or iStomp, but with four assignable buttons instead of one
Comparison Table – Contrast the Best Multi Effects Pedals
| | | | | | |
| --- | --- | --- | --- | --- | --- |
| Model | Zoom G1Xon | Mooer GE100 | Digitech RP360XP | BOSS ME-25 | Line 6 M9 |
| MSRP | $87.99 | $139 | $276.50 | $249.94 | $399.99 |
| Material | Plastic | Plastic | Metal | Metal | Metal |
| Number of effects | 78 | 66 | 85 | 31 | 100+ |
| Number of amp simulators | 22 | Seven | 55 amps; 27 cabs | 10 amps | None |
| Power | Four AA batteries, or AC adaptor | Four AA batteries, or AC adaptor | Mains only; power supply included | 6 AA batteries; mains – power supply not included | Mains only |
| Loop length | 30 seconds | 180 seconds | 40 seconds | 38 seconds | 28 seconds |
| User-created effects storage | 100 spaces | 80 spaces | 99 spaces | 60 spaces | 24 scenes |
| | | | | | |
| --- | --- | --- | --- | --- | --- |
| Model | Zoom G5n | T-Rex Soulmate | TC-Helicon Play Acoustic | BOSS GP-10 | Hotone Xtomp |
| MSRP | $299.99 | $799.99 | $449.99 | $488.50 | $414.99 |
| Material | Metal | Metal | Metal | Metal | Metal |
| Number of effects | 68 | 5 | 14: six for guitar, eight for vocals | 89 | Over 300 – and growing |
| Number of amp simulators | Five amps; five cabs | None | None | 30 | Mains only |
| Power | Mains only | Mains only | Mains only | Mains only | None |
| Loop length | 80 seconds | None | None | N/A | None |
| User-created effects storage | 200 | 10 | 100+ | 99 | Infinity via the app |
The Final Note: Here's the Bottom Line
I'd be very surprised if none of these at least inspired you to take a look at multi-effects units.
From the standard offerings for electric guitarists, via the stuff for using with apps, and even the acoustic players, I'd definitely recommend checking out some of this list the next time you're visiting your local guitar store.
Read Also: How to Find the Best Guitar Pedals
Latest posts by Guitar Space Team
(see all)