BOSS are very much the standard for guitar effects pedals, both in terms of individual stompboxes and multi-effects processors. They've been dedicated to pedals for so long, a bad BOSS pedal isn't really a thing.
Reviews about BOSS pedals are never bad, they're more of a list of reasons of why it's a great, innovative pedal. The ME-25 sits somewhere between mid-high price range: it's pricey, but not unattainable. You expect to find BOSS's own classic pedal emulated in the list of features, but let's see what else we can find from the elder statesperson of effects pedals.
Core Features and Specs
It sounds silly to say, but one of the core features of a BOSS pedal is that it's a BOSS pedal.
The ME-25 is made of metal, giving it a solid rugged construction. That's what BOSS is about. Beyond that, it boasts quite an onslaught of effects, tools, and features.
| | |
| --- | --- |
| Material | Metal |
| Number of effects | 31 |
| Number of amp simulators | 10 amps |
| Power | 6 AA batteries; mains – power supply not included |
| Loop length | 38 seconds |
| User-created effects storage | 60 spaces |
Hmm. It looks like fewer effects and amp models than some cheaper models. I'll assume that at this price, they're aiming for quality over quantity.
This will work well for…
This is an intermediate piece of kit, but aspires towards a professional level, and is definitely close to that.
Most professional musicians will have individual pedals for their own sounds for their own songs, so this multi-effects would be well-suited to a gigging covers musician; somebody who plays in bars or function bands, who needs to have high-quality tones, devoid of fuss.
Users can achieve this by creating their own patches, or downloading ones from BOSS's Tone Studio. Although it doesn't seem to have many effects in the context of multi-effects pedals, it suggests there's more versatility than one might expect.
Does it do what it should?
In terms of the parts used on this, it has all the metal you'd need from a gigging pedal.
It's unlikely to ever win any awards for aesthetics – it's very much a black box – but as long as you're more concerned with function over form, that's unlikely to be an issue. The back panel doesn't reveal anything too surprising.
Jack plug for input, with two more for a stereo output – you can hook them up to two separate amps; a jack plug output for headphones; an auxiliary mini-jack plug for hooking up an external source like your phone or tablet, so you can play along with a track from that; you mains input; and finally, the USB connection.
Although the pedals and buttons are plastic, they are far from flimsy. It seems pretty durable, reminiscent of the the stuff that Behringer use for their BOSS-influenced pedals.
The ME-25 comes with plenty of buttons, more so than cheaper multi-effects units, as well as three knobs. These are used for selecting your effects and tweaking the parameters. For me, I think more buttons is better: it implies there'll be less scrolling through options, or figuring out which button to press twice, or hold, for you to change its function.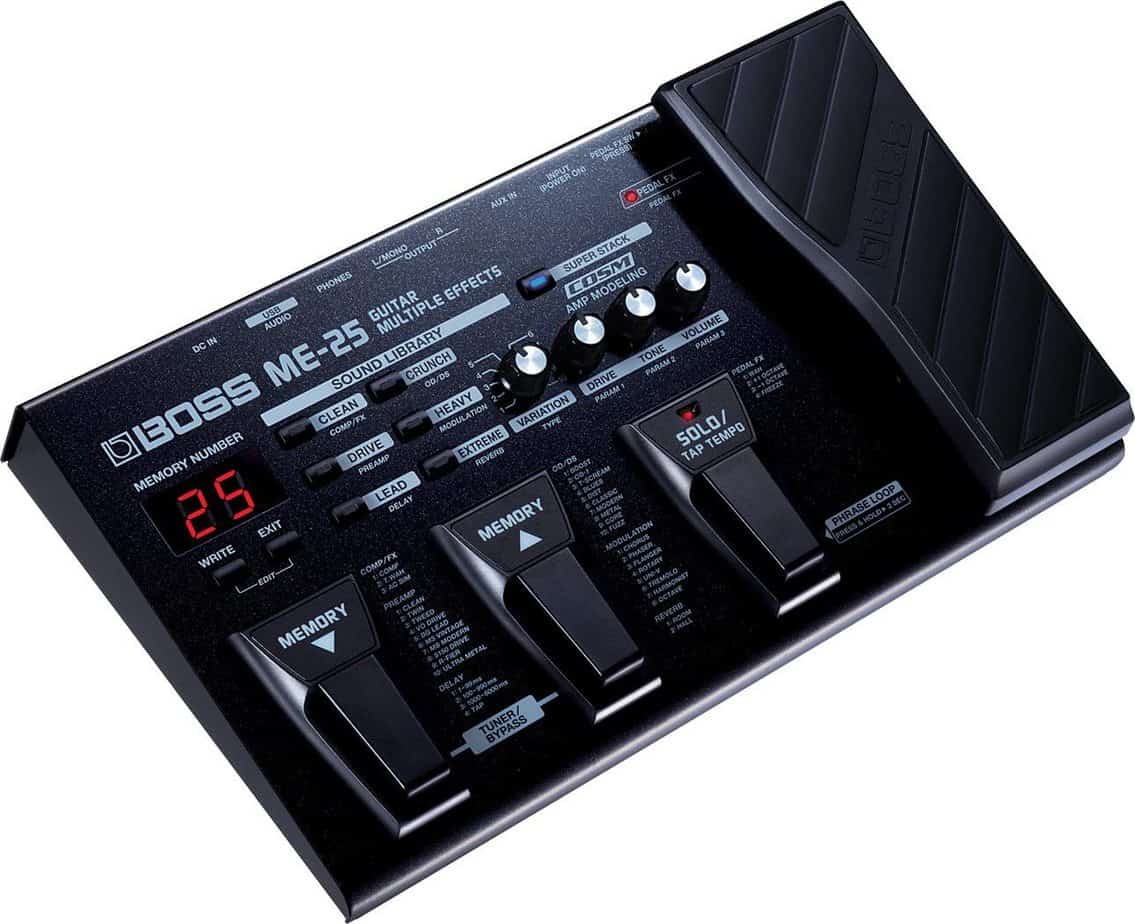 Construction
Have I mentioned that the casing of this made of metal? This lends it a weightiness that makes you feel confident about taking it out and about to gigs, however, don't let that description fool you into thinking this is a cumbersome piece of kit – it's really not.
It's a cuboid that weighs 4lbs and 4oz. The full-size expression pedal rocks back and forth comfortably. It has a wide enough range to keep squealing metal soloists happy, with no concern for it unexpectedly breaking off.
The layout of the buttons fits the requirements and expectations of the pedal. The construction of the ME-25 accounts for a great deal of what points towards it being aimed at gigging musicians. You could confidently bring this to a show – several shows even – and not have to worry about it getting anything other than some cosmetic damage.
It'll be interesting to take a look at the tones it can create. It's unlikely a user will need to get rid of their ME-25 because it'll be broken – let's see if the limited range of tones will put people off, or compromise the longevity of the product.
Tones
The ME-25 doesn't try and give every tone ever created.
With BOSS having created so many classic tones in their own pedals over the years, it stands to reason that they'd be focused on them.
Taking a look at the amp simulators first, they have the usual selection of boutique amps that you find in multi-effects units: new and vintage Marshalls, classic Fenders, Vox and Mesa Boogie. Even with a higher end multi-effects processor like this, if you're an intermediate player with a hybrid combo, it's not to start magically sounding like a well-mixed Fender Twin.
The stomp box models haven't been designated as tributes to any particular pedals of yore, with the exception of BOSS's OD-1 and Ibanez's Tube Screamer. I'm actually quite surprised they haven't used it as an opportunity to champion more of their own work.
In saying that, it's not really essential for the likely users of this pedal. If an intermediate guitarist has decided they feel strongly enough about a particular individual effects pedal, they'll go ahead and get one.
If an intermediate guitarist has a lot of bases to cover playing in a gigging covers band, there's a good chance that his audience will be more focused on the songs, rather than what specific type of distortion or delay they're using, so ballpark tones will be perfectly sufficient for them.
Playability
As ever with multi-effects units, a number of features crammed into them means there's an awful lot to explore with them – there's just so much to play with!
With its USB connectivity, the ME-25 is not just a pedal, but it can also be used as an audio interface. It's here that the amp modeling works best. Hooking it up to your computer and playing straight into your digital audio workstation (DAW), and you'll be able to record your guitar as if it was coming through one of the amps it emulates.
Again, you have to be realistic about these things: it's not going to be in the same league as vintage Marshall miced up with a Neumann or Telefunken.
To help with its audio interface aspect, BOSS allow you to download the Cakewalk Sonar LE DAW. If you're not familiar with it, Cakewalk was one of the original DAWs. It's been overshadowed by competitors over the years, but it's still a handy introductory piece to the world of digital recording.
In addition to its audio interface capabilities, the USB port allows you to download effects patches from BOSS's online Tone Studio, if for any reason you can't find enough variety in what already in the box!
Pros
Cons
● Probably bulletproof

● Respectable quality of sounds

● Ideal for an intermediate gigging guitarist, looking for a variety of sounds with minimum fuss

● Some might feel there should be a greater number of effects, with more familiar names at this price
Alternatives to the BOSS ME-25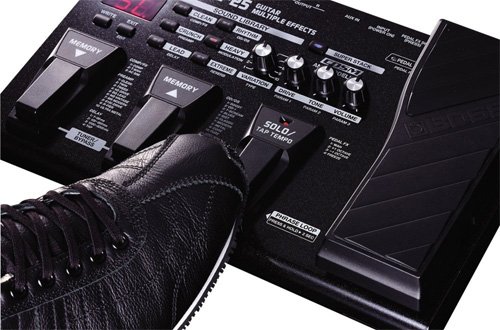 There are plenty of alternatives in this price range if the ME-25 isn't quite doing it for you, but you're still in the market for a high-quality multi-effects unit.
Line 6 AmpliFi FX100
The Line 6 AMPLIFi FX100 is a cool piece of kit, with a lot to offer. Line 6 are a brand who are always keen to push technological boundaries, especially when it comes to amps and modeling. One of the key features of the FX100 is its Bluetooth connectivity.
While a lot of multi-effects units have an auxiliary line in for connecting external audio, Line 6 have got down with the kids and strapped a Bluetooth receiver to their box, so you can jam to music from your phone or tablet. The AMPLIFi remote app lets you control your tones, right from your Android or iOS device.
DigiTech RP360XP
DigiTech's RP360XP rings in slightly cheaper than the ME-25, and comes in a smaller sized package, but is a powerhouse of tone. It comes loaded with 85 different effects, 55 different and 27 cabs and a whopping 99 spaces for your own creations. It relies on past classics from other brands, especially in terms of its distortion offerings and amp models.
But again, it'll most likely be used by guitarists in gigging covers bands, so that massive selection of branded sounds might be more for the benefit of the guitarist than the audience. In saying that, the emulations on the RP360XP aren't terrible.
If you were recording demos where you knew you wanted to use those specific amps or effects, they wouldn't sound the exact same, but definitely worthy of an A for effort.
In Conclusion
The BOSS ME-25 knows what it's about: a solid, roadworthy, gigging multi-effects unit. It's got its own sounds and doesn't need to rely on dropping the names of other effects pedals to get it in the zone for the sounds that people generally are looking for.
I feel many guitarists would favor the fact that it has more buttons and knobs than some of its competitors – it means less scrolling through options and general fiddling and lends an air of a no-nonsense to the pedal's design and functionality.
I would recommend this for consideration for the intermediate guitarist who needs a lot of different sounds quickly and easily at their disposal, and definitely worth trying out the next time you're in your local guitar store.
Recommended Reads:
Latest posts by Guitar Space Team
(see all)