Mooer came to prominence a few years ago for their range of mini-pedals, which were well-built and well-received.
The GE100 is one of their takes on multi-effects processors, and I'm hoping it'll match the quality and sounds of their individual stomp boxes. Most of their compact pedals are based on emulating legendary pedals, so it will be interesting to see how much of that cloning approach they bring to a multi effects unit.
It's always amazing to see Mooer reduce the pedalboard space of larger pedals, but they generally win at it: if there was a company who are most likely to have got this, it's Mooer.
Mooer GE100 Review: Core Features and Specs
As a general rule of thumb, the Mooer pedal-building philosophy is – and this is not an official company line – "build them smaller; but build them just as well."
The approach to the GE100 looks like it very much wants to retain that philosophy.
| | |
| --- | --- |
| Material | Plastic |
| Number of effects | 66 |
| Number of amp simulators | 7 |
| Power | Four AA batteries, or AC adaptor |
| Loop length | 180 seconds |
| User-created effects storage | 80 spaces |
So far so… standard really. First impressions don't show anything exceptional for a similar device at this price, but hey – I'm always ready to be surprised.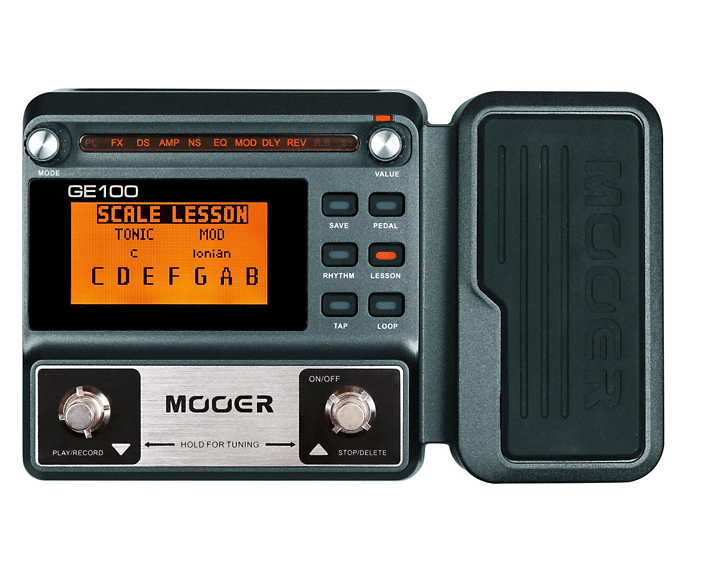 This Will Work Well For
Everything about the GE100 fits it with what beginners would need from their first effects.
It's inexpensive; it's not designed for touring the world; it has a lot of things for newbies to explore as they develop their sound, and as they find the sounds that they'd like to explore more.
Maybe that fuzz is what they needed to sound like mid-90s Smashing Pumpkins, and they want to pursue that sound. Maybe that delay will inspire them to sound like U2.
Essentially, a box like this is about letting beginners explore various paths in their playing.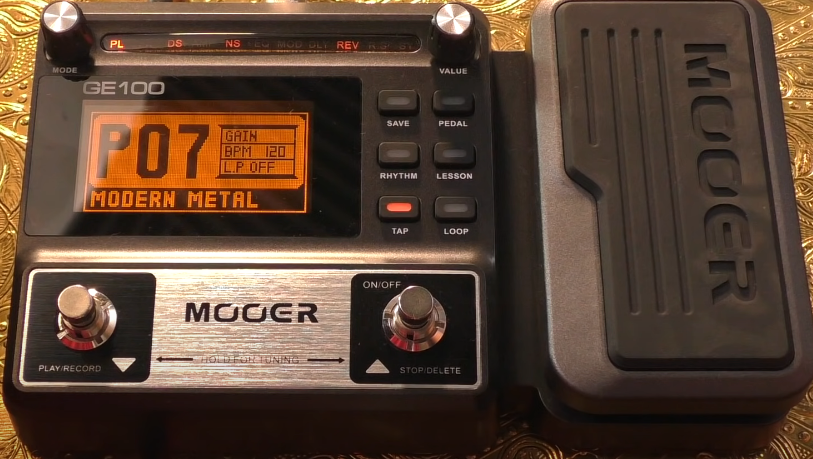 Does it do What it Should?
The plastic of which the GE100 is made is sturdy, but you still can't help but instinctively feel a little bit careful or gentle with it. It doesn't feel as tough as other pedal made of plastic – I'm thinking of stuff Behringer use.
The GE100 comes with an expression pedal attached, and that feels like it might be a particularly point of weakness – this is not a Morley-style beastie that you could drop off a cliff unscathed!
That really is just the casing though. The actual pedal part that you'll be tipping with your toes are actually sturdy metal footswitches. They're a fairly rugged contrast to the rest of what's going on.
Apart from the footswitches, there are six additional buttons to select the mode, so what it is you want to use the pedal for, so effects, or starting one of its built-in rhythms, or engaging its looper function. There are an additional two knobs at the top of the unit for tweaking the parameters of whatever you're using at the time.
The back panel is pretty standard: your input and output jacks, mains connection, and an auxiliary, mini jack plug for plugging in external sources if you want to play along with a track.
Construction

The aforementioned concerns about plastic casing aside, as long as you realize what you've got, and treat it accordingly, the construction won't be a problem. For a while anyway.
Even with the metal footswitches, they are still in a plastic casing, and that is likely to go eventually. You wouldn't want to be throwing it around carelessly, putting all your weight on it, or being over-zealous with that expression pedal. This isn't a pedal you'd bring on an 18-month world tour!
It comes down to the fact that you get what you pay for.
Concerns about durability aside, the layout of the pedal is great. They've squeezed a lot into it, which fits with their ability to make things small but mighty. Despite the potential flimsiness of the box, the buttons and knobs are solidly attached.
I've made it sound like the GE100 will break if you even look at it! It's not quite that bad, but it is important to be mindful of who this is for. It's for exploration, discovery, and refining a beginner guitarist's sounds.
For the price, and for its intention, the part and construction are pretty much what you'd expect, so it can't really be faulted. Obviously, the most important thing is the tones it generates.
Tones
The most important part of any review about guitar gear!
The various effects at your disposal are divided into categories, so for example, the different types of distortion, modulation, delay etc. It's pretty clear cut. The two footswitches are used for scrolling up and down through the effects.
The effects are largely based on existing individual effects pedals: some from Mooer's own range, others influenced by some of the legendary effects pedals. This is especially prevalent in the distortion category, with Mooer providing takes on pedals such as the Fuzzface or the Tonebender.
Amongst the amps being simulated are names such as Vox, Fender and Marshall. I think especially with amps, it's important to realize that if it's a beginner in a bedroom playing a 10 watt, solid state amp, with a six-inch speaker, it's going to sound different for sure, but it's not going to magically sound like one of these classic amps.
The tones aren't completely awful, but it's relative to the setup. I tested through a single coil guitar with a small solid state amp, because that's the kind of setup a person using this is most likely to have.
I wouldn't say that any of the tones disappoint. An experienced guitarist will be less impressed, but a beginner will be excited to get exploring.
Playability
As if the range of effects wasn't enough for this little box, the GE100 comes with a few other features that will maximize its playability, to make sure you spend plenty of time with it.
A unique feature – probably better associated with electric pianos and keyboards – is a lesson function. This will teach you the basic guitar chords and scales you need for improving your playing, which will also in turn help with what you can achieve from the sounds available.
There are 80 user patches available on the GE100, so when it's all coming together, and you're making your own sounds for your playing, you can store them, without having to fiddle through finding them again.
Looper recording lengths are something that has increased on technology develops, and here, you have a not-too-shabby 180 seconds to play with. It's not just limited to single loops though – you can overdub and create as complex a sounds as you want.
I will say that with a box like this, where so much is being crammed into one unit, it is important to actually use the instruction manual, just to find out where everything is, so you can absolutely milk it for all it does.
Pros
Cons
● It's incredibly cheap!

● Intuitive design – the controls make sense in finding the function that you're looking for

● Lots of things to do and hear

● Ideal first effects pedal

● The plastic casing does give it a limited lifespan

● As you'd expect at this price, the quality of the effects aren't overwhelming
Some Alternatives to the Mooer GE100
There are a few alternatives to the GE100 in this price range.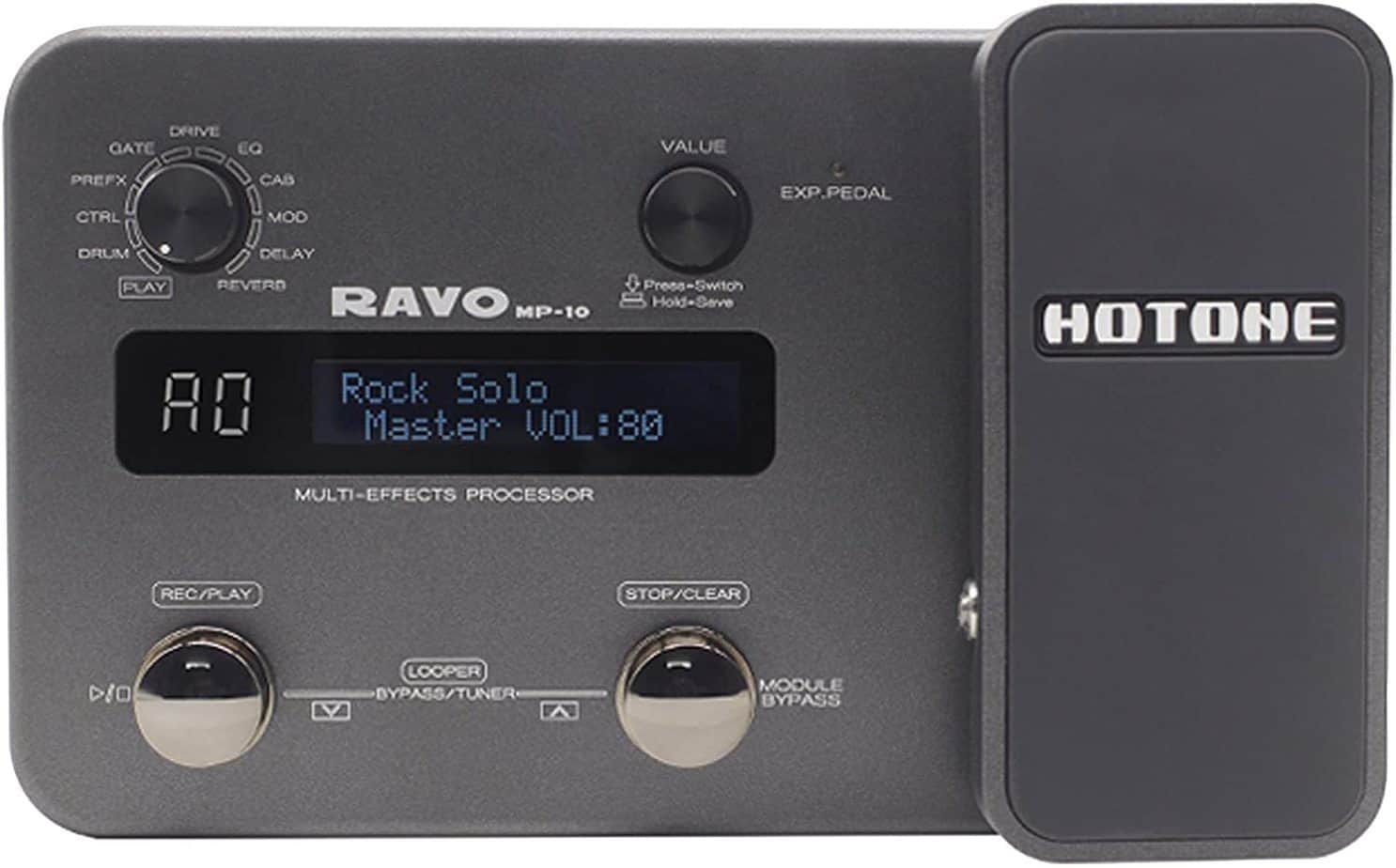 In the market of compact pedals, Mooer's main competitor would be Hotone. Hotone have a similar approach to their individual boxes, but somehow make them even smaller than Mooer. Hotone are also in on the multi-effects market, with their Ravo model. The Ravo is not only a multi-effect pedal, it can also act as an audio interface. It works as much as an extension for your computer as it does an extension for your guitar rig. You can hook it up via USB.
With it hooked up to your computer, you can use it to record guitar into the software of your choice. Using Hotone's Tonebank software, you can create your own patches on your computer. Cool!
Aside from USB-related stuff, the Ravo has 130 types of effects, 100 spots for your own creations, and 30 seconds of looper time.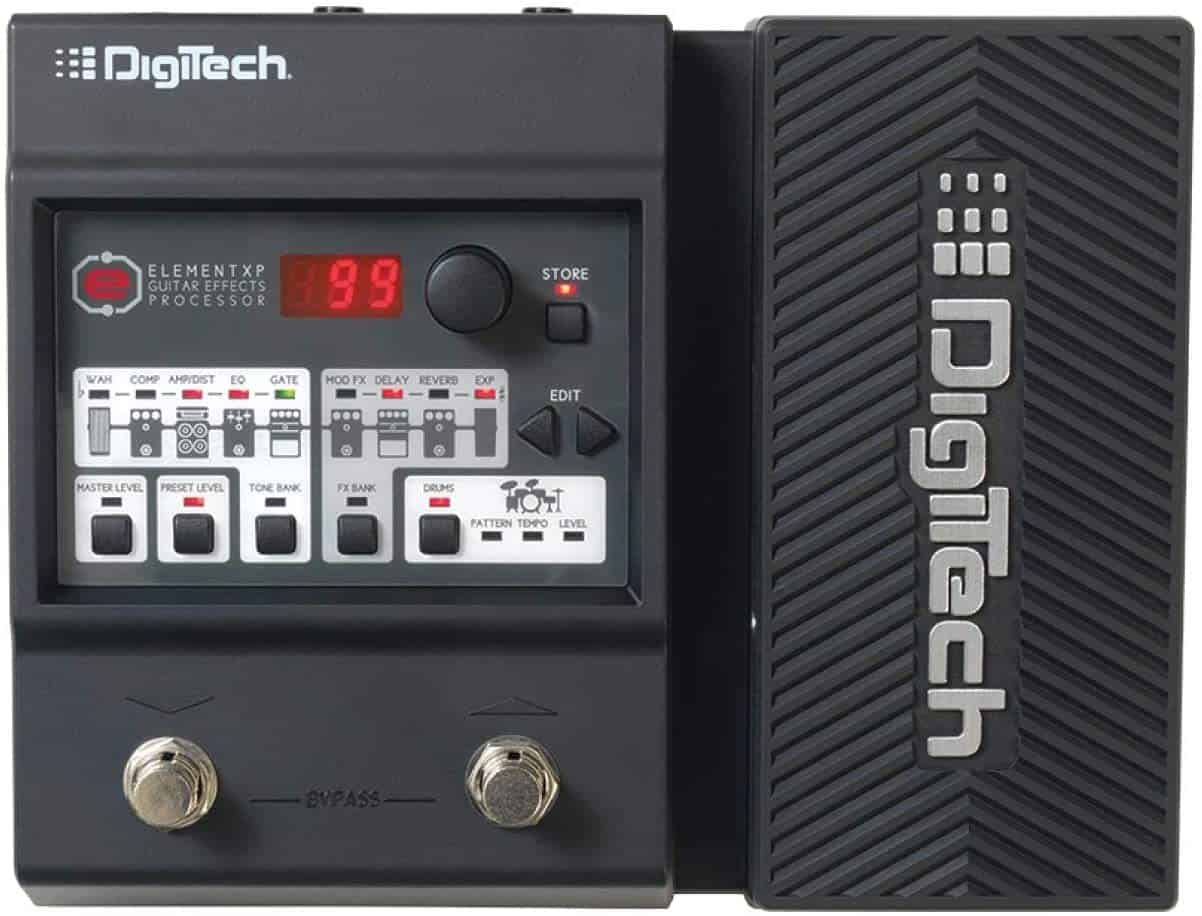 DigiTech are one of the stalwarts in multi-effects pedals – whatever your price range, you'll find their name. Their Element XP is one of their entry-level models.
Like the GE100 and the Ravo, it has a built-in expression pedal for playing with volume and wah effects. This member of the Element range has 37 sounds based on stomp boxes, with 12 amp simulators and nine cabinets. So yeah, plenty to play with here!
The Element XP looks like quite the winner in terms of the number of presets at your disposal. It has 100 in the box, directly from DigiTech, with room for a further 100 of your own creation. It will allow you to use nine of its built-in effects simultaneously.
Final Thoughts on the GE100
The GE100 is a fine multi-effects unit for beginners starting with effects. It's hard to say that it'll set them in the right path. It's more a case that it will set them exploring the various paths they could choose to pursue.
In the interest of managing expectations, I can't reiterate enough that you get what you pay for. It will get you in the ball park, for sure, and give an understanding of the variations that occur across pedals.
As ever, the best thing to do to see if it's right for you is to go to your local guitar shop and have a play with it for yourself.
Where to Buy: The best place to check first is this listing where it's typically available for a good price.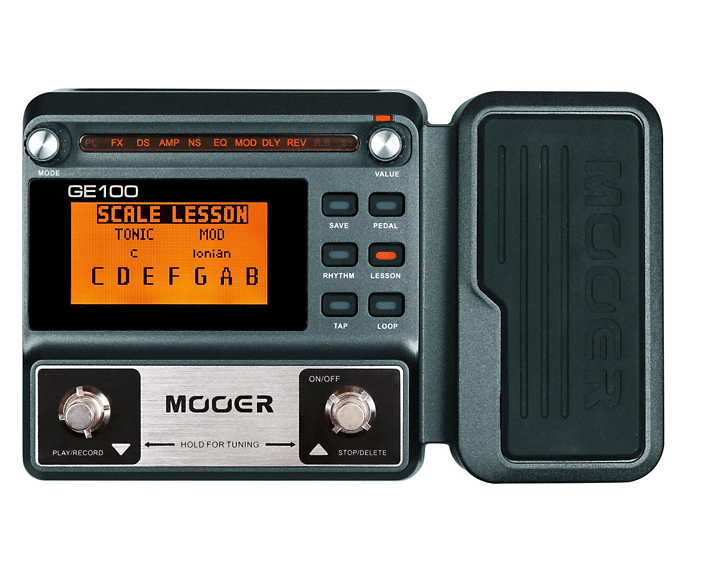 Recommended Reads:
Latest posts by Guitar Space Team
(see all)