Some guitarists of a certain vintage will remember a multi-effects pedal from the days of yore, called a Zoom GFX707.
It was cheap as anything, but for a lot of us, it was our first experience running our guitars through something before it hit the amp. We've moved onto higher-end gear, but there's still a reverence associated with it.
The 707 is long gone – you can pick them up for less than $30 – but Zoom still caters for people learning their phase from their flange in the form of this tidy little box: the G1Xon.
Core Features and Specs
The cost of the G1Xon puts it very much in the range for beginners on a budget.
In saying that, their minds will be blown by having a vast quantity of sounds at the tips of their toes!
For $20 less, you can get one without an expression pedal, but for the sake of that, you're as well to just pay it and get the most out of it.
| | |
| --- | --- |
| Material | Plastic |
| Number of effects | 78 |
| Number of amp simulators | 22 |
| Power | Four AA batteries, or AC adaptor |
| Loop length | 30 seconds |
| User-created effects storage | 100 spaces |
This will work well for…
For the most part, especially due to the price, this is pretty much aimed at beginners, and will work very well for them.
In saying that, seasoned guitarists have been known to keep their starter multi-effects box around for a while, even if just for the tuner and metronome. Or perhaps just the nostalgic sentiment.
Anyway, this is a fantastic addition to a beginner's kit, maybe a few months after they start, when they have a good feel and ear for the instrument and amp they have, and are eager to find their own sound.
Does it do what it should?
The short answer to this is yes, yes it does.
Look, at this price, and for the intended audience of this pedal, all they're going to want to do is play with the sounds until the get it as they like. And the 78 different types of effects on this pedal will keep them entertained and exploring, and hopefully even inspired.
The parts used are plastic, so this is unlikely going to cut it on the rigours of the road, but a bedroom guitarist should have no problems.
Apart from the aforementioned expression pedal, the G1Xon has two footswitches. These are used for manually scrolling through effects, engaging the pedal's looper function, and engaging tuner mode. It has other buttons for you to store your own patches, and switch between looper and rhythm.
It's got a bright, orange, backlit LCD screen to show you what you're doing.
On the unit's back panel, you'll find the input for your guitar to go in, and the output for the unit to go to your amp or headphones. You'll also find the mains input, and a mini USB port: you can use that for firmware updates or for connecting it to the mains.
The back panel also includes a mini jack plug, auxiliary input. This can be used for hooking up a backing track via your phone or tablet.
Construction
In terms of the layout of the pedal, it's all logical and makes sense. It seems well put together, and nothing is rattling that might cause any concern.
However, this is a cheap pedal and is constructed as such. It's plastic, and not super-heavy plastic either.
Sure, if you're mostly using it in a bedroom to experiment with noise, it won't be too much of a concern, but there are still hazards in a bedroom that the G1Xon is unlikely to survive, like if a heavy chair fell on it or if a glass of water spilled on it.
I'd suggest that even when using it for its regular purpose, you wouldn't want to be over-zealous in stomping on it. There's no way would it cut it with a regularly gigging band on the road, but it's not designed for them anyway.
It sounds like it's all doom and gloom! It's not, there's still plenty of fun to be had, but it is important to be aware that this is never going to win any prizes for durability. If you're looking for a multi-effect box that you can dramatically stomp on, you'll need to look elsewhere with a few extra dollars.
Let's move on to see how this little box sounds.
Tones
78 effects and 22 amp simulations, means an awful lot of ground to cover when talking about the G1Xon's tones, but I'll cover what I can.
This Zoom categorizes its effects into four groups: Overdrive/distortion; dynamics/filter; modulation; and delay/reverb. Most of the effects are based on well-known, classic effects pedals – the user's manual will tell you which ones they are based on. As you go through the various effects, they show on the display as an individual pedal.
With the sounds that are attributed to particular pedals, such as the Big Muff and the Tube Screamer, it's important to be realistic about the fact that they are not these pedals, and are going to be quite a bit away from sounding like them.
It is worth remembering that guitarists using the G1Xon are most likely to be using a low budget, probably small, solid state amp, so expectations need to be managed: when you switch to the Tube Screamer, the chances of you suddenly sounding like Stevie Ray Vaughan are probably nil.
The amp simulators are fine if you're going directly into headphones or an audio interface. If you plug it into a solid state practice amp with a six-inch speaker, it's not going to sound like a Marshall stack.
Playability
With the amount of stuff to discover in the G1Xon, it's not short in playability stakes, especially for guitarists at the start of their musical journey.
So much is heard about the various effects pedals that the famous musicians use, and that cost a lot of money. When guitarists are still in their exploratory stage, it's actually pretty useful to have something like this where they can try out a whole bunch of them cheaply.
Although the "tribute" sounds won't really sound like the ones they're modeled on, it should at least get ears accustomed to the varying tones across pedals and amps, and perhaps sow a seed of aspiration if they continue playing.
A fun aspect of the G1Xon is the built-in rhythm tracks. These days, such things are recorded using actual drums – a far cry from the days when the "punk" setting would be an endless MIDI snare and hi-hat!
It's an undervalued thing, but the built-in metronome is really important. It's always amazing to see guitarists who are playing to themselves rather than to their bandmates, and especially their drummer. With the likely owners of this unlikely to quite be in a band yet, it would be good for them to practice playing to its metronome.
Pros
Cons
● Very, very cheap

● Lots of room for beginner guitarists to start exploring effects

● Construction is spot on

● Ideal as a first effects pedal

● You get what you pay for – this sounds cheap

● Casing feels a little flimsy – you'd be afraid to take it outside your bedroom
Some Alternatives to the Zoom G1Xon
There are a bunch of alternatives available for beginner guitarists on a budget if the G1Xon isn't quite what you're looking for.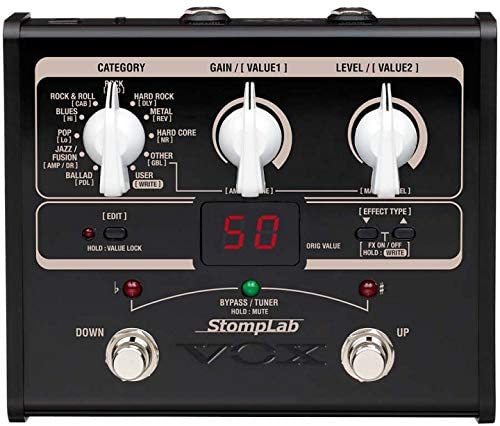 Best known as amp manufacturers, Vox have diversified their product offering over the past decade or so. The Stomplab range has been around for a few years now, and is well-regarded. Looking at the Stomplab IG, as with Zoom, the inclusion of an expression pedal will cost you an extra $20.
The first things you'll notice about the Stomplab are its parts and construction. All its sounds come packed in a sturdy metal box, with two metal footswitches.
Given the maker involved, it's probably no surprise that amp simulation is a big part of the Stomplab's offering. Of the 103 effects at your disposal, 44 are amps, with a further 12 cabinets. Of course, it covers Vox's own legendary amps like the AC30 and AC15, with the rest based on various Fenders and Marshalls etc.
If you're on an even tighter budget, Behringer's FX600 is about $20 cheaper and is super-compact. It's the size of a regular pedal, but with six built-in effects: flanger, chorus, phaser, delay, tremolo and pitch shifter.
With one knob for selecting the effect you want to use, one for controlling the level of the effect, it's got a further two knobs for adjusting the parameters of your selected effect.
Obviously, with this price and the incredibly compact nature of the pedal, there has to be some cutbacks somewhere. The six effects can only be selected one at a time, so you'll need to choose wisely – the FX600 doesn't come with any internal memory to store your own creations.
Despite being made of plastic, Behringer pedals are actually pretty tough. The sounds aren't based on any existing ones. This might be a good fit if you're looking for choice but simplicity.
In Conclusion
The Zoom G1Xon is a solid choice for beginners looking to explore the world of effects.
It may not be bulletproof in terms of its build, and the sounds may not be the highest quality, but it will certainly get fledgling guitarists into the ballpark of the sounds they aspire to. As with any kit, the most important thing is to get into your local guitar store and see if it's for you.
Recommended Reads: