If you're looking for a top-quality electro-acoustic guitar that will help you stand out in a crowd, Fender Telecoustic is probably high on your list. But is this acoustic version of the iconic Telecaster really good for you? Our Fender Telecoustic review will answer all your questions.
Fender was always known and praised mainly for its exceptional electric guitars and bass guitars. Nevertheless, the famous Arizona-based company started designing and producing its first acoustic instruments all the way back in the 1960s, providing us with some reasonably good classic guitars over the years too.
Fender's portfolio now contains various series of electro-acoustic instruments too. The Telecoustic series was first launched in 1993, and it went through several small redesigns and upgrades since then.
As its name reveals, these guitars are aimed mostly at fans of Fender's legendary Telecaster who can appreciate an acoustic instrument resembling their favorite electric guitar. (similarly, Fender also released the Stratocoustic series)
Nevertheless, Telecoustic doesn't really have a lot in common with its electric predecessor except for the characteristic body shape, headstock design, and name. Who is it really good for and why some guitarists should rather avoid it completely? Let's take a detailed look at its qualities and downsides.
Key specifications of Fender Telecoustic
Here's a brief overview of Fender Telecoustic's basic parameters and specifications:
| | |
| --- | --- |
| Body Type | Double-cutaway |
| Body Material | Laminated spruce, fiberglass |
| Neck | Maple |
| Frets | 21 |
| Pickup/Preamp system | Fishman Isys III |
| Warranty | 2-year limited |
| Latest price | Click here for latest price |
Core features of Fender Telecoustic

Electro-acoustic guitar Fender Telecoustic boasts various traditional qualities of a good electric guitar that can surely be appreciated by many different types of players. As an acoustic instrument, though, it leaves quite a lot to be desired. Let's discuss its main features one by one:
Body
Fender Telecoustic sports the famous double-cutaway curves of its electric cousin Telecaster. It has a solid and durable laminated spruce top and a fiberglass bottom with a nice texture. Its neck is standardly made of maple and has a nice sturdy feel you'd be probably expecting from any Fender guitar.
The C-shaped neck provides easy playability with an effortless movement across the fretboard. If you're used to playing electric guitars much more than the acoustic ones, this guitar might fit into your hands better than most of the others. Telecoustic's dimensions are 43 x 6 x 15 inches.
Telecoustic weighs only about 1 pound, although I am not entirely sure if that's a good thing in this particular case. The reason is that while the guitar's fiberglass/laminated body is really incredibly lightweight, its traditional wooden neck and headstock have a standard weight.
As a result, the guitar constantly falls towards its head unless you hold it. I found this really annoying. Also, many users report that their instruments needed to have their necks shimmed. While I have not felt the need to do this myself, it's probably something to know about too before you make your purchase.
Sound
Electro-acoustic guitars should, in general, be able to sound impressively good both unplugged and amplified. However, it's quite common that one of these options is significantly better than the other, and that applies to Fender Telecoustic pretty well too.
While the guitar provides a strong, loud, perfectly full-bodied, and Fender-like sound when plugged in, its acoustic response is somewhat weaker and almost generic. Nevertheless, I wouldn't say that it sounds really bad, I just expected it to sound a bit fuller and warmer. Also, it plays definitely quieter than a regular acoustic guitar, so playing unplugged along a band might be very problematic.
Talking about sound quality, Fender Telecoustic guitar also has a bad reputation for being terribly detuned right out of the box – unfortunately, I can only agree with that.
However, if you're experienced in tuning yourself, or you have some more experienced friend guitarist at hand, you'll be able to fix this problem very easily. As a result, you get a really good sound full of character. If you feel like it's still not perfect, try to replace the strings too – Martin's bronze medium-gauge strings might be a good choice.
Other features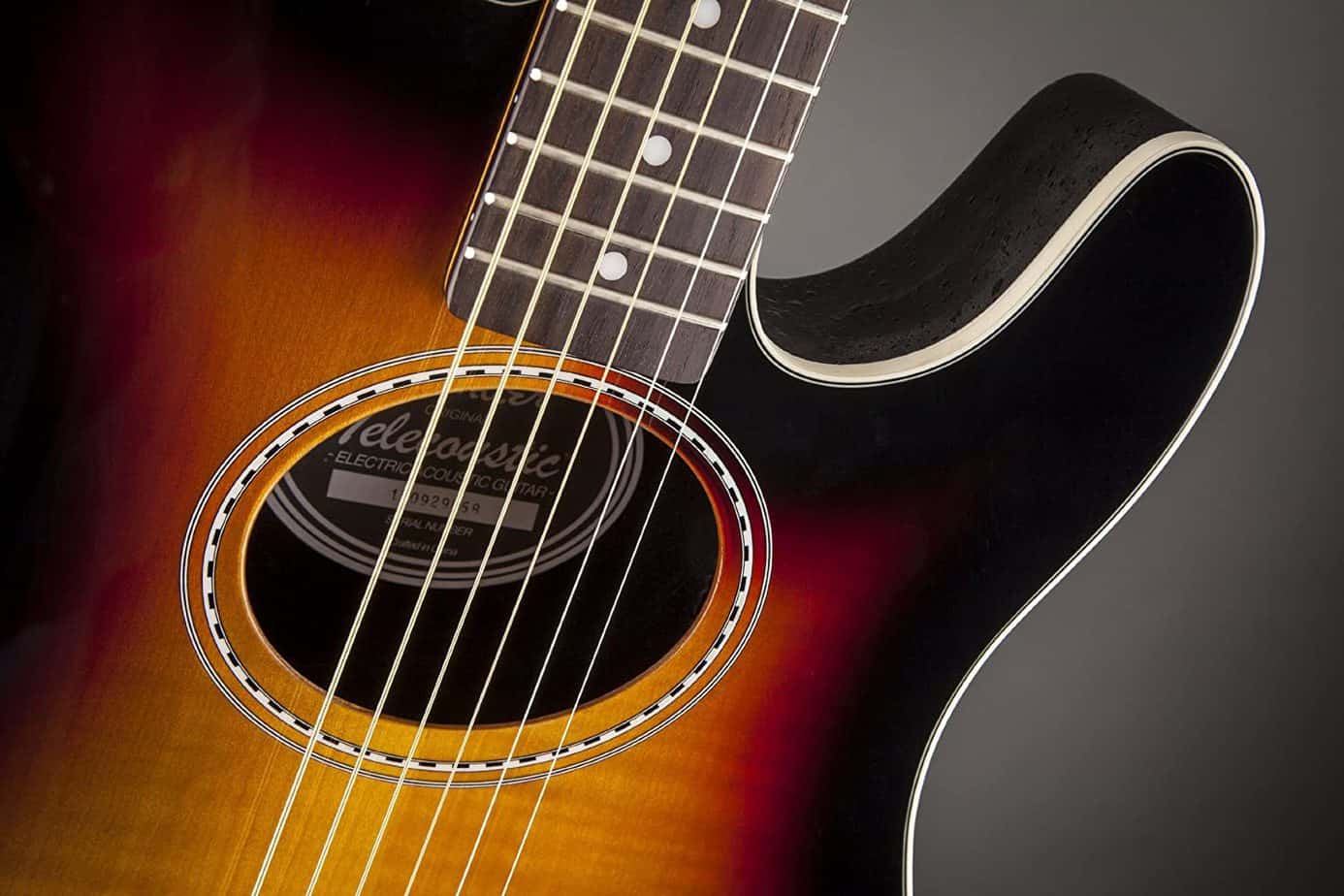 Fender Telecoustic uses a renowned pickup/preamp system Fishman Isys III with volume control, bass, middle, and treble buttons, and a built-in tuner for convenience and total control over your performance. There's also a four-band EQ. These electronics are certainly highlights of this instrument and the main reason behind its great electric sound.
Reliability
Fender is generally known for its premium construction quality and reliability. Nevertheless, Fender's Telecoustics are made of materials that feel much more delicate than your average wooden guitar, so they might be more prone to damage if not handled with care.
Using your common sense and some decent hard case (or at least a gig bag) should probably be enough to keep it safe.
Pros of Fender Telecoustic
These are the main qualities you can expect from Fender Telecoustic:
Iconic design with a twist
If you like to be seen and attract curious gazes, Telecoustic with its beautiful curves and nice finish should certainly appeal to you. Visually, it's basically a Telecaster with a twist.
Lightweight construction
Unlike most of the other electro-acoustic guitars, Telecoustic is only partially made of wood. Its laminated spruce top is completed with a fiberglass bottom – as a result, this guitar weighs only a single pound. Certainly, something to highlight for those who can't stand long sessions with heavy instruments.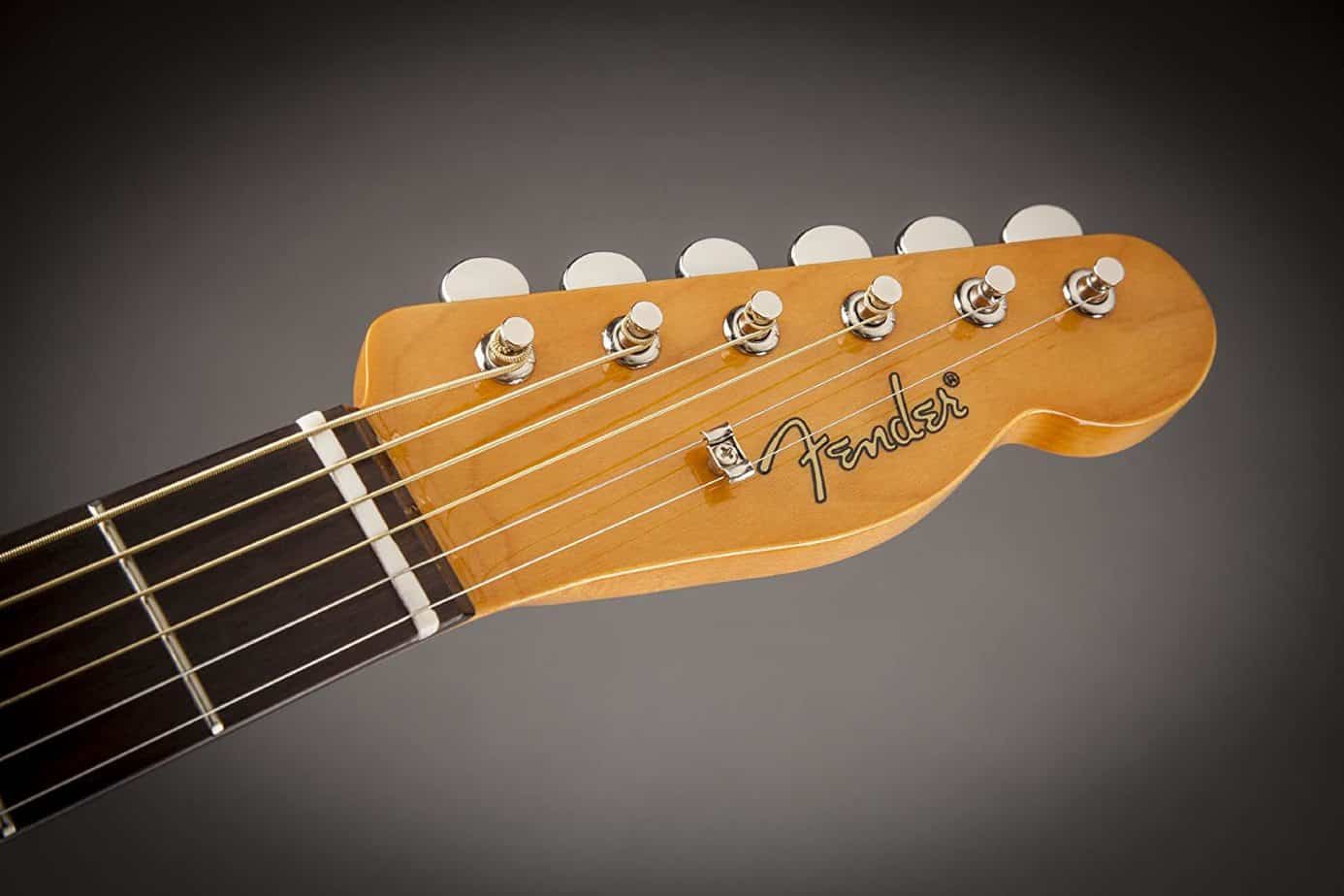 Bold sound when plugged in
If you manage to tune this guitar properly and probably also replace its strings with some better alternative, this guitar can produce an adorably loud, bright, and universally lovable electric sound. It's punchy, warm, and you can easily recognize its Fender DNA.
Quality electronics
Fender Telecoustic has a popular Fishman Isys III pickup/preamp system with volume, bass, middle, and treble controls. There's also a built-in tuner and a four-band EQ.
Ease of use
Thanks to its lightweight body, perfectly C-shaped neck, and deep cutaway copying the legendary curves of Telecaster, Telecoustic is a lovely user-friendly instrument to play on.
Cons of Fender Telecoustic
Unfortunately, Fender Telecoustic has some considerable weak points too:
Acoustic sound leaves a lot to be desired
If you plan to use your guitar in acoustic mode only for your solo jam sessions, you probably won't have much to complain about. However, playing along with your mates or in louder environments is pretty much useless, since Telecoustic is really very quiet. It also lacks the character and warmth and sounds much cheaper than you'd expect it to.
Needs tuning right out of the box
When you first get this guitar out of the box, it's considerably detuned. If you're not experienced in tuning, make sure you'll find someone who is or learn all the tricks yourself, because this guitar really needs some adjustment before it sounds any good.
Imbalanced body
While playing a lightweight guitar certainly has its advantages, balance is just as important. Fender Telecoustic's fiberglass body is visibly outweighed by its maple neck and headstock – as a result, the guitar is constantly reclining towards its neck. Luckily, you don't really feel this while you play, but lying the guitar down in your lap hands-free is pretty much impossible.
Are there any alternatives?
Fender CD-60SCE Dreadnought Acoustic-Electric Guitar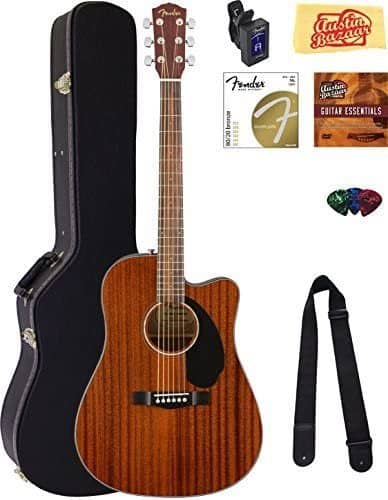 Telecoustic is certainly not the only Fender's take on an electro-acoustic guitar. Another alternative, Fender CD-60SCE Dreadnought attracts fans of hybrid guitars with its rich and warm sound and beautiful Fender-style Dreadnought design in gracious mahogany.
This guitar has a built-in chromatic tuner, volume, bass, mids, and treble controls, and the Fender FTE3-TN active onboard preamp with great sonic qualities.
Similar to Fender Telecoustic, this electro-acoustic guitar is also most suitable for beginners or electric guitar players who want to experiment with acoustic sound without any serious expectations. We've discussed Fender's CD-60 series further in this article.
Breedlove Pursuit Concert

Breedlove Pursuit Concert is an electro-acoustic guitar in a classic concert style. This guitar is definitely something special. It uses Fishman ISYS + USB pickup configuration, an original pinless bridge, and mini chrome tuners. Its sound is full of classic characters – warm, earthy, very mature, and self-confident.
Breedlove Pursuit Concert is probably a great choice mostly for those who like to blend traditions with innovation. They provide you with plenty of space for experimenting, while also being able to keep up with the most traditional expectations and requirements.
You can learn more about this guitar in our full Breedlove Pursuit Concert review.
FAQs
Question: Is Fender Telecoustic guitar good for beginners?
Answer: Fender's acoustic and acoustic-elecctric guitars are, in general, mostly recommended to beginner and lower-intermediate guitars who are looking for a mixture of affordability, playability, and good sound. Fender Telecoustic is therefore definitely a good choice for beginners
However, if you are not experienced in tuning guitars yourself, you should find someone who is, because this guitar is not well-tuned out of the box.
Question: Does fender Telecoustic have anything in common with Telecaster?
Answer: Fender designed this electro-acoustic guitar on the basis of one of its most iconic and popular electric guitars – Telecaster. These two guitars have very similar body shapes, they also use almost identical headstok and some other features. This could be an ideal instrument for a Telecaster player who wants to cross over to the acoustic world.
Question: I bought my Fender Telecoustic used. Is it still under warranty?
Answer: Fender offers its own 2-year limited warranty with all of its electric, acoustic, and electro-acoustic instruments. However, this warranty is only valid for the first official owner/purchaser of the instrument.
Nevertheless, if you experience any issues with your Fender guitar, you are still welcome to visit any of the official Fender service centers and ask for qualified assistance and estimates of potential repair.
Question: Does Fender Telecoustic have any tone bars?
Answer: Yes. Fender Telecoustic has a quarter sawn "X" bracing that intersects in the area behind its soundhole. This useful feature provides guitars of this type with added stability and helps them produce more balanced sound.
Question: Can you play Fender Telecoustic acosuticc-electric guitar without plugging in?
Answer: Yes, all hybrid guitars of this type can be used both with and without amplification. However, their tonal qualities can differ in acoustic and electric modes greatly. This applies to Fender Telecoustic too. While this guitar has a powerful and perfectly articulated electric sound, it's relatively quiet and unamusing when used unplugged.
Final thoughts – Should You Get Fender Telecoustic Indeed?
As you probably already know by now, Fender Telecoustic is not my all-time favorite acoustic-electric guitar. I just can't ignore how many weaker points this otherwise beautiful and reasonably priced instrument has, especially in the light of the high expectations I have when it comes to any Fender guitar.
First of all, I couldn't get used to the strange imbalance of this guitar caused by its combination of lightweight body and heavier headstock. It also took me a good while to tune the guitar properly and make it sound really sharp and accurate.
But I would probably be able to forget about both of these issues if the final sound of this guitar was truly worth it. Unfortunately, I found the unplugged sound of this guitar mediocre at best. I can't really imagine any musician I know preferring this instrument to any regular acoustic guitar.
On the other hand, when you plug Telecoustic into some decent amp, the sound suddenly becomes perfectly full and loud enough for live sessions with bass, drums, vocals, and/or any other instruments.
That brings me to the idea that Telecoustic might probably be best for a die-hard electric guitarist, who is venturing into the world of acoustics without any serious intentions to stay there and doesn't really intend to use this guitar much as an acoustic instrument. It also might be good for your at-home practicing, when you don't need to be heard – or even prefer not to be.
I hope you found all the answers you were looking for in this article, and I'll be grateful for your comments or personal insights.
Latest posts by Jodie Chiffey
(see all)