When it comes to the differences between guitars and bass, there are many from pickups, strings, techniques, to tones.
This also implies that bass amplifiers are somewhat different from the components of electric guitars. But, just like the guitar amplifiers, bass amplifiers are available on the market in a wide range of sizes, shapes, colors, etc.
And, it's always good to know what you want before you make the final call. In the Fender Rumble 40 review, we'll discuss Fender Rumble 40 v3 Bass Combo Amplifier in detail.
Fender is one of the most sought-after bass amplifier manufacturers across the globe and is popular for producing high-quality, high-end bass amplifiers for a wide range of budgets. We're going to talk about the features, pros, and cons of Fender Rumble 40 v3 Bass Combo Amplifier today.
Fender Rumble Core Features and Specs
At this price, it looks like Fender is aiming the Rumble series – including the 40 – at the affordable end of the market. Here are the main specs your dollar will get.
| | |
| --- | --- |
| Instrument type | Bass guitar |
| Amp type | Combo |
| Output | 40 watts |
| Speaker | 10" Fender Special Design |
| Impedance | 8 Ohms |
| Weight | 18 lbs (8.16 kg) |
The Rumble 40 bass combo amp can be an ideal pick studio, rehearsals, practice sessions, and small gig venues. Our experts believe that Rumble 40 has cool features, a great tone, and only weighs 18 pounds. Without a doubt, they loved it and found it perfect for small gigs and rehearsals.
Notable Features
Basement-friendly 40 Watts amplifier
Single 10-inch speaker with special design for perfect bass punching
Vintage look with contemporary features
Footswitch overdrive for added aggression (footswitch needs to be purchased separately)
6.3 mm jack input
Mini-jack stereo AUX input
Headphone output connector
Smooth touch radio potentiometer dials
XLR output with Ground Lift
Multi-Channels
Many bass amplifiers come with two or more channels. They're typically labeled as overdrive and clean and provide output to match the sound of your choice. Some bass amplifiers also come with standalone tone controls for every channel allowing you to change the sounds easily during a performance. You can even power each speaker with a different channel.
Gain Control
Almost all bass amplifiers allow you to control the extent of overdrive in the preamp stage. By finding the ideal gain, you can produce a comforting overdriven sound.
Damping Controls and Resonance
The damping controls and resonance help you fine-tune the output of the amplifier to your speakers. They can help you produce a sharper, more intensive sound from the speaker.
Direct Output
You'll find the direct output on the bass amplifier back. Using the direct output, you can connect the bass amplifier to the recording gear or mixer.
Alterable Impedance
These switches allow you to pick between a 4-ohm or 8-ohm output to match your connected speakers. Some models also come with a 16-ohm impedance option.
Different Types of Speaker Jacks
Since not all the cables and speakers are created alike, having a variety of jacks on the back side of your bass amplifier can come in handy. Jack options include XLR, ¼", TRS, and Neutrik Speakon connectors. The important point here is that the amplifier you are planning to buy should readily connect with your speakers or the other recording gear you're using.
Footswitch Jack
A footswitch jack allows you to switch between multiple channels, and control effect without removing your hands from the bass.
Speaker Cabinet
The bass combo amp cabinet should be ported or sealed to handle the volume of movement required to produce bass frequencies.
Portability
Bass amplifiers typically weight more than conventional guitar amplifiers. Therefore, make sure your bass combo amp or cabinet has sturdy wheels and handles for convenient portability.
Antique Feel with Contemporary Features

Fender Rumble 40 provides beginner as well as experienced bassists with a solid amp. It's the best possible combination of a compact package and high-quality bass tone. It offers a basement-friendly 40 Watts, with blend controls and gains in the overdrive section. Therefore, with Rumble 40, you can get the perfect amount of overdrive in your sound. What's even better? You can use an optional footswitch to add or remove the overdrive whenever you need additional tonal tenacity.
Soft Touch Multiple Switches
The bass combo amp comes with different switches such as Contour, Vintage, and Bright. Here's what each of them can be used for:
Contour – For changing the mid-range profile
Vintage – For giving the amplifier a warmer tone
Bright – For enhancing the high-end
Other controls are namely Treble, Bass, Gain, High-Mid, Low-Mid, Master, Level, and Drive.
The overdrive and volume controls are somewhat odd, with a Master knob controlling the overall volume and the Gain control dictating the base level of gain. The amplifier also comes with a gain boost which is actually an overdrive circuit. It is controlled by the level and drives controls.
10-inch Speaker with Special Design for Enhanced Bass Punch
The Fender Rumble 40 v3 Bass Combo Amp comprises a 10-inch speaker. Even though the speaker is small, the amplifier still has a realistic amount of warmth and depth. The 10-inch speaker also provides Rumble with a punch that would be missing otherwise.
Sound Shaping
The 4-band equalizer in Rumble 40 allows you to shape your sound, and the 3-button palette for voicing further sculpts the sound.
Connectivity
Rumble 40 comes with a headphone connector as well as an AUX input. It also has an XLR output line that can be used to connect the bass combo amp to a Power Amplifier as and when required. So, if you feel Rumble 40 is not loud enough, the XLR output line can help you overcome the wattage issues.
Better than Rumble 25
When compared to Rumble 25, it's significantly different. Even though the circuit arrangement is the same, there are additional controls to modify the voicing of the amplifier. The reason behind the versatility of this amp is the EQ switches.
This will work well for…
Bassists on a budget who aren't playing arenas.
The size and weight of the Rumble 40 make it ideal for home use. It won't take up your entire living room, and will comfortably project noise without shattering windows or waking neighbors.
At the same time, it's that size and weight that probably makes it a good bet for those playing bars or small clubs. They need some power behind their sound but don't need to reach people half a mile away. It also won't take up much of the precious onstage real estate of the smaller gig stages of such venues. Your drummer will be delighted.
Does it do What it Should?
Out of the box, the Rumble 40 smells vaguely like a new car. That can be chalked up to the black vinyl covering. Did you know you can use the same spray for cleaning inside your car for cleaning your amp?
Typical of the vast majority of amps, it comes with plastic volume knob on a metal control plate. There's nothing wrong with that, but – and this is purely personal – I think these particular knobs look ugly. And cheap. But it's a budget amp, so I guess that's OK. I'm going to put that thought aside though – amps are for listening to.
It's a classic-looking amp. The black vinyl is clean, and it comes with chrome corner plates holding it all together, matched with a silver Fender logo in its top front left corner.
I spy a few other elements that are nice to see. It sounds like a basic feature, but you'd be surprised how many amp come without a headphone jack! It reinforces its status as an amp appropriate for home use. Additionally, it has an XLR line out – perfect for live situations or recording.
So far so good. It's got everything you need. But how do all these parts hold together?
Fender Rumble Construction
As you'd expect from a brand like Fender, they take the build quality of their instruments pretty seriously. With the price of the Rumble 40, you can tell it's not going to be US-made. Quite frankly, if you were basing things on looks alone, you wouldn't know any better.
Plenty of brands – Vox, Laney – are making their amps in the east and charging plenty more for them!
When an amp is aimed at gigging musicians, construction quality is even more important. It's got to be able to take being taken from a house or practice room to a car or van, to a venue, probably getting moved multiple times in the venue, then back to a car or van, and finally back to a house or practice room.
That's a lot of getting moved around that it needs to be able to take! If it isn't well constructed, it will fall apart. Obviously, I don't have the capacity to do that in the context of this review. What I can say, is that everything looks like it's held in place as solidly as it could and should be. Lifting it by the handle and giving it a gentle jerk, it seems like it'd be fine for more than a few shows.
Fender Rumble Tones
Yay! Time to make some noise! I'm a very straightforward person when it comes to the sound of my musical instrument, and I like to keep it simple. I know what I like. At the same time, I'm intrigued by the various options available on the Rumble 40.
Apart from the standard stuff like master volume and EQ settings, a couple of things on the Rumble have caught my eye that I'm keen to play with.
Foremost of these is the overdrive circuit. I'm a devil for an overdriven bass. Ordinarily, I'd assume the use of a pedal for such matters – I feel like it's not a common feature on bass amps. I also favor super-fuzzy bass sounds, so let's see how far I can take this.
I'm used to guitar amps having separate clean and overdrive channels, but in the case of the Rumble 40, it's not so much a separate channel, more of a circuit that you either engage or disengage. You can use a button on the amp's control panel, or a footswitch. The footswitch isn't included. Fender's single-button switch should do the job, and you can pick one up for less than $15.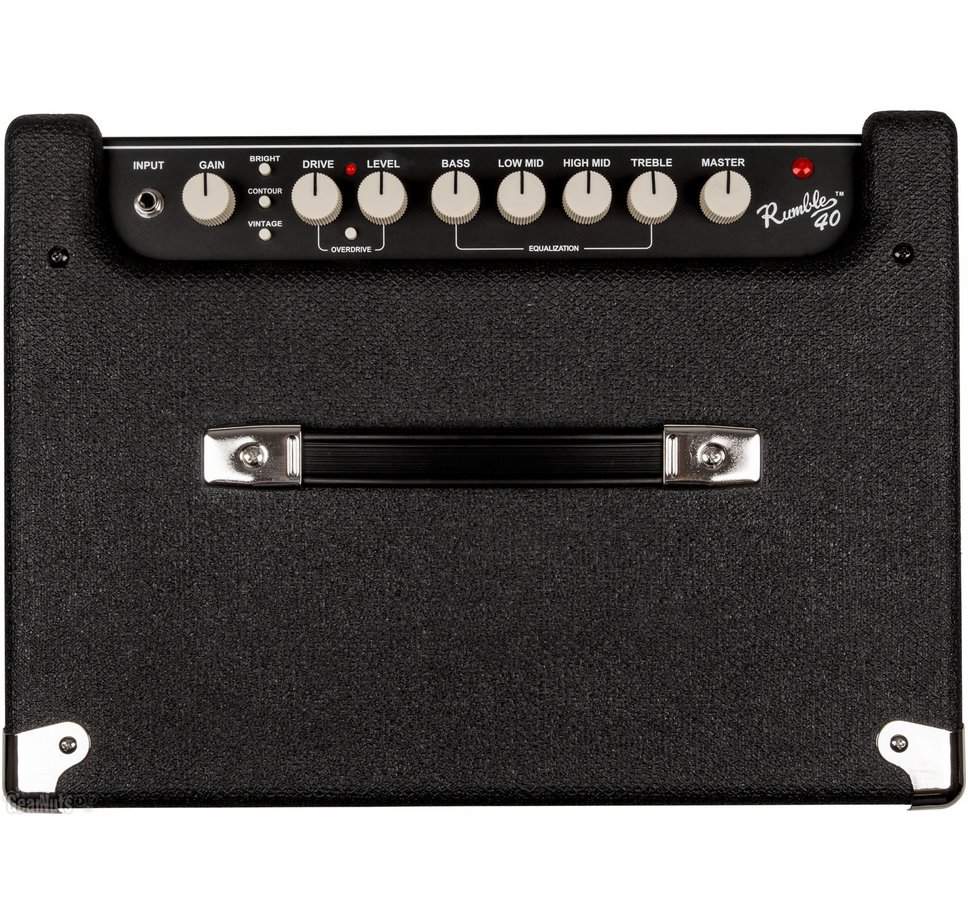 Pushing the switch, I liked the overdrive of the Rumble 40, but I can't say that I loved it. Compared to a proper bass fuzz pedal… it's hard to explain, but it just wasn't it. I don't feel like it was as fat as my favored fuzz bass would be. It's a good place to start exploring the overdriven bass sound, but let it be known that you can go further.
Of the three voicing settings, vintage was definitely my favorite. It claims a tube emulation, which in the context of things I'll let them off with, but it's hardly running it through a Reddi. The bright setting, as the name suggests, boosts the high end of the tone. I've never been into that. The contour setting scoops out your mids. Again, I'm not a fan. I like a full, fat bass sound.
Fender Rumble Series Playability
In that last section, I may have not been happy with all the options at my disposal on the Rumble 40. But I feel like that goes back to the fact that I know what I like – I've been doing this a while!
But this amp isn't really aimed at me. The cost of this amp is what makes it ideal for those who haven't been playing bass quite so long, and it's the in-bult options that will help them listen to different tones, and figure out their own sound.
Pros
Cons
-Great price.

-Plenty of features to help new and intermediate players to develop a feel for their own sound.

-Quality parts and construction that you'd expect from a brand like Fender.
-Ugly knobs on the control panel.

-At this price, and for the target users, nothing else really.
Fender Rumble Alternatives
I'm a big fan of Laney amps, and their RB2 is very much in the same ballpark as the Rumble 40. It clocks in at 30 watts compared to the Rumble's 40, but shares the speaker size of 10 inches.
The RB2 is more of your standard bass amp. No fancy voicing or overdrive, just your EQ setting to shape your tone. It has two inputs, normal and high, better suited to different pickup outputs. Need a little extra kick? It's got a compressor built in at the push of a button. Speaking of kick, it has an angled back for a "kickback" design. This is better for venues where you can't raise the amp, so you can angle its sound towards your head.
Probably the most respected bass amp brand ever is Ampeg. If you like the idea of having that iconic brand in your backline, then you might want to take a look at their BA-110. Its specs seem like a combination of both the Rumble and the RB2: it has a 40-watt output, 10-inch speaker, and simple EQ.
Probably the most outstanding feature of the BA-110 is its rugged design. Honestly, I think it might be bulletproof. It's got a steel chassis and impact-resistant metal corners. What's funny is that Ampeg describes it on their website as lightweight and portable… but it clocks in at 34 lbs. That's double the weight of the Rumble 40!
Ampeg BA-110V2 Bass Combo Amplifier | Amazon
Ampeg's BA-110 1x10³ 40W bass combo delivers true Ampeg tone at volume levels ideal for practice and rehearsal.
Buy at Amazon
We may receive compensation from the companies whose products we review. We only recommend products that we believe in and test.
There are some other options available in low wattage, low space amps. You can also check out the Orange Crush 50 for bass, and Hartke's HD25.
Hartke HD25 Bass Combo | Amazon
This packs Hartke's patented HyDrive speaker technology into a sleek combo design ideal for small venues, rehearsal spaces and bedroom practice sessions, and capable of greatly enriching your low-end tone.
Buy at Amazon.com
Buy at Sweetwater
We may receive compensation from the companies whose products we review. We only recommend products that we believe in and test.
Fender Rumble Studio 40 – Electric Bass Guitar Combo Digital Modeling Amplifier
If you're looking for a high-end, digital bass combo amplifier, Rumble Studio 40 can be a good buy. It is a Wi-Fi-equipped digital bass amplifier with Fender Tone. Using the internet, you can access various presets created by Fender artists, share presents created by you, and download the latest firmware updates. You can also stream wireless music using the Fender Tone app on your Android or iOS smartphone, or from any Bluetooth device.
Using the LCD screen, you can see the effects (and effects loop) and amp. The touch keys are soft and intuitive. Overall, Rumble Studio 40 Bass Combo Amp provides high-quality audio with more versatile signal path flexibility. It is perfect for rehearsing and studio recording.
Frequently Asked Questions about Fender Bass Combo Amps
Question: What is a Fender Bass Combo Amp?
Answer: The Fender Bass Combo Amp is a common arrangement of a bass amplifier – the "combo" amp. It comprises the amplifier and single or combination speakers fitted in a wooden cabinet. With a bass combo amp, you don't need to struggle with many pieces of heavy gear and long speaker cables. Most of the Fender bass combo amps are lightweight and easy to carry.
Question: Why go for a bass combo amp instead of a bass head?
Answer: If you need a high-gain unit and will be playing in small clubs or studios, a bass combo amplifier can be the right choice. Back in the 60s and 70s, there weren't many combos on the market. However, today manufacturers understand that a robust amp-speaker combination with a covered back will be ideal for small venues. Some bass amp combos even come with a compressed rear corner that allows you to push them back at a 45-degree angle if you want the speaker directed toward your ear instead of your legs.
Nevertheless, for larger venues, open auditoriums, and halls, you would require powerful bass heads with a single or double cabinet.
Question: Is Fender Rumble 40 enough for studio recording or do I need Rumble 500?
Answer: Rumble 40 is good for studio recording and rehearsals. It is lightweight and convenient to carry. So, if you like carrying lightweight stuff, go for Rumble 40. Rumble 500 is bulkier and suitable for bigger venues.
Question: Is a 40-Watt amp sufficient for smaller venues?
Answer: Yes, a 40-Watt amp should be ideal for smaller venues. If you want higher amplification for smaller venues, you can ever go for Rumble 100 Bass Combo Amp.
Question: Can I connect an electric guitar with this amp?
Answer: Yes, you can connect an electric guitar, as well as a keyboard with this amp.
Question: Can I add external speakers to Rumble 40 Bass Combo?
Answer: No, you cannot. The Fender Rumble 40 Bass Combo Amp does not have an output for connecting external speakers. You can connect additional speakers in the case of Rumble 500 only.
Conclusion: Funder Rumble Review
As you've seen in the Fender Rumble 40 Review above, the product is suitable for smaller venues, studio recordings, and rehearsals. The sound quality is great, and amplification is warm and deep.
Our experts found the amp astonishingly lightweight, and the cabinet robust. It does not rattle during the vibrations and is not flimsy at all. You won't hear any noises from the cabinet while the sound is playing.
You can connect it with a drum kit, electric guitar, or keyboard. It even works fine in a medium-sized room or hall. For low-volume gigs and definitely, as a practice amp, the small sizes, and light weight are a bonus. You'll find a decent range of sounds.
At normal volume, the response is pretty even, but when the volume is increased, the smoothness in the sound begins to reduce. So, for high-volume usage, you may require a bass combo amp with more power such as Rumble 210, 410, or 500. The XLR output line is extremely useful and provides a good quality sound for recording. Rumble 40 can be a great pick if you're planning to play live with a complete PA system.
All in all, Rumble 40 is a decent, affordable, and handy bass combo amp for studio use, home use, and rehearsal. Don't get fooled by the vintage look; the amp comes with a great overdrive and some great tone options.
Nevertheless, if you're looking for a high-end option with features such as Bluetooth and Wi-Fi, you can choose Fender Rumble Studio 40 which is comparatively expensive.
We hope you found the Fender Rumble 40 Review useful. If you have any questions, you can post them in the comment section below. We'll get back to you with answers as soon as possible.
Further Reading on Guitar Amps
Latest posts by Guitar Space Team
(see all)