As a guitarist that's making your path in the world of music, the progress of technology is certainly beneficial to your musicianship.
Whether you play by ear, can read tabs, are fluent in the language of sheet music, enjoy playing heavy metal or prefer to surround yourself in the world of jazz, having the right amplifier and software can really help you to expand your sound past any boundaries that you had one placed for yourself.
The Fender Super Champ X2 takes away the need for a traditional guitar amp and instead gives you an outstanding tube amp with an enormous range of software programs.
With the purchase of the Fender Super Champ X2 Tube Amp, you'll find yourself in the world of blended technologies and neck deep into Fender's FUSE software portal.
Let's take a deeper dive into this Fender Super Champ X2 review…
Fender Super Champ X2 is a hybrid amp, with preamp and power amp tubes, but the preamp is more solid state rectifier than the tube is.
The physical appearance of this tube amp isn't anything super spectacular, as it has the same physical appearance that a lot of other modern Fender amps have. It has those retro Fender special design accents, while still being quite practical.
But take a look on the inside, and you will find that most of the electronics are PCB-based and that the amp is powered by a pair of 6V6 output values and a single 12AX7 driver.
The Fender Super Champ X2 has a digital front end with two channels; a drive channel that hosts gain and volumes knobs, as well as a voice knobs that gives you the option to choose between 16 different voice settings (for optimal voicing), such as American, Metal, vintage tone, Tweed, British, and modern. The clean channel will give you that comprehensive 'Blackface' tone and hosts one volume control.
In addition to the bass and treble controls, there is also an additional knob called 'FX' that allows you to choose between fifteen effects, with the FX adjust knob to adjust the main parameter, which is typically the effect level. In addition, there is also a tap button that allows you to manually choose the delay time if you happen to have the delay selected or adjust the modulation rate for both rotary and chorus speaker effects.
As for the rear panel of the Super Champ X2, there is a single speaker outlet that has a line out that you connect to PA or recording equipment, as well as a jack for an optional footswitch.
The most important part of the rear panel is the USB port, which allows you to hook up your PC or your Mac to connect with Fender's FUSE software.
In my personal opinion, the USB is a must-have for you to be able to get the best out of this amp that it has to offer. With the USB and the use of the FUSE software, you can store an unlimited number of different patches and sounds and tonality, while also having the ability to save sixteen of them directly onto the amplifier.
Features of the Fender Super Champ X2 Tube Amp
Tube Amp
Two channels
15W power
1 X 10" speaker size
1 x 12 AX7 preamp tubes
2 x 6V6 power tubes
2-band EQ
15" x 17.5" x 9.2" (height, width, depth)
23 pounds
Comes with Fender's FUSE software
Voicing knob that has sixteen different amp types
Fifteen effects
USB output for digital recording
Fender Super Champ X2 Software
The software of the Super Champ X2 is one of the biggest factors that sets this tube amp apart from other tube amps on the market. The Fender FUSE software gives you the option to format the modeling stage of the amplifier through a computer.
The Fender FUSE software is a free software that you can use on both Macs and PCs; it's editing, librarian, and practicing software. With the Fender FUSE software, you will have access to a selection of free backing tracks for you to play with. You also have the option to save effects, and amp presets on your Mac/PC for you to edit the setting that is stored in the amp.
Fender FUSE also gives you the opportunity to control the mid-range tone, as well as access to the bright switch and the presence control. Having access to all of this is super helpful if you are looking to correct the sound or tone of a specific guitar model that you're playing on.
As for the effects that the FUSE software allows you to play with, there are several variations on the original reverb, modulation, and delay effects, as well as the chance to play around with the distortion and compression models; all of the adjusting that you can now do with the FUSE software go way past the capabilities of your average stomp box. While there are some limits on what you can place where there is still an incredible range of sounds and styles that the FUSE software offers.
Once you're done playing with your sound, you can save your track inside of FUSE and share it with all of your friends and family online. If you want to save your sound to the amp for you to play with at a later date, you have to save the amp settings and effects combo separately to one of the slots on the effects knob and the voicing knob.
Pros of the Fender Super Champ X2 Tube Amp:
You will get a classic smart finish, but get that true Fender feel
There is a digital effect section on the amp that has psychedelic, vibrant, and classic effects
There is a PC/Mac connectivity plus a downloadable FUSE software available
Even if you aren't interested in all of the bells and whistles that the additional features add on to this amp, the bare bones of this amplifier make it an incredibly solid piece of equipment
Cons of the Fender Super Champ X2 Tube Amp:
The metal and heavy rock tones have a very noticeable buzz, as well as on the distortion channel when placed in a high range
The speaker doesn't project very well, which really does a disserve to the overall quality of the amp
Who is the Fender Super Champ Tube Amp X2 best suited for?
The Fender Super Champ X2 is an amazing amp for a beginning guitarist to start on with using inside of their home studio. This amplifier is very easy to use and is a great investment to make for those musicians that are looking to record their playing sessions in hopes of looking for ways to improve their sound or for musicians that are interested in playing in a small performance setting.
I would also recommend this amplifier if you are a musician who plays in a band that does a lot of traveling because this amp is super portable. This amplifier also stands apart from other affordable, beginner-friendly tube amps because it's easy to connect up to computers, giving the overall sound that this amp provides an extra edge.
This is a great amp to get in your hands if you're looking to just play at home or if you're really only a hobby plater. For an affordable price tag, it offers a huge range of sounds and provides a decent dynamic range for any home player to feel more than satisfied with. The USB recording that comes with this amp isn't going to blow away an advanced recording artist in recording sessions, but it does the job if you're looking to create a quick backtrack to jam along with.
While this isn't going to be the most sophisticated amp that you will ever play with, it's a very user-friendly amp with unique FUSE software. If you're looking for an amplifier that's going to give you instant satisfaction, this is an amplifier you want.
Fender Super Champ X2 Alternatives
I rarely evaluate an amp in a vacuum. In doing research for this article, I came across a few others worth trying (some that I've written about):
Final Note: Is the Fender Super Champ X2 Worth it?

The Fender Super Champ X2 is a perfect amplifier for beginning musicians or an amplifier for musicians that are looking to play around with their sound.
While this amplifier does only offer bass and treble, with no control over the middle (which is typically over a beginner-level amp), you still get amazing sound out of this amp.
There's also something enduring about the classic special design with the Fender blackface and grille cloth.
Some of the effects that are available on the Fender Super Champ X2 are really nice to have and are commonly found to be in use by other mainstream musicians that are popular in the industry today.
Fender did a great job of pairing together amplifier hardware with software and serves as an excellent amp for musicians who are looking for a great amp modeling unit.
Instead, this tube amp serves well for musicians that are looking for nearly endless amp sounds and effects to change up their sound. However, to be solely used for an amplifier, without any software to change up the sound, it is best used as a practice amp for home use.
If you are looking for an amplifier that is better for public performances, you should look for something that has a larger, more well-defined speaker. But for this being an amplifier touching both in the land of amps and in software, it does do a decent job of covering a decent bit of land in both worlds.
If you're a beginning musician and haven't yet delved into the world of amplifiers, the Fender Super Champ X2 Tube Amp will make an amazing starter out the amp and help you have a better understanding of what you sound like!
Where to Buy the Fender Super Champ X2
There are actually a variety of places to pick up the Super Champ X2 online. Here are the reputabable sites and listings that I found found:
On Amazon: Amazon carries the Super Champ X2 and it's eligible for Prime shipping.
On Guitar Center: Check the price here.
Further Reading on Guitar Amps
Blackstar Tone: Link Bluetooth Receiver | Reverb
Blackstar's Bluetooth Tone:Link is the easy way to turn any amp with a line in, into a wireless stereo audio receiver.
Check price
We may receive compensation from the companies whose products we review. We only recommend products that we believe in and test.
Fender Rumble 40 1x10 40W Bass Combo Amp | Guitar Center
The Rumble 1x10" 40W bass combo is an ideal choice for practice, studio or rehearsal, with its great tone, small size and easy-to-use controls.
Check price
We may receive compensation from the companies whose products we review. We only recommend products that we believe in and test.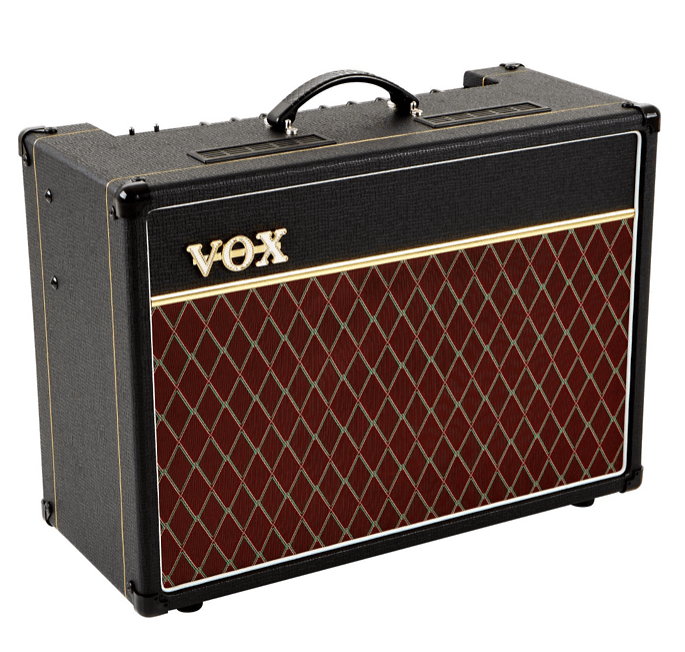 Bugera V5 Infinium 5W 1x8 Guitar Combo Amp | Reverb
The timeless design and sound of the all-tube amp has made its indelible mark on countless beloved tracks spanning the history of the electric guitar.
Check price
We may receive compensation from the companies whose products we review. We only recommend products that we believe in and test.
Latest posts by Alizabeth Swain
(see all)