Compressor pedals are a pedal that many guitarists are led to believe that they don't need, so they never really know what they're missing out on. Using a compressor pedal with your instrument will add distinction and character to your sound, while also balancing out your tone.
Having a guitar compressor pedal in your gear selection may seem like an effect that you really don't need, as compressor pedals don't really alter your sound like other pedals, such as fuzz pedals do. However, if you are an experienced musician who is looking to expand upon your overall sound, getting your hands on a compressor pedal can really help you to achieve a more versatile sound.
What is Compression?
The technical name for the compression effect is Dynamic Range Compression, which may provide you with an easier understanding of this effect. The use of a compression pedal with your guitar will even out your sound wave by minimizing the volume of individual loud tones and by increasing the volume of quiet tones.
By evening out these sounds, the overall volume of your compressed sound can be switched by using modifications and controls, which you can find on pretty much every single compression pedal. You will find these controls on the majority of the compression pedals on the market today.
Threshold and ratio: This control allows you to determine the compression threshold and at which volume level you want your sound to be increased or narrowed down.
Attack and release: This control allows you to control how fast you want the compression effect to disengage or engage.
Gain: This control adds artificial gain in order to boost your audio signal, which will bypass the compression kickoff.
Do You Need a Guitar Compressor Pedal?
A compressor can provide your sound with a consistent volume output level. In order words, this means that a compressor pedal will take the sound that your guitar produces and lower the volume spikes when you strum or pick too hard. At the same time, a compressor pedal will also increase sustain by raising the level of quiet sounds. Basically, a compressor pedal evens out the playing dynamics while also adding a clean sustain to your sound.
Adding a compressor pedal is a great way to build a strong tonal foundation for your sound that also helps to strengthen and purify the rest of the effects that you have in line. Even if you are a musician who doesn't have any other effect pedal lined up, and you're just someone who plugs your instrument directly into a guitar amp, adding a compressor pedal can still greatly benefit you.
By using a guitar compressor pedal in the middle, you can create a coherent, responsive connection between your amplifier and your instrument while ensuring the preservation of your tone.
Are All Compressor Pedals the Same?
No, all compressor pedals are not the same. While all compressor pedals generally do the same thing, which is attenuate volume, there are hundreds of different types of compressor pedals with different characteristics. When choosing a compressor pedal that best suits your own personal needs, make sure that you're selecting the pedal that matches your playing style the best.
What Are the Different Types of Compressor Pedals?
There are a few inconsistent pedals that don't fit into these categories, but the compression pedal types that we have listed down below are the most commonly found and best compressors that are available on the market.
The order that we have these different types of pedals listed does not signify an order of best to worst pedals. Each of the pedal types that we have listed here each has unique qualities that sets them apart from other pedals and we hope to explain how each pedal works to give you a better understanding of what guitar pedal will best suit your personal needs.
Multiband Compressor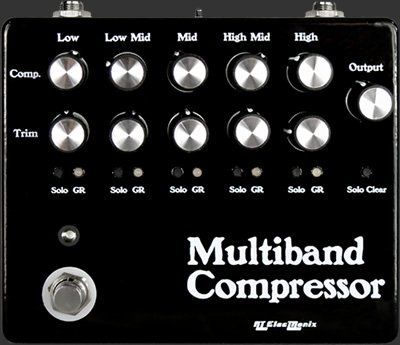 Multiband compression can frequently be found in plug-in compression software that is used within a Digital Audio Workstation (DAW), such as Logic or Pro Tools. Using multiband compression helps to separate the frequency bands, as well as to compress the frequency band to help ensure each band is carefully controlled. Multiband compression is best to use for precise compression and in-depth control of your sound
Voltage Controlled Amplifier (VCA)
Voltage Controlled Amplifiers are the compressor pedals that are known to be the most common pedals in-studio use. VCA compressors provide users with a very clean sound and don't add a lot of color to your tone. The VCA compressors are also well-known for being incredibly responsive and accurate. VCA compressors are best used if you are looking for responsiveness and studio-style control.
Operational Transconductance Amplifier (OTA)
The OTA compression pedal is one of the oldest compression pedals on the market. These pedals don't really do anything super impressive and they just really provide the guitar with an organic quality. While the earlier Operational Transconductance Amplifiers caused a lot of trouble by coloring tone, the more modern versions of the OTA have fixed this problem.
Operational Transconductance Amplifier is best used for general guitar compression and if you're looking to add color to your tone.
Optical Compressor
Optical compressors use a photoresistor as well as a light source to attenuate your guitar's signal. Optical compressors are very natural sounding, especially due to the slower release times that come with the optical compressor. This type of compressor pedal is best used if you're looking for a smooth, organic feel.
Field Effect Transistor (FET)
The Field Effect Transistor is another compressor that would work really well as a studio compressor. The feature set on the FET can sometimes add additional (sometimes unwanted) tonal color into your sound, especially if you use a power transformer. The FET compressor is best used if you are looking for added color, transparency, and responsiveness.
Tube Compressor
Tube compressors are best known for their warmth and ability to add tone to a guitar's sound. These types of compressors are best used to add warmth and smoothness to your overall sound.
Top Ten Best Compressor Pedals
The TC Electronic Hyper Gravity Compressor is an amazing compressor pedal because it is one of the most versatile compressor pedals on the market today. The TC Electronic Hyper Gravity Mini Compressor is a pedal that makes great for performances, so TC Electronic made sure to provide the compressor pedal with a strong enclosure to ensure that your guitar pedal will withstand all of the abuse you put it through while performing.
As for the controls that are available on this compressor pedal, you will have your standard Sustain, Level, Blend, and Attack options. In addition to these features, TC Electronics offers a switch on the pedal that will provide you with the ability to choose from Vintage, Tone Print, and Spectra modes.
Keeley Electronics is a brand that produces pedals that are aimed mostly towards professionals, partly because of the price tag that's associated with their pedals and partly because their pedals are of such high quality. The Keely Electronics Compressor Pro provides users with a professional quality, studio class compression.
The Keeley Compressor Pros uses a THAT Corp. 4320 chip, which provides this compressor pedal with incredible accuracy, which really makes the VCA compressor pedal hold a lot of potential for outstanding live performances. Included with the Keeley Compressor Pro is a full range of controls: Gain, Release, Attack, Ratio, and Threshold. You also have the option to choose between Soft Knee (for a more even response) or Hard Knee (for a more compact compression). The Keeley Electronics Compress Pro is $300. You can find it on Amazon and other guitar websites online.
See also: Keeley Compressor Plus Pedal Review.
The Effectrode PC-2A is a compressor pedal that's often referred to as a replica of the world-famous Teletronix LA-2A Leveling Amplifier, which is a photo-optical vacuum tube compressor. As far as the PC-2A, this isn't an exact replica of the LA-2A but it does serve as an upgrade from the LA-2A if you're an experienced guitarist. Both of these compressors are optical vacuum tube compressors, but the Effectrode PC-2A is the recent model of the two compressors.
For the setup of the Effectrode PC-2A compressor, you're going to have an adjustable Attack and Knee through internal trimpots. The factory settings on this compressor pedal are great, but if you're looking to adjust the pedal for personal needs or to adjust the pedal to fit better to an acoustic guitar or other stringed instruments, you have that option. This compressor pedal is definitely professional grade and will give you one of the warmest, smoothest, most natural-sounding compressions that you will ever play.
The Wampler Pedals Mini Ego Compressor is an essential pedal to have if you enjoy the sound of a OTA compression design. The Operational Transconductance Amplifier compressor provides musicians with a fuller sound and a cleaner tone. You can customize your tone with the Wampler Pedals Mini Ego Compressor, as this compressor pedal features Attack, Blend, and a Tone knob that allows you to preserve your lows while you emphasize your highs.
OTA compressors are known for diminishing your guitar's original tone and adding too much color to your sound, but the Ego Compressor maintains the original sound of your guitar, especially in the lows that your instrument produces. With over OTA compressors, it's very common for the lower end of your sound to become muddy, but that isn't a problem with the EGO Compressor. The Tone Knob allows musicians to add larger amounts of non-blended compression, while still maintaining clarity, and ensures that this non-blended compression can be heard in the higher frequencies.
If you're on the market for a simple compressor pedal, look no further. There are a whole ton of complex compressor pedals on the market, so finding just a basic compressor that's of decent quality can be a bit frustrating. The Electro-Harmonix Soul Preacher Compressor/Sustainer Pedal comes with two functions: a compressor effect and a sustained effect.
Being a multi-purpose pedal may not be something you're looking for if you've already delved into the worlds of guitar pedals, but if you're just starting out and you aren't really sure what direction you want to take your sound in, this may be a great pedal for you to start with. If you want to find the best pedals for your guitar though, check this link.
The Empress Effects Compressor pedal does appear to be your typical compressor, but there isn't anything average about the features that this pedal offers. As for the physical build of this pedal, you're going to be faced with a wide format design that does come with a lot of your standard compressor features, but with a great number of unique features mixed in.
Empress really allows users to take complete control of their sound with the Effects Compressor Pedal. Users can adjust the input level and the output level separately, aside from all of your typical control options for your compressor. The top part of the control panel has an LED graphic display which provides users with an easier time seeing what they're doing on the pedal.
The Empress Effects Compressor pedal also allows users to choose different compressions, as well as to adjust almost every aspect of the performance of the pedal. While the price tag that's associated with this pedal is a little high, it would make a great compressor pedal for someone who is looking to invest in an extremely versatile compressor pedal that's also incredibly reliable.
Empress Compressor | Reverb
If you want true control over your compression, get everything you would find on a studio compressor but in a pedal with the Empress Compressor. Squash your sound down or throw on a slight sustain using the Empress Compressor's multiple-ratio analog design.
Check Price
We earn a commission if you make a purchase, at no additional cost to you.
Diamond Compression and Comp JR
The Diamond Compressor comes in two forms: the standard compressor and the Comp Jr form. Both of these compressor pedals are optical compressors and provide users with a mic preamp, EQ, and compressor all shoved into one pedal.
The only difference between the Diamond Compressor and the Comp JR is the size- the Diamond Comp JR is for musicians who are in need of a miniature pedal to keep on the pedalboards. However, both of these pedals are low noise optical compressors that even out your instrument's signal while also helping to preserve the integrity of your audio signal.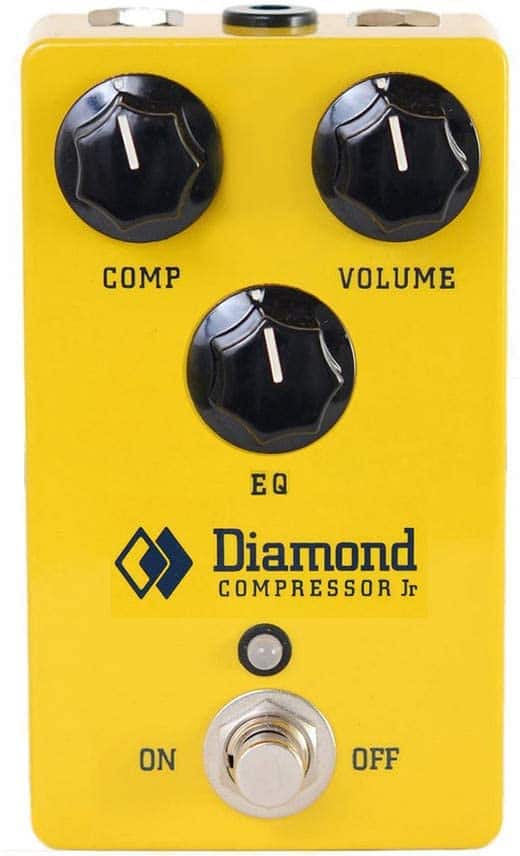 These compressor pedals are great for on-stage performances and if you're looking for a studio pedal that will add a professional sound to your instrument's signal. The volume knob on these compressors allows you to set your output level.
An EQ is applied to your sound after compression and allows you to adjust your frequency emphasis towards either bass frequencies of treble frequencies, while also ensuring that the center position stays flat in response to help create a transparent sound. Both of these pedals serve as outstanding compression pedals and the only decision you should make between the two is whether you're looking for an averagely sized pedal or a mini pedal!
Boss is a brand that is well-known to produce pedals that are of consistently reliable, even if they aren't the most exciting pedals to ever hit the market. The Boss CS-3 is a compressor and sustainer combo pedal, which provides users with an amazing range as well as a decent amount of sustain.
The cosmetic appearance of the CS-3 is very similar to the other pedals that Boss produces, but the pedal itself was very responsive and doesn't add too much color to your overall tone. If you top off and boost a collection of different frequencies, you're still going to keep your core tonal sound. When that begins to diminish, the sustainer is there to keep things going.
The SP Compressor from Xotic is a compact pedal with a miniature footprint and is stored inside of a beautiful enclosure. However, what the Xotic SP Compressor offers to users is much more than an appealing cosmetic appearance. As an excellent compressor, this pedal evens out your instrument's tone with incredible precision while also providing you with a dynamic range of tone selection by adding a distinctive character into your original sound. You can take your sound from transparent and light to crisp and concise.
There is a three-way switch that allows you to choose between Low, Mid, and High signals. There is also a Volume knob and a Blend knob for the controls on this pedal. The Blend knob provides users with the opportunity to guarantee a smooth transition when mixing your sound.
This is a great compressor pedal if you are a musician who is looking for an affordable compressor pedal that is going to provide you with a professional sound without taking up too much room on your pedal board.
Conclusion
Whether you're a musician who is looking to get your hands on your first basic compressor pedal or you are someone who is looking to spice things up a bit by trying out some compressor pedals that aren't too common, the compressor pedals that are in this list would all making amazing options for musicians of all backgrounds.
Sound and tone are two things that are always subjective, so make sure that you take the opportunity to test out a pedal before you finalize any purchases. Have fun discovering which guitar compressor pedal is best for your music!
Latest posts by Guitar Space Team
(see all)