Being a guitarist is a whole lot of fun and an adventure in itself, but what are you supposed to do when it's time to put your instrument down for the day?
Chances are if you've been playing guitar for a little while, you probably already have a decent guitar stand. Guitar stands are great to have around if you're looking to always have your guitar on easy access.
Maybe you're looking for more secure ways to store your favorite guitar (electric guitar or acoustic guitar) while you aren't playing it, convenient ways to keep your bulky instrument out of the way in your crowded room, or even just a way to display your expensive investment.
Whatever your reasoning is, hanging your guitar on a wall with guitar hangers or another guitar holder for walls is one of the most secure and convenient ways to store your guitar for both short-term and long-term use.
Thankfully, guitar wall hangers (or guitar wall mount kits) are relatively easy to install.
Bottom Line Up Front Summary: Feel free to read the entire summary below, but here are the picks we selected…
String Swing CC01K OAK Hardwood Guitar Hanger – Best Overall Guitar Wall Hanger
Gator Frameworks Wall Mounted Guitar Hanger – Best Metal Guitar Wall Hanger
String Swing Horizontal Guitar Hanger – Best Horizontal Guitar Wall Hanger
String Swing Guitar 5-Guitar Rack – Best Multiple Guitar Rack
Wolfride Guitar Hanger Wall Mount with Safe Slot
Editor's Choice
Why I Prefer the String Swing Hanger | Amazon
The simple, yet exceptionally well-designed String Swing studio guitar hanger is definitely my GO-TO choice here. The solid, durable construction and simple installation makes it hands-down the best option in my opinion.
Buy at Amazon
Buy at Sweetwater
We earn a commission if you make a purchase, at no additional cost to you.
09/24/2023 03:51 am GMT
If you're unsure about where to start or what wall hangers for hanging guitars would be the best choice for you to make, keep on reading to learn about all of the information that you need to make the best decision that fits your personal needs!
The String Swing CC01KOAK Hardwood Home and Studio Guitar Hanger holds two titles in the guitar community: it's one of the most popular models on the market and it's one of the most affordable versions available today.
This wall mount an especially popular pick for musicians that are interested in purchasing multiple wall hangers for several different stringed instrument units (or just multiple guitars).
This guitar holder for walls doesn't have any fancy extras or complex safety mechanisms, so if you're just looking for simple, easy, and affordable, you've come to the right place.
This also is a great wall mount hanger to choose if you aren't too certain about hanging something up yourself, as the design for installing this guitar hanger is also very simple. The build for the actual hanger is made up of high-quality materials and comes with a padded with a soft layer of foam that will help to prevent any damage to your instrument.
The actual mount itself is comprised of hardwood (wood base), while the hanger pivots on the mount itself, which makes the entire contraption a lot more flexible, especially the yoke device. Yes, the design for this wall hanger is actually really simple, but it's the simplicity in this design that makes it work well and makes is so affordable.
Not everyone is just looking for a simple design that keeps their guitar up off of the floor- and that's totally okay!
Gator Frameworks Wall Mounted Guitar is a great pick if you are looking for a simple design and a choice in the cosmetic appearance of the hanger. For their mounted guitar hanger, Gator Frameworks allows customers to choose between mahogany, cherry, maple, black, and satin chrome. This is great to have if you are someone who is trying to stick to a very specific theme for your music room!
The build of the actual hanger isn't anything too fancy or complex. The yoke cradle design has been curved to cradle the guitar headstock, while also being able to swivel (swivel yoke) in order to be able to hold non-symmetrical headstocks.
Gator Frameworks also has the inside of their hanger rubberized in order to protect the finish of your guitar. One thing a lot of users really enjoyed about the build of this mounted guitar hanger is the amount of distance Gator Frameworks put between the wall and the guitar, which means that there is a less likely chance that your instrument (and your wall!) is going to get scuffed up if your guitar knocks against the wall accidentally.
While this may also seem like another very basic design, Top Stage added two discs on the hanger will prevent your instrument from slipping down (and potentially falling) if your guitar is bumped into.
The materials that went into the creation of this wall mount are of the highest quality, and there is foam padding on the tubes of the hanger that is soft enough to not leaving any markings on your instrument if your guitar does happen to slip a bit.
Those guitar wall mount discs that we were talking about earlier are also made up of the same padding that we were just talking about.
While this is an extremely affordable hanging system that is incredibly efficient, this wall hanger works best for those musicians that aren't interested in purchasing an expensive full-on complex mechanical model and are still looking for a wall hanger with a little bit more security than your average run of the mill guitar wall hanger.
The Hercules GSP38WB Mountable Guitar Wall Hanger with Auto Grip System is the wall hanger you're looking for if you're interested in a wall hanger that is a couple of steps above a simple wall hanger. Compared to a few other hangers on this list, the GSP38WB wall hanger has a much more mechanical appearance (vs the yoke appearance) than the other wall hangers that are listed here.
While the physical appearance of this wall hanger is different than several other of the other wall hangers on this list, it still has a similar mounting system that most of the other wall hangers have, which is having the wall hanger bolted to a piece of solid hardwood.
What sets this wall hanger apart from the rest of the hangers that we have on this list is that the Hercules GSP38WB has adjustable claws that allow you to securely fasten your instrument in place and to prevent your instrument from slipping out of the hanger.
Some musicians may see the claw grip as being 'too secure', the Hercules hanger is a great hanger to choose if you're going to be hanging your instrument in an area where a lot of people walk around. Just in case your instrument is accidentally bumped, the claws on this wall hanger will prevent the instrument from falling out of the wall hanger and onto the ground.
Further Read: Hercules Guitar Stand Review & Guide.
For something a bit different, the String Swing horizontal rack is a great display option if you are limited on vertical space. It's certainly unusual and not something you see every day. Also why it's cool!
While it's a step up in price, it's a quality rack from a reputable brand (you can tell I like String Swing, huh?). Setup takes about 8 minutes are so, plus some tinkering with the arms to get the desired angle and aesthetic.
You can pick this horizontal hanger up at Amazon here.
String Swing also makes a really elegant and ergonomic wall rack, perfect for displaying guitars at home or for a tasteful studio storage solution.
The fixture set comes standard with the steel arms and extra padding for the guitar neck attachment.
String Swing advertises about a 10 minute setup. It took me about 15 minutes, but that's because I messed around with drill bits for a bit. I highly recommend using a power drill, as a hand screwdriver would be considerably longer setup and likely not as secure.
You can pick this wall rack kit up at Amazon here, but also be sure to check eBay here for frequent discounts.
7. Wolfride Guitar Hanger Wall Mount with Safe Slot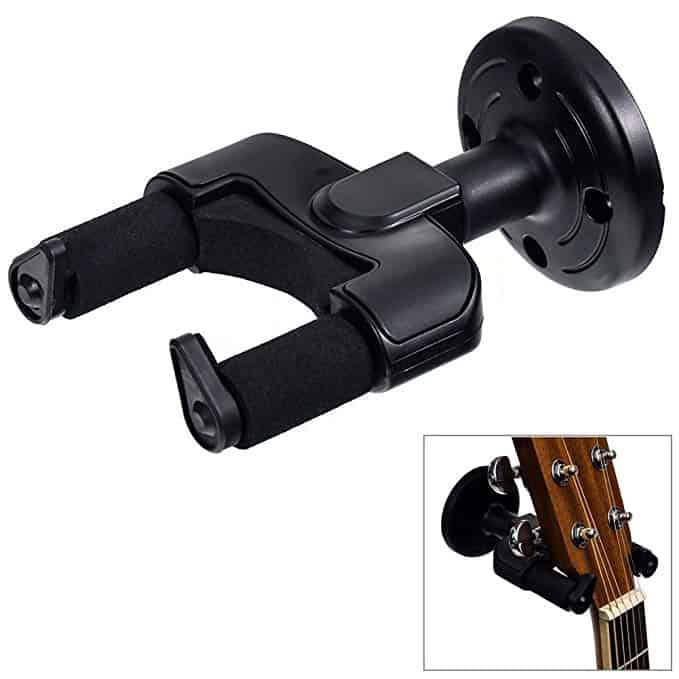 Now, if you're looking for something that is a little bit more complex and a little bit more secure, the Wolfride Guitar Hanger Wall Mount with Safe Slot comes is probably going to be your best choice.
Unlike all of the other guitar wall hangers that I have listed in this post, the Wolfride Guitar Hanger doesn't have a solid block of wood that you use for wall mounting. Instead of using wood for the base of the wall mount, this wall hanger uses a metal steel hanger base that has four holes that you insert mounting screws into (all the screw pieces come with it).
The weight capacity for this wall mount is weighted at 44 pounds, so even if you want to have your heaviest guitar (like a bass guitar) hang on this wall mount, your instrument is going to be safe. There are also two hooks on this wall hanger that are used to lock your guitar into place and keep it from falling out of the hanger.
While this wall hanger does come with these extra features, it doesn't really cost all that much extra in comparison to the other models that we have listed here. In my opinion, if you can afford a few extra dollars for a wall hanger, I would highly recommend using this model. On Amazon, the Wolfride Guitar Hanger Wall Mount with Safe Slot is around $10.
Best Multi Guitar Wall Hangers
If you don't necessarily have the time, space (or studs) to hang multiple individual guitar holders, an all-in-one guitar hanger for multiple guitars is a great option.
If you are leaning in this direction, check out these quality wall mounted holders for multiple guitars:
Levy's Slat Strip Hanger: Holds up to 5 guitars and features adjustable spacers to accommodate different guitar sizes. Find it at Sweetwater here.
String Swing SW5RL-B-K Guitar Keeper: Similar to Levy's but can position up to 5 guitars at angle to save space. Find it on Amazon here.
Red Barrel Guitar Wall Decor: If you are going for more of a cool aesthetic look, this 3 guitar hanger is functional and stylish. Find it on Wayfair here.
Guitar Stands vs Guitar Hangers
You may want to consider investing in a good freestanding guitar stand as well. These are ideal for situations where you need to be mobile (travel guitar stands), OR for studios or performance settings where you need to frequently change instrument staging or positioning.
Further Read: Our Guide to the Best Guitar Stands.
Why Do You Need A Wall Hanger for Your Guitar?
Depending upon your personal preferences, some people in the guitar community really don't feel comfortable using guitar hangers or a guitar wall mount and prefer using guitar stands. If you happen to be one of those people who feel more comfortable using a guitar stand rather than a guitar wall hanger, know that there isn't an absolute need for having a guitar wall hanger.
However, having a wall hanger to store your guitar in can be incredibly beneficial. Keeping your guitar hung up on the wall helps to keep your guitar safely away from small children, animals, and any spouts of clumsiness you may have.
If you're someone who gets up a lot and moves around when you're playing guitar, storing your guitar on an unstable guitar stand or a chair (even worse) can increase the like hood of you dropping your instrument and either breaking your guitar or damaging the finish (depending on how far the guitar has to fall until it hits the ground).
Keeping your guitar stored on a wall hanger serves as an easy way to store your guitar if you need to put it down in a rush, but also makes as a great way to keep your instrument away from the clumsiness of you, your pets, and your children.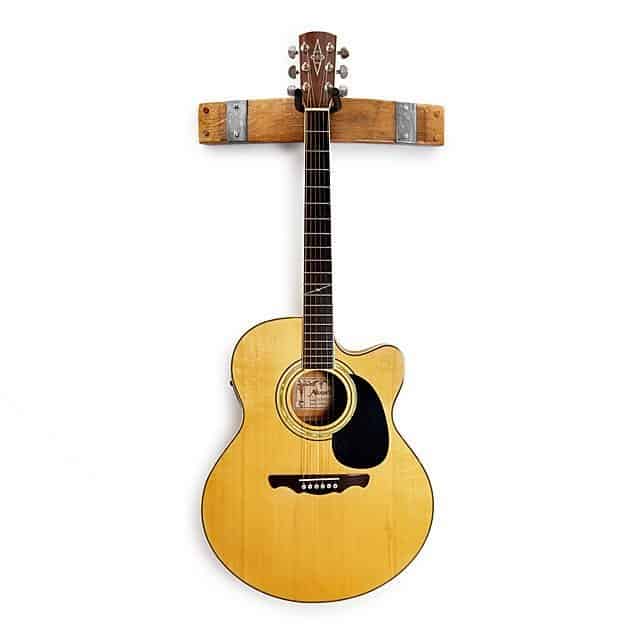 However, storing your instrument on a wall hook also serves a great option if you are looking for a way to store your guitar for long-term and maybe even use it as a decoration piece!
While you may have some of your other musician friends may have told you about how insecure wall hangers are, you should know that wall hangers are only insecure if they aren't installed properly.
Can I use a wall hanger if I don't have an acoustic guitar?
No matter if you have a bass guitar, an acoustic guitar, an electric guitar, a banjo, or an electric-acoustic guitar (any guitar size or different shaped guitars), you will still be able to use your average sized guitar wall hanger.
Depending on what your budget is, you can choose between a standard inexpensive guitar mount or invest in an expensive self-locking wall hanger. A self-locking wall hanger will close the grip around the neck of your guitar when you mount it, which adds an additional layer of safety, as you will have to physically lift your instrument to be able to unlock it.
There are also models available that hold your guitar by the strap pin, which allows you to style your instrument on your wall aesthetically!
If you have a vintage guitar, I would highly recommend re-thinking keeping your guitar on a wall hanger. The absolute safest way to keep your guitar is in a well-built hard case with a humidifier or a de-humidifier, depending on the type of environment your guitar lives in.
However, storing your guitar on a wall hanger is the next safest place to keep your instrument, especially if you take care to monitor the environment of the storage room you're using. Take time to ensure that you keep your storage room at the perfect level of humidity and using a wall hanger will be the best way to store and show off your guitars!
While storing your guitar on a wall hanger (neck or yoke or cradle) does serve several benefits to the life and well-being of your guitar, there is the obvious risk of your guitar dropping or the wall hanger pulling out if you don't have the hanger properly installed. The easiest way that you can avoid this risk is by purchasing a wall hanger that has outstanding performance.
Today, I have the top five best performing guitar wall hangers that have been positively reviewed by thousands of people in the guitar community that are certain to hold onto your guitar firmly and prevent a large amount of different accidents.
Let's hang it all up…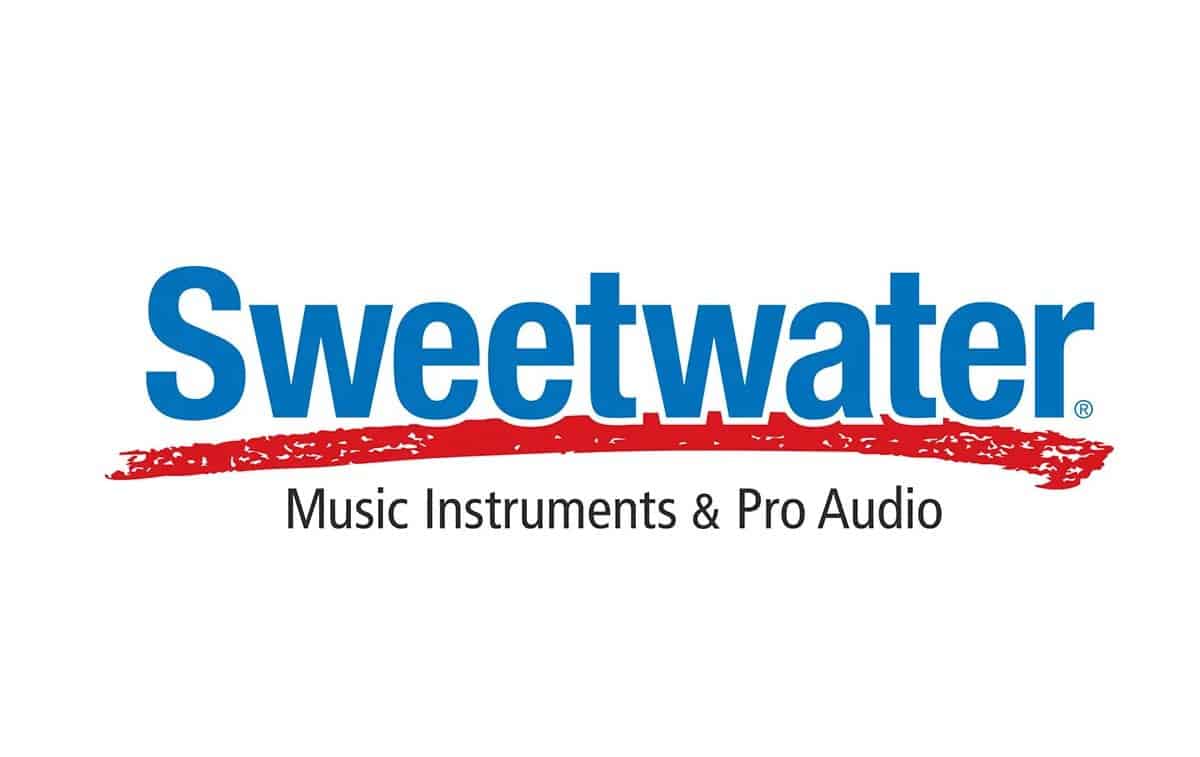 Final Word on the Best Guitar Wall Hangers
Just as an important tip, if your guitar has a nitrocellulose lacquer, your guitar isn't going to be compatible with your average run of the mill wall hang solution. All you need to do to make your instrument compatible with a basic wall hanger is add an extra layer between your guitar and the hanger. You can just use a cotton cloth as the extra layer, and you will be all set to go.
Editor's Choice
Why I Prefer the String Swing Hanger | Amazon
The simple, yet exceptionally well-designed String Swing studio guitar hanger is definitely my GO-TO choice here. The solid, durable construction and simple installation makes it hands-down the best option in my opinion.
Buy at Amazon
Buy at Sweetwater
We earn a commission if you make a purchase, at no additional cost to you.
09/24/2023 03:51 am GMT
For all guitar hanging, I would highly recommend that you try to install your hanger into a stud. If the stud in your wall is already taken up or you can't access it, I would highly recommend purchasing superior drywall screws, bracket and drywall anchors when you go to install your wall hanger.
The wall anchors and screws will help to keep the weight of your instrument causing the hanger from pulling out of the drywall (drywall anchors), which would cause your guitar to come crashing down on the floor. While this would be an additional cost, it's better to be safe than to be out of an instrument!
I hope that in the five wall hangers that I recommended in this article, you have discovered one that fits best with your budget and personal needs!
I did recommend a few expensive options for those of you who are interested in investing in the safety of your instrument, but I also recommended a few affordable options for those of you who are interested in keeping your costs down or are just getting started.
Whether you have an electric guitar or acoustic variety, large neck or small neck, there's a wall hanger (bracket, cradle or fork arms) available for your setup.
Side Note: You can also use these wall hangers for other stringed instruments like violins and cellos if you have a few (or run a studio – for example).
Bottom Line: If you are still stuck, go with the more affordable price (and best selling) versatile String Swing wall hanger here
Hopefully, you've found some useful information in this post that helps you figure out which guitar wall hanger is going to be the best for you to use!
Further Reading on Classic Guitar Options: