In today's Hercules Guitar Stand Review, we'll explore one of the most prominent guitars stands on the market. The Hercules GS414B Guitar Stand is hugely popular and has been used consistently by musicians around the globe since its release. But is it actually any good?
It's quite ironic how much damage your prized guitar can sustain while not even being played. The most common way that we hear about guitars getting damaged is being knocked over while at home.
While there are plenty of options available to you, investing in a premium stand can save you having to fork out for repairs further down the line.
In this article we're going to be exploring the world of guitar stands, paying particular attention to the aforementioned Hercules GS414B. We'll look at its main features, the pros, and cons, answer some frequently asked questions, and even give our thoughts on some alternatives that we think you should be considering.
But before we get into it, let's have a look at an overview of the Hercules GS414B.
| | |
| --- | --- |
| Type | Guitar stand |
| Warranty | Lifetime |
| Frame | Tripod |
| Optional accessories | Carrybag, lock system |
| Color | Black |
| Price | Check here for the latest price |
Core Features of the Hercules Guitar Stand
Hercules has a reputation for developing strong and secure stands for several instruments. We found that this was also the case for the GS414B with its core features revolving around its strength and stability.
Strong and Stable
Upon constructing the stand it becomes clear that this is a cut above the majority of cheaper guitar stands. Its base is made up of a rigid tripod that attaches to an adjustable reinforced neck. While putting various components together can often compromise stability, this is not the case here.
The adjustability in the neck means that this stand is suitable for use with a wide range of guitars, from smaller travel-sized ones to larger basses. Due to its design, it remains stable regardless of the size of your guitar.
It combines aspects of floor and wall mounted stands well. The ease of use that comes with a floor stand and the sturdiness that comes with wall mounting come together well in the GS414B.
Easy to Setup and Use
For some people setting up fiddly stands can be a pain and may put them off using one altogether. Thankfully with the Hercules, this isn't an issue as we found the stand to be simple to assemble.
Compared with other tripod-style stands, this was very easy to use. It took slightly longer than it would if using a traditional A-frame stand, but the extra time is worth it when you consider how much more secure this option is.
The only thing to watch out for is when setting up for the first time you will have to judge the height of your guitar. However, once you have the neck set to the correct position removing and replacing your guitar is straightforward.
Safe and Secure
We've spoken about how stable this stand is but it also adds an element of security when storing your guitar. It isn't going to damage your instrument at all when set up correctly, something that can be an issue with cheaper models. It features rubber padding made using nitrocellulose anywhere that comes into contact with your guitar, meaning any expensive finishes won't be getting scratched.
It is also much harder to tip over than many rivals' stands. Due to its weight and lower tripod design, it stands firm when nudged or bumped. Something very important is storing your guitar in a room where people may walk past. When testing, we found it quite difficult to knock the stand over when it had a guitar resting in it.
Lifetime Warranty
Another excellent feature of the Hercules is its lifetime warranty. Spending that little extra on quality is made even more worthwhile when you know that any defects will be sorted by the manufacturer. The industry standard for guitar stand warranties is around 2 years so for a product to be covered for its lifetime adds real value in our opinion.
Versatility
This is a highly versatile guitar stand. Its neck is adjustable to accommodate almost all guitars. During testing, we tried it out with both smaller and larger models which worked well. Alongside the adjustable neck, a large clasp secures your guitar in place. Due to its size, it fits almost all neck profiles, the only ones that we felt did now work were 8-string models.
Overall Quality
The overall quality of the Hercules GSB141B is excellent. It sits at a slightly higher price point than many other guitars that stand on the market but it sets itself out from the rest when it comes to stability and reliability. It has a good weight to it and feels very secure when put together.
Even after taking it apart and reassembling it multiple times the components still felt well made and held the stand together. This quality is a bonus when you consider that it is covered by warranty for its entire lifespan.
How Does the Hercules Perform?
During testing, the Hercules performed as we expected it to. Due to its solid construction using premium materials it felt stable when assembled. Without a guitar resting on it, it felt much sturdier than your typical A-frame stand with the lower tripod section and taller neck profile working well together.
We tested several different shapes and sizes of guitars to assess the effectiveness and to also identify any potential weaknesses in the Hercules design.
The first was a standard 6-string electric guitar. As a run-of-the-mill model, we expected this to work well with the Hercules. The stand didn't disappoint and felt secure with the guitar resting on it. We tried rocking the stand a few times to see how much it could take before falling and it performed admirably. The force needed to knock it over was far more than you would expect it to experience while storing guitars day-to-day.
We then moved on to trying this stand with an acoustic guitar. Much like with the electric guitar, we expected this shape to fit well due to its popularity. In this case, it did and although the acoustic model features a slightly larger body, the fact that your guitar hangs from the neck means this wasn't an issue. Again, the Hercules felt safe and secure.
We then decided to check out the adjustable neck feature by using the stand with a longer bass guitar. The yoke was simple enough to move and despite making the neck much longer, it still felt secure enough to house expensive guitars. There was slightly less tolerance when rocking the stand, but that is to be expected with a longer instrument.
Finally, we tested the stand with a larger neck profile. Unfortunately, this is where the Hercules came unstuck to a certain extent. While 6 and 7-strings seem to work fine, if you have an 8-string guitar then you'll struggle fitting it onto this stand.
The yoke that is used to grip the neck and suspend the guitar in the air just wasn't quite large enough to accommodate the wider profile. For this reason, we would not recommend purchasing one of these if you intend to use it with an 8-string.
Pros of the Hercules GS414B Stand
When you're on the hunt for a new guitar stand there can often be an overwhelming array of specifications and design features to take into account. Here we'll look at the most important pros you need to consider when looking at purchasing one of these stands.
Protects Your Guitar
The pros associated with this guitar stand center predominantly around its stability and the protection it gives your instruments. This is the primary role for any stand and the Hercules lives up to its namesake.
It offers fantastic protection against any accidental damage that may occur while storing your guitar at home. Accidental bumps and scrapes are avoided while the hanging neck yoke looks sleek and stylish while securing your guitar.
Price
Although Hercules is a premium product, it does not cost a small fortune. For under $60 there are not too many better and although this is slightly more than you would expect to pay for a basic stand, the protection that it offers is easily worth it. Once you've tried an upgraded stand you won't want to go back to your typical A-frame.
Warranty
Hercules offers a lifetime warranty on this product. This is a huge plus as it means any defects that may occur are covered, no matter how long you've had it. As we mentioned, the industry-standard warranty length is around 2 years so for Hercules to offer theirs for life helps set their product apart from the competition.
Versatility
The GS414B is highly versatile. It fits all types of 6 and 7-string lead guitars, as well as acoustic and bass models. Just be careful if you're wanting to use it with an 8-string guitar as their necks can be too wide to fit.
There is also no problem having a longer than the standard guitar as the neck on the stand is fully extendable and adjustable.
Cons of the Hercules GS414B
There are, of course, some downsides to the stand. Here we will outline the main ones that we think you should be aware of before purchasing.
Lack of Support for Wider Necks
This was the only major downside that we came across during the testing. If you have a wider neck on your guitar then you will struggle to use it with this model. As we mentioned in the previous section, this is particularly an issue for 8-string instruments. We would recommend trying before you buy if possible.
The Rubber Can Deteriorate
Over time there have been some instances where the rubber elements used to protect the neck of your guitar have deteriorated and left residue on instruments. This is caused when the stand is left in direct sunlight for extended periods. Then, over many years, the deterioration has occurred.
Avoiding leaving your guitars in direct sunlight is a simple way to mitigate this. Aside from protecting the rubber on the stand, it will also protect your guitar its self. Make sure you read all about how to look after your instruments properly.
What are the Best Alternatives to the Hercules CS414B?
The D&A Starfish+ works in much the same way as the Hercules. It secures your guitar via a neck yoke and suspends it while its stability is delivered through its base and reinforced frame. Interestingly, whereas the Hercules features a 3-legged tripod design, the Starfish+ benefits from 5 legs for added stability.
The Starfish+ actually comes in two sizes. One is suitable for active instruments (electric guitars etc) and one is designed for passive ones (acoustics). They have slightly different shapes so make sure you order to correct one for your guitar.
Although the Starfish+ benefits from additional supporting legs and a gravity-activated locking system, it does come at a higher cost than that of the Hercules.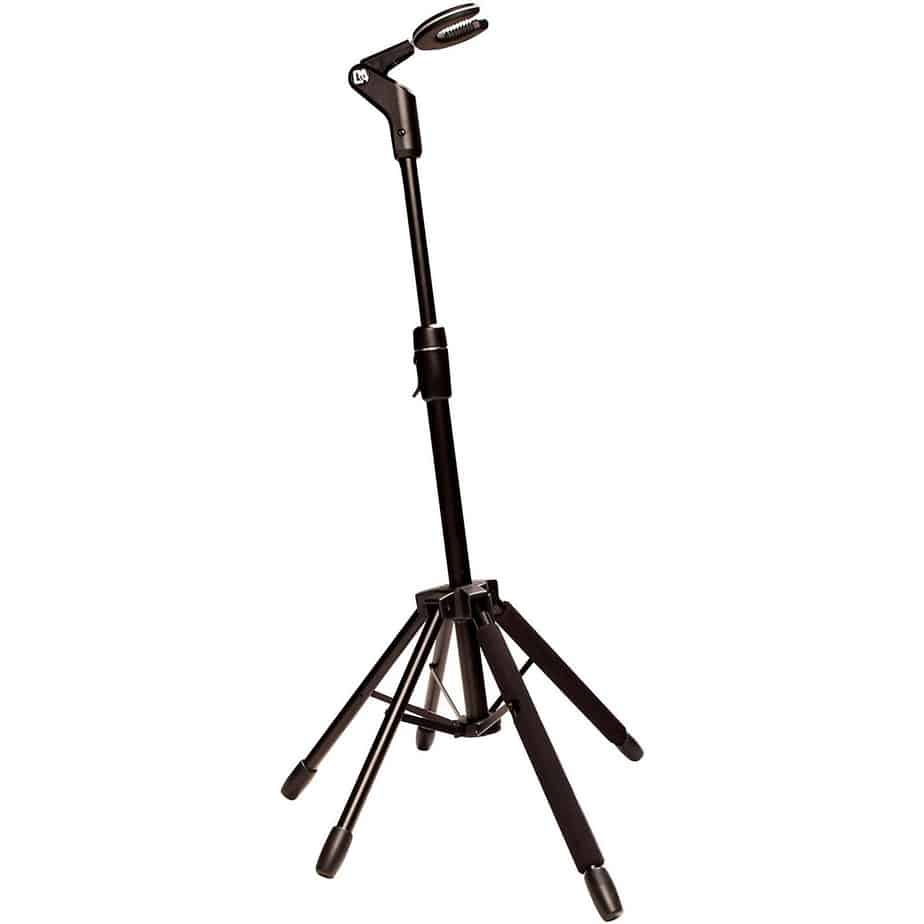 The Ultimate Support GS-100 offers a budget-friendly alternative. Much like the Hercules, it securely holds your instrument in place while offering protection from everyday accidents. It features padded legs, a safety strap, and a secure yoke. Designed to fit all shapes and sizes of guitar, the neck is height adjustable and provides a similar amount of versatility to that of the Hercules.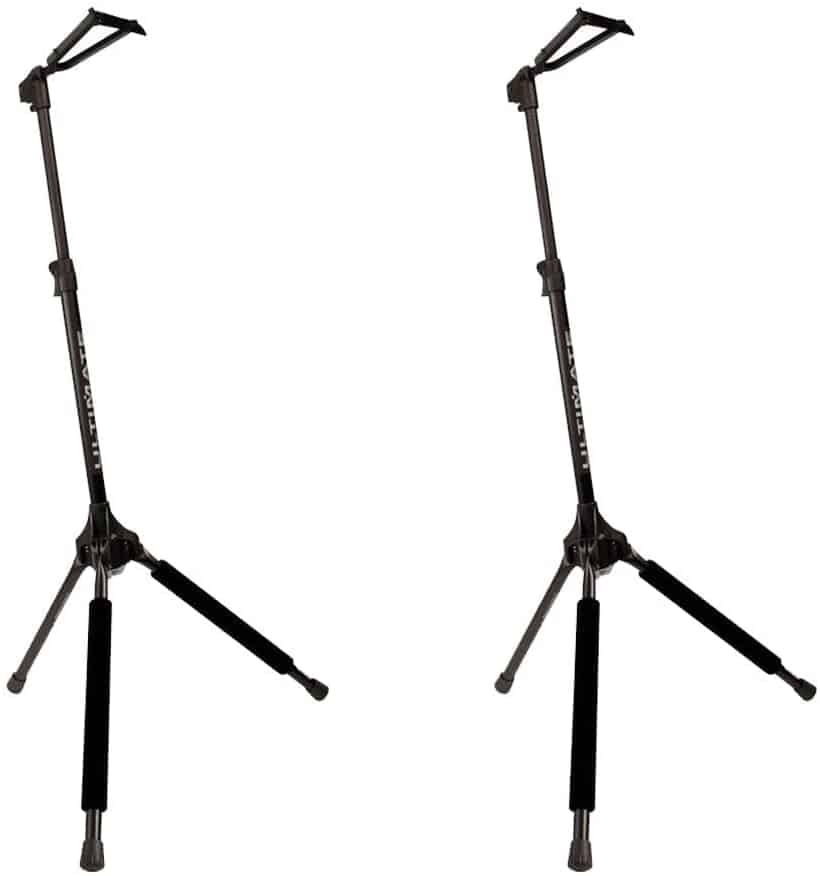 You can also show your guitars off using Fender's Deluxe hanging guitar stand. Again, this is a similar design to that of the Hercules and relies on your guitar hanging from a yoke. The contact points are also padded for a similar level of protection. Pricewise these stands come in at slightly less than the Hercules.
Frequently Asked Questions
Question: Is the Special Formulated Foam (SFF) Safe for Nitro Finishes?
Answer: Hercules says that they have conducted extensive research into the effect their SSF has on all of the main guitar finishes. According to them, they have had no adverse effect on Nitrocellulose finishes, although some people claim to have had their finishes spoiled due to being in contact with SFF for too long.
Hercules also acknowledges that each guitar manufacturer uses a slightly different formula for their Nitro finishes. Therefore it is impossible to test them all.
We would highly recommend researching your particular guitar's manufacturer and whether the SFF may react, should you have an instrument with a Nitro finish.
Question: What Do You Do if a Part Breaks?
Answer: If you experience a fault with your Hercules stand and need to claim on the warranty, contact the distributor that you purchased the stand from. They will be able to advise and contact Hercules directly for you.
Question: Does Hanging a Guitar by its Neck Cause Damage?
Answer: The neck will not be damaged. Storing a guitar by hanging from the neck is a tried and trusted method and will not result in any warping or damage. In fact, the pressure put on your guitar's neck from gravity is far less than it experiences when the strings are tightened.
Our Final Thought on the Hercules GS414B
Overall this is a very good guitar stand. It provides an excellent way for you to store your guitar safely, without the need for wall mounting any brackets. The Hercules GS414B strikes the right balance between affordability and quality with the use of premium materials evident.
The stand is also very well put together and promotes a feeling of solidity and sturdiness. There is a reason that Hercules has a reputation as one of the top guitar stand manufacturers and they certainly live up to it here.
While storing your guitar on a stand is advisable if you are picking them up and playing frequently, if you are looking for longer-term storage solutions then we highly recommend looking at guitar cases. Preferably a hard shell or even a flight case as these will provide the ultimate protection for your instrument
Latest posts by Jodie Chiffey
(see all)