So, maybe you just ended up purchasing the guitar of your dreams and you're unsure of how to choose the best guitar case for your instrument. Keeping your instrument safe is the most important function of your guitar case, but sadly, too many guitar cases on the market don't protect the instrument properly.
Today, you're going to learn all about how to make an informed decision about purchasing a new guitar case, how to properly treat your guitar case, and all of the great options that there are to choose from in the guitar case market!
What is a guitar case?
In case you didn't know, a guitar case is a hard case that comes with inserts of foam on the inside of the case that help to ensure the safety of your instrument from drops, changes in temperature, changes in humidity, or any accidental bumps.
A lot of beginning musicians tend to start off with a gig bag, which is typically made from a durable fabric (like ballistic nylon) and a little bit of foam.
A gig bag will keep your instrument from being scratched while you're carrying it and is a lot lighter than a hardshell case; a gig bag also typically tends to have some pockets, which can allow you to carry learning books, fingering charts, a pencil, picks, a tuner, or anything else you may need.
If you already happen to have a guitar case, always ensure that you carry the case of your guitar with the lid (or the zipper) facing towards your body, just in case it ever opens accidentally.
If you keep the guitar facing towards your body, you're less likely to drop your instrument because the lid will hit your leg/body rather than just flying open and dropping to the ground. The latches on a guitar case are most likely never going to just pop open, but it has been known to happen every once in a great while.
The Problems with Buying All-In-One Kits
Maybe you ended up purchasing a complete beginners kit for your guitar, which can typically be found on Amazon or eBay. These kits include the purchase of your guitar, as well as other guitar accessories, and a gig bag or a case of some sorts. These cases and gigs bags are extremely cheap but effective enough to work for a small period of time.
If you pay more money for your guitar, some lines of manufacturers, such as Les Paul, will include a hardshell case that will perfectly house your new instrument; however, these guitars are more aimed towards advanced musicians, as they are extremely expensive instruments.
If you end up purchasing a used guitar, it's highly unlikely that you'll receive any case at all.
If your purchase does end up coming with a case, it's highly unlikely that the case is of any quality at all. More than likely, the case will be a soft nylon gig bag that comes with a single pocket and a single strap. This gig bag would be perfect if you just plan on running your instrument to lessons and back, as it's not really a special case.
However, if you're looking to do more with your guitar, looking for extra protection, any special features, or a case that's better suited to your guitar, you're going to have to purchase a case separately.
How to buy a guitar case
Buying a guitar case is one of the very few situations where it's extremely important to know and understand what type of guitar you have. Just to generalize in this situation, there are typically four categories there are when it comes to the shape of electric guitars:
| | |
| --- | --- |
| Telecaster/Stratocaster- The Telecaster and the Stratocaster are technically two different body shapes, but they tend to overlap when it comes to the purpose of the shape of the guitar. This includes Yamaha, Super Strat, Charvel, Yamaha, Ibanez, Jackson, and all of the other variants that are put on the market. | Les Paul- This includes guitars with thicker bodies, shorter necks, and headstocks that are angled, which is what makes this type of guitar require a special type of guitar case. Gig bags are sometimes flexible enough to accommodate these special types of guitars, but typically, you're going to need a guitar case that has specifically made from Les Pauls. |
| Offset- This will fit a less uniform category of guitars that have asymmetrical bottoms and tops; this includes guitars such as Explorers, BC Rich guitars, Firebirds, Jazz masters, and Jaguars. | Semi-hollow body/hollow body- This type of guitar case can hold a large variety of guitars, such as Grestch Electromaic, Sheraton, Casin, Dot styles from Epiphone, and more. A large gig bag will do the same job as a case for a semi-hollow body or a hollow body guitar. |
A lot of musicians may think that spending a boatload of money on a guitar case, as many musicians are simply interested in making their instrument more visually appealing rather than protecting their supplies.
Even if you're a beginning guitarist, you probably spent some time looking for the coolest looking beginner-level guitars. You may have already spent a good amount of money on purchasing visually appealing amps, pedals, and pedalboards.
But, in all honesty, there is a lot of stuff that isn't as sexy as pedalboards and cool-looking amps that go in the entire guitar experience.
Cables, power cords (not power chords), strings, picks, guitar cases- these are all things that aren't necessarily exciting to look at or think about and most people won't care about unless you bring it up in a discussion with a fellow guitarist.
The people who listen to your music also won't care about the safety of your instrument or how you transported the guitar safely to the venue. However, as a musician, you should care about the overall well-being of your guitar.
The goal of this article is to recommend cases that are a viable option for people of different financial backgrounds, instrument choices, and lifestyles.
We do happen to understand that a guitar case that costs $600 is going to be a much better option than a guitar case that costs $50, but we understand that not everyone has the same circumstances or budget to afford a pricey guitar case.
Keep in mind that the best guitar case for your personal needs isn't going to be the same option for other people in the guitar community and we did our best to provide you with different guitar case options at different price points that are high quality, highly respected, and will do a great job of protecting your instrument.
Gig bag vs hard case
There isn't a definite answer here, because like with all other parts of the entire guitar experience, it all just depends on what your personal needs are.
However, there are a few basic guidelines that you can follow along with to determine whether a hard case or a gig bag will be better for your personal needs. First, you should ask yourself the following questions:
How often do you travel with your guitar?
How do you transport your guitar?
If you happen to be someone who does a lot of traveling by plane, you're going to want to get yourself a hard case. However, if you're more of a person who does a lot of traveling via van or bus, a hard case will help to ensure that you keep your guitar case, which is your ultimate goal at the end of the day.
At the end of the other spectrum, if you just do local gigs or do some rehearsals in your city, you travel by public transport, or you just carry your guitar everywhere, a gig bag would actually be better for you.
You can put a gig bag on your back and carry it like a backpack, it's extremely lightweight, it's typically cheaper than a gig bag, and it's a lot easier to carry around with you.
Don't let that make you think that hard cases are bad, though! Hard cases are usually the choice for most guitarists, no matter what their experience level is because hard cases have a lot of benefits compared to gig bags.
Hard cases can help to maintain a consistent level of humidity inside of your guitar case, which is imperative if you want to protect your guitar against cracks or warping. Hard cases also protect your guitar way better from water, temperature changes, and other atmospheric elements.
What should I look for in a gig bag or a guitar case?
If you're looking into a guitar case, your guitar case should physically feel heavy. There isn't an exact weight requirement that your guitar case should meet, however, you should feel a bit of weight to the case when you go and pick it up.
Your case should feel as if it's made from solid wood, even though it's most likely going to be made from a form of a laminate. If your guitar case ever feels very light or flimsy, the odds are that the case isn't going to be able to withstand any strain that you're going to be putting it through as s touring musician.
You should also look into getting a guitar case that comes with a rubber seal, as the rubber seal will ensure that no water will enter your case; the rubber seal also helps to insulate our instrument from extreme changes in humidity and temperature.
Drastic and extreme changes in humidity and temperature have an extremely destructive effect on any instrument, but especially guitars. Acoustic guitars are much more susceptible to the damage caused by these changes, like cracks or warping to the structure of the guitar.
Extreme changes in temperature and/or humidity can also damage your setup by changing the action of your guitar (the distance between the strings of your guitar to the neck of the guitar) and messing with the intonation of your instrument (how in tune fretted notes are on your guitar).
Hardshell guitar cases
Hardshell guitar cases are much strong and much more reliable than gig bags; however, their biggest downfall is their weight and their practically. If you're a musician who travels to gigs that require a lot of travel, a hardshell case is a must if you really want to protect your guitar.
However, musicians who are traveling to local gigs will be better off with gig bags. Take into consideration when looking into a hard shell case that:
TKL 2875 LP Style Electric Guitar Case
TKL is one of the most pervasive instrument case manufacturers in the world. With TKL's 2875 LP style electric guitar case, this company utilized Durahyde to ensure that the case itself was extremely durable, while also being resistant to changes of humidity and temperature in order to protect your guitar at all costs.
This guitar case has a molded handle, steel-plated hardware, thickly padded plush interior that's been contoured to fit the shape of a guitar to a T, while also including a traditional neck support system, which is great if you happen to play Les Paul style guitars, as these guitars are extremely fragile around the neck.
TKL also provides a limited lifetime warranty with the purchase of this guitar case and a warranty to guarantee the case to be free from a manufacturer error.
This Gator polyfoam takes the perfect combination of a hard case and a lightweight case to produce a case that offers protection against any potential damage, while also being lightweight enough to not be a burden to carry.
The biggest downside to this guitar case is that the inside of the case isn't tightly molded as some of the other guitar cases on this list, so it's more likely to fit your guitar unless you happen to be someone who has a large hollow body instrument.
However, Gator does happen to make guitar cases specifically for Les Paul, bass players, Strats, and Teles. You would choose this guitar case if you're not looking for a hard exterior, but you're still looking for a rigid frame to support the delicate pieces of your guitar, such as the neck and the headstock.
If you're on the hunt for a bargain, the Chroma Cast CC-EHC is one of the best and unique hard cases on this list. The Chroma Cast CC-EHC gets a lot of attention for its interior pocket to hold additional accessories in.
This additional interior pocket allows you to hold additional emergency supplies such as extra strings, extra picks, a backup tuner, and other accessories you need to play guitar. This pocket is great to have if you plan on being a musician who happens to travel a lot.
Most Stratocasters and Telecaster style guitars fit inside of this case, which is pretty rare to find because most budget cases aren't large enough to fit popular body styles and tend to either be too big or too small for commonly styled guitars.
Read our full guide on how to find the best Telecaster Guitar Cases.
There are chrome latches on this guitar case that are extremely sturdy, which also adds a bit of a cosmetic appearance of the guitar case; there is also a molded handle which will help relieve some pressure on our hands if you have to carry the guitar case for a good period of time, a plush interior with extra padding for the bridge and the neck of the guitar, bumpers on the sides and the bottom of the guitar case to reduce the amount of strain that would be placed on your guitar if the case ever happened to be dropped on a hard surface.
Just looking at the price tag for this guitar case, it's absolutely incredible that this case offers so much to musicians.
ChromaCast CC-EHC Electric Guitar Hard Case | Amazon
Durable wood construction features plush lined interior with extra neck and bridge padding for full support. Sturdy chrome latches and bumpers on bottom and sides of case add protection and stability.
Buy at Amazon
We earn a commission if you make a purchase, at no additional cost to you.
09/24/2023 08:11 am GMT
Hoffee Custom Guitar Cases- $1,200 and more
If you're in the market for a custom-made guitar case, the Hoffee Custom guitar case is the guitar case for you. Some musicians do a lot of traveling and are constantly moving around, which means that their guitars are in need of some extra protection.
Hoffee is a company that produces custom-made guitar cases with custom-fitted carbon fiber cases that were literally built with abuse in mind. They're one of the most water resistant cases on the market, which is achieved by using a tight-fitting seal.
You can also choose the color of the exterior of your case, choosing from purple, green, white, red, blue, and gray; Hoffee also provides musicians with the opportunity to choose the interior colors, from the choices of gold, red, blue, green, and black.
This custom guitar case manufacturer also allows you to make additional purchases to go with your custom guitar cases, such as straps, different latching mechanisms, and Thinsulate insulation. This would really be the best case for you if you're in need of the best handmade case available on the market today.
If you're just looking for a hardshell case with some basic accommodations, the SKB Shaped Electric Hardshell case comes with molded plastic exteriors that are completely waterproof, which means that this hardshell case is much more prepared to deal with any sort of trauma that you're going to throw it's way.
This case even comes with TSA approved trigger release locking latches, which means you can fly with this case; these latches are extremely heavy duty and won't pop open if you happen to drop the case.
The interior of this guitar case has been created from molded EPS foam to ensure that the fit of your guitar against the case is extremely snug so that your instrument isn't bouncing around when you're transporting it; there is also a support system for the neck and the headstock of your guitar.
There is also one interior compartment on this guitar case and no shoulder straps, but the case is much cheaper than other case options we mentioned earlier that come with extra pockets and carrying straps, so it's really just a trade-off.
SKB Shaped Electric Hardshell - TSA Latch | Amazon
The SKB-FS-6 Shaped Standard Electric Guitar case has been modified to include trigger release locking latches with TSA accepted and recognized locks and also features SKB's injection molded cushioned rubber over-molded handle for a comfortable carry.
Buy at Amazon
We earn a commission if you make a purchase, at no additional cost to you.
09/23/2023 08:31 pm GMT
This will be the perfect case for you if you're interested in what the SKB has to offer but want a case that offers a more rectangular form.
While there is a $30 difference between this guitar case and the SKB guitar case, the Gator GTSA offers a small upgrade to the case.
SKB happens to shape their cases around the actual shape of an instrument, Gator GTSA has a rectangular shape that serves better for loading purposes; this way, the case of the guitar doesn't sit on an angle when it's laid on its side. This case is also TSA approved, so can fly with this case or just keep it with you on your local travels.
The latches on this guitar case are the exact same as the SKB, as both of these locks use a locking center trigger latch. The handle on the Gator GTSA is nicer than the one of the SKB and it's a lot more comfortable to carry around for a longer period of time.
You can choose a standard electric shape for Telecaster and Stratocaster style instruments, a case for Les Paul shaped instrument, SG, Semi-hollow, dreadnought, and classical (also known as ¾) style guitars. Gator also provides a deluxe case for a cheaper price tag, but they use old-style latches, as well as a regular plastic handle on this deluxe case.
Guitar gig bags
Gig bags are a much lighter and affordable option for your guitar. A lot of people believe that everyone should choose a gig bag for their guitar, just because gig bags are cheaper than guitar cases.
If you don't plan on doing a lot of traveling with your guitar, you don't have to pack your instruments into a van or a plane to tour, a gig bag may be the only thing that you need.
Keep in mind that there are many cheap and worthless gig bags out there, so pay attention to what you're buying and ensure that you're not just going for the cheapest option that you can find. Here is a list of things that you should take into consideration when looking to purchase a guitar gig bag:
If you have a ¾ sized guitar that you're not looking to overprotect, the Fender Urban Mini Strat Gig Bag may the perfect gig bag for you. The Fender Urban Mini Strat gig bag is easy to carry around, especially because it's so lightweight, which makes it a great bag to give kids or a beginning guitarist.
While the eleven millimeters of padding isn't going to provide your guitar with much protection, it is going to provide some protection against minimal exposure to water and any bumps.
Fender FEMS610 Mini Strat Gig Bag | Guitar Center
The 610 gig bag also comes with a comfortable two-piece handle and ergonomic air mesh backpack straps with easily adjustable ladder lock buckles, so you can comfortably carry your instrument without unnecessary physical strain.
Buy at Amazon
Buy at Guitar Center
We earn a commission if you make a purchase, at no additional cost to you.
09/23/2023 04:16 am GMT
If you're a musician who plays at gigs often, you're someone who is more than likely playing two guitars- one for backup and one you mainly play on. If you are bringing along with two guitars, one might as well go into a case to keep it safe while you bring it along with you.
For the Pro-Tec CF234DBL, you're going to be purchasing a guitar case with 25 millimeters of padding to help ensure the guitar is protected against the damage the outside world can provide, as well as any potential damage that could cause if the two guitars smash together.
Basically, you can store two guitars inside of this case, which can help to save you room in your instrument van and it makes carrying the two instruments around much easier. While this does get to be heavy at times, it makes carrying the two guitars around a lot easier and safer!
Protec CF234DBL Double Electric Guitar Gig Bag | Amazon
Protec's Double Electric Guitar Bag features a tough nylon exterior, thick padding, and reinforced headstock, bridge, and end pin areas. Other features include adjustable backpack straps, plenty of pocket storage, and long lasting zippers.
Buy at Amazon
We earn a commission if you make a purchase, at no additional cost to you.
09/23/2023 12:06 am GMT
You should choose this bag if you're looking for the best possible protection for your guitar without having to deal with a hard exterior. This is a pretty expensive case for a soft style case, but the Mono M80 Vertigo offers a good list of improvements that may make this case totally worth the cost to you.
The exterior of the case is comprised of Sharksin, which is a material that's been specially formulated for outdoor sports to resist any damage and to keep everything dry for water.
There is a layer between the inner line and the exterior layer that is lined with panels of ABS plastic in order to protect your guitar and your case from impacts, while there is also a large rubber insert that helps to ensure that significant protection is provided to the bottom of your instrument.
This case also has a specially designed device called the Headlock, which is a molded neck support system that helps to maintain the distance between your case and the headstock of your guitar, to prevent the headstock and the neck from breaking in your case, if you ever happen to drop your case.
The Mono M80 Vertigo comes in electric guitar size, dreadnought size, semi-hollow style, and bass style. You can also purchase the M80 sleeve from Mono for $100 less than the M80 Vertigo, but you'll receive less protection for your guitar for the lower price point.
MONO M80 Vertigo Electric Guitar Case | Guitar Center
The Vertigo features a fully redesigned Headlock neck suspension system. No strapping, buckling, or belting required. No extra steps. Just throw your guitar in and the neck finds a natural resting point in the base of the Headlock. Then zip the case up and the top section of the Headlock automatically clamps down over your guitar, holding it firmly in place.
Buy at Amazon
Buy at Guitar Center
We earn a commission if you make a purchase, at no additional cost to you.
09/23/2023 02:21 pm GMT
The name of this case is certainly a mouthful but can serve as a less expensive alternative to the Mono case we just talked about. The neck brace inside of the case is present with this case system, although the Reunion Blues RBCE1 use a strap of fabric to ensure that the neck and headstock stay in place.
This case also uses padding that is one inch thick, except on the bottom of the case, where there are a few additional millimeters of padding to add extra protection.
One great thing about this case is that it also has the backpack straps option, but you can store the straps away in a zipper pocket when you're not using the straps. The entire case is completely water-resistant, with extra attention being paid to the top and the bottom of the case.
There are also internal impact panels that can almost make this case seem to be more of a hard shell case than the Mono M80, with case options available for electric guitar, bass guitar, semi-hollow guitars, dreadnought style guitars, and small-bodied acoustic guitars.
This would be the perfect choice for you, as a musician, if you like the idea behind the Mono case, but it's just too expensive for your budget.
Guardian CG-220-E 220 Series Dura Guard Bag
This is a pretty inexpensive gig bag that will provide your guitar with decent protection for a long period of time if you're just traveling back and forth between local gigs.
The backpack straps on this gig bag are extremely convenient to have, as it frees up both of your hands to be able to carry an amp and pedalboard, so you're not having to make several trips.
The insides of this gig bag are lined and provides users with twenty millimeters of padding, as well as a neck strap; there are rubber feet on the bottom of the bag to ensure security when you're resting the bag against your amp.
The handles on this gig bag are extremely tough and comfortable to carry for long periods of time, which makes the extra $20 investment in this gig bag an excellent upgrade.
While the $20 price tag that comes with this gig bag is extremely inexpensive, this is a decent gig bag that has a few advantages over the cheap gig bags that you get when you purchase a beginner's guitar kit.
There are six pockets that have been playing on top of the ten millimeters of padding, with an additional set of picks and a guitar strap coming along with the purchase of the gig bag.
This gig bag will fit just about any electric guitar, acoustic guitar, or bass guitar. It's a little big for a classical guitar or a ¾ guitar, so if you're shopping around for a gig bag for either of those instruments, you're going to want to look around for a smaller gig bag.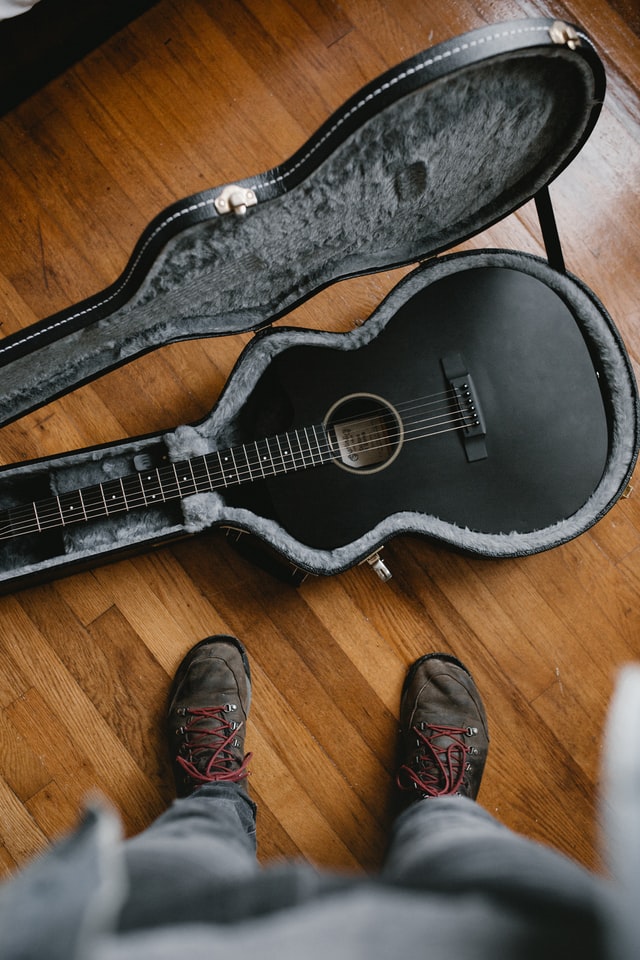 Conclusion
In case you aren't exactly certain on what you should be spending on a gig bag or a guitar case for your instrument, we'll give you a quick little guide to look at to let you know what the rough figures are that you should be spending when picking up your new guitar protector.
| | |
| --- | --- |
| A cheap gig bag- $20 | Decent quality hard case- $100 |
| High-quality gig bag – $200 | Top of the line hard case – $300 |
Keep in mind that these numbers are more of estimates, so you are always welcome to spend the amounts we've listed, but you should never spend more than the price tags we've mentioned.
When going shopping for your guitar case or your gig bag, you need to keep in mind what your personal needs are. Are you going to be doing a lot of traveling with your guitar? Is it a guitar that you use a lot? Or is it more of a backup guitar? Do you live in a humid area?
Do you plan no flying a lot with your guitar? What's your budget look like? These are questions you should ask yourself and write down the answers, to help yourself better understand what type of guitar case would be perfect for your instrument and your personal needs.
Also: Check out How to Find the Best Guitar Pedals
Latest posts by Guitar Space Team
(see all)