If you're a beginning guitarist, you've probably made this mistake of thinking that all guitar stands are the same. By assuming this, you probably just ended up purchasing the very first guitar stand that you see.
Or maybe you tend to be a cheapskate and you just end up purchasing the cheapest one you can find. I know when I was a beginner, that was the exact same thing that I did.
As I became a more experienced musician, I began to realize that one of the best investments that I could make was in my guitar stand. The biggest and most frustrating problem behind shopping for a guitar stand is that you can't always know which stands are the best stands and which ones tend to be the worst.
TL;DR: If you want the bottom line up front, these are my top 4 recommended options that work for most situations..
Now, let's get into talking about guitar stand models!
Best Overall Guitar Stand
Hercules GS414 Guitar Stand is one the most popular stands on the market; it has a $31.00 street value and comes with an option to adjust the height on the stand.
Another great feature that comes with the GS414B Guitar Stand is the auto grip system that ensures that any instrument (up to 33 pounds in weight) will be secure on the stand.
Read our full Hercules Guitar Stands Review here.
Best Multi Guitar Stand
If you're a musician who is constantly on the go and needs a stand that will keep your musical instrument nice and secure, the Fender Multi Folding 5 Guitar Stand is totally collapsible, making it perfect for transportation.
Fender really made sure to create a stand that can withstand some abuse, making it a great piece to have along with you while traveling in a band. This stand has a street value of $60 and comes with foam padding. This soft foam will protect your stringed instruments from unwanted scratches while they are in temporary storage.
Best Budget Guitar Stand
Hola! Music Guitar Stand
Fully collapsible AND adjustable with a sturdy tripod base, this is a great portable stand for guitarists on the go. It's also among the most affordable on the market (with these features).
Check Amazon Price
We earn a commission if you make a purchase, at no additional cost to you.
09/23/2023 07:56 pm GMT
This guitar stand from Hola features a collapsible stock with a tripod base. Fully adjustable, this is a great option for guitarists on the move, who still need something sturdy and stable when they get there.
I also really liked that this stand has a padded neck and yoke. Without this, it's easy to scuff and damage guitars over time, particularly along the more fragile neck area.
Best of all, this stand won't break the bank at just under $25 (as of this writing). A great budget pick that doesn't force you to sacrifice much.
Best Double Guitar Stand
There are some musicians who need more than one guitar with them while they're performing on stage. The double guitar stand holds two guitars at adjustable heights, which is great if you're playing a song in a different tuning, you need an acoustic guitar for a slow song, or you have a bass solo in the middle of your song.
This stand has a neck loop restrain and holds a wide variety of guitars. This stand doesn't fold up as small as other stand options do and if you happen to accidentally over tighten the plastic can lead to accidental breakage. Also, there is only a single rivet that keeps the top from spinning away from the yokes.
This guitar hanger securely attaches to your wall to keep your stringed instrument secured and safely out of the way; the yoke freely pivots to adjust to any guitar's headstock and can be adjusted to different neck sizes, so this virtually works for any guitar.
The biggest complaint that I have about this hanger is that it must be installed in a fixed location and the hanging style isn't ideal for everyone. These aren't really much use on stage, so if you plan on traveling with your guitar a lot, this isn't the right stand for you.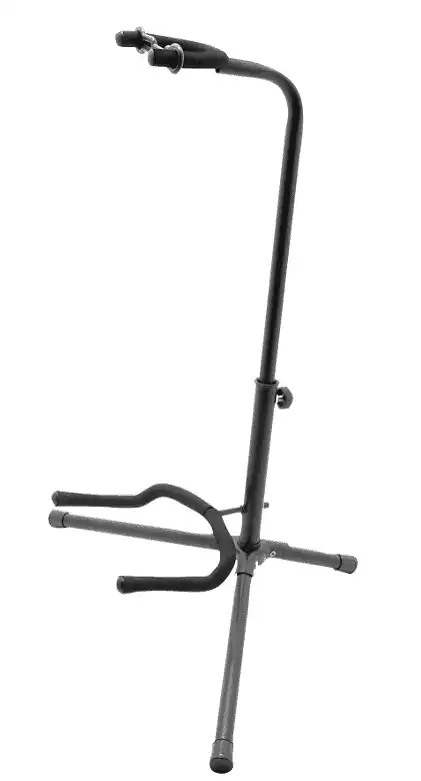 The On Stage XCG4 Classic Guitar Stand is the cheapest guitar stand in this list, with a street value of $10.99. This is a small, yet incredibly sturdy stand that will protect your guitar when you're not using it.
There is a velveteen rubber padding that's completely removable at the bottom of the stand in order to hold the body of your instrument. Besides the rubber feet, there is also a cradle on the neck that has a security strap that's also removable.
Another great perk that comes with this classical guitars stand is that it can be adjusted for height differences, which means that it's a great option for any guitar!
If you happen to be a musician who doesn't travel around with your instruments, but you have a collection of guitars, the Pro File Wall Mounted Guitar Hanger can hold your banjos, bass guitars, electric guitars, and acoustic guitars.
If you have children, pets, a small amount of floor space, or you're just clumsy, the Pro File Wall Mounted Guitar Hanger can keep your musical instrument safe from damage!
The Road Runner RRGS6 6 Guitar Stand Case is something that you would see on the road from a set of professional musicians; this stand case is lined with velour and provides more than just some coverage for your instrument.
When properly set up, the side of the stands protect the instrument from accidents, wile the leatherette snapping loops ensure that the guitar won't fall side ways out of the stand.
Six narrow bodied electric guitars or three acoustic guitars all sit comfortably into the guitar stand case, while the wide base of the case provide a great amount of stability. When it's time to put away your stand, it easily folds up into a 27 x 21 x 5 inch brief case.
The plush liner is the only padding that is offered for the guitar and even when this guitar stand is still fairly large, which may make traveling with is difficult.
This is an excellent stand for singer/songwriters that are stuck in a small corner of a coffee shop or a room, which will allow you to bring both a seat and a guitar stand with you no matter wherever you go. This is a stand that's marketed as only for acoustic guitars, but it also works for electric guitars.
This combines the need for a guitar stand and a seat for all of your performance needs and this stand collapsed into a flat easy storage option, with a removable back rest. The biggest complaint that a lot of people have about this guitar stand is that if it tips over, you chair will fall on top of your guitar; this stand isn't as effective if it's just used for a stand.
If you want a guitar wall hanger for your instrument, but want it to spruce up your décor and not take away from it, the Hand Guitar Hanger from Guitar Grip will really add to your collection.
The hangers have been designed after human hands! You can choose the color of your hands and decide whether or not you want your hands to appear to be slender, have veins protruding from the skin, or have blurry hands. How cool is that?
This is an ultra sturdy stand that's super compact and extremely difficult to tip, which makes it great to have around if you happen to have children or pets in your home. This stand is also easy to travel around with, as it folds up flat and doesn't take up much room when folded up.
There's a dense foam that's around all of the contact points, which helps to ensure the safety of the stand and your guitar. The biggest complaint that I had about the Hercules Travlite Compact electric guitar stand is that there weren't any restrains.
How Much Does a Guitar Stand Cost?
If this is your first time purchasing a guitar stand, you might be wondering how much should it cost you?
There's quite a wide range for stands, but generally the caliber of stands correlates to the following prices:
Single Cheap Guitar Stands: Very common, generally selling for less than $25 each.
Collapsible & Adjustable Guitar Stands: Can range between $30-60.
Double Guitar Stands: A good double guitar stand, generally costs between $30-70 each.
3-5 Guitar Stands: These are great studios or collectors, but get more expensive, ranging between $90-300.
Types of Guitar Stands
Before we get into talking about the best guitar stands on the market, we need to talk about the most popular types of guitars stands on the market. Here we go!
These are also called tripod stands and these are the most popular design on the market! While the tubular stands are the most popular stands on the market, they arguably are also the most hated stands too.
These stands are cheap and work with a large variety of shapes and sizes. If you've ever purchased a guitar starter kit, this is the guitar stand you've probably received in your kit. Tripod stands have a neck cradle, which gives the guitar a good amount of stability.
Tubular Stands
Tubular stands are accident prone; they're easily tipped over, difficult to assemble and disassemble, are unstable, and can be awkward to travel with. If you're not certain if you're going to like your stand, I would suggest that you try one out before purchasing it officially.
Wall Hanging Stands
Wall hanging stands are great to use if you're limited to a small space to store your guitar or your guitars. Since they are hung on the wall, you don't have to worry about using up any floor space, meaning your room will be less cluttered feeling!
Having it hooked on the wall also means that you don't have to worry about any clumsy accidents, children, or pets running into your guitar and damaging it.
You should know that even though wall hanging stands are great to have to reduce the risk of damage from your pets or children, there is still a fair chance that you can receive damage on your guitar from the wall hanging stand.
There is a higher risk for your guitar to crack and warp throughout the seasons because the guitar is so close to the wall. Being this close to the wall increases the humidity, as well as temperature, variations due to changes in the weather and in the seasons.
Also, setting up a wall hanging stand can be rather tricky. If you don't set up the stand right, you increase the risk of damaging your guitar. Unsuitable mounting can cause your guitar to fall off of the wall.
A-Frame Stands
This the cheapest guitar stands, with the simplest design out of all of the stands available. While these stands may seem to be unstable, but their looks are deceiving. When the A-Frame stands are completely collapsed, they are actually small enough that you can store them in your travel bag for your guitar.
While these stands may look unstable, they're more stable than you actual believe, especially if you're looking for a stand that allows you to store your guitar in a small space. These are great stands to use if you're someone who travels around a lot and needs to carry a guitar stand with you, but doesn't want a stand taking up too much room in your luggage.
However, if you're super protective over your guitar, I would suggest that you think twice about this stand; if you bump the stand accidentally, you should expect your guitar to fall over.
If you're someone who has children or pets at home or you're just a clumsy person, don't purchase this stand. On the other hand, if you're going to leave this guitar on the stand in a private place that doesn't have a lot of activity going around in it, I would suggest you look into this stand.
If you're a musician that owns more than one guitar, you're probably searching for a stand that's more practical. Having a stand that allows you to hold multiple guitars at once can save you a whole lot of floor space; this is especially important if you live in a small space.
It can be awkward to grab the guitars off of the rack, especially if you have the stand placed into a corner of the room.
Multi Guitar Racks
On the other hand, if you're still looking to purchase a guitar stand that holds multiple guitars at once, but have just a little bit more floor space to work with, you may want to consider checking out a guitar rack. Guitar racks are extremely portable and are easy to set up and store away.
Compared to multi-guitar stands, guitar racks are more efficient, because they can hold up to ten guitars (depending on what model you get). These racks are great to use for long term storage for your guitars, traveling with a band that has a lot of extra equipment, or you're just looking to tidy up your living space.
However, if you aren't super careful about how to place the guitars on the rack, it's a common problem that the guitars ding against each other. Just as a word of caution, make sure you're very careful putting your guitars back on the rack, as if you aren't careful, you can do some serious damage to one of your prized guitars.
This stand is meant to be used while you are standing and not for actual storage. Crazy, right? These stands are popular among traveling musicians; if a musician wants to switch instruments mid-song, a walk-up stands allows him to do so.
Premium Stand
What we're getting ready to discuss isn't necessarily a category of guitar stands, but they are two brands of guitar stand manufacturers that produce some of the most amazing guitar stands on the market period.
The brands Hercules and Ultimate are two brands that produce 'premium' stands that are much larger than A frame stands but still fold up and pack away just as easy as an A frame stand.
Instead of using the two pronged crale of a tripod stand, the premium stands use a weight of the guitar with a neck cradle that's similar of a wall hanging stand; the lower body of the guitar rests up against the padding on the front legs.
In my personal opinion, these premium stands are the best models to use for both stage and studio use.
Walk up stands
These are the most unique guitar stand designs that I have ever seen on the market. The walk up stand is a guitar stand that has been designed not to hold your guitar for storage, but to hold it for actual playing.
In live performances, it's not unheard of for guitarists to change instruments mid song and a walk up stand allows the musician to do so instantly, by simply walking up to the instrument.
Guitar Stand Comparison Table
Frequently Asked Questions
Are Guitar Stands bad for your guitar?
By default, guitar stands won't harm your guitar, however, you should be careful not to knock the guitar because it's certainly much easier to that when its on a stand compared to a hard case.
Why do I need a guitar stand?
Guitar stands not only look very appealing, they also provide the best protection for your instrument. You will not be affraid of damaging it or suddeny dropping it once it's properly attached.
Can I hang my guitar on the wall instead of a stand?
You can hand the guitar on the wall, but it's not recommended by professionals as the guitar can switch color due to the humidity of the walls and the different temperature of the room. Always use safe stands like those recommended above.
Conclusion: Which Guitar Stand is Best?
Just a word of advice when going shopping for a guitar stand, there is something else you need to know. Your guitar stand is going to constantly be in contact with the finish of the guitar; you should be careful when using a stand with a guitar that has a nitrocellulose lacquer finish.
The finishes on a guitar are either polymer based or nitrocellulose. If you have a polymer based finish, you don't have to worry about what type of guitar stand to purchase, as polymer based finished are safe to use with any guitar stand. Polymer-based finishes are typically found on guitars that are built in the factory. Nitrocellulose is found on custom built or vintage guitars.
Buying a stand for your guitar isn't just finding a stand to lay your instrument on. You really have to make sure that you're purchasing a guitar that fits your lifestyle and what type of instrument you're putting on the stand. I hope you've enjoyed reading this article!
Further Reading on Guitar Storage
Latest posts by Guitar Space Team
(see all)