When it comes to jazz guitar, the pickup choice is as specific as the playing style. While you can pull through a jazz gig with a standard pickup, you won't get the best responsiveness and tone. I was lucky enough to try many of what are some of the Best Jazz Pickups and have prepared this guide based on my and other professional guitarists' experience.
My Bottom line up-front:: The best Jazz Pickups are those who respond better to the dynamics needs that jazz players need. Out of all of them, I picked four that you have probably encountered while looking up the one jazz legends used to shape the genre's sound. Whichever you pick, the main criteria is to have a clear understanding of what tone you are after.
Why Do You Need Specific Pickups For Jazz?
Jazz is a very vast genre, and the tonal palette of Jazz guitar spans from warm to snappy and funky. The keywords in every good Jazz guitar tone are dynamics and note clarity.
Good Jazz Pickups are versatile enough to offer all the frequency spectrum yet always keep note clarity. Jazz is always associated with emphasized midrange and bass. A good jazz pickup should not only offer you those frequencies, but it should do so without muddying the tone to when the notes become indistinguishable.
Another big reason why a good rock/metal pickup might not work for Jazz is the difference in the guitars and signal chain. Even though humbuckers are the favorite type of pickup for jazz, not all humbuckers cut.
Hollowbody guitars and semi-hollow guitars have different acoustic specs and sounds, usually warmer and with more bass. A random high-gain humbucker would sound too muddy on a Hollow body if not tailored for that guitar.
Depending on the Jazz subgenre, you might be using only your guitar and a tube amp with just a few basic pedals. A responsive pickup is essential to shape your sound with such a simple setup.
My Top Jazz Pickups Picks At a Glance
Selection Criteria For Best Jazz Pickups
The best pickups for Jazz depend mostly on the kind of Jazz tone you want to get. Whatever the tone is, there are a few criteria that every good Jazz pickup should fill. These four most important are.
Note Clarity and Definition

Dynamics

Warm tone, yet not muddy

The ability to handle average gain levels well
Your guitar is also another huge factor to consider. Not all pickups will sound good on any guitar; some might not even fit.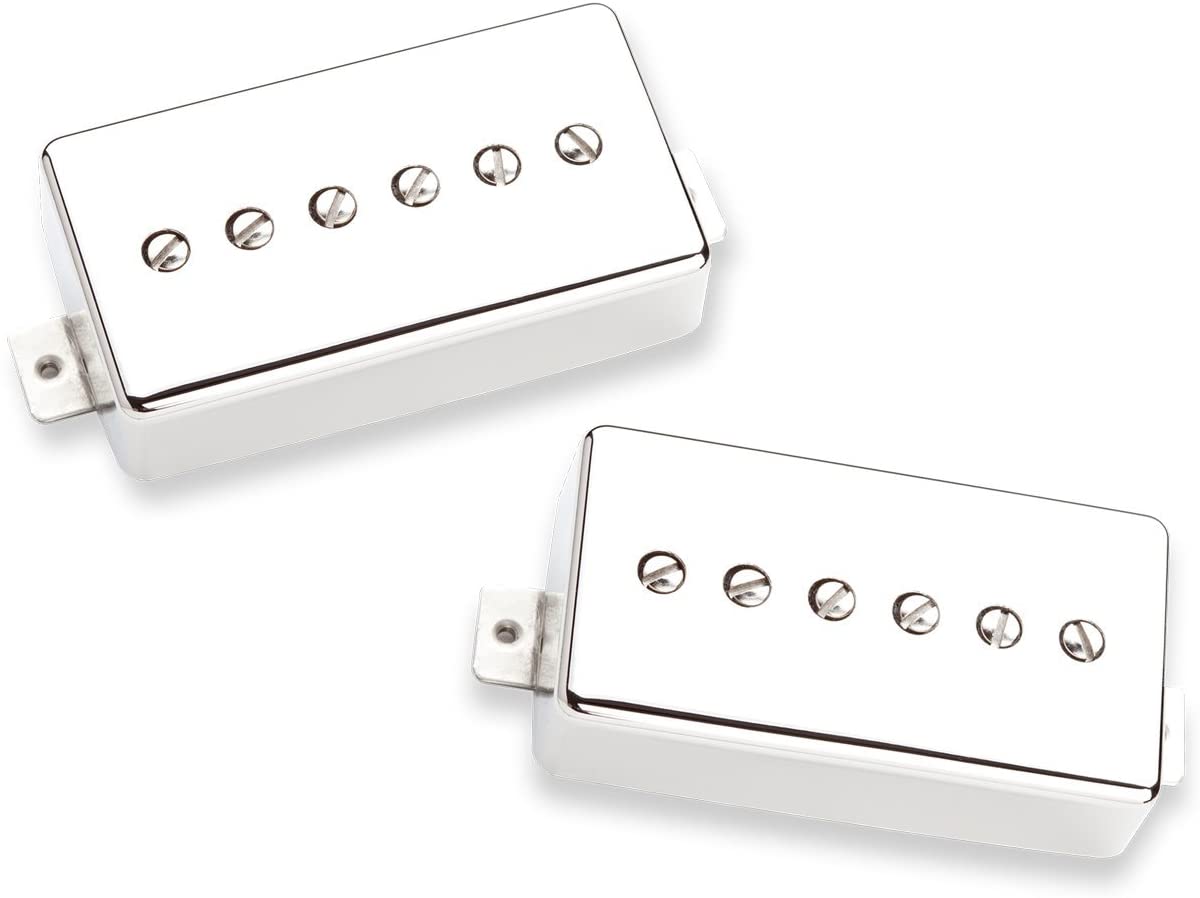 P90s are legendary pickups and favorites of vintage tone lovers of multiple genres.
A P90 pickup is a single-coil pickup built with more wire wrapped around the core than the usual single coil. This makes it almost as hot as a Humbucker yet with single coils' typical snap and grit. It's widely regarded as the best of both worlds and popular for blues, rock, and jazz.
What makes the P90s great for jazz is the boosted mid-range that sweetens the tone. You get many jazz tones, all well articulated by playing with the volume and tone knob and a simple tube amp. P90s are not that rare, and you might find them fitted in many vintage Gibson guitars. Visually, it's wide (usually cream white) pickup very similar to a humbucker.
The downside of the P90s is the same as for any Single coil. The annoying 60-cycle single-coil "buzz" is present, especially on big stages and high gain.
Continue reading related P90 Pickup guides and comparisons:
P90s Pros
They have a very responsive warm round tone with a healthy amount of high-end sparkle

They have the sound qualities of a humbucker merged with a single coil

Very versatile for every blend of jazz with other genres

You can find them in many vintage guitar models, even non-jazz guitars
P90s Cons
They have the typical 60 cycles single coil 'buzz'

They lose the tight bottom amp when the gain is pushed
The Seth Lover SH-55 pickups are named and built after the original design of the father of Humbuckers. These are the perfect pickups if you like to blend some of the PAF tones into your jazz playing.
These pickups are sweet and smooth with a lot of mids. The biggest strength of these pickups is how clean and crisp the clean tone is and the way they handle moderate distortion without muddying. Even when you lower your tone knob, there is a clear definition on the notes and a slight attack.
Being unpotted, their tone is slightly different from modern pickups. Some players argue that there's more treble and overall sparkle. On the technical side, not using wax on the pickups causes more feedback. If you are using mostly a clean jazz tone, you should not worry much about that.
Seymour Duncan Seth Lover SH-55 Pros
Remove the hum you get on stage.

They have unique vintage high-end sparkle since they are unpotted

Vintage low output PAF humbucker tone

Tight low end, excellent note separation, and a decent attack

They look and sound great on Les Paul Style guitars
Seymour Duncan Seth Lover SH-55 Cons
They are unpotted and can cause feedback at a high gain.
What is the PAF sound?
The two pickups I just recommended are famous for creating the PAF sound, but what is that?
P.A.F is not a single tone; it's a tonal nuance that includes a wide spectrum of guitar sounds with a similar character. The acronym stands for 'Patent Applied For' and is the nickname given to the humbucker pickup invented by Seth Lover.
The PAF style doesn't have a ceramic magnet but an old-style Alnico Magnet. The best period for Gibson PAF pickups was between 1957 and July 1961. The small inconsistencies in the winding machines and human error made each set of pickup sound slightly different than the other. If you don't like one, there are multiple P90 pickups to try.
The main characteristic of the PAF sound is the clarity and note separations when cracking up the touch. They are very dynamic and touch-sensitive, and you can get a clean tone just by lighting up the touch. The Neck is warm, yet not overly warm to ruin the clarity.
If you own a vintage Les Paul, you most likely have either the 57' or a version inspired by them. These pickups are why you can pick up most Les Pauls of the era, plug them in, and with just a few turns of the volume and tone knobs, you have an excellent jazz tone.
The definition of 'creamy' guitar tone comes from these pickups and their contribution to the sound of the 60s. This pickup set is highly versatile and a great choice if you are blending jazz with rock and blues. Not only Jazz but also blues and rock musicians such as Eric Clapton, Jimmy Page, and many others have used these pickups on their Les Pauls.
The best characteristic of these pickups is the unique warm tone which can turn into a beautiful dark, mellow Jazz tone. If you tried to play Jazz guitar, you could relate to how hard that is to get.
The main downside of these pickups is the tendency to shrill and muddy up when cranking the gain. In a Jazz situation, you should not worry much about using much distortion, yet the low mids can sound bummy if you are using them on a guitar prone to having much low end, like a Les Paul Custom. They should sound better balanced for jazz on an SG as the guitar is tighter.
Gibson Classic 57 Pros
The sound remains very dynamic even on high gain

They don't have the single coil 'hum.'

The tone is warm with plenty of low mids, creamy yet not shrill

They sound great in semi-hollow body guitars

Very versatile for many guitar-centered genres.
Gibson Classic 57 Cons
They might sound too muddy at times, especially on the neck
No Jazz pickup list would be complete without having an alternate for old-style arch-top jazz guitarists.
Archtop guitars sound 'jazzy' while played unplugged, and the best pickup for them is the one that manages to transmit that sound as pure as possible. The pickups are called 'floating' because you can install them in any archtop guitar without carving up a spot. Some drilling might be needed, though, in some cases.
The pickups are very low output and not aimed towards distorted tones, yet you probably won't be cracking up the gain. The main disadvantage is that players reported problems balancing the volume of different strings in some guitars. Considering that the guitar on which you install the pickup might be an only acoustic instrument, the builders didn't account for how the string resonates when amplified.

Overall, if you are going for these pickups, you probably know what you are getting into and are prepared to take the risk for the clear tone they give.
Benedetto S6 Pros
The sound is clear and well-balanced.

The pickup is very neutral and amplifies the pure tone of the guitar

You only need one to bring out the true tone of your guitar

You can mount it easily without altering much of the guitar's body
Benedetto S6 Cons
Depending on the guitar and strings, one or two strings might be slightly unbalanced.

Some slight work on the guitar's body is needed
What Pickups Do Jazz Legends Use?
As guitarists, we are most likely to follow our heroes' footsteps and consider their gear as best. This section has listed some of my favorite and all-time best jazz guitarists and the pickups they generally used.
You will also find some great alternatives to the four recommended above.
Wes Montgomery
Wes Montogomery played a Gibson L-5 CES with the classic '57 pickups on the list. This proves they are genuinely excellent Jazz pickups.
Pat Metheny
Pat Metheny is known to keep only one pickup in all his electric guitars. The guitar he mainly uses today is the Hollow Body Ibanez PM11 with an Ibanez Super 58 pickup on the neck position.
Chet Atkins
Chet used many guitars, but his Gibson L-10 had floating Dearmond pickups. Being a jazz guitarist who blended country music into his playing, the pickups have a nice twang and snap.
Joe Pass
The closest you can get to achieving Joe Pass's tone is through his signature guitar. The Epiphone Joe Pass Emperor is a legendary model from Gibson that uses the two ProBuckers on the neck and bridge. Their tone is extremely smooth and emphasizes just the right frequencies for a warm yet still clear sound.
Here's our comparison with everything you need to know about differing Bridge vs Neck Pickups.
FAQ
Question: Can you play Jazz with active pickups?
Answer: Yes, you can play jazz with active pickups. You should keep in mind that active pickup is more prone to emphasizing low mids and lows. The extra sustain they have might not be something many players like.
With some work on Equalising the sound, you should be able to play well most Jazz genres.
Question: What is the difference between Alnico 2 and Alnico 5 magnets?
Answer: An Alnico 2 magnet has less output than Alcino 5. Soundwise, The Alnico 2 contributes to a warm mid-range sound, whereas the Alnico 5 adds more treble and bass.
Question: Can you play jazz on a single coil?
Answer: Many players prefer to play Jazz on a single-coil due to its bright sound and attack. Even though most Jazz genres highly insight on the low mids, some players with a specific like the glassy clean tone and snarly crunch sound. The downside is the hum you get.
Final Thoughts on Best Jazz Pickups
Whether you like to play gypsy jazz or blend in some modern rock elements in your playing, a good responsive pickup that helps you sound 'jazzy' is needed.
While there is no set rule as to what pickup works best for your playing, starting with a tone in mind will help you make the best choice. Another thing to remember is that it's rare for a pickup to stun you with the tone immediately. Like every other part of the instrument, there's a learning curve to bring the best out of them.
Continue reading and check out my Personal Jazz Setup.
Latest posts by Altin Gjoni
(see all)